Available in over 150 markets and one of the most downloaded apps in more than 40 countries, TikTok has become the fastest-growing social media network, reaching 40% of 18 to 24-year-olds since it launched. 
Whilst many people may have dismissed it in the past as just a dance app, TikTok, which now receives more traffic than Google, is hard to ignore. And over the last few years, it has become one of the largest digital platforms in the world. 
In May 2020, the platform announced its initiative #LearnOnTikTok, recognizing a vast demand for educational content for young people. So much so, that the platform also announced a $50 million Creative Learning Fund for educational content for those who want to learn more.
It's clear that young people want to learn to benefit their careers. In fact, 3 in 5 (60%) of 16-24-year-olds admitted they have left a job due to limited growth opportunities. Gen Z is using TikTok for advice around careers to prepare them for the future - showing a further need for preparation to advance their studies or current role. To keep Gen Z employees engaged, this highlights the importance for employers to use different materials in a blended learning style to help them resonate with the workforce of the future. 
With this in mind, Go1 has uncovered what Gen Z and Millennials are consuming on TikTok and what they need help with when it comes to personal development. This will help employers understand which areas of skills they are consuming online, and help identify the gaps in their current learning and development programs. 
Top trending content: soft skills
Soft skills have become increasingly important and are some of the most in-demand skills employers are looking for as they indicate the ability to work with others and grow within a company. In particular, employers are explicitly seeking employees with strong interpersonal skills, which are vital for business growth. 
This may explain why TikTok is ever-growing with video content focused on soft skills, building up millions of views. The hashtags #Teamwork, #Teamworkchallenge and #Team_Work have received over 2.9 billion views, whereas #CommunicationSkills, #CommunicationSkillTraining, and #communication_Skills have received 231 million views.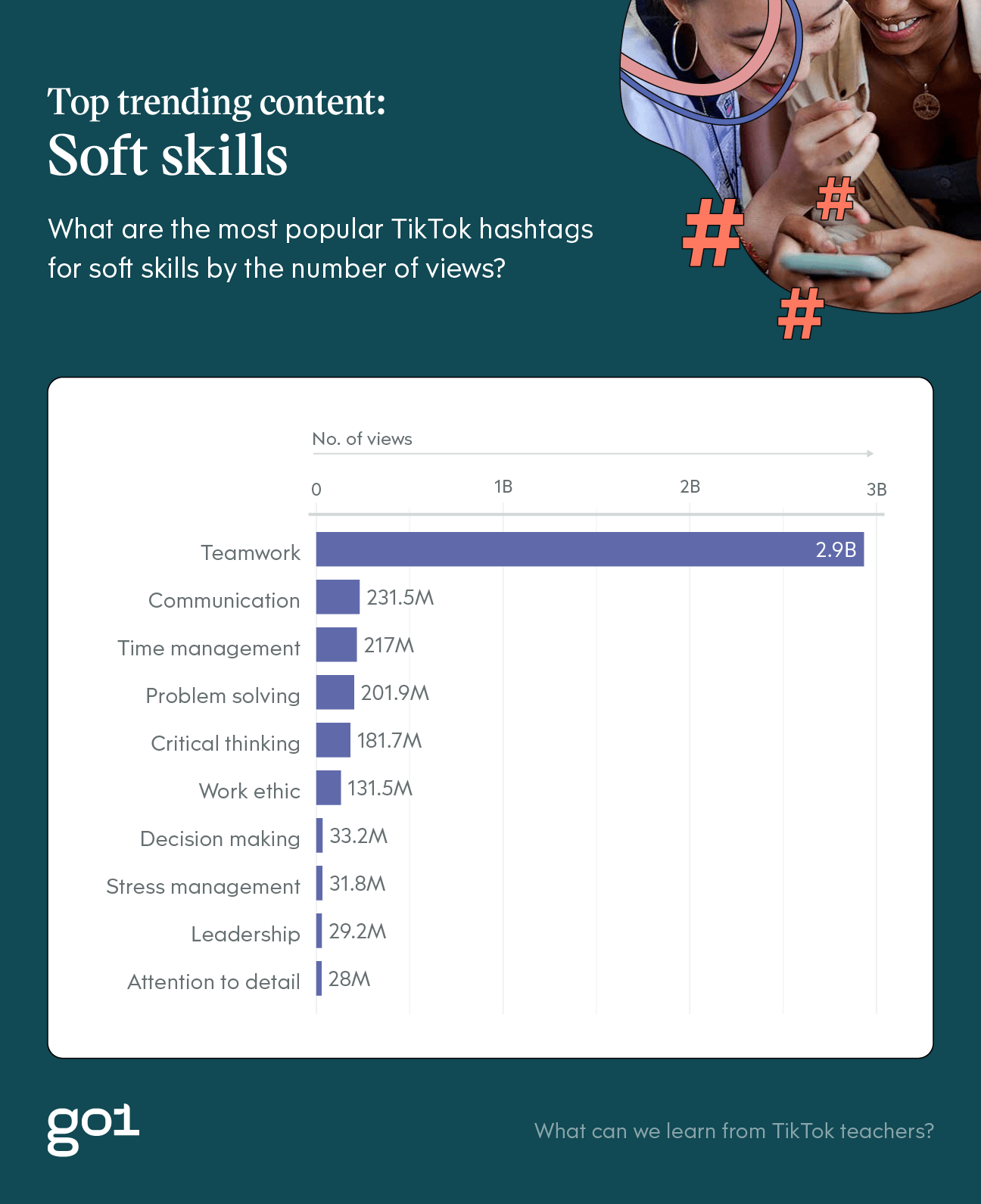 The graph above shows the most popular TikTok hashtags for soft skills by the number of views. Results show teamwork with 2.9B views, communication with 231.5M views, time management with 217M views, problem-solving with 201.9M views, critical thinking with 181.7M views, work ethic with 131.5M views, decision making with 33.2M views, stress management with 31.8M views, leadership with 29.2M views and attention to detail with 28M views.
Top trending content: hard skills
Quantifiable hard skills are also one of the fundamental things an employer needs when it comes to the right hire for a role. Some hard skills are more sought after than others in today's job market, but they are trending in the same direction - towards supporting an increasingly technical society. By looking at the number of TikTok views for hashtags relating to hard skills, we can get a better understanding of what these skills are. 
For example, hashtags on project management have received over 56 million views, with jobs in project management expected to grow 33% by 2027. Writing and language skills are the second and third most popular, with 29.2 million and 4.2 million views, respectively.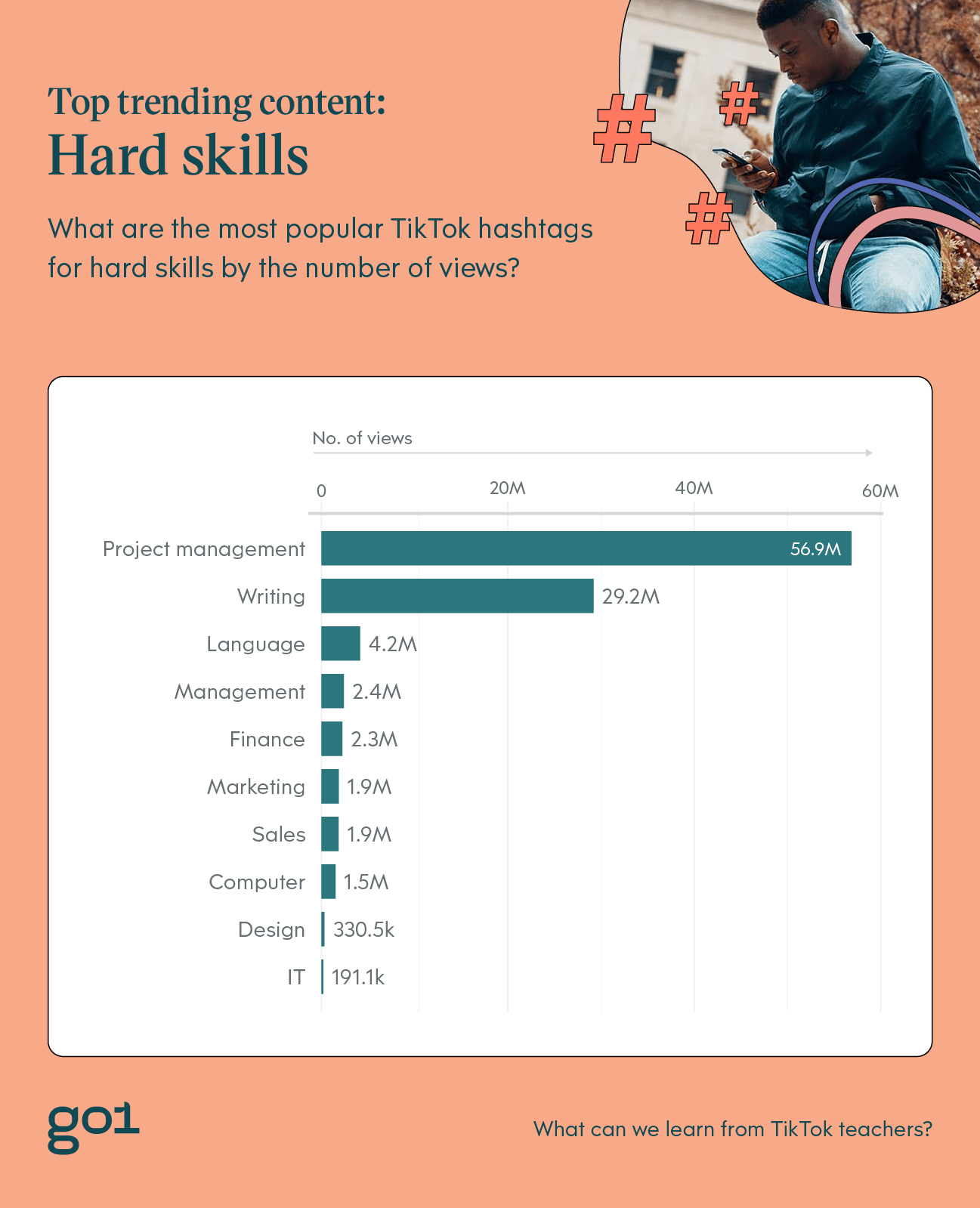 The graph above shows the most popular TikTok hashtags for hard skills by the number of views. Results show project management with 59.6M views, writing with 29.2M views, language with 4.2M views, management with 2.4M views, finance with 2.3M views, marketing and sales both with 1.9M views, computer with 1.5M views, design with 330.5K views and IT with 191.1K views.
Workplace challenges
A number of creators have emerged on TikTok over the last couple of years to show the realities of the working world and their experience of workplace challenges, from combating negativity to insufficient training and development. 
During the pandemic, creators said these videos gave people content to bond over. But they've since evolved as a way to explain how the workplace has changed since the onset of remote work, offering a platform to discuss workplace topics like mental health, diversity, and wellbeing. 
The most viewed workplace challenges on TikTok relate to work-life balance, with more than 500 million views for #worklifebalance, #work_life_balance, and #worklifebalance? This is followed by communication, with more than 230 million views for #CommunicationSkills, #CommunicationSkillTraining, and #communication_skills.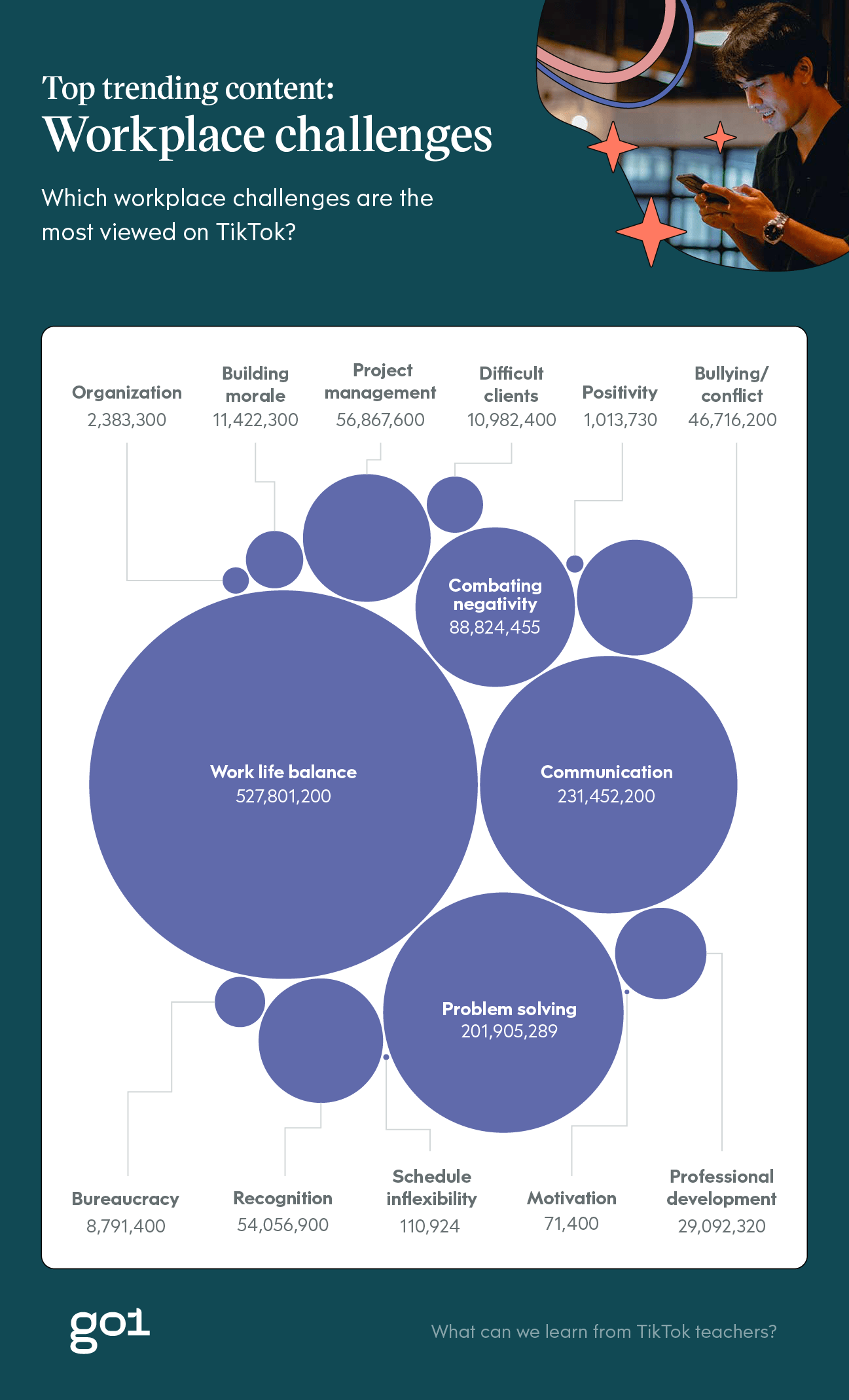 The graph above shows the most viewed workplace challenges on TikTok. Results show the most viewed challenge relates to work-life balance, with over 527 million views, followed by communication challenges, with 231 million views, problem-solving, with 201 million views, combating negativity with 88 million views, project management with 56 million views, recognition with 54 million views, bullying/conflict with 46 million views, professional development with 29 million views, building morale with 11 million views, difficult clients with 10 million views, bureaucracy with 8.7 million views, organization with 2.3 million views, positivity with 1 million views, schedule inflexibility with 110,924 views and motivation with 71,400 views.
Key curators
The learning community on TikTok is home to many industry professionals offering advice, whether it be dedicated career coaches or more industry-specific content creators, showcasing the huge skill-sharing aspect within the space. 
Key curators include J.T. O'Donnell, who has been helping people and their career paths for nearly 20 years and recently started providing professional advice on TikTok. Her videos cover everything from changing careers to answering job interview questions. Other creators leading the way include Shade Zahrai, an award-winning leadership strategist, and Lauren Selley, who provides helpful tips and advice when it comes to project management.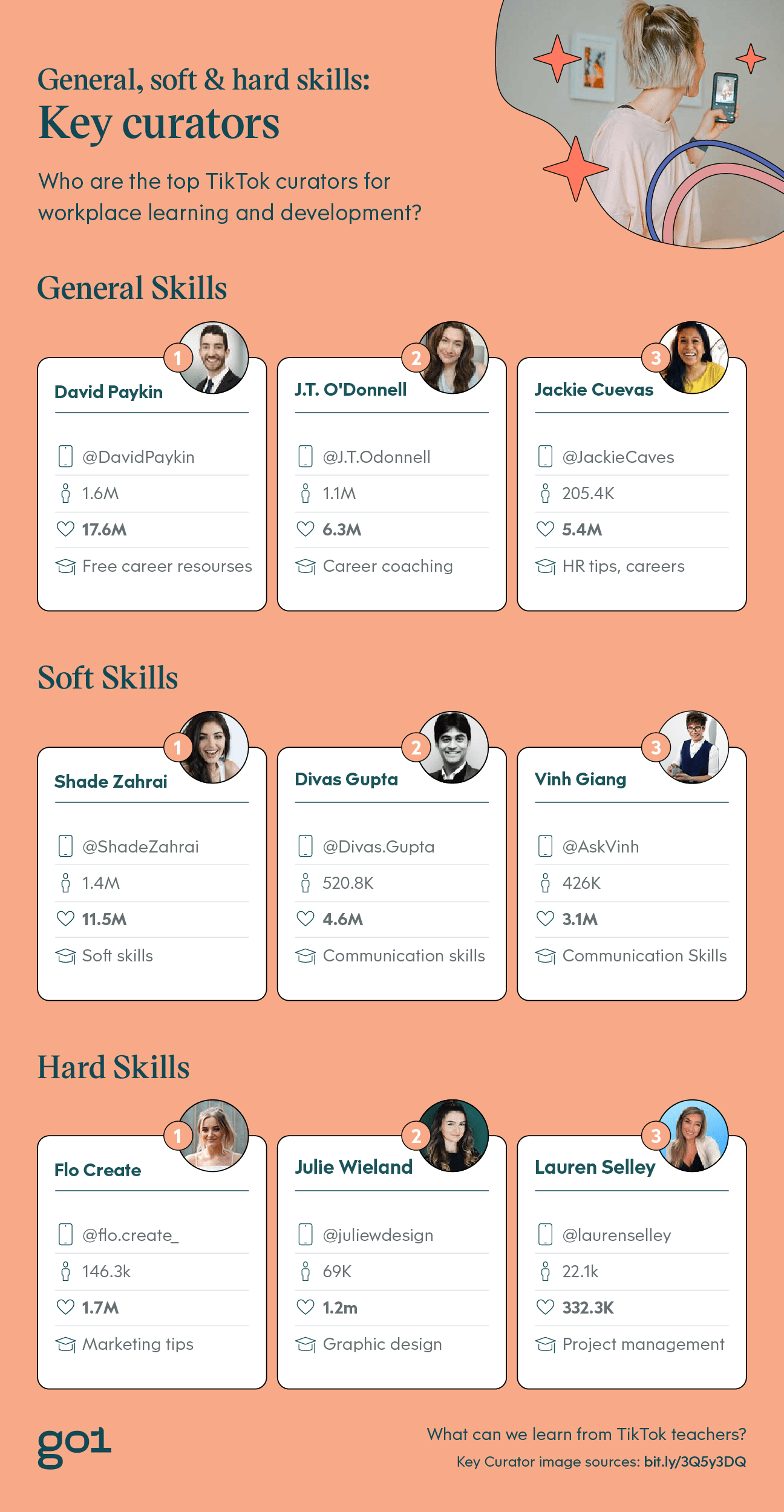 The graph above shows the top TikTok curators for workplace learning and development. This includes the top curators for general skills, soft skills and hard skills. 
How can TikTok inspire your training strategy? 
Providing opportunities for professional development can have a significant impact on a workplace. With TikTok providing a new way of learning, managers can take away some key principles which could be implemented into their own training strategies, particularly when it comes to how Gen Z and Millennials like to learn.
Microlearning
As TikTok shows, bite-sized knowledge is the future, especially if your employees are on the younger side. Although it may be too short for employee training purposes, a short video can help with engagement, and be utilized in all kinds of training, even data compliance training.
Blended learning styles
TikTok has shown us that people, especially the younger generation, like watching videos when consuming content online. This shows that although employee training should include all types of formats, an emphasis on video content will help engage your employees. 
With blended learning, employees can personalize a learning module according to their preferences. Ultimately it offers more ways to learn, with various courses on different subjects, available online and in the training room, accessible anytime, anywhere, on any device with face-to-face or online support from a training. And it is these options that make blended learning the perfect type of training and why the future workforce prefers it to any other type of training. 
Mobile learning
Mobile learning offers flexibility, as learners can complete training on the go. And with nearly 4 in 5 (78%) employees happy to learn new skills whenever they can during the working day, a further 59% are willing to learn outside of work hours to improve their job performance.  
Although people shouldn't have to use their spare time to learn, it goes to show how important learning and training opportunities are to employees to aid progression. Mobile learning offers that flexibility.  
HR professionals and businesses can leverage information from TikTok for employee training and development to understand which areas of skills they are consuming online. 
After all, the success of TikTok is closely tied to the characteristics of Gen Z and Millennials. These generations will be the workforce of the future so providing blended learning is definitely worth implementing. 
For more insights, subscribe to the Go1 newsletter to stay on top of all the latest L&D trends. Or, you can book a demo today to find out how Go1 can help with your team's learning needs.
Methodology 
We've looked at the total number of TikTok views for hashtags relating to soft skills, hard skill and workplace challenges to get a better understanding on the types of educational content that is being consumed online, as well as revealing some of the key curators on the platform. For the purpose of this campaign, any workplace challenge that wasn't directly linked to the working environment (e.g. trust issues) was emitted. Data collected August 2022 and can be viewed here www.bit.ly/3Q5y3DQ.