Introducing a learning management system (LMS) to your organization will change how your employees upskill, learn, and develop. Not only that, but an LMS can help streamline processes, making it an exceptional tool for administrators, HR teams, and managers.
However, getting the most out of your LMS requires an initial investment of time, money, and resources, as well as continued development to make it as efficient and effective as possible. You must also ensure your workforce engages with your LMS to optimize its impact. 
Accordingly, you must get buy-in for your LMS from every level of your organization, from entry-level employees to senior leaders and stakeholders.
With this in mind, we'll explore how to get LMS buy-in at your organization, focusing on getting buy-in from stakeholders and key decision-makers.
The importance of LMS buy-in
Your business only grows when your employees grow. So, to provide employees with the materials, tools, time, and flexibility they need to learn in a busy environment, you must utilize an LMS.
As such, stakeholder buy-in is crucial. A study revealed that more than a quarter of HR managers fail to attain leadership buy-in for L&D initiatives, which will grind employee development to a halt. Without your stakeholders on board, you won't get the resources and budget you need to make your LMS effective.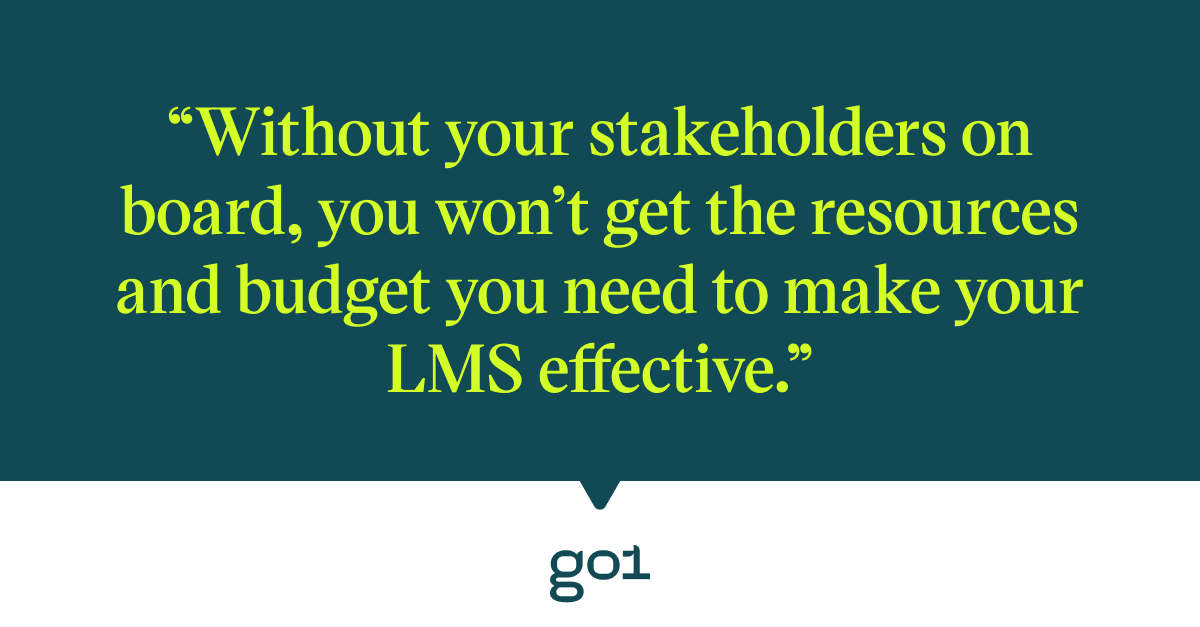 Yes, low-cost options are available, but they don't offer the functionality or features your business needs to grow. In contrast, the right LMS for your business will align with your unique needs and goals to create a culture of continuous learning. In turn, this helps your business reach its objectives.
Identify key stakeholders and decision-makers
The first step to securing buy-in is identifying key stakeholders and decision-makers. Examples of stakeholders may include:
Senior leaders
HR leaders
Managers
Administrators
Designers
Subject matter experts
Executives
Tech support
End-users
Many stakeholders will already be familiar with the value of training and development. For others, you may need to demonstrate the benefits of an LMS so they understand why they should buy into using one at your organization.
Communicate the value of an LMS
To maximize your chance of getting stakeholder buy-in, ask yourself a simple question: what pain points do your stakeholders face that an LMS can fix? Speak to stakeholders to understand what issues they want an LMS to address. Then, you can ensure your chosen platform addresses these concerns. 
Perhaps a lack of flexibility, admin frustrations, or too little time for learning is holding your team back. Whatever your needs, addressing specific issues an LMS can help with will make it easier to get stakeholder buy-in.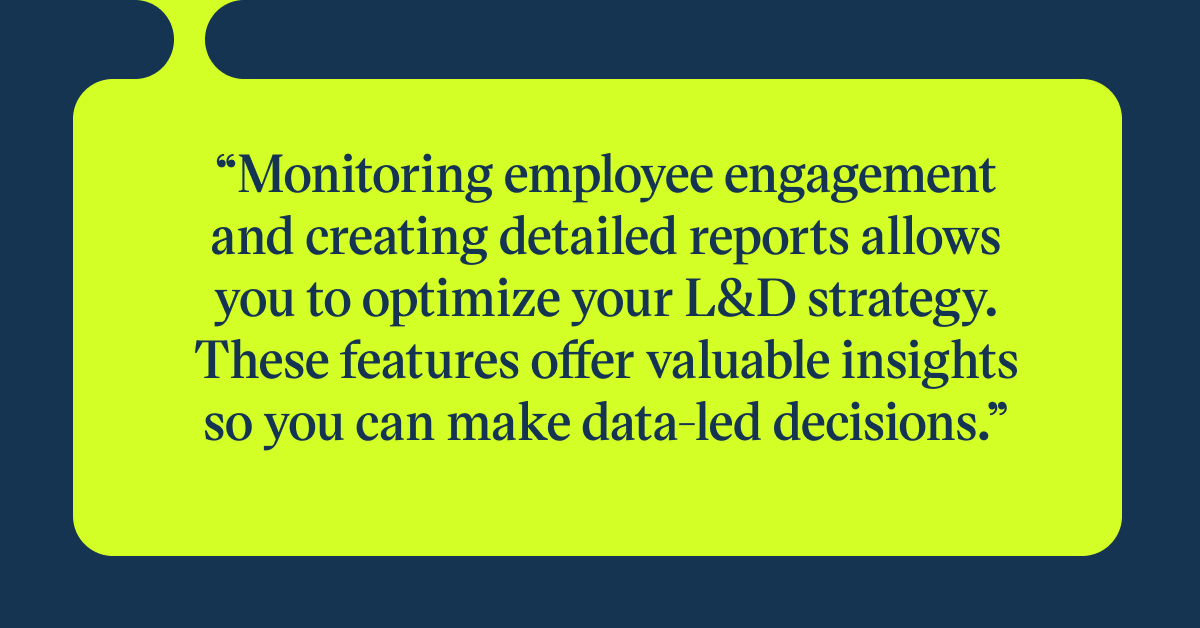 An LMS is an effective tool to organize and deliver training. However, its value goes far beyond these features. Monitoring employee engagement and creating detailed reports allows you to optimize your L&D strategy. These features offer valuable insights so you can make data-led decisions. With these tools, you can align learning with your organizational goals to increase the ROI of your investment.
Address concerns and obstacles
When getting LMS buy-in from stakeholders, you'll invariably face pushback in some capacity. Investing in an LMS requires time, effort, and resources to make it a success. So, naturally, concerns and obstacles will arise. 
Common issues you may encounter from stakeholders include:
Does it have a steep learning curve? Different LMSs have different learning curves, but many are simple to understand and easy to use for admins and learners alike.
Does it integrate with existing systems? Many LMSs integrate with the software you already use. If you're concerned about integration, involve your IT team early in the buying process to ensure your chosen LMS will be compatible with your existing software. 
Will it offer a return on investment? There are many ways to calculate the ROI of an LMS. An LMS can provide a significant return on investment through upskilling, professional development, and improvements to efficiency and productivity.
Will employees actually use it to develop? Open communication and training incentives, such as gamification, will increase engagement. 
Will data be secure? Many LMSs have strict and robust security measures to ensure data is safely stored.
Is enough relevant training content available? Online training providers, such as Go1, have a huge library of courses covering hundreds of different topics. So, whatever your employees need to upskill in, relevant training is usually just a click away.
Develop a comprehensive implementation plan
Stakeholders want reassurance that implementing the LMS will go as smoothly as possible once you have their approval. Therefore, it's critical to develop a comprehensive implementation plan to ensure any integrations work, there are no costly delays, and users can start learning as quickly as possible.
Steps you should follow to develop an implementation plan include:
Establish a team to oversee the implementation and assign a project manager.
Define your implementation goals. 
Establish which systems you want to implement the LMS with.
Seek input from stakeholders.
Implement your plan.
Test the implementation.
Evaluate the implementation's success and make improvements where necessary.
Measure and demonstrate results
Once you have launched your LMS, you'll need to ensure stakeholders stay on board so you can continue building a learning culture at your organization. To do this, you should regularly demonstrate the impact of your LMS. Below are some key metrics you can use:
KPIs that align with your business goals
Engagement data such as sign-ins, course completion, and average assessment scores
Financial data related to learning activities, such as average order value
Employee feedback
Employee 121 and review data
Employee performance data
Foster a culture of continuous learning
When stakeholders see that your workforce has embraced L&D and engaged with learning, it showcases the value of an LMS. However, an LMS is only one part of building a learning culture. To do this, your organization should also strive to:
Have senior management lead by example
Have regular and open communication
Offer a diverse catalog of learning materials
Celebrate learning successes across the business
Build learning into employees' PDPs and objectives
Introduce gamification to increase engagement
Provide employees with time to learn
Encourage managers to offer additional support when necessary
Go1 offers the world's most comprehensive learning library, ensuring your entire workforce can learn and develop
At Go1, we provide access to a diverse range of industry-leading content providers so you can upskill your entire workforce.
For more information, speak to an expert to discover how Go1 can support your organization's L&D program.