Over the past year, the Emerging Stronger team have developed a series of tools to make it simple for L&D professionals to embrace evidence-informed tactics that improve business impact. In the Fourth of this series of "Making it Simple to Do the Right Thing", Laura Overton dives into the benefits and steps to the Communication Plan Launch Tool.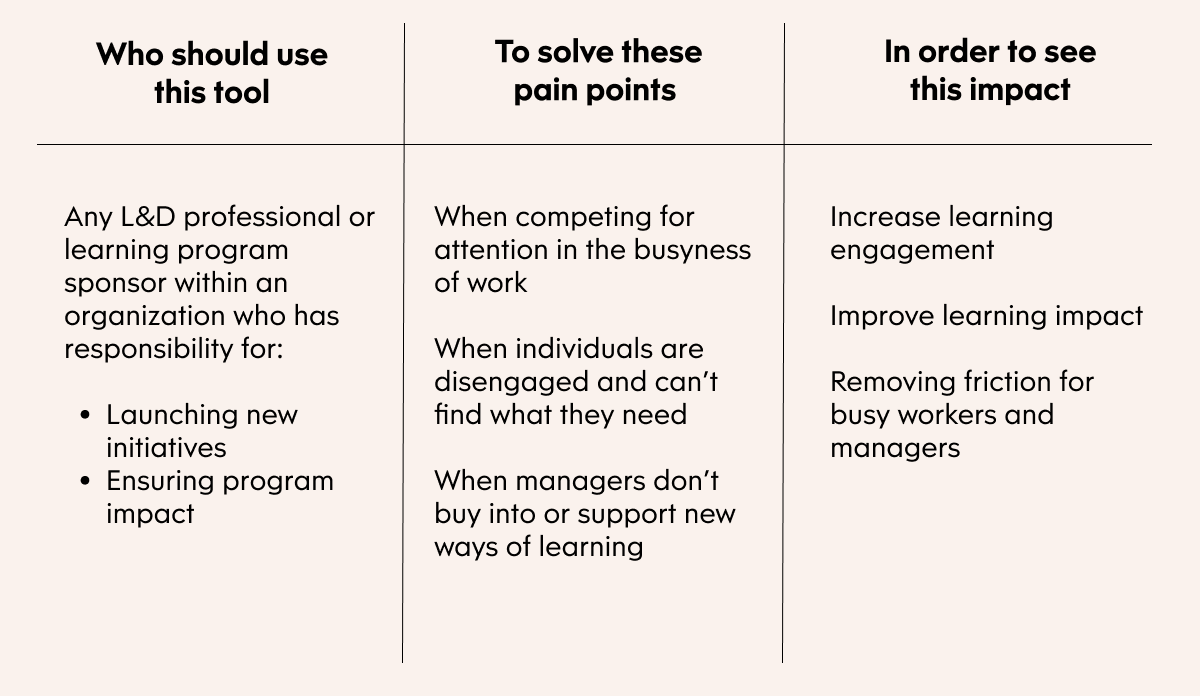 Building awareness and setting expectations
According to LinkedIn's latest Workplace Learning Report 2022, 7 in 10 learning leaders agree that over the last year they have become more strategic, are breaking down silos by working cross functionally and have their primary focus on skills.
This is great news! The challenge is that not everyone in their organisation is aligned with the L&D leader's focus! During the same time, 35% of L&D lamented that leaders still have traditional expectations about L&D that are difficult to change, and 42% of manager's just aren't making time for learning. What's more, during covid, when individuals were hungry for online learning opportunities, 10% of remote workers couldn't find the learning that they needed.
It seems that the harder we work to become a better business enabler, the harder it is to be seen and heard!  
We may be on the way to becoming more market savvy, aligned to business and addressing mission critical requirements, but now is the time to become more marketing savvy. 
We need to be smarter and bolder at getting our message out! But at a time when we need them the most, fewer L&D teams possess the marketing skills we need (down to just under 2 in 5 in 2022) and only 1 in 3 organise resources so that they are easy to find!
The best time to hone and develop those marketing skills is at the start of something new! Your latest L&D project deserves to be seen and needs engagement if it is to deliver impact, But in the battle for attention, you are going to need a battle plan!
This is where the Communication Launch Plan Tool comes in. Who needs to hear your message, what do they need to do, why should they care and who do they listen to the most? These are all questions at the heart of this tool. Work on those and you'll soon be capturing the hearts, minds and engagement of your toughest audiences.
Here we will guide you through the benefits of using the Communication Plan Launch Tool – with some handy hints on how to best incorporate this tool into your and your manager's toolkits.
Potential for positive impact
This tool uses proven marketing techniques to help you raise participant awareness and adoption of your new L&D initiatives. It helps you plan launch communication that:
·       Increase motivation by clarifying the 'What's in it for me'
·       Improve adoption by simplifying the getting started process
·       Increase credibility by harnessing the influence of stakeholders
·       Create energy and excitement by bringing the right message, in the right place, to the right people at the right time
The tool at a glance
You have implemented a state of the art  learning offering, curated the most helpful content resources and designed the best learning experiences to support learning transfer. But this detailed effort will not deliver results if  your workforce doesn't know what's available, why it's important or how to get started. 
That's why implementing a robust communication plan is an essential element of success. That's where this tool can help.
The tool has templates to take you through 3 parts:
Part 1 – Target your audience and objectives
Target audience - capture who you need to talk to for this plan to be successful and the goals each audience has 
Use your audience's goals to develop the right objectives for your communication messages
Part 2 – Planning the message 
Message outline -  explore the value and relevance of your program for each of your audience (note what is important to you probably isn't important to them!)
Plan the resources you need to connect to each audience
Establish the call to action – specifically what you need each audience to do!
Part 3: Communication delivery: Plan
Delivery method: - outline the communication routes that will  resonate the most with each audience
The communication frequency – what's needed for message to stick?
Download the tool for guidance notes and templates for each part of Communication Plan Launch Tool. 
Scaling success in your organisation
The Communication Plan Launch Tool isn't just for launching a great program, it's a framework of thinking to ensure that you work with the right message and the right teams to achieve the results that you need.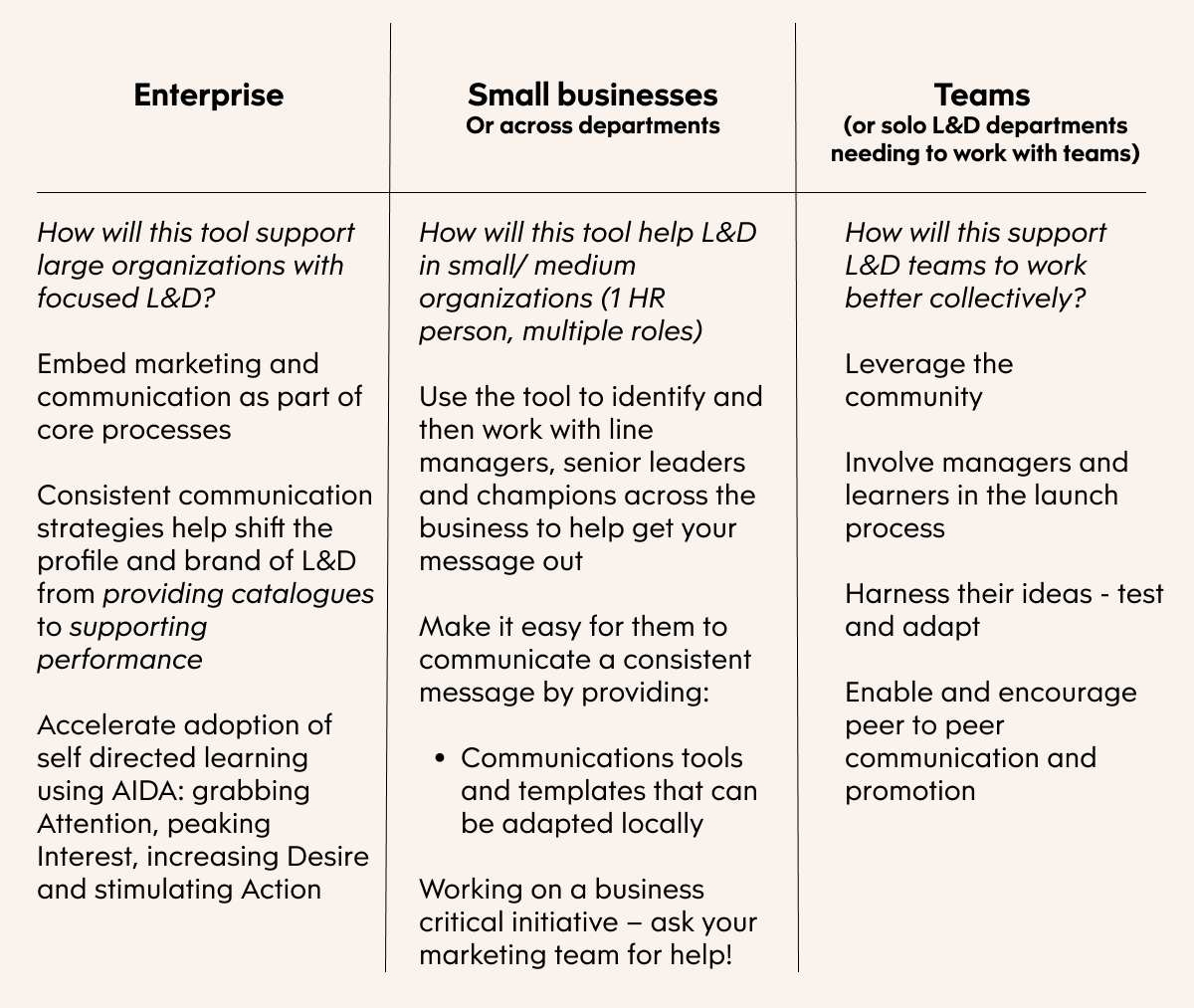 Next steps 
The Communication Plan Launch Tool keeps us focused on the messages that will grab attention and build engagement. A great communications plan can also remove the friction of engaging busy individuals with the right learning opportunities at the right time.
With this tool, it's best to think like a marketer. This means not being afraid to experiment with the way that you connect and communicate but to use data to adapt and refine. Watch the engagement data on your dashboard and tweak your communications plans as the data dictates. Remember that repeating the communication successes of one initiative does not guarantee success of your next one. 
In this series we have seen that most of the tools we've discussed work at their best when combined with other complementary tools. Remember the fertilizer analogy from our defining needs tool? But they all work just fine on their own as well. 
The Communication Plan Launch is one tool in your toolkit that we do not recommend being used in isolation. The best communication plans are guaranteed to fail when the offering is poorly conceived or just isn't relevant to the audience concerned. 
Successful marketing strategy involves balancing all the P's: People, product, place , price, proof points and process. These have to work together if promotion is to deliver its magic.
We absolutely recommend that you use the other tools in this series to create the foundations that make your communication plans fly!  
Use the Communication Plan Launch with other tools in this series:
Needs Analysis Tool: Use this to clarify the pains and gains that you need your learning offering to support – vital insight for tapping into the what's in it for me of your audience.
Curation Decision Tool: Your one stop shop library may seem attractive on paper but can be overwhelming to busy workers. Use the curation decision tool to target your solution to meet the needs and hone your communication messaging.
Power Hour Tool: Managers are our biggest influencers! Use this tool to bring them into the process, sustain momentum and maintain communication.
Workplace Communities Tool: These are the spaces where conversations continue and movements are born – Use this tool to build them into your launch plan and reshare the stories shared here to keep your communications plan alive.
You may also be interested in the other blogs in this series:
Making it simple to conduct a needs analysis conversation, where Shannon Tipton covers delivering valuable content with the Needs Analysis Tool.
Making it simple to curate with impact, which dives into moving beyond learning aggregation with the Curation Decision Tool.
Making it simple to engage with managers, Laura Overton talks through improving engagement with managers with The Power Hour Tool.
Making it simple to improve impact, Laura Overton walks through a powerful and adaptive resource, the Improving Impact Tool.
Making it simple to cultivate learning in workplace communities, where Shannon Tipton presents ways to empower the communities at play with the Cultivating Learning Tool.
For more insights, subscribe to the Go1 newsletter to stay on top of all the latest L&D trends. Or, you can book a demo today to find out how Go1 can help with your team's learning needs.