When working in L&D, it pays to have an analytical mindset. Often, L&D teams are rewarded for thinking outside the box and framing learning content in fresh, exciting ways. Despite this, data analysis — that is, collecting and analysing data such as course completions, time spent learning, and user engagement to gain insights into broader trends and learners' needs — is often an afterthought in L&D circles.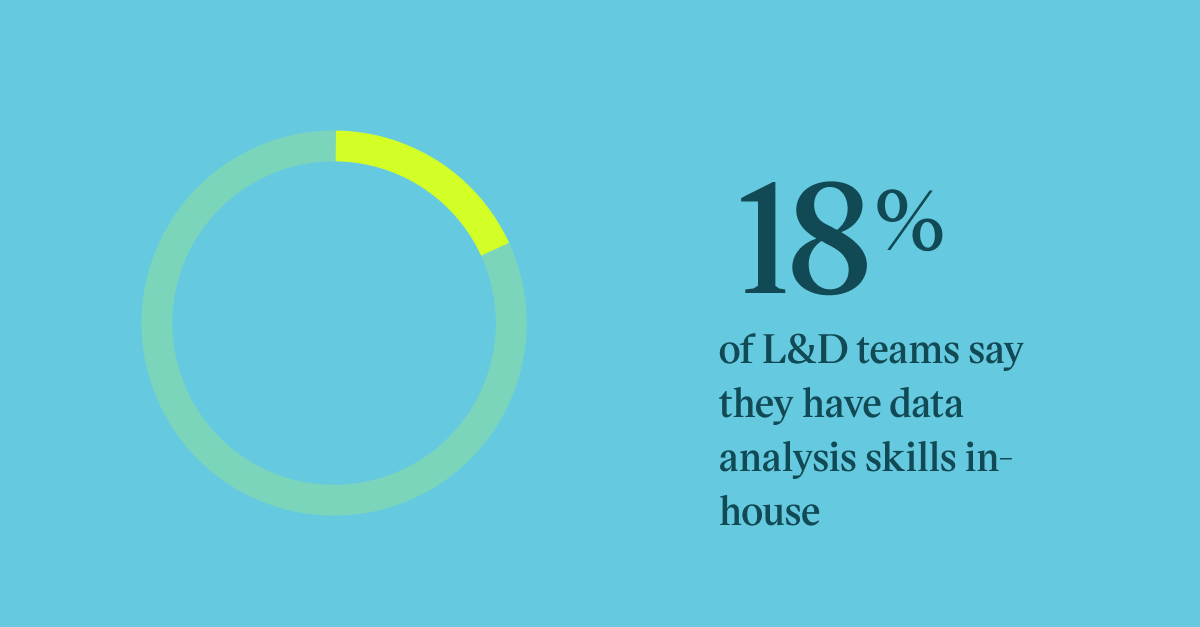 In many teams, data analysis is seen as a nice to have rather than an essential skill to take your learning content to the next level. To underscore this point, just 18% of L&D teams say they have data analysis skills in-house. 
We think it's time that changed, and teams started prioritising data analysis as an essential cog in their eLearning machine. With that in mind, we'll examine the importance of data analysis in eLearning. We'll set the scene by looking at data analysis capabilities in L&D teams, before exploring the importance of data analysis in eLearning, and finishing with tips to improve your team's analytical skills. 
Ready to get analytical? Start here. 
Data analysis capabilities in L&D teams
To understand the importance of data analysis in eLearning, it is vital to first understand what data analysis means in an L&D context. 
What is data analysis?
For starters, Dashe explains that data analysis in L&D is "the process of gathering and analysing data on a variety of different learner metrics. These metrics include but are not limited to employee performance, application of skills, process recall, and more." 
Brain Station expands on this definition, adding, "L&D analytics allow us to analyse the effectiveness of training and understand how it correlates to employee engagement, productivity, and overall company success… L&D analytics lives under a broader umbrella of workplace data science, which uses predictive and prescriptive analytics and machine learning to help us make predictions and decisions." 
L&D data analysis takes two main forms: qualitative and quantitative data. Qualitative data deals with things you can count, categorise, and put in order (think hard data on course completion rates or the number of training hours completed). In contrast, quantitative data focuses on experiences and feelings (i.e. a feedback survey on how users felt after completing a particular course).
As such, we can understand data analysis in L&D as the act of gathering data about any learning that takes place on your platform. By doing so, you will gain insights into when, where, what, how, and why learners prefer to learn. This data can be used to optimise your L&D plan going forward. For example, you may be able to tweak your approach to boost learner engagement and knowledge retention or better tailor your content to meet your learner's specific needs. 
The state of data analysis in L&D
Unfortunately, many teams are missing the mark for in-house data analysis capabilities. According to Emerald Works' Back to the Future report, 98% of L&D teams say improving their analytical skills is a priority. Off to a good start! Yet, as of 2020, just 18% have this capability in-house. What's more, this figure is trending in the wrong direction, down from 30% in 2018. 
We'll explain why this is such a concerning trend as we examine the importance of data analysis in eLearning. 
The importance of data analysis in eLearning
Data analysis is vital for L&D teams, delivering a plethora of benefits such as increased efficiency, improved decision-making, enhanced insights, and even increased revenue. 
In a recent article, Training Industry Magazine summarised the benefits of data analysis in eLearning, explaining, "when the right data are collected and analysed systematically, we can track important trends in real time. These timely insights help to: Understand learning in the flow of work, improve the effectiveness of learning initiatives and resources, enhance personalisation of existing programs and ultimately design learning that aligns with workplace environments of the future and not the past." 
This final point is perhaps the most important, as data analysis of this scale represents a significant leap forward for many L&D teams. Currently, 26% of L&D teams are concerned about a lack of in-house analytical skills to use learning data effectively. As such, there is significant room for improvement in data analysis in the L&D industry. Savvy L&D teams may see this as an opportunity to stay one step ahead of their competitors by embracing the power of data analysis.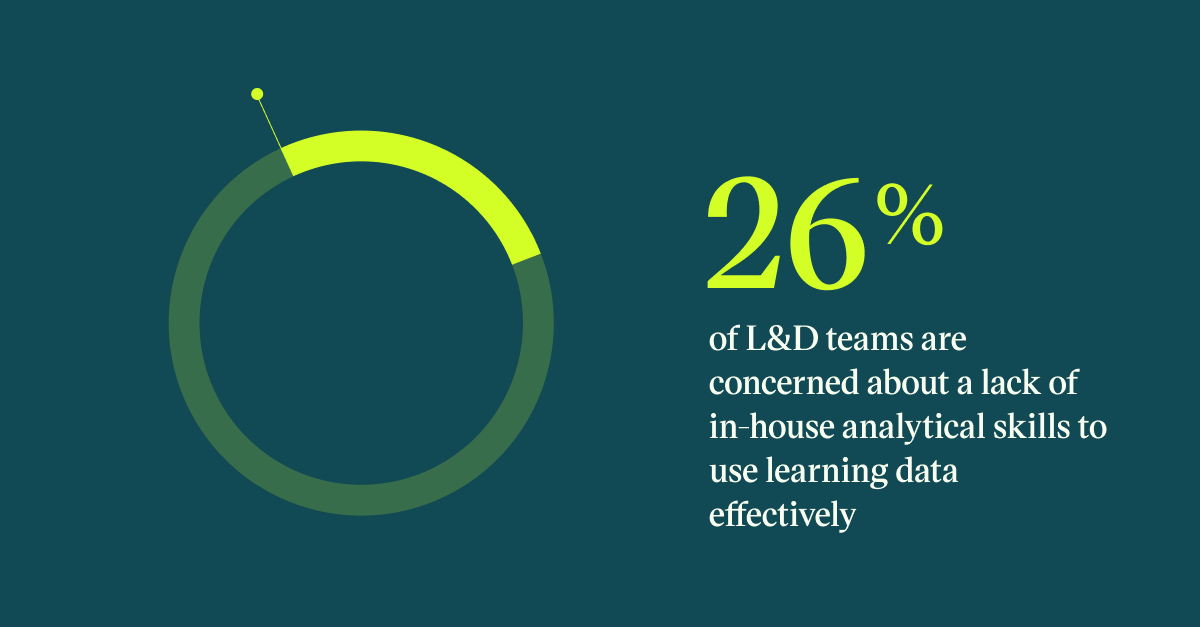 When teams go all in on data analysis, the results can be dazzling. Emerald Works' Back to the Future report compared the habits of high-impact learning cultures (HILCs, defined as the top 10% of L&D teams) against 'average' L&D teams to determine what sets HILCs apart. 
Unsurprisingly, the effective use of data analysis was a key factor. Here are some of the main areas where HILCs outperform other L&D teams. 
Boost the learning experience
66% of high-impact learning cultures use data analytics to improve the learning experience. In contrast, just 12% of average L&D teams do the same. 
Improve your L&D offering
Similarly, 66% of HILCs use learning analytics to improve the service they deliver, compared to just 12% of average L&D teams. 
Understand your learner's needs
Finally, data analysis is essential to thoroughly understand your learner's needs. Again, there is a gulf between the top-performing teams and the rest — 59% of HILCs use learning analytics to understand individual needs vs just 10% of average teams. 
Know what's working in real-time
Finally, CrossKnowledge points out that data analysis in L&D has one vital, overarching business benefit: "the most immediate impact of good learning analytics is the ability to know what's working and what isn't."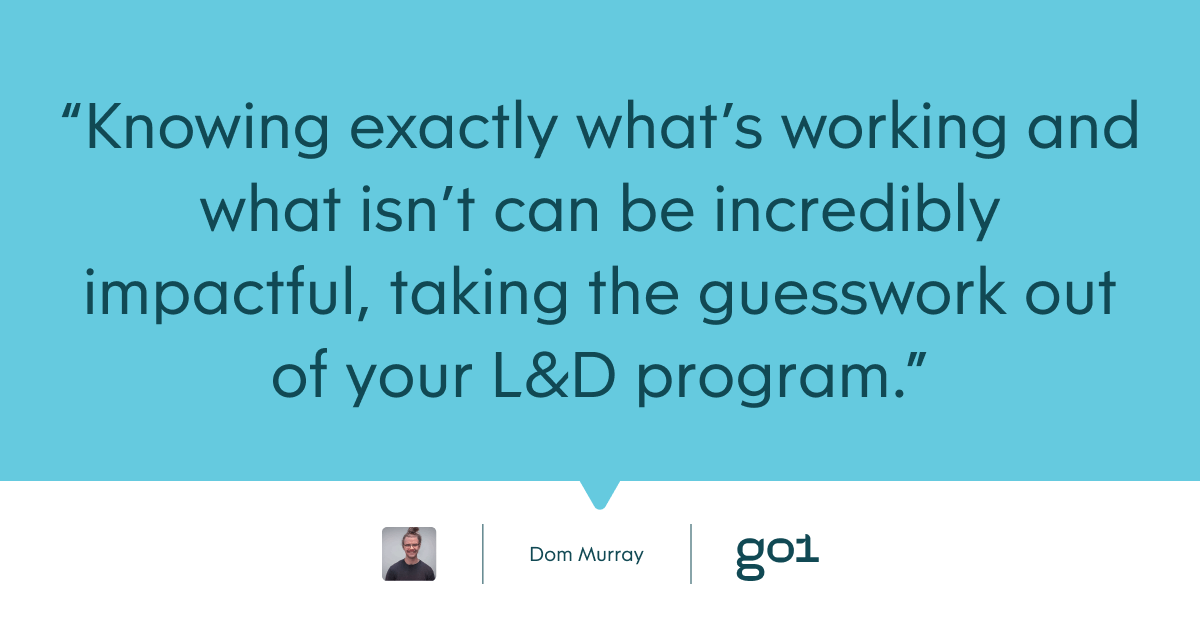 While this may sound basic, knowing exactly what's working and what isn't can be incredibly impactful, taking the guesswork out of your L&D program. Instead of stabbing in the dark, wondering if you need to add more interactive elements to your learning, or create more compliance training courses, accurate data analysis can provide immediate insights into what's working, what isn't, and what you need to improve. 
How to improve your team's analytical skills
For teams that are just getting started, upskilling your data analysis capabilities may sound like a big, scary project. You may picture rooms full of wall-to-wall computers crunching the numbers and spitting out data. However, data analysis doesn't have to be intimidating. Ultimately, improving your team's analytical skills starts with an inquisitive mind and a willingness to ask the right questions. It really can be that simple! 
As leading industry analyst Josh Bersin explains, adding data analysis to your L&D strategy "is not a project, [it's] a muscle…this is an ongoing expertise and business practice that you have to do overtime."
Like any other muscle, improving your team's analytical skills requires training. Asking probing, insightful questions is an excellent starting point. By doing so, you gain a deeper and more comprehensive understanding of year learners' needs, thereby boosting the learning experience and improving your L&D offering.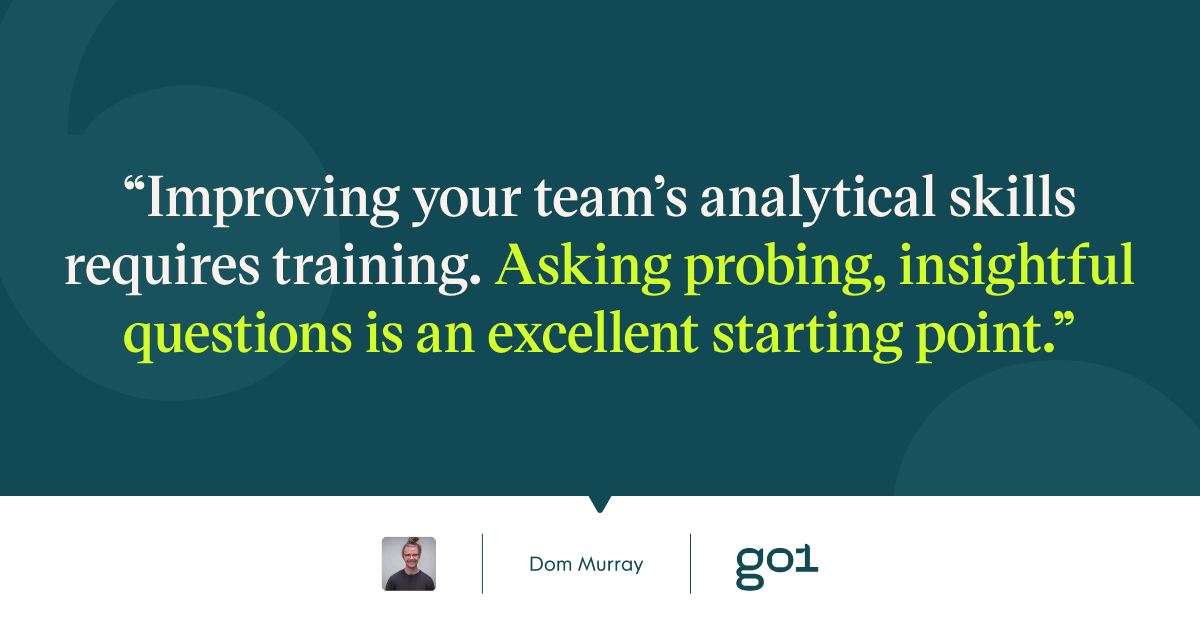 For example, HILCs may ask questions such as: 
​​What type of learning do my team members prefer (i.e. podcasts vs videos vs interactive quizzes, etc.)? 
Are there any skill or knowledge gaps our training doesn't adequately address? 
Do employees prefer bite-sized microlearning modules or longer courses? 
What courses have higher completion rates? What can we learn from these courses? 
Would employees prefer to learn in the office or learn on the go? 
Would employees prefer mLearning to eLearning? 
Do employees prefer individual learning or group tasks? 
Which employees require more support?
What are my employees' learning goals? How can I tailor their L&D plan to meet those goals? 
How many learners completed a particular course? How many hours did they spend learning? 
What percentage of employees responded that a course was relevant to their job duties after completing assigned learning? 
Is there any correlation between training hours completed and an increase in revenue? 
These questions (and many more — this is far from an exhaustive list) allow you to gain deeper insights into your employees' specific needs and the effect of learning on your broader business goals. This, in turn, lets you continually optimise, refine, and fine-tune your training to better suit your learner's needs and boost the overall learning experience. 
Or, for more insights, subscribe to the Go1 newsletter today to stay on top of all the latest L&D trends.