When the time comes for your organization to implement a learning management system (LMS), having a thorough plan ensures seamless implementation, fewer issues, and is less likely to result in downtime.
With this in mind, we'll explore everything you need to know to create an LMS implementation project plan, including establishing your goals, understanding your requirements, and the benefits of a well-thought-out implementation strategy.
What is an LMS implementation project plan?
LMS implementation is when your organization launches a learning management system to create a platform that employees use to access training courses. It's a convenient and accessible way to help their learning and development. An LMS implementation plan is the steps your organization takes to ensure this launch is successful, on time, and on budget.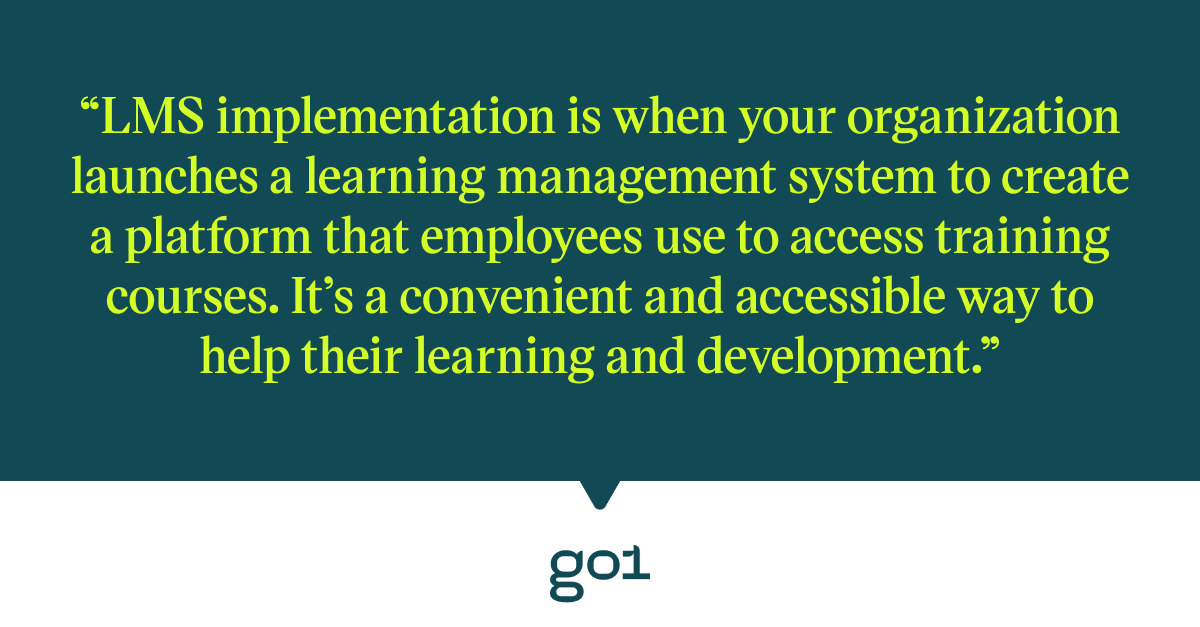 Many LMS' can integrate with different platforms, systems, and databases, making them a fantastic and versatile tool to improve your employee development strategy. However, this also means that without a thorough plan, the implementation and integrations can cause time-consuming issues that lead to major disruptions.
What are the advantages of an LMS implementation project plan?
As well as ensuring the implementation goes smoothly, having an LMS implementation plan has several additional benefits for your organization.
Saves time - Yes, creating an LMS implementation strategy will take time, but it will save your organization much more time in the long run by ensuring you address potential problems early.
Saves money - An LMS implementation plan will highlight money-saving opportunities and address inefficiencies. Not only that, but delays can be expensive, particularly if you have to delay training that potentially risks making your business non-compliant.
Increases engagement - When your organization gets the most out of an LMS, employees will see the value of its use, thereby increasing engagement.
Provides better outcomes - It's always better to have a plan as you're more likely to meet all your goals - not  just a percentage.
Step-by-step: Creating an LMS implementation project plan
Below is a step-by-step guide your organization can use to create an LMS implementation and integration project plan.
Step 1: Establish a team
As with any project, putting a team together with clear and defined roles ensures accountability, communication, and understanding. Depending on the size of your organization, this could be two or three employees for small businesses or five or six employees for larger companies.
Roles you'll want to establish include:
A project manager who is responsible for overseeing the project, including implementation, timelines, and budget.
A learning and development specialist who is familiar with your learning and development goals, industry standards, compliance requirements, and what your employees want from a learning platform.
An HR specialist who can ensure compliance from an HR perspective.
An IT administrator who will be comfortable executing your strategy, including data migration.
Several end-users. These can be employees of any seniority level from across the business. They will help test the implementation and integrations and provide feedback on potential issues.
Step 2: Define your project goals
Before creating your strategy, you must define what your organization wants to achieve through the implementation. Possible project goals include:
Better mobile accessibility to training materials
Improved employee engagement
A better ROI from training
Increased efficiency
More accurate reporting
A greater level of automation
Step 3: Identify which systems you want to integrate with the LMS
Once you have defined your goals, you're in a better position to build your integration plan to ensure they align. The best way to do this is by establishing which systems you want to integrate with your LMS to increase efficiency, effectiveness, and communication.
If your organization wants to improve reporting, you'll want to integrate your LMS with your reporting and analytics software.
If your organization wants to provide a library of eLearning courses to upskill and develop employees, it can integrate with online learning platforms such as Go1.
If you're looking for better content management and organization, integrating with a content management system (CMS) will ensure that.
If you want to create bespoke training courses, integrating them with course authoring programs makes it simpler.
If you want to increase employee engagement, integrating with an HR system will help HR staff monitor engagement and provide additional support. Integrating with assessment tools will also increase engagement and retention.
Integration with single sign-on (SSO) and identity management systems can help overcome access issues and improve security.
Step 4: Put a plan together
Next, you should establish a detailed plan for implementing your LMS and integrating it with your chosen systems. This process includes defining your timeline, scope, and priorities, as well as obtaining the necessary permissions. You will also need to decide which approach best suits your needs. Doing so may involve APIs, coding custom scripts, custom middleware, system-specific tools, and web services.
If your organization has used an LMS before, you should migrate any existing data to the new LMS. To ensure this goes smoothly, back up your data so you can recover it should an error occur. Be aware of any differences in how data is formatted or standardized between your old and new systems. You'll also want to migrate your users, permissions, certifications, and content.
A key part of this plan is how you roll it out to your workforce once the implementation and integrations are complete. Will you implement a partial rollout or a complete rollout? A partial rollout can make dealing with problems more manageable, but a complete rollout lets you see the positive effects of implementation much sooner. You'll also need to create supporting documents to tell employees how the new LMS implementation and integrations will work.
Step 5: Implement the strategy
Now is the time to implement your plan, ensuring each team member understands their responsibilities.
Step 6: Test the implementation
At this point, your test end-users should get access to test the implementation and integrations to ensure they're working as intended. Feedback should be open, honest, and frequent, and IT administrators should be able to fix any errors or issues as they arise.
Step 7: Evaluate the success of the LMS implementation
Once you've rolled out your LMS, you'll want to evaluate its success. Integrating your LMS with other systems makes them more efficient and effective, allowing you to get more out of them in a shorter period. You'll also be able to collate data in real-time.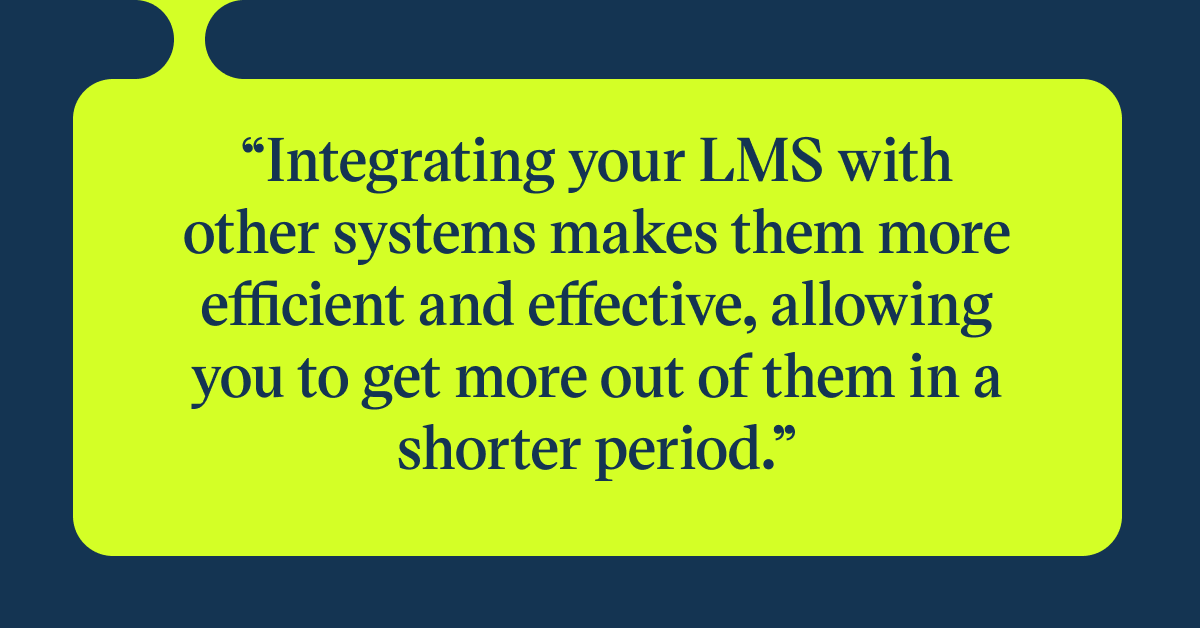 Once the implementation has been rolled out to all users, you should continuously evaluate and amend integrations to make further improvements. At this point, you can measure your original implementation goals against the results. Have you met – or are you on track to meet – the goals you outlined in step two?
As well as using data to influence your decisions and whether or not the implementation has been successful, you should encourage user feedback. While data is useful, there should also be a balance between how it directly affects employees. This will ensure you can implement improvements going forward.
Go1 integrates with hundreds of LMS'
Once you've implemented your LMS and integrated it with other systems, you can get the most out of training your workforce.
Go1 offers thousands of eLearning courses to upskill and develop your employees, and Go1 integrates with hundreds of LMSs. For more information about how we can support your organization's learning and development strategy, speak to an expert today. Or, you can subscribe to the Go1 newsletter to stay on top of all the latest L&D trends.