For the countless negative impacts of COVID-19, one significant silver lining for many employees has been the transition to working from home. From reduced commute times to increased freedoms, workers have reaped the rewards. However, as COVID-19 restrictions continue to ease worldwide, returning to the office is imminent for many workers. Understandably, workers are feeling a complex array of emotions about returning to office life, ranging from excitement to anxiety to trepidation. 
These varied feelings should come as little surprise, as the pandemic has showcased working from home is a high priority for employees. In some instances, it's even more important than money. In a recent survey by Logitech, 42% of Australian workers said they would prefer to work from home than receive a pay rise. What's more, 64% said that working from home saved travel time, allowing for a better work-life balance.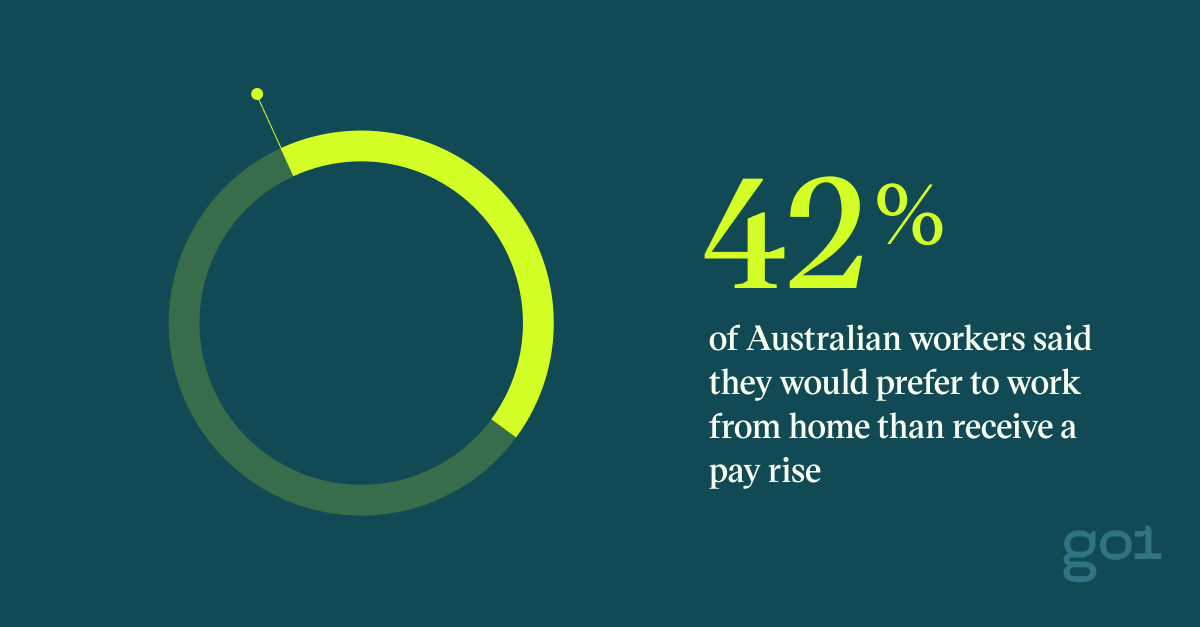 And these statistics are just the tip of the iceberg. Research shows that 53% of employees would feel some or high levels of stress if their employers required them to return to a shared office. Likewise, having to return to a physical workplace all or part of the time would cause 41% of employees to seek a job with another company. 
To emphasise this, a survey of over 4,500 employees by Limeade found "there was not a single employee that did not have any anxiety about returning to the office/worksite". This point is worth reiterating — every single employee felt some degree of anxiety about returning to office life. Specifically, the most common anxieties were less flexibility (71%) and commuting to work again (68%). 
Finally, Australia reported the highest levels of anxiety about returning to the office (53%), followed closely by the U.S. (52%). At the other end of the scale, Germany and Belgium reported the lowest levels of anxiety (31%) about returning to office life.
Put simply, most employees feel high levels of anxiety — even dread — about returning to office life. These feelings are understandable, as returning to the office full time may come as a culture shock after getting used to the increased freedom and flexibility of working from home. 
To ease this transition, employers have a duty of care to look after stressed and anxious employees, listen to their concerns, be flexible, and make returning to the office a positive experience. With this in mind, we'll take a closer look at how to deal with returning to the office, offering tips for both employees and managers to make a smooth transition back to the office. 
How to deal with returning to office life for employees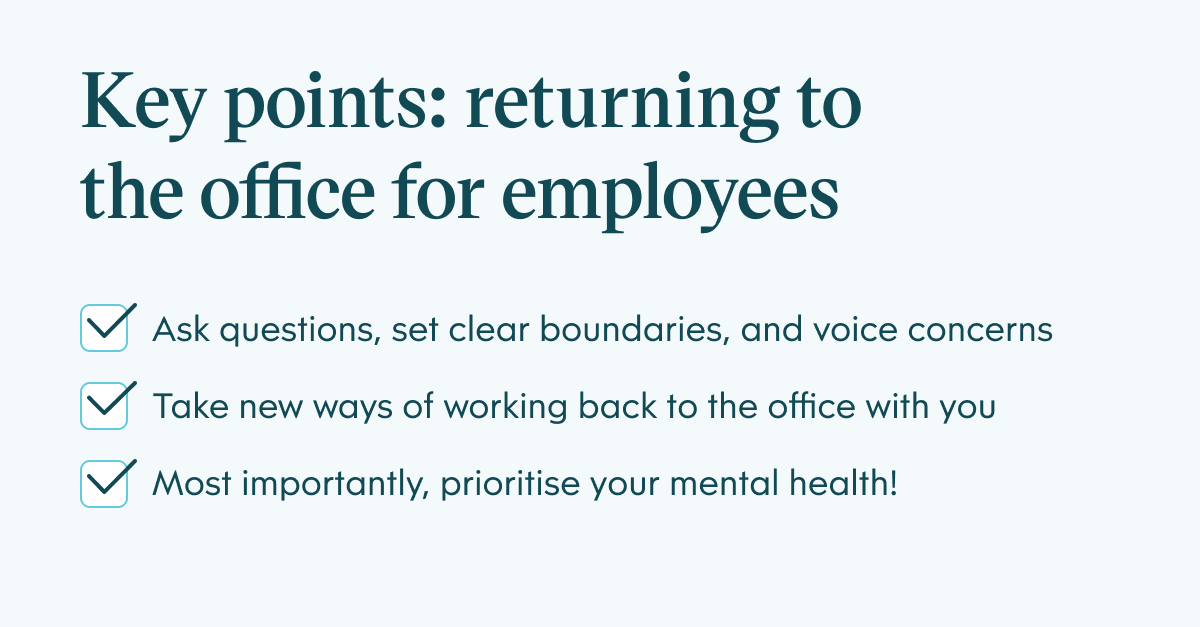 Reset your routine
It's easy to let routines slip in lockdown, especially as you're no longer frantically rushing out the door to beat the morning traffic. What was once a strict morning routine may have become a little lax. So, to help ease back into office life, it's important to reset your daily routines. 
According to Very Well Mind, routines can have far-reaching psychological benefits, particularly during times of disruption like a global pandemic. These benefits include lower stress levels, increased focus and productivity, and better overall health. Very Well Mind explains that "research has consistently shown that routines can play an important role in mental health. One study, for example, found that routines could help people better manage stress and anxiety." 
Returning to office life is an excellent opportunity to take stock of your daily routines — ​​particularly your morning routine — to find what works for you. This process will look different for different people. However, some suggestions include completing a morning meditation to help with any anxieties around returning to work, having a morning shower while listening to your favourite podcast, or even just eating a healthy, fulfilling breakfast to start your day on the right note. 
Ask questions and voice your concerns
If you feel trepidation about returning to the office, don't be shy about asking questions and voicing your concerns. Ideally, you should reach out to your manager and talk to them in-depth about your concerns. However, if you don't feel comfortable reaching out to a manager, it could also be a good idea to reach out to a trusted colleague. Having a clearer understanding of your company's return to work plan may help calm some of your anxieties. 
For example, you may be worried about social distancing regulations in the office, only to find that your company already has a solid plan in place. By asking the right questions and voicing your concerns, you can vent any fears and return to the office fully informed, rather than letting your imagination run wild with anxieties. 
Managers should welcome this opportunity to hear employee feedback. Not only is it the right thing to do on a human level, but it also allows them to address any concerns and optimise the transition back to work.
Set clear boundaries
It is vital to set clear boundaries upon returning to the office. For example, perhaps you still want to maintain social distancing or continue wearing a mask in the office, even if guidelines have eased and these activities are no longer mandatory. Everyone has different comfort levels, so it is okay to make these feelings clear to your colleagues and manager. 
Or, you might not yet feel comfortable attending team social events in public settings, such as lunches and after-work drinks. Whatever the case, it is vital to set clear boundaries upon returning to office life, while also understanding that the pandemic has had varied effects on people.
As The Muse explains, "​​respect your coworkers' needs. Some may be absolutely delighted to be back in the workplace. Others may not. Plenty may be practising social distancing, wearing masks, or otherwise protecting themselves. Parents may struggle to spend so much time away from their kids. Introverts might find it absolutely exhausting to suddenly be around so many people all day. In other words, each colleague may have a number of stressors, like you, and be having a tough time with the transition and the demands of work." 
Take your WFH learnings with you
One of the many benefits of working from home has been employees discovering new and productive ways of working. According to one survey, 70% of Australians believe their productivity increased when working from home. So, why not take these new ways of working with you to the office?
Have you discovered that you're more productive if you work for 20 minutes then take a 5-minute break? Did you surprise yourself and find out that you're way more productive in the morning? Did you realise it's easier to concentrate if you take a 10-minute tea break after every Zoom meeting? 
Many employees are crying out for more control over how they work, with a survey by Adecco finding that 73% of people think companies should measure performance based on results rather than hours worked. Transitioning your WFH learnings into an office environment is the perfect place to start. 
No matter your work from home workaround, it could be a good idea to discuss these ways of working with your manager to ensure a comfortable and productive transition back to the office. 
Prioritise your mental health
Most importantly, prioritise your mental health and wellbeing upon returning to the office. As we have seen, anxiety about returning to office life is at an all-time high. Adecco finds that 42% of workers say they feel a lot of anxiety about returning to the office. Moreover, 74% of employees say their company should increase the focus on mental health and staff wellbeing upon returning to the office.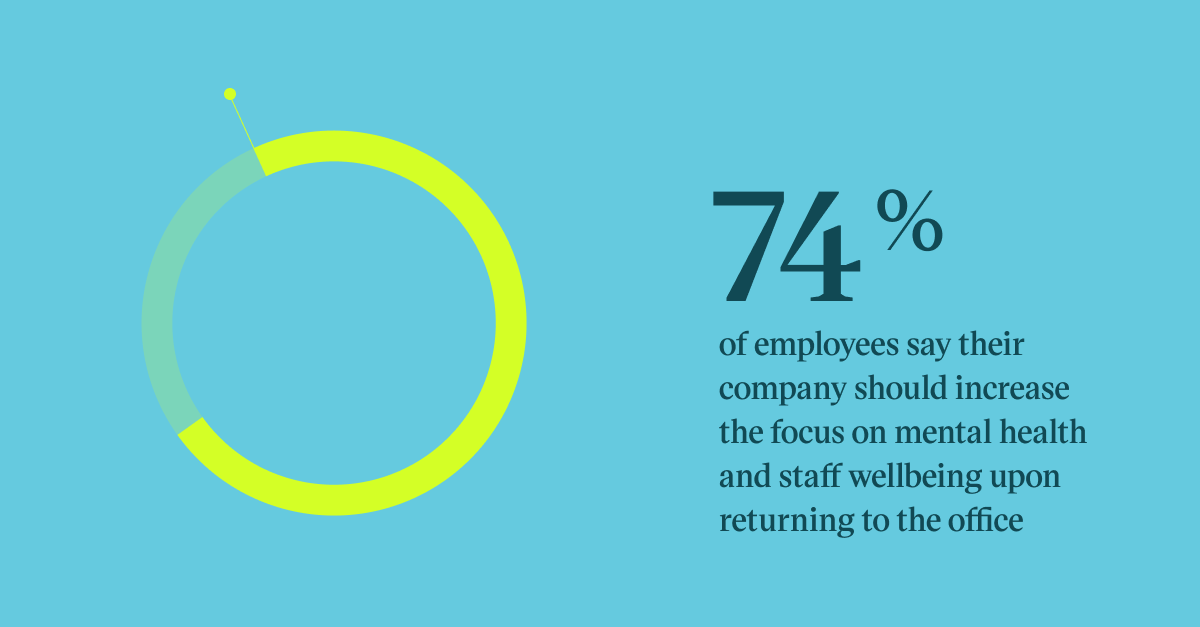 These figures send a resounding message to businesses: employees are anxious about returning to the office and require support. As such, this is a vital time to check in with yourself and your colleagues and prioritise mental wellbeing. Managers and team leaders should also be particularly vigilant and check in regularly with employees.
Prioritising your mental health will vary from person to person, however, some general tips include getting enough sleep and exercise, setting clear work-life boundaries, making time for hobbies, friends, and other things that make you happy, practising mindfulness, reframing negative thoughts, and reaching out for professional psychological help if necessary. 
For more information, be sure to read our recent mental health month blog about what we can do about burnout, or, read our tips for developing your mental health self-care plan.  
Tips for managers to ensure a smooth transition back to the office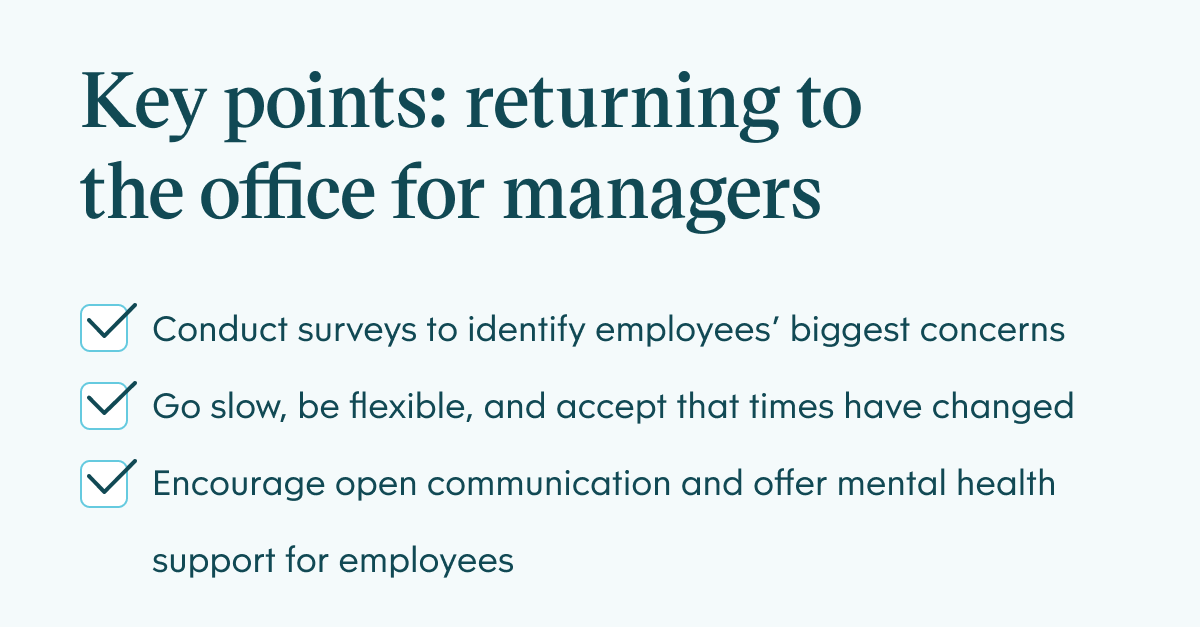 Offer mental health support
This point is so significant that it's worth reiterating. Given the levels of anxiety that many employees feel about returning to the office, providing comprehensive mental health support should be the number one priority for managers. 
As mentioned, 74% of employees say their company should increase the focus on mental health and staff wellbeing upon returning to the office. Yet, only 55% of employees feel their company cares about them, with only 16% saying they strongly agree, down significantly from 31% the year before. 
For people in leadership positions, these should be eye-opening statistics. Clearly, employees feel anxious about returning to office life and are calling out for better mental health support. It is your responsibility to answer this call.
According to a recent McKinsey report, employers can take several steps to create a more supportive workplace. Firstly, employers should encourage open and honest communication, where employees feel comfortable voicing their concerns without fear that mental health issues will be dismissed or stigmatised. Additionally, McKinsey finds that a majority of employees would feel less stressed if they were offered things such as additional time off (62%), flexible work schedules (60%), and hybrid work arrangements (57%). 
As McKinsey's report explains, "A majority of employees who experienced negative mental health impacts of returning on-site reported that policies that increased workplace safety and flexibility of work could help reduce their stress."
For further insights, be sure to read our article on why mental health education in workplaces is important.
Conduct employee surveys and listen to feedback
Another helpful idea is to conduct anonymous employee surveys prior to returning to the office. This strategy has multifaceted benefits for both employees and employers. From an employee perspective, it will make people feel like their concerns are being actively listened to and addressed. In turn, this will help employees feel more comfortable and supported when returning to the workplace, as they will know their concerns have been taken seriously.
For employers, conducting surveys can save you time and effort by helping you identify the key areas you need to address before encouraging employees to return to the office. After all, there's no point putting all your effort into drafting a flexible work policy if your employees are more concerned about safety measures in the office, for example. 
To exemplify this, earlier this year Alloy surveyed all of their employees and found that 92% would feel most comfortable returning to office life if only vaccinated employees were present. As a result, "Alloy required all employees to be fully vaccinated before returning to the office — a new, more spacious facility that promotes safe collaboration and offers a hybrid model for those who do not feel comfortable returning." 
Other companies can take a leaf from this book by conducting surveys to identify their employees' most pressing concerns about returning to the office and taking steps to rectify these issues. 
Go slow and be flexible
Another key piece of advice to facilitate a smooth transition back to the office is to go slow and be flexible. In this way, returning to the office is less like ripping off a bandaid and more like training for a marathon. For many employees, transitioning from working from home to being back in the office full time will be a huge adjustment — especially after limited social interactions throughout lockdowns. 
There are a variety of ways to ease this transition, depending on your company culture and employee's specific needs. For example, you could start by asking employees to return to the office two days a week while working from home for the other three days. As Forbes recommends, "to avoid overpowering workers, consider creating experimental or pilot programs to help people ease into this new way of working."
You should also ask yourself whether it is strictly necessary to have employees return to the office full time at all. Are you asking employees to return to the office because it is a vital component of their jobs, or simply out of a traditional feeling that that is the way things should be done? Many employees have discovered they can be just as productive working from home, and therefore resent being forced to return to the office.
According to a study by Eden Workplace, 62% of employees now want a hybrid working model (i.e. working both from home and in the office), while 15% want to work from home full time. Less than one-quarter of employees (23%) want to return to the office full time. Other surveys have found this number is even higher, with up to 80% of employees wanting to continue working remotely. 
Similarly, 76% of employees want flexibility for where they work, and 93% want flexibility for when they work. What's more, 41% of employees say they would look for another job if they were forced to return to the office full time. 
Employers must take these findings on board and realise that flexibility is key to reintegrating employees into the office. Employers with more stringent or traditional views who force employees to return to the office full time will be left behind and likely miss out on top talent in the future. 
Adjust expectations and accept that times have changed 
COVID-19 has changed everything. This isn't just a buzzy phrase, but a fact that employers must come to terms with quickly. For many employees, the genie is out of the bottle, and returning to traditional workplace expectations is no longer an option.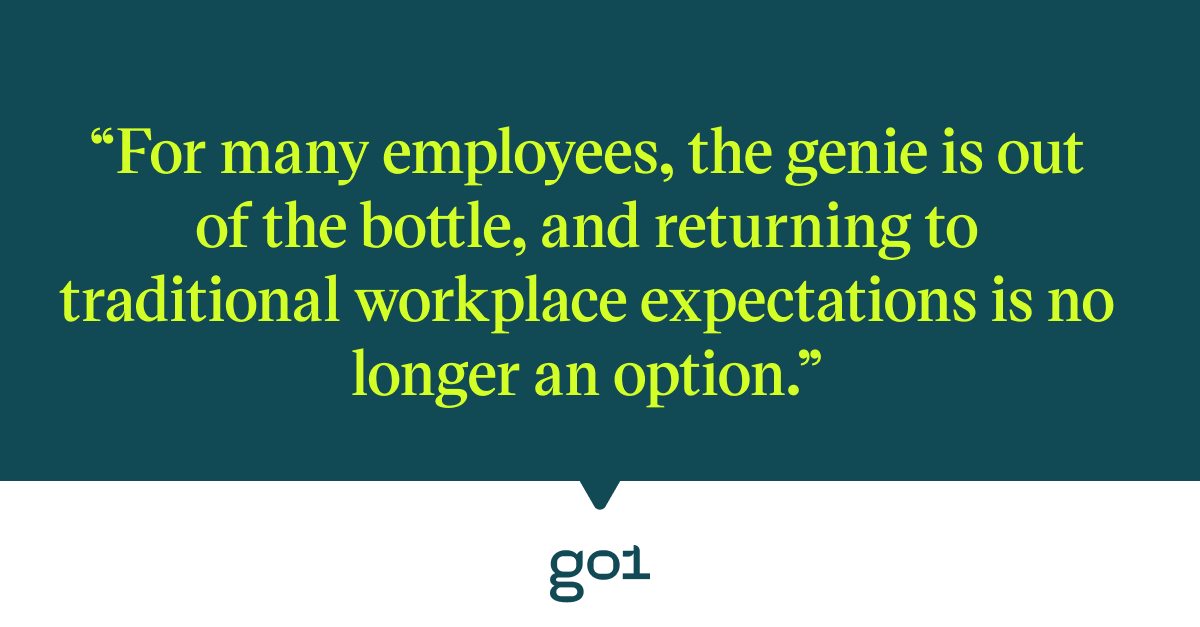 As said Larry Gadea, CEO and founder of Envoy, puts it, "One major takeaway...is that companies that demand a return to pre-pandemic 'business as usual' will fail. We need to earn our employees back."
Despite this, there is a massive disconnect between what employees want and what employers expect. For instance, a recent Mercer survey found that 70% of companies said a blend of in-person and remote working will be the new normal. Yet, only 6% of employers said they had enacted a virtual-first or a fully remote model. Similarly, Adecco finds that 53% of people want to spend more time working remotely, yet only 39% expect that they will be allowed to spend more time working remotely. 
What's more, the Future Forum Pulse global survey found that executives who work remotely are almost 3x more likely than employees to prefer returning to the office full-time. In contrast, 76% of employees don't want to return to the office full-time. 
According to Ella Washington, founder of Ellavate Solutions, some employers are clinging to the past. 
"Studies show that many executives are holding on to the remnants of the past and failing to see this as an inflection point in the workforce. If employers don't pay attention and take action to re-create the best of what we've learned working virtually in the office and in hybrid work environments, then opportunities for inequity could skyrocket," she said.
In other words, employers need to acknowledge the disconnect between what they want and what employees expect. Subsequently, they must also adapt to new ways of working. Workplaces won't go back to 'business as usual'. Rather, they will grow with the accumulated knowledge of working from home and other new ways of working discovered during the pandemic. Those who recognise this trend and adapt quickly will have the most success in returning to the office.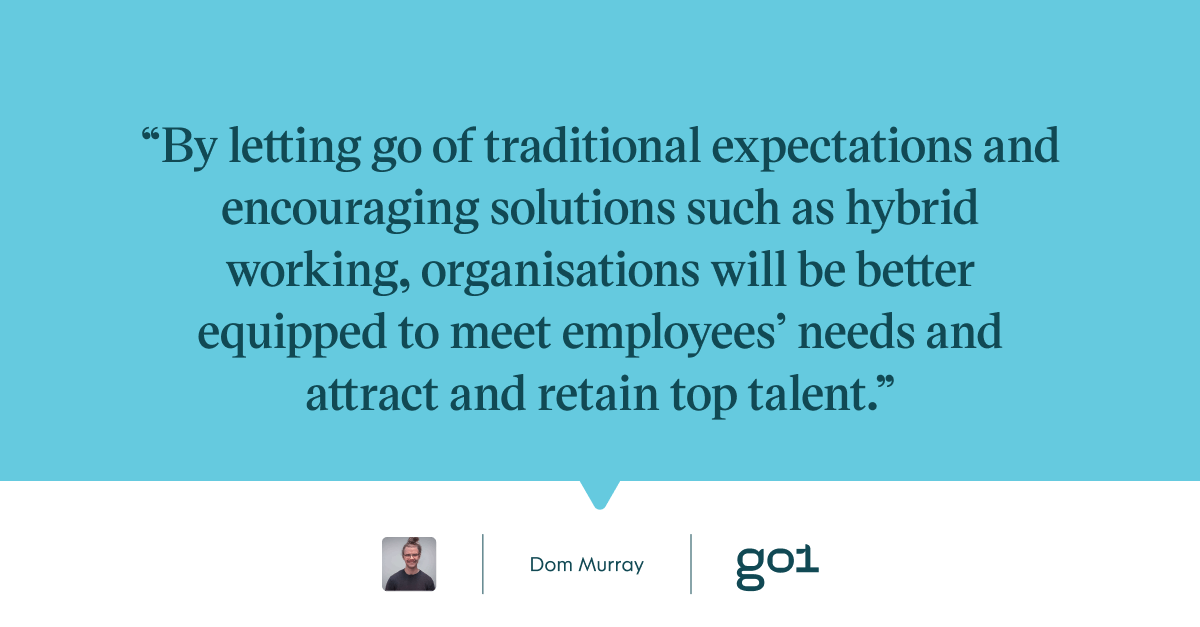 By letting go of traditional expectations and encouraging solutions such as hybrid working, organisations will be better equipped to meet employees' needs and attract and retain top talent.
Encourage open communication
Finally, no matter what strategies employers enact to facilitate a return to the office, they must clearly and openly communicate with employees and foster a culture where employees feel comfortable doing the same. Open communication was important before COVID-19. Now, it is essential. 
Kim Nguyen, vice president of people at Alloy, says their company has adopted a model of "over-communicating". She explains that they "conduct frequent company-wide surveys to gauge comfort levels and ensure coming to work is [a] safe and enjoyable experience for all employees."
In an interview with Forbes, senior partner at Peppercomm Ann Barlow recommended that companies should "ensure open communication between employees and employers, make sure all employees feel comfortable participating in a two-way dialogue, both person-to-person and via technology. Employees are more likely to speak openly [about] concerns, stresses, hesitations and worries when they feel comfortable with their employer."
While this may sound like an easy win, it is something that many companies get wrong. To ensure your employees have a positive experience while returning to office life, prioritise open, honest, and transparent communication at all levels of the business.
Need some support while transitioning back to the office? Go1 can help. Start your free trial today to access dedicated courses on Returning to the office, Returning to work during the pandemic for employees, and many more.
For more insights about returning to office life, be sure to subscribe to the Go1 newsletter to stay on top of all the latest L&D trends. Or, you can book a demo today.