The parent company of fashion retailer Forever 21, SPARC Group needed to create a library of training content – but it had limited resourcing and no learning program in place.
Go1 provided the diverse range of content and formats necessary to meet the needs and preferences of 2,000-plus users across SPARC Group's seven fashion brands. And, through practical and solutions-focused support, we enabled the small team to successfully navigate the program's development and implementation process.
While the learning program is still being rolled out, it has a big goal: to support the creation of a culture of learning within SPARC Group that, in turn, helps to engage and develop the organization's employees.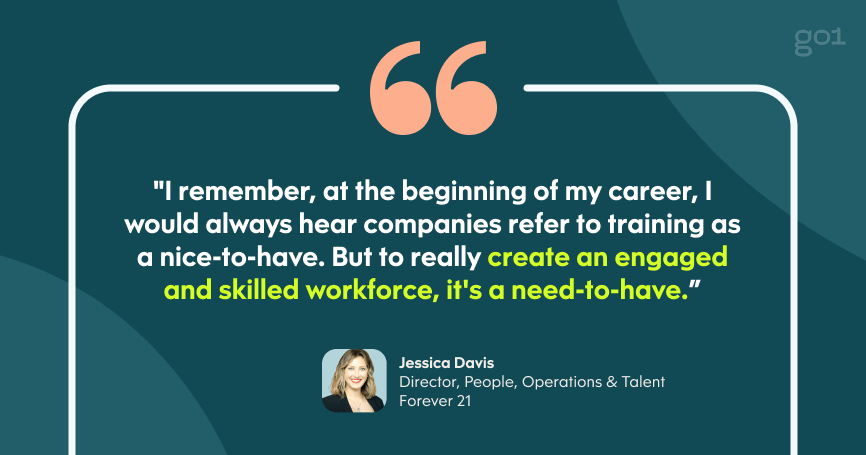 "I remember, at the beginning of my career, I would always hear companies refer to training as a nice-to-have. But to really create an engaged and skilled workforce, it's a need-to-have."
So says Jessica Davis, Forever 21's Director, People, Operations & Talent. A keen advocate of the importance of learning and development, Jessica was tasked with rolling out a learning program across the seven fashion brands owned by Forever 21's parent company, SPARC Group.
But, with just a small team and no learning program currently in place, developing the training library – and building a culture of learning within the organization – would be no small feat. 
Starting from scratch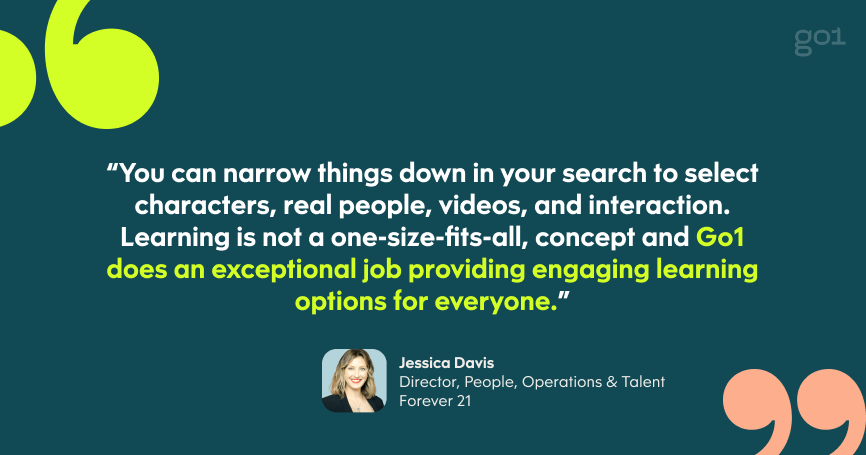 When it came to learning content, Jessica was essentially starting from scratch at SPARC Group. "Nothing was available except for compliance training, like anti-harassment and legally required courses. There wasn't an online library, a learning management system, and nothing focused on developing skills or people," she remembers.
Jessica has a small team, which meant that creating training content for each of the seven brands would be inefficient and impractical – so she recognized the need for a learning provider that could offer high-quality content across a wide range of topics. "What Go1 offered us was a way to fill the library of courses, so that people could go in and find everything from basic Excel skills to succession development and leadership development," she says.
With the learning program supporting 2,000 managers and corporate-office users – as well as a package of five courses to support 15,000 retail employees – the diversity of content and formats was particularly valuable, helping Jessica to support a range of learning needs and preferences. "There's so much opportunity," she says. "You can narrow things down in your search to select characters, real people, videos, and interaction. Learning is not a one-size-fits-all, concept and Go1 does an exceptional job providing engaging learning options for everyone."
Supporting the learning curve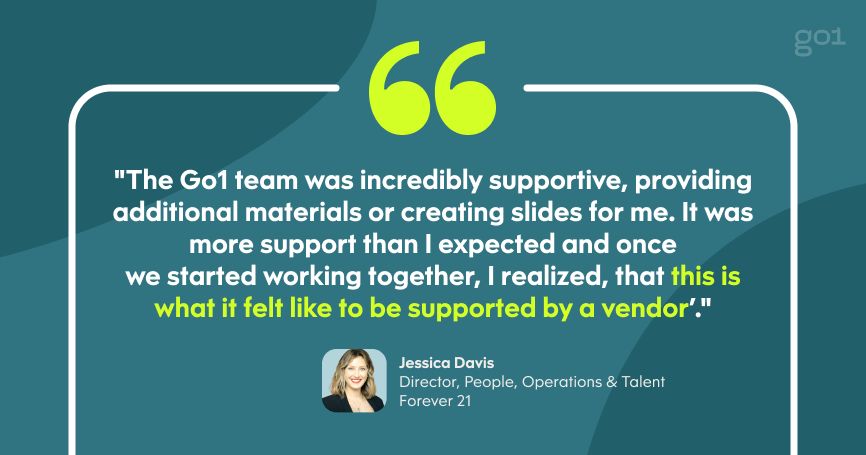 The program's development and implementation were a learning curve for SPARC Group – but Jessica's team at Go1 was there every step of the way. "They were focused on solving the problem and supporting us in any way we needed," says Jessica. "It was about finding a solution to every roadblock that came our way and how to approach it from a different angle."
And, while Jessica had significant demands on her time, the team enabled her to shepherd the project through successfully. "The Go1 team was incredibly supportive, providing additional materials or creating slides for me. It was more support than I expected and once we started working together, I realized, that this is what it felt like to be supported by a vendor."
All this contributed to an exceptional working relationship, despite some significant challenges. "I'm really big on relationships," says Jessica. "So, you've got to capture that feeling from the get-go. It's part of my scorecard when meeting with a vendor – and believe me, it's not easy to establish. The relationship with Go1 was phenomenal off the bat, and it never stopped. I am truly blown away."
The importance of learning and development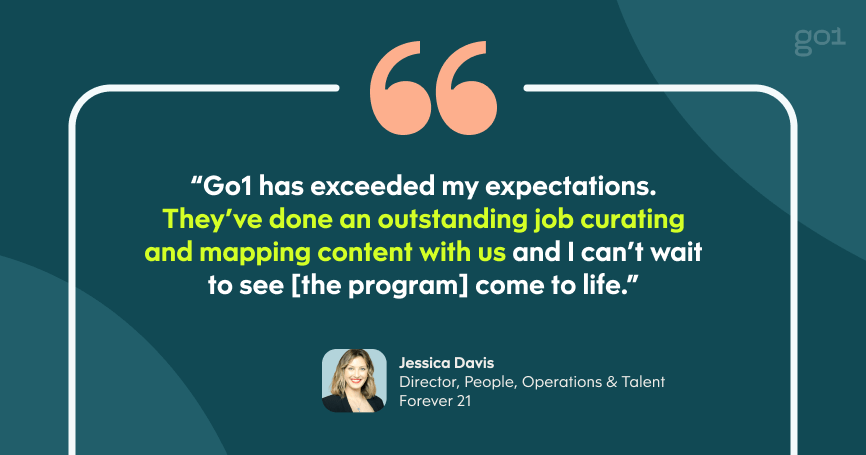 Jessica is currently in the process of rolling out Go1, but when asked about the future, she's got her eye firmly fixed on the big picture.  
Step one? Demonstrating the value of the learning program. Jessica reflects on this, saying "I think there's been apprehension about rolling out a learning management system because people don't always understand its value. There is narrow thinking around its capability and the emphasis on compliance. While compliance is important and necessary, a truly great employee experience needs to be at the center of everything we do. Leveraging an LMS means looking at learning from their perspective and consistently providing them with the tools, access, information, and support they need to be a valuable contributor to the overall business. It will be a game-changer," she says.
She also notes that "learning adoption is a huge topic to consider" and points to the need to understand who is actually using the program, and the skills and capabilities that need to be supported in the content and courses that are offered.
But it's the opportunity to create a culture of learning within the organization – and the role of Go1 in supporting that goal – that she's really excited about. "I want people to know that utilizing the Go1 library allows learning teams to be proactive about focused learning content while also being reactive when business shifts," says Jessica. "It's so important to have content available for any scenario and Go1's offerings are almost endless."
In the meantime, Jessica and the Go1 team are looking forward to seeing the program being rolled out in full. "Go1 has exceeded my expectations. They've done an outstanding job curating and mapping content with us and I can't wait to see [the program] come to life. This is NOT the end of our Go1 relationship, it's continuous just like a learning journey" concludes Jessica.
Keen to learn how Go1 can partner with you to deliver impactful employee training in your organization? Get in touch today and let's start the journey towards a game-changing solution.