60,000 minutes of learning consumed in the first three months after launching Go1. 
100% self-enrolled learning. 
Successfully delivering learning in the flow through the Go1 and MS Teams integration. 
Positively impacting Lumanity's employee value proposition.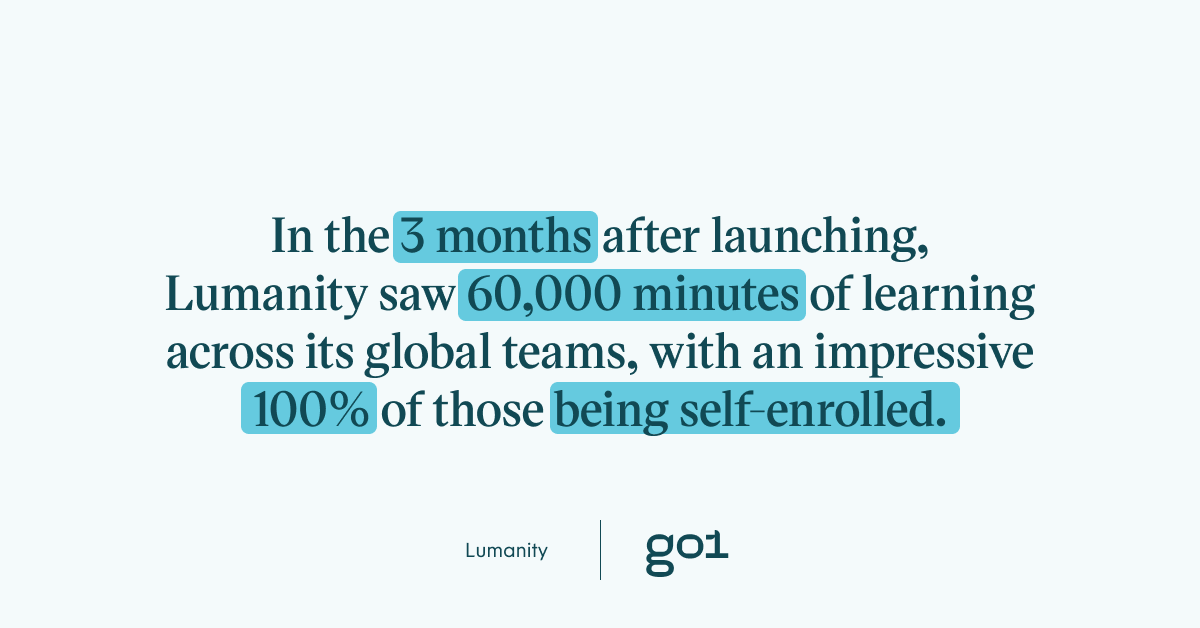 With offices across the globe and an expert team of 1,400+, Lumanity brings together diverse perspectives and innovative medical solutions to address emerging complexities.
Following the establishment of a new organisational structure,  Lumanity developed and modernised its talent development division and there was an opportunity to build a custom learning solution.
Lumanity's four primary learning solution needs  
Learner demographics: Most of the team were comfortable digital natives, familiar with streamlined and intuitive digital experiences. The learning solution needed to respond to the team's preferences.  
Aligned with IT strategy: Utilising the opportunity to work in partnership with the IT department strategy to leverage its operational tech stack.
Diverse nature of requirements: The sheer size of the organisation required diversity in learning options and formats.  
Growing library of content: Lumanity recognised the need for consistently updated and relevant content for its global team.  
In their search for a partner in developing this complex learning solution, Lumanity found Go1. 
Getting executive buy-in to launch a progressive L&D strategy 
As with any new organisational strategy, achieving executive buy in can be a complicated hurdle.  
When presenting their progressive L&D solution, the team focused on the immediate budget, agility and content benefits in Go1. 
After pitching to the executive teams, Carole Moore, Global Director of Learning and Development said, "senior leaders valued that I was able to bring a connected solution to the business and individual learners so quickly and effectively. "
Having an organisation made up of highly educated thought-leaders, providing quality learning content was critical for leveraging executive buy-in.  
Demonstrating that they were able to "get the depth, the range and the variety of learning content to meet the needs" through Go1 aligned both organisational and end user goals.  
Delivering an intuitive learning ecosystem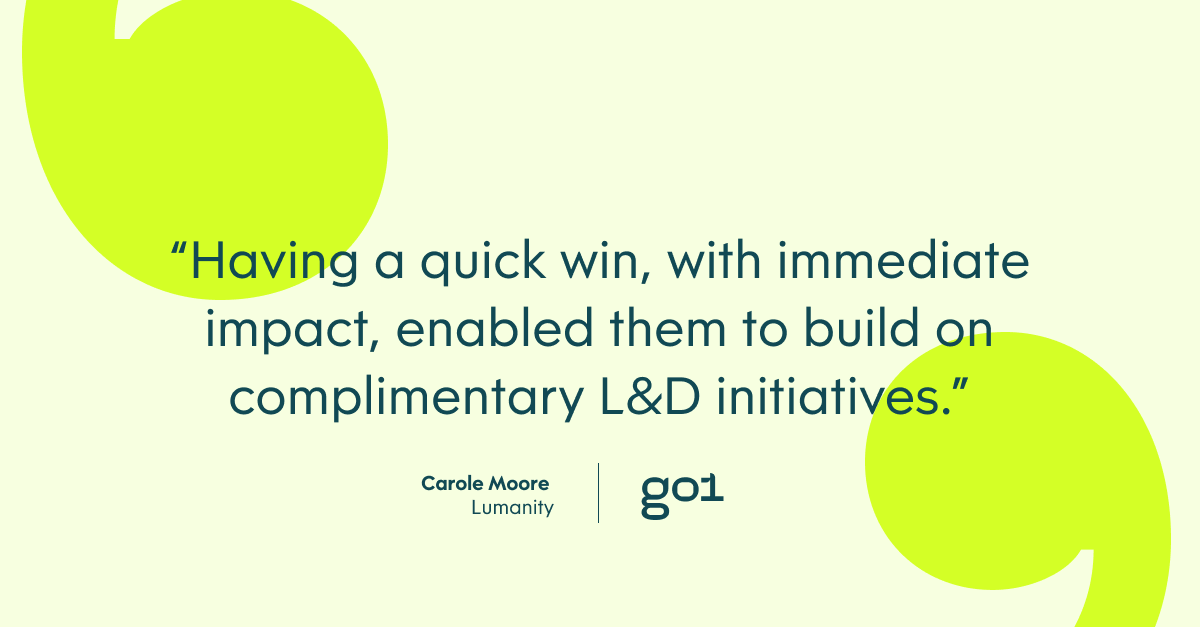 The goal was to deliver an intuitive learning ecosystem to Lumanity's distributed workforce. The initial stage was an immediate roll-out of accessible learning to their people, while simultaneously developing curated pathways and learning objectives unique to Lumanity's teams. 
Lumanity recognised that, "having a quick win, with immediate impact, enabled them to build on complimentary L&D initiatives."
Leveraging tech integrations to deliver learning in the flow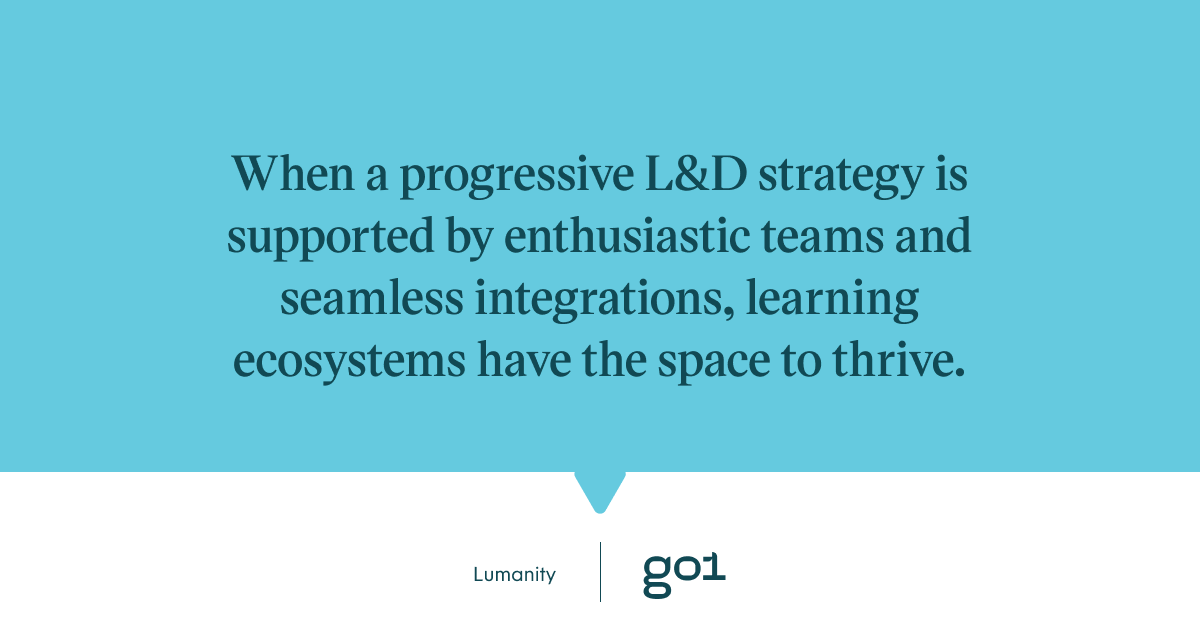 Empowering a learning culture was a strong focus for Lumanity, and the introduction of communities of learning, including subject matter experts and champions added to the overall successful roll out (Read more on cultivating a culture of learning here). 
As the ways in which we work become more linked to technology, greater numbers of workplaces are striving for more purposeful integrations. Go1's integration with MS Teams not only appeased Lumanity's wider organisational IT strategy, but was a catalyst for reaching their goal to develop a strong learning culture.  
Carole reflected on this integration, noting that, "this absolutely tapped into one of the cornerstones of my strategy, which is learning communities." 
In the 3 months after launching, Lumanity saw 60,000 minutes of learning across its global teams, with an impressive 100% of those being self-enrolled learning. 
When a progressive L&D strategy is supported by enthusiastic teams and seamless integrations, learning ecosystems have the space to thrive.  
Delivering transformational learning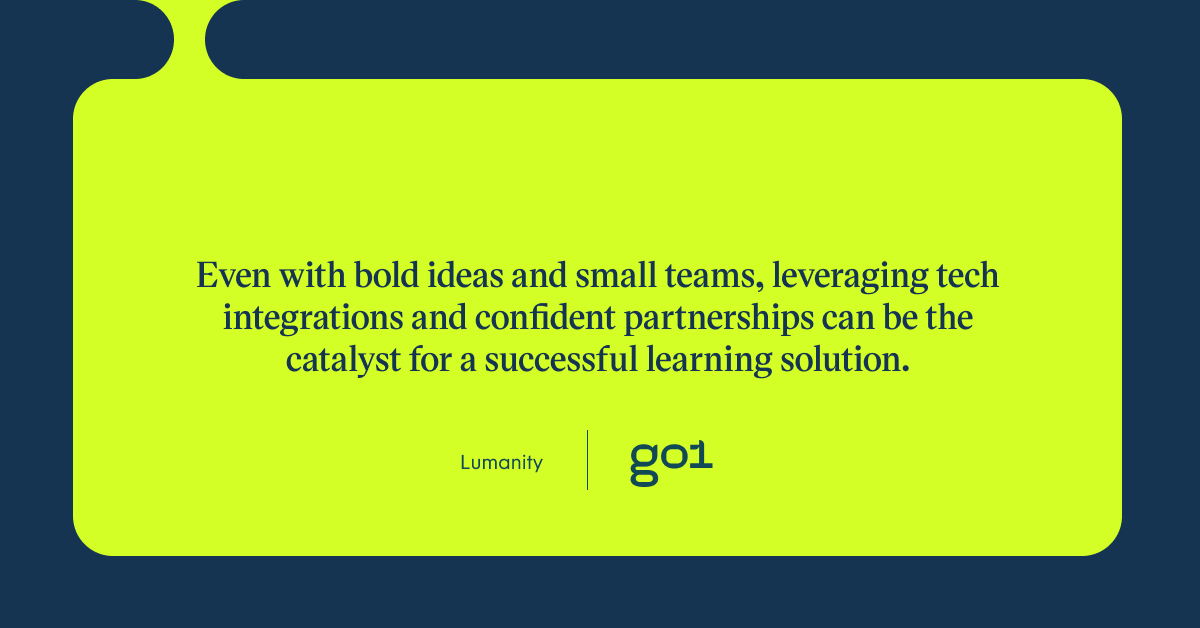 At Lumanity, their people are critical to service delivery. So, from the early days of Lumanity, there was a high value placed on people support and development.  
Through the learning ecosystem facilitated by Go1, Lumanity were able to deliver a progressive and agile learning strategy.  
The success here of such a broad and complex digital learning solution was driven by established diverse needs, that were met with simplified solutions. Capturing the opportunity to streamline its tech integrations, Lumanity simultaneously received a more engaging and purposeful learning experience. 
Demonstrating that even with bold ideas and small teams, leveraging tech integrations and confident partnerships can be the catalyst for a successful learning solution.  
Keen to learn how Go1 can turn your L&D needs into a thriving learning ecosystem? Get in touch today and let's start the journey towards a game-changing solution.