During a recent Go1 webinar promoting our latest eBook, our panel offered expert insights on purchasing a learning platform, digging into topics such as getting stakeholder buy-in, creating a learning culture, measuring workplace learning ROI, and much more. The webinar was hosted by George Ellison-Bunce, Enterprise Customer Success Manager at Go1, who was joined by expert guests Kelly Jenkins, Director of Alliances at Go1, Ally Monaco, Senior L&D Partner at the Oliver Agency, and Sebastian Tindall, Strategic Enablement Director at Vitality.
We'll recap the highlights of this insightful discussion, but if you want more, you can also catch up on the full webinar replay below. Or, to delve deeper into these subjects, check out our eBook on choosing the right learning platform for your business.
Firstly, the panel set the scene by discussing a seemingly simple question: why should learning be a business priority? For Ally, it was all about practising what you preach when searching for a learning platform for the Oliver Agency.
"One of our company values is learning, so you have to put your money where your mouth is," she said. 
"For us to reasonably encourage everybody to learn the system, the offering that we give them needs to be robust. It needs to be developed, but it also needs to be strategic and relevant to them.
"We needed an LMS that could deal with specific content for different regions, but also to be able to target individual audiences and cover a huge variety of topics."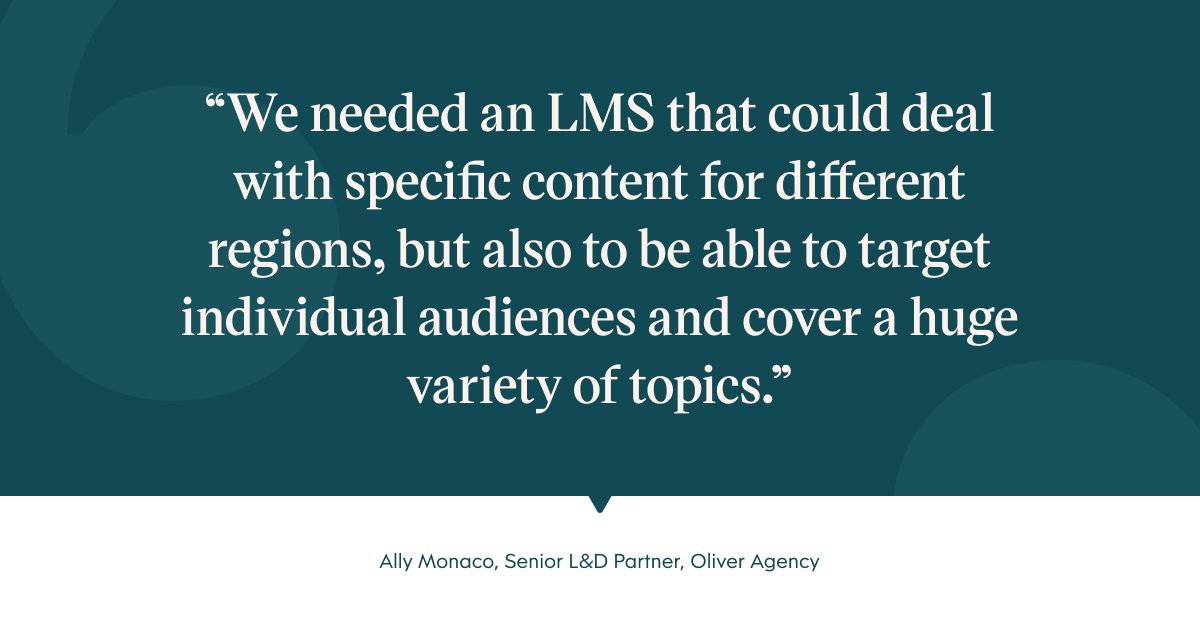 Sebastian expanded on this, explaining that when Vitality was looking for a learning platform, it was all about aligning learning goals with business goals. 
"Learning isn't a business priority, performance is," he said.
"So, I think when we're looking at a system to deploy, it has to be linked to what the organisation is trying to achieve."
Following this, the panel shared their tips for getting stakeholder buy-in.Ally kicked this discussion off, sharing her story of trying to get buy-in at the Oliver Agency.
"The main collection of stakeholders when we were choosing a platform were obviously finance - people with the purse strings - but also [people from] Systems. We needed an LMS that spoke to our current system. That was an essential aspect, and also the compliance department as well, because we were looking to integrate," she said. 
"So big, significant departments within the business. None of which had anything to do with learning and development. It is a difficult concept, but I think sharing the extent of the platform's capabilities was the most important thing because I don't think the various other departments expected one platform to be able to do so much for us."
Next, the panel offered insights into measuring ROI after implementing your new learning system. Again, Sebastian emphasised the importance of aligning learning goals and business goals to clearly define your learning system's purpose.
"The first thing you've got to do is align your reporting to business strategy and the performance metrics around that. You're not a disparate function going in reporting on L&D, you're a function that's enabling a business and is there to support performance," he said.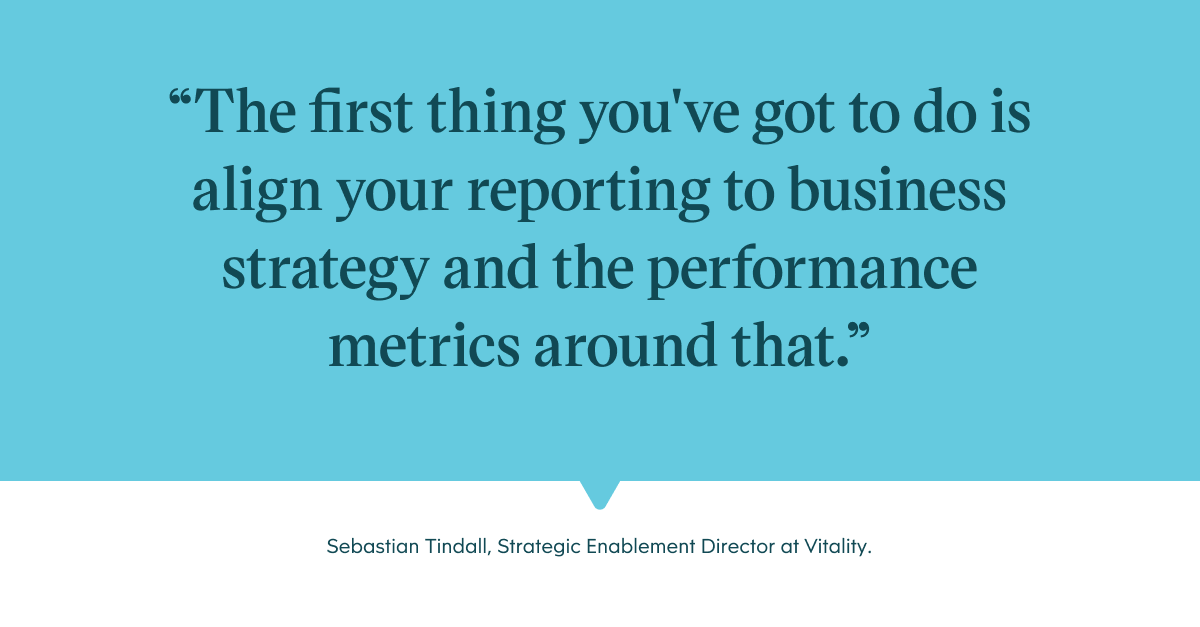 Adding to this, Sebastian also explained that one of Vitality's key metrics was around decreasing training minutes to increase efficiency and future-proof skills. 
"We have been really clear to say, we're not trying to promote an increase in training. Training is a cost. So, when you take people away from their job, they're not contributing to performance. What we want to do is make people better at their jobs in a more efficient way. And the way you do that, ironically, is by driving your training minutes down. So how do you rationalise the cost versus the performance of that individual?" he added. 
Next, Kelly emphasised the importance of thoroughly testing your learning platform before launching. 
"You must make sure your platform is ready for public consumption. Because I have seen a number of times when a platform gets launched and there are some glitches in the matrix, right? And the learners who are utilising those platforms, if they have a bad experience typically that's just gonna put them off and create formal barriers," she said. 
"So I say, test, test, test, test, make sure that your implementation is absolutely on point where it needs to be." 
Additionally, Kelly noted how vital it is to build a culture of learning to ensure your L&D efforts are supportive and sustainable. 
"Building a culture of development feels more holistic and supportive and makes people feel like they're more in control of that journey. Therefore, just by virtue of that, you're gonna get more buy-in from people, typically from a psychological perspective," she said. 
Finally, the panel signed off by briefly sharing their predictions for the future of L&D in 2024 and beyond. 
"Learning needs to not feel like learning, users just need to be interested in the content. And then one word: AI and everything that comes with it," Ally said. 
"I'll go with two words: hyper personalised," Sebastian added. 
Want more? Catch up on the full webinar replay below: