Welcome back to another enlightening edition of The Extra Mile, the blog series where we interview Go1 customers and their Customer Success Managers (CSMs) about their relationships, challenges, learning goals, and everything in between. 
If you haven't already, catch up on the inaugural edition of The Extra Mile, where we chatted to Mandy Rutherford, L&D Manager at Wave Utilities, and her Go1 CSM Emily Reynolds. 
In this month's edition, we'll talk to Dan Ritchie, Assistant Director of Learning & Development at H2M Associates, and Peter Pietro, Enterprise Customer Success Manager at Go1, about their first impressions, lessons learned, obstacles overcome, and how Peter went the extra mile to help H2M source industry-specific content to meet their learning needs. 
Why did H2M Associates choose Go1?
From the outset, Dan knew there was something different about Go1 compared to other learning providers he had dealt with. Whereas some platforms offer a CSM in name only, he believes that Go1 delivers Customer Success in the truest sense — a crucial point of difference in their selection process. 
"A designated CSM isn't something new, but most platforms never deliver a true CSM, where Go1 truly has an educated partner that will resolve and help you navigate through challenging situations. It is their competitive advantage," he said.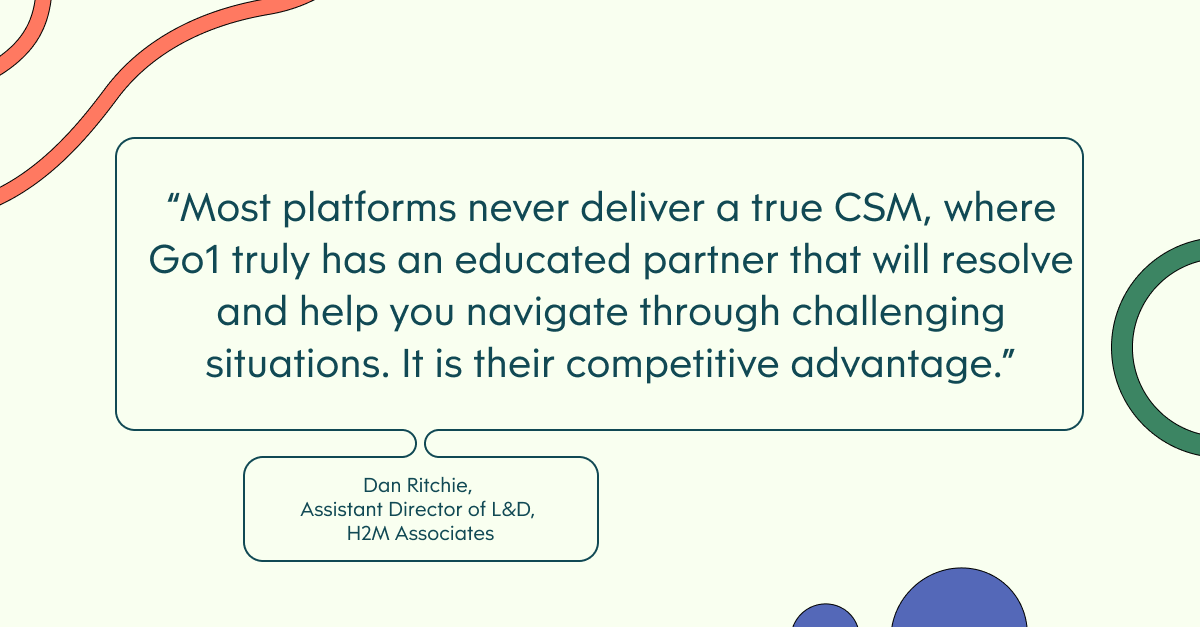 Peter adds to this, providing insight into what sets Go1 CSMs apart. 
"We take the time to learn the customer's goals and try to understand what they need from the Go1 solution to be successful, and then try to enable them with the tools and knowledge to achieve that success," he said.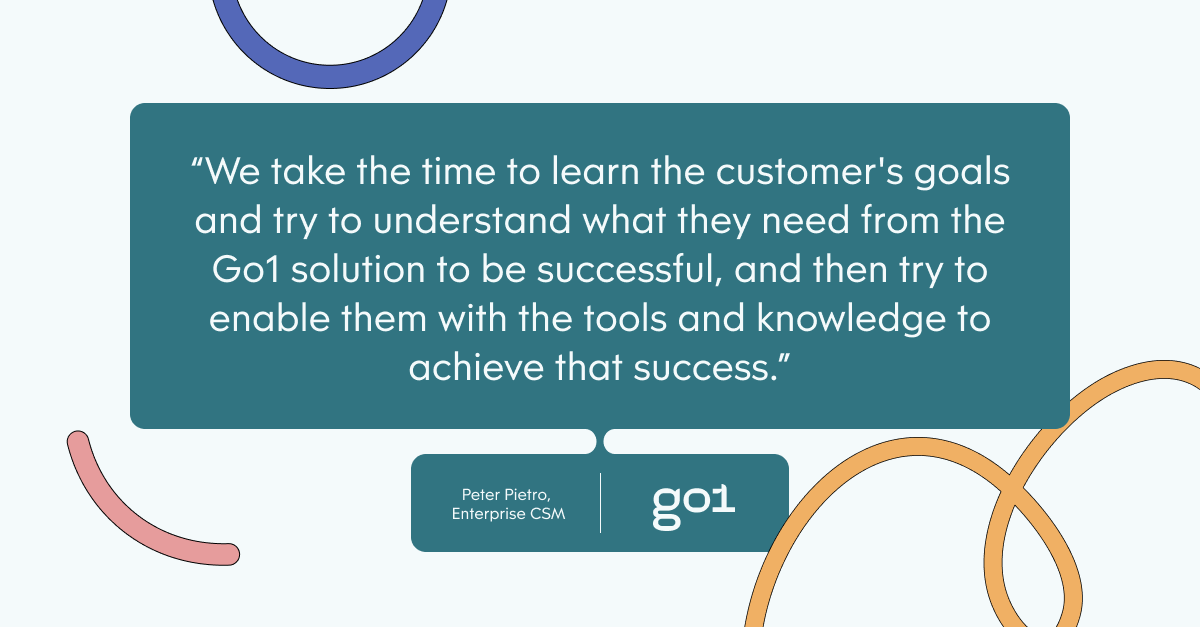 Of course, while having a CSM was significant, it wasn't the sole factor in H2M's decision. Dan also emphasised that Go1's integration capabilities were vital.
"Another factor was Go1's integration with our LMS," he added. 
Building the relationship
With the partnership off to a strong start, they began working together in earnest, with both Go1 and H2M Associates finding the relationship to be rewarding and professionally beneficial.
For Dan, the qualities that stood out most about Peter were his responsiveness and willingness to go above and beyond to solve any issue.
"Any time we have an issue or need something added to the offerings, [Go1] are always responsive," he said.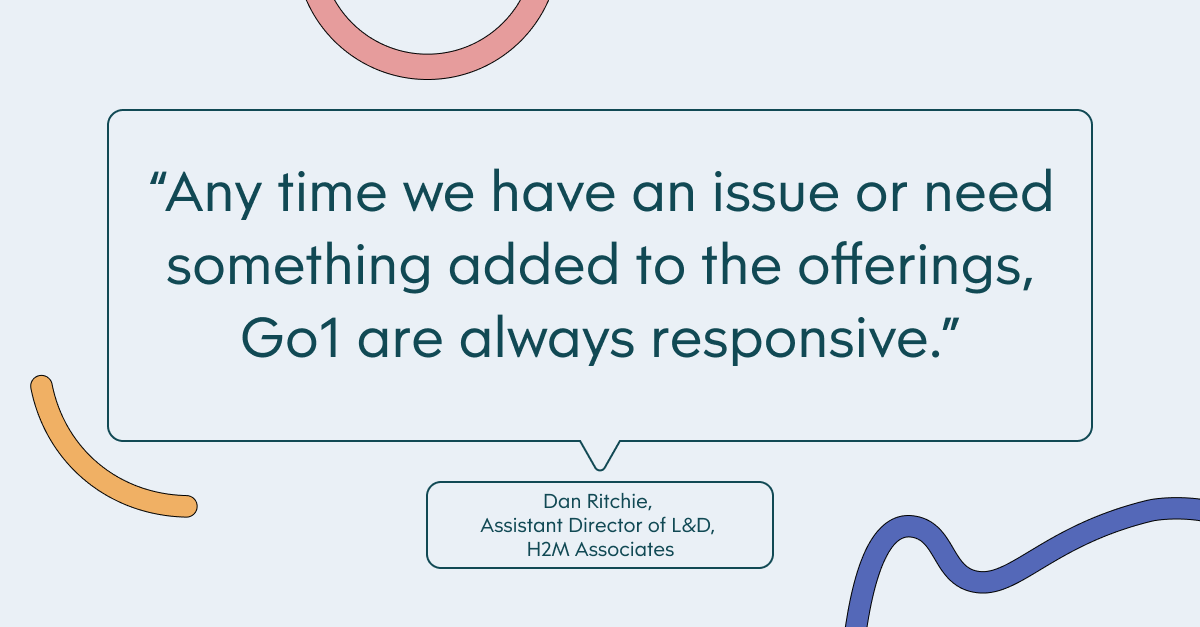 Similarly, Peter praised Dan for being extremely clear and communicative about the type of content he needed. 
"Dan is easy to work with and very clear on what he is looking for in regard to Go1," he said. 
"He feels like a true partner." 
Overcoming challenges
As with any partnership, challenges can arise. How you overcome these challenges is what matters. And Dan and Peter were no exceptions. 
As Dan recalls, their first big task was integrating Go1 with H2M's existing LMS, which proved relatively straightforward. 
"At first, the Go1 platform was not integrated with our LMS," he said  
"Once it was, Go1 trained us on the capabilities." 
Following this, their next major goal was sourcing industry-specific technical content that met H2M's unique learning needs. According to Peter, this was trickier — though far from insurmountable.
Lessons learned 
Ultimately, you're bound to learn a thing or two from each other while working so closely together. 
Peter says he learned several valuable lessons from Dan, many of which he plans to apply to working with future clients to make himself an even more well-rounded CSM. 
"I have learned a lot about the industry [Dan] is in and what companies like his are looking for from an L&D perspective," he said. 
Likewise, Dan summarised his key lesson from working with Peter with one pearl of wisdom: "If you ask, you might just get exactly what you need."
For more insights, subscribe to the Go1 newsletter to stay on top of all the latest L&D trends. Or, you can book a demo today to find out how Go1 can help with your team's learning needs.