The extra mile: How Go1 helped Wave Utilities meet their learning goals 
Welcome to the extra mile! In this brand-new blog series, we'll be interviewing Go1 customers and their Customer Success Managers (CSMs) about their relationship, challenges, learning goals, and everything in between. 
In this debut edition, we spoke to Mandy Rutherford, L&D Manager at Wave Utilities, and her Go1 CSM Emily Reynolds to get the inside scoop on their relationship, what they've taught each other, and how Emily went the extra mile to help Wave Utilities meet their learning goals. 
Why did Wave Utilities choose Go1? 
According to Mandy, having access to a CSM was one of many reasons Wave Utilities chose Go1. 
"It was good to know that support was available," she said. 
Additionally, she said that "matching of values, feeling like we had an extension to the Wave family, excellent and relevant products, ease of use, and value for money" also played a significant role in their decision.
In Emily, Mandy found the extension to the Wave family that she sought. As Emily pointed out, "we allow Wave to access on-demand content for upskilling their workforce in a fast-paced environment. Go1 enables learners at Wave to learn in the style that suits them, and learn skills for tomorrow, today." 
These factors set Go1 apart, meaning choosing a new learning partner was ultimately a straightforward decision for Mandy.
First impressions
After meeting each other, it quickly became clear that this would be a fruitful relationship. 
Mandy shared that her first impression of Emily was that she was "absolutely brilliant. Emily really got us and the business. Her passion for Go1 shone through (and still does). [Emily] did what she said she would with no pressure on us or from us." 
Emily's first impression of Mandy was equally positive. 
"From day one, it was clear that we shared a vision of making Go1 and eLearning a success at Wave," she said. 
"Mandy is a fountain of knowledge when it comes to L&D, her tenure and wisdom have been extremely insightful."
Building the relationship 
From these promising first impressions, Emily and Mandy's relationship quickly blossomed. 
Mandy emphasised that, without Emily's support and professionalism, the learning landscape at Wave Utilities would not be what it is today. 
"Without Emily we would not have the great learning ecosystem that we have," she said. 
"[She is] thoroughly professional but warm and with a great sense of humour, she has a good balance of support and challenge.  
"Emily is truly a part of our Wave L&D team and her support has helped us to drive our learning technology agenda."
Emily returned the compliment, saying Mandy's attention to detail and care for her staff made working together a pleasure. 
"Mandy cares so much for her staff and the continuous development of all employees at Wave and this comes across in the care and detail they take every day in L&D," she said
"They continuously seek feedback and recognise trends of how they can improve and adapt their eLearning offering to better serve staff. 
"Ultimately, their employees always come first."
Overcoming challenges
Meeting L&D goals is rarely straightforward. Inevitably, challenges will arise. But Emily and Mandy faced these challenges head-on and problem-solved together. 
Emily quickly realised that her biggest challenge would be overcoming ingrained stigmas and negative perceptions of eLearning. 
"We had to un-do a lot of negative stigma related to eLearning due to previous sentiment being so low," she said.  
"We built learning pathways using Go1 content to be aligned to individual styles of learning and teams' needs. 
"This has led to not only incredible feedback and a positive sentiment across the board from employees, but the highest completion rates yet!"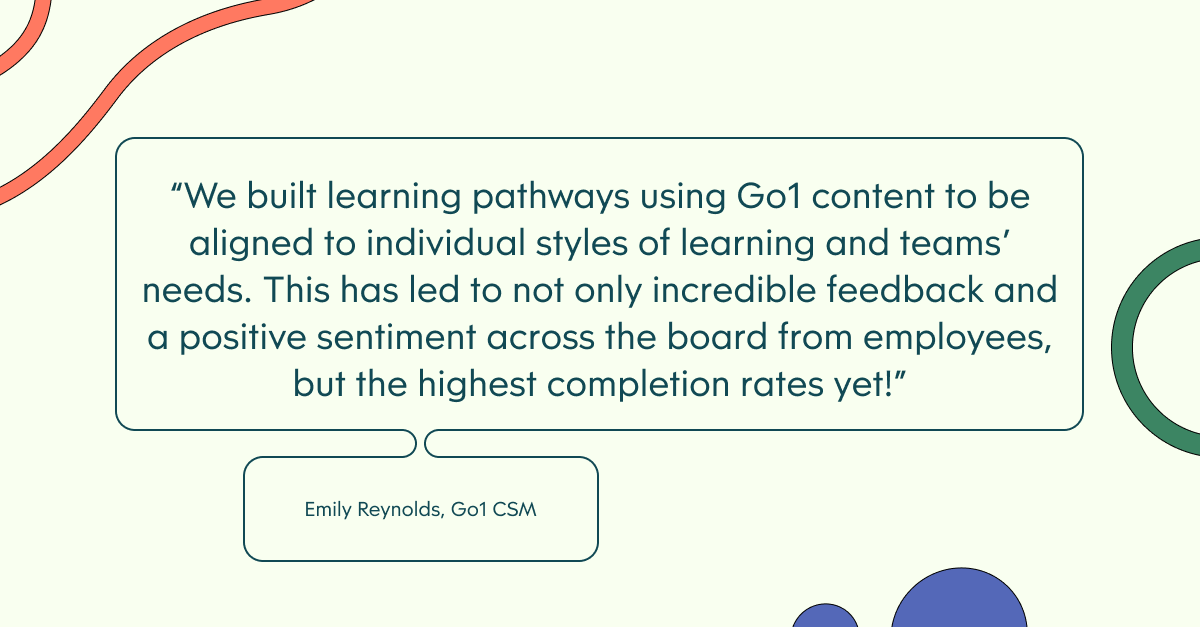 From Mandy's perspective, working with Emily was mostly smooth sailing. However, she appreciated that she could always expect a fast response and an even faster resolution should an issue arise. 
Whether it was a major challenge like transitioning between learning platforms or a minor issue like courses not loading, Mandy said she could always rely on Emily and the Go1 team to have it "sorted very quickly." 
Meeting learning goals 
Throughout this journey, the pair never lost sight of their ultimate target: helping Wave Utilities meet their learning goals. So, did they succeed? According to Mandy, the answer is a resounding yes. 
"Emily did [help us meet our learning goals]. She knows the Go1 product so well and understood what we were trying to achieve with wellness, sustainability, performance, leadership, and management," she said. 
"She always keeps us up-to-date on new things that are coming along, which is great for adding to our L&D roadmap.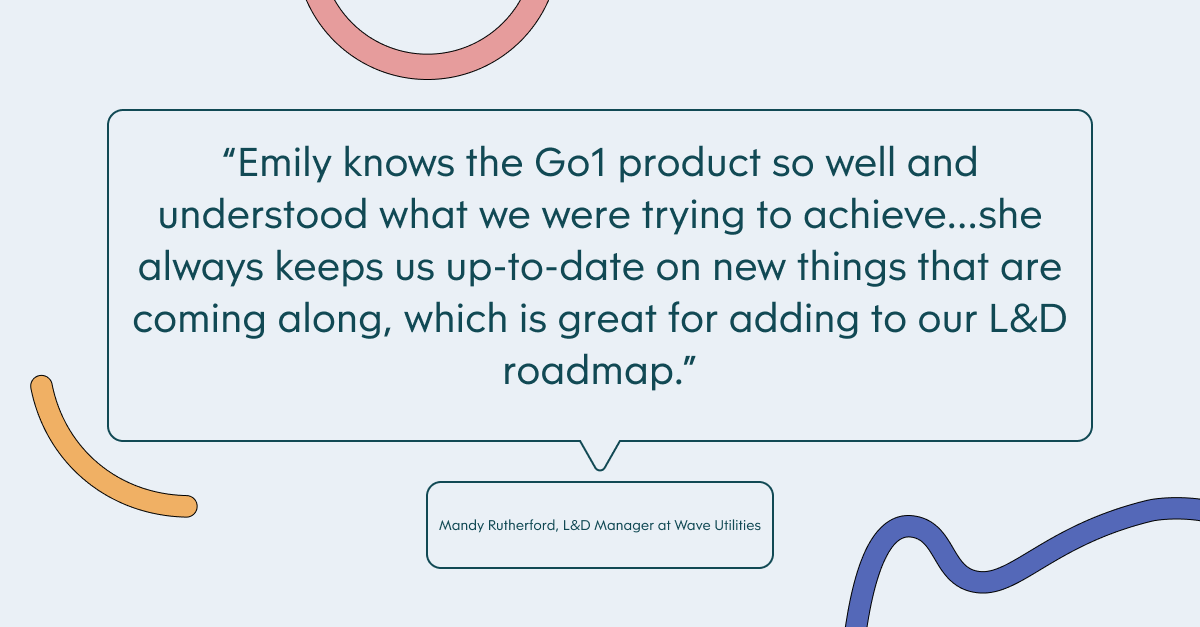 "When we described to Emily that we wanted to mix learning for people with pods, video etc. she was able to help us source short micro pieces (60 seconds) that supported those colleagues who are short on time to alleviate any learning fatigue."
Ultimately, Mandy has no doubt that, without Emily, Wave Utilities would not have the thriving learning ecosystem they currently enjoy.  
What have you learned from working together? 
Naturally, working together has been far from a one-way street. Although it has been her job to help Mandy and her team, Emily believes she has gotten just as much out of the relationship — if not more. When asked what she has learned from working with Mandy, Emily's response was emphatic: "SO MUCH." 
"Most notably, [I've learned] that L&D is a very personal experience that differs from not only organisation to organisation but from person to person, and that collaborative conversation and feedback and transparency are pillars that need to be incorporated into any L&D strategy to ensure success," she added. 
For Mandy, she simply says she's learned how a relationship with an external partner should function. 
"For me, it's a true example of partnership," she said. 
"We can offer each other the right level of support and challenge in a safe space."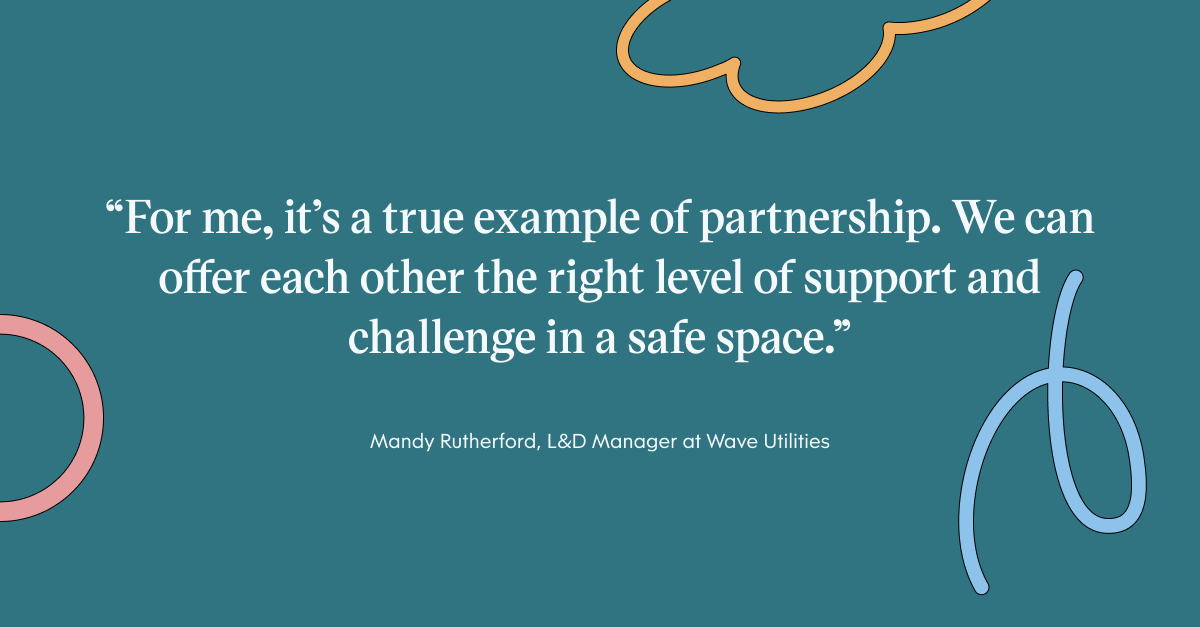 And that's not all they've learned from working together. On top of building a successful professional partnership, Emily and Mandy's personal relationship has also thrived, with Emily even sharing some very special news.
"Most recently, we have been catching up around my upcoming wedding, and Jess and Mandy were so generous and kind in sending me and my fiancé a wedding gift to celebrate our big day," Emily said. 
"We do laugh a lot and the relationship is developing in such a way that we can share personal stories and adventures. Jess and I are wishing Emily and Ciaran all the very best for their coming wedding," Mandy added. 
For more insights, subscribe to the Go1 newsletter to stay on top of all the latest L&D trends. Or, you can book a demo today to find out how Go1 can help with your team's learning needs.