As we continue to expand our every growing content library to include the best content from across the world, we are excited to announce that in May MeLearning, ILX Group, PD Training and Transqual Logistics Training have all joined Go1 as Content Partners.
You can now access training from MeLearning, ILX Group, PD Training and Transqual as a part of your Go1 Premium subscription for no additional costs, as well as being able to purchase their courses individually through the Go1 Course Marketplace and Training Assist.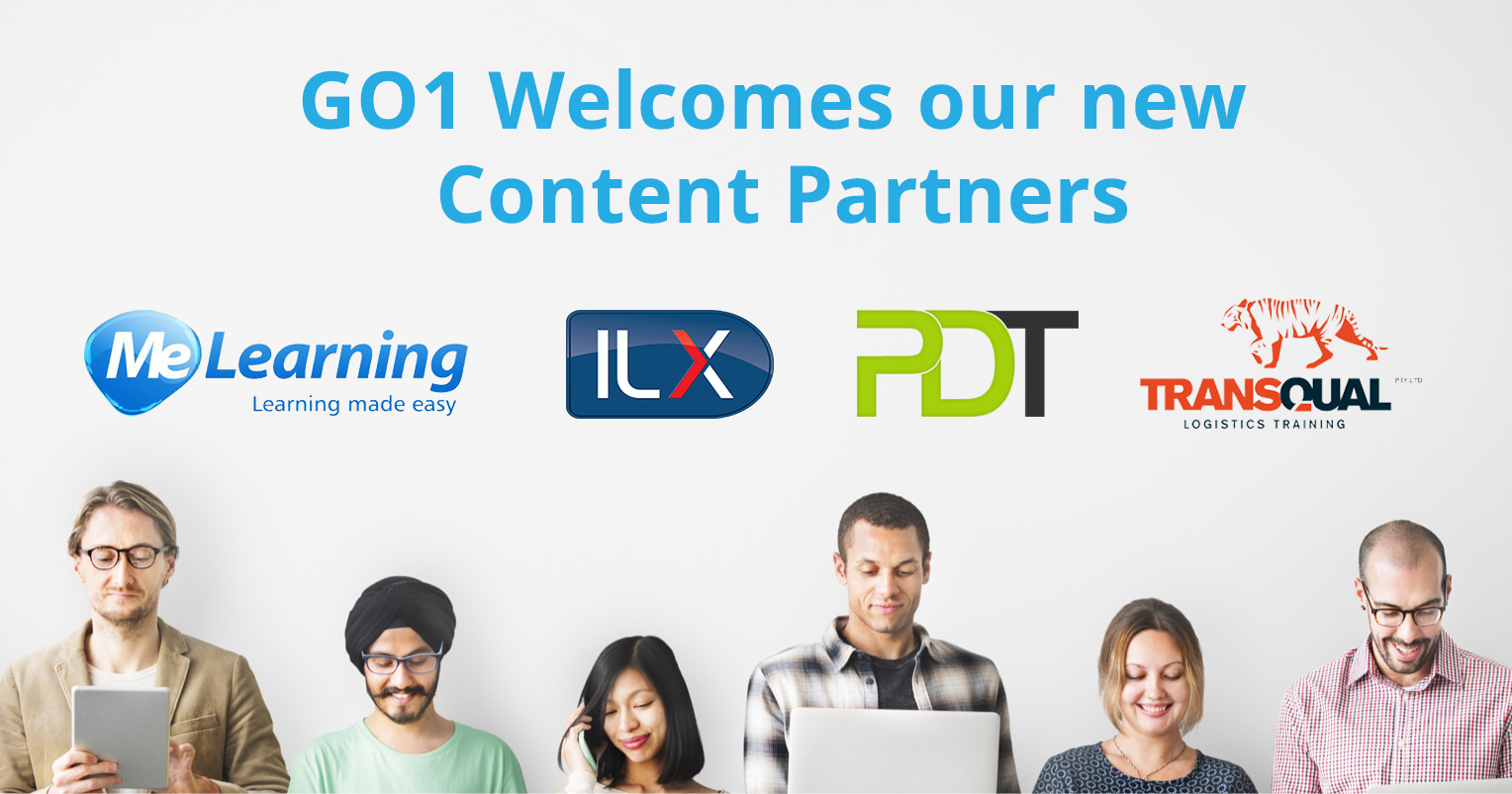 Learn more about each of our new Content Partners below!
Melearning is a UK-based content provider who has partnered with Go1 to offer 35 of their best sellers in Go1 Premium. Go1 has a variety of Melearning content, from soft skills training (leadership, communication) to industry-specific training (asbestos awareness, working at heights). Melearning have a GDPR course available which comprehensively covers the recent GDPR law updates, and has some UK-specific compliance training such as training in Safeguarding Children, Safeguarding Adults and the UK Mental Capacity Act.
We have 35 courses available from MeLearning
ILX Group is a global brand offering a full-suite of IT project management training, such as PRINCE2, Agile, Lean Six Sigma and ITIL. ILX Group have established credibility in this space over the last 20 years, offering best-in-class online and face-to-face training for IT project management certifications. Go1 is offering 20 of ILX Group's most popular courses which they can use to prepare for examination.
Go1 can also assist users in booking in-person examinations through Training Assist.
We have 20 courses available from ILX Group
PD Training is one of the longest-running providers of in-classroom professional development training in Australia. PD Training have a variety of in-classroom training, from PRINCE2/IT Project Management training, to Sales, Leadership and Communication training. They have an impressive client list, including Toyota, Microsoft, Mazda and the Australian Government, and also will be providing Go1 with 200 of their 'Pearls of Wisdom' microlearning videos, a 'just-in-time' series of soft skills training.
PD Training will also partner with Go1 Training Assist, allowing Go1 customers to find, book and track in-person training around Australia.
We have 200 courses available from PD Training
Transqual are an Australian transport and logistics training company who traditionally have offered in-person training, but are now offering their six-course e-learning library through Go1 Premium. Their offering is a basic compliance package, that any person working in transport and logistics would need to complete before commencing their role. Transqual has incredible credibility in this space, being Australia's largest Registered Training Organisation in Transport and Logistics.
We have 8 courses available from Transqual Logistics Training