If you want to stay ahead of competitors and ride the waves of market change, investing in employee growth and development is vital. Equipping your employees with the knowledge and skills to navigate challenges in your organization can help you stay ahead of the curve for long-term business growth. In fact, 93% of employees would stay at their company longer if it invested in their careers, making development key for employee retention.
Getting your team on board with professional development can feel challenging. As such, building a business case that demonstrates the value of continuous learning is critical. 
In this post, we'll explore how to write a business case to win over your key stakeholders, focussing on the importance of professional development, building a business case, and best practices. 
Understanding the importance of professional development
Professional development is crucial in the workplace for several reasons, including: 
Career progression: Promoting professional development shows your employees they have a long career ahead of them in your business. They'll be able to learn the skills and knowledge needed to progress and will remain loyal to your organization as a result. 
Relevancy: Personal development training ensures your employees' knowledge is up-to-date. They'll be in the know with best practices, industry changes, and advancements in their field.
Customer experience: Professional development training ensures your employees have the knowledge and skills to deliver the best service to your clients. 
Employees' confidence: The more expertise and knowledge an employee has, the more confident they'll feel. Professional development can ensure employees have the skills they need to thrive in your industry.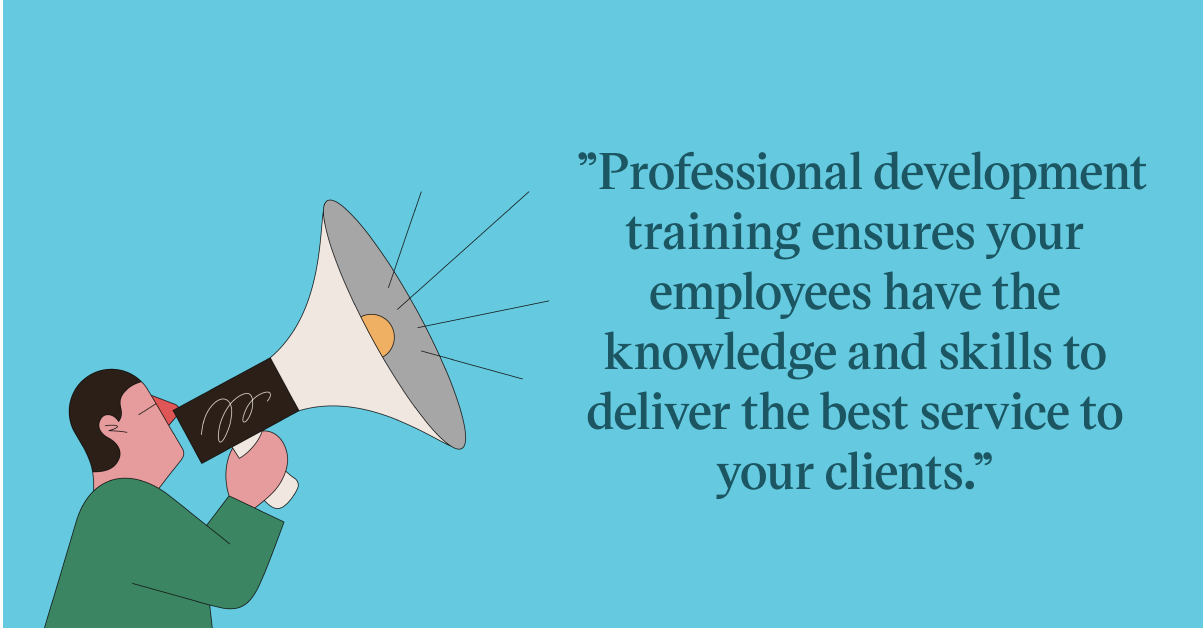 How to build a strong business case
Now you know the value of professional development in the workplace, you'll need to get everyone on board. Presenting a business case can establish goals and put your ideas into context. But what business case structure should you follow?
Below, we'll cover how to write a business case, step by step:
Your stakeholders will focus on how investing in professional development can help meet their business goals. 
As such, you should keep your business' vision in mind when explaining the benefits of employee training, so stakeholders know exactly where money is going and what the return on investment will be. 
Outline how the training will equip employees to do better in their roles and how their growth will benefit not only the team's performance but the growth of the business as a whole.
For more information, check out our blog on aligning your employee learning program with your overall business strategy.
2. Estimate the ROI
To work out the ROI of investing in training for employees, you can use a traditional ROI formula. This is the total benefits (net profit) minus the training costs, divided by the program costs. This formula should tell you the dollar amount returned as a benefit for the money spent on training. If you need this figure as a percentage, multiply it by 100.
ROI = (total benefits - total costs) / cost of learning * 100
So, if you expect your training to generate $7,000 in revenue, and the training would cost $4,000, you would calculate:
(7,000 - 4000) / 4000 * 100 = 75%
You could therefore work out that the ROI was 75%.
3. Use data to support your case
Estimating ROI is just one way to demonstrate the value of professional development. There are several ways you can use data to support your business case. 
You can use data to support the problem statement of your business case, such as employees having limited industry knowledge. Using data can make your problem statement convincing and accurate. You can use business data to show the frequency or severity of the problem you're describing. Data can also help you set SMART (specific, measurable, achievable, relevant, and time-bound) objectives for your proposed solution - investing in professional development. 
4. Address potential objections
Anticipating and addressing potential objections from your stakeholders can help you feel prepared. Here are some common objections you may hear in response to your business case:
Limited resources, such as not having the budget for professional development
Limited buy-in, such as having to check with several decision-makers before deciding on your business case
Wrong timing, such as stakeholders saying your ideas aren't a priority at the moment
By anticipating objections beforehand, you can prepare responses for them. Ensure you have the research, data, and case studies to prove that professional development will make a difference to your employees and the growth of the business. 
Check out our blog on how to motivate your team to invest in professional development for more tips and tricks.
Implementing professional development: best practices
Once you've got the go-ahead from key stakeholders, you can start implementing professional development into your business.
Choose the right professional development programs
What skills do your employees need to develop? Perhaps they want to develop new skills or stay up-to-date on industry trends. To ensure your business investment is worthwhile, you'll need to choose the right professional development programs for your organization. Ask your employees what interests them and what their professional goals are so you can invest in the right training programs.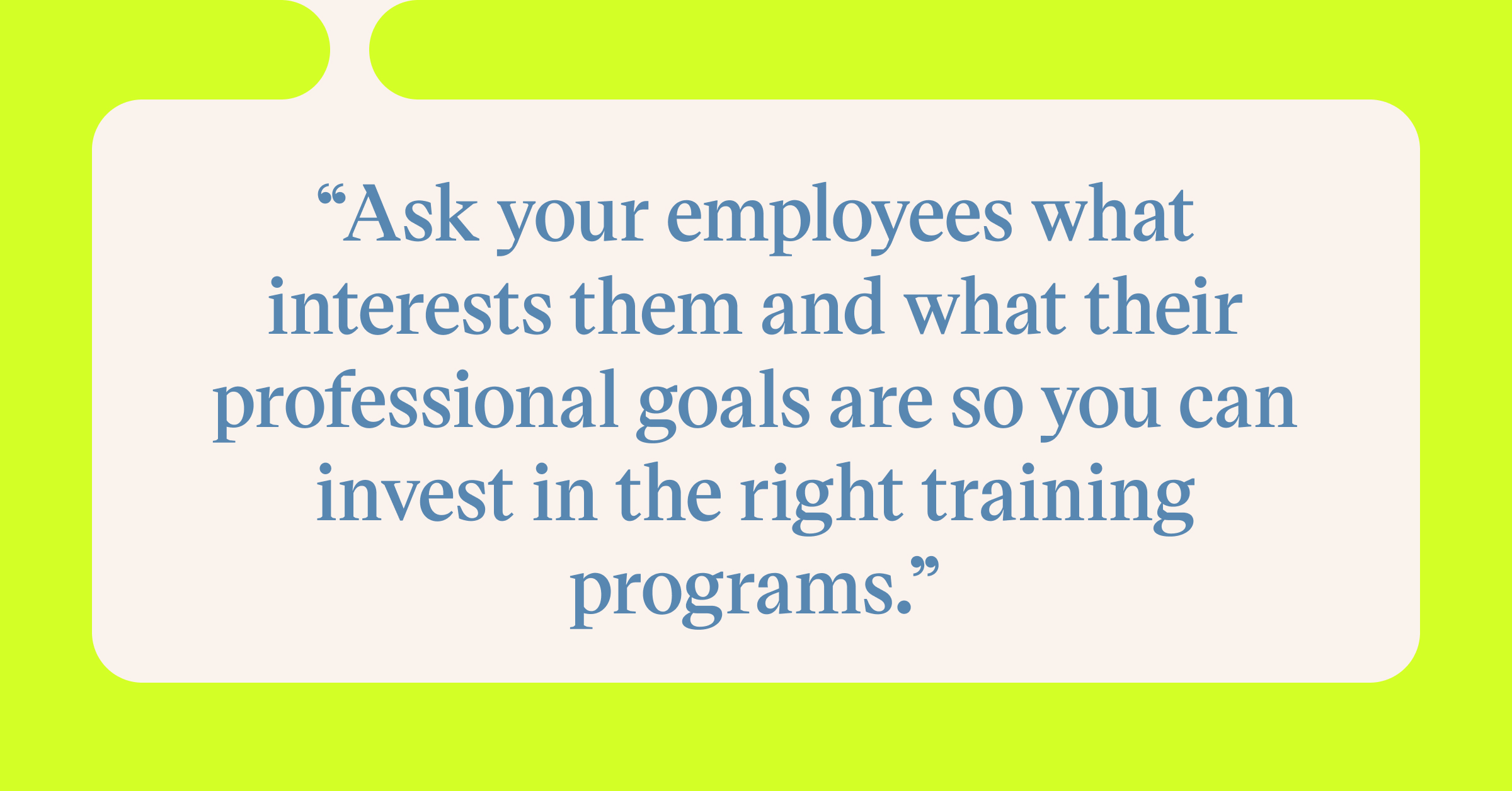 Some courses may be designed for entry-level employees who are just starting in the business world, while others will be targeted at senior managers looking to work their way up the career ladder. 
Measure impact
To ensure your employees' training meets the goals outlined in your business case, you'll need to measure the impact and effectiveness of investing in professional development.
Want to see how much employees have learned? You can ask how engaged they were with the training through surveys. Additionally, you can look at course completion rates or test scores (if a course requires an exam for completion). The more data you collect, the easier it will be to measure employee satisfaction and ROI.
Learn how to use professional development for organizational transformation today
Now you know how to build a solid business case for professional development, it's time to start upskilling your employees. At Go1, we have an extensive selection of online training courses that integrate with hundreds of LMS', making learning and development a breeze.
For more information, download our eBook covering 50 tips for increasing L&D business value. Or, you can speak to one of our experts to find out how Go1 can help you upskill your workforce.