Developing your people is one of the most valuable investments an organization can make. Investing in your employees allows them to develop, so your business can continue to grow.
As such, more businesses are focusing on the power of their people by helping them create a personalized learning and development program. This begs the question: how can you align learning and development with business strategy?
By failing to align the two activities, you risk wasting money and resources because you're upskilling employees in ways that aren't beneficial to your border business goals. While it's important that employees complete training related to their goals and interests to maximize engagement, it's just as important to ensure this training aligns with your organizational goals.
With this in mind, we'll explore how aligning learning with business strategy can improve the ROI of your training. We'll also examine why you shouldn't create a training program after your business strategy, and what steps you can take to ensure your learning program works in tandem with your business strategy.
Why you shouldn't create a learning program after creating your business strategy
Creating a business strategy is a vital step for any business. Doing so gives you a roadmap outlining your business direction, goals and objectives, and how to get there.
At this point, many businesses begin to create a learning program. While this is fantastic and will no doubt yield positive changes, this approach means your learning program won't be as effective as it could be. This is because:
You risk missing opportunities that you could have included in your business strategy.
You may not be able to provide the exact training you need to suit your strategy, which means you can't follow through on your strategy effectively.
You won't have a solid understanding of the resources or budget required.
It prohibits proactivity and innovation, which risks you falling behind your competitors.
It delays upskilling your employees, which can impact efficiency and productivity.
It can be more challenging to set targets and ways to measure results.
To avoid issues that impact your strategy and affect your learning and development program's ROI, you must create your program alongside your business strategy.
How to create a learning program aligned with business goals
When devising your business strategy, you should create a learning and development program at the same time to ensure the two align and support each other. To do this, there are several things to consider so that everything works toward the same goal.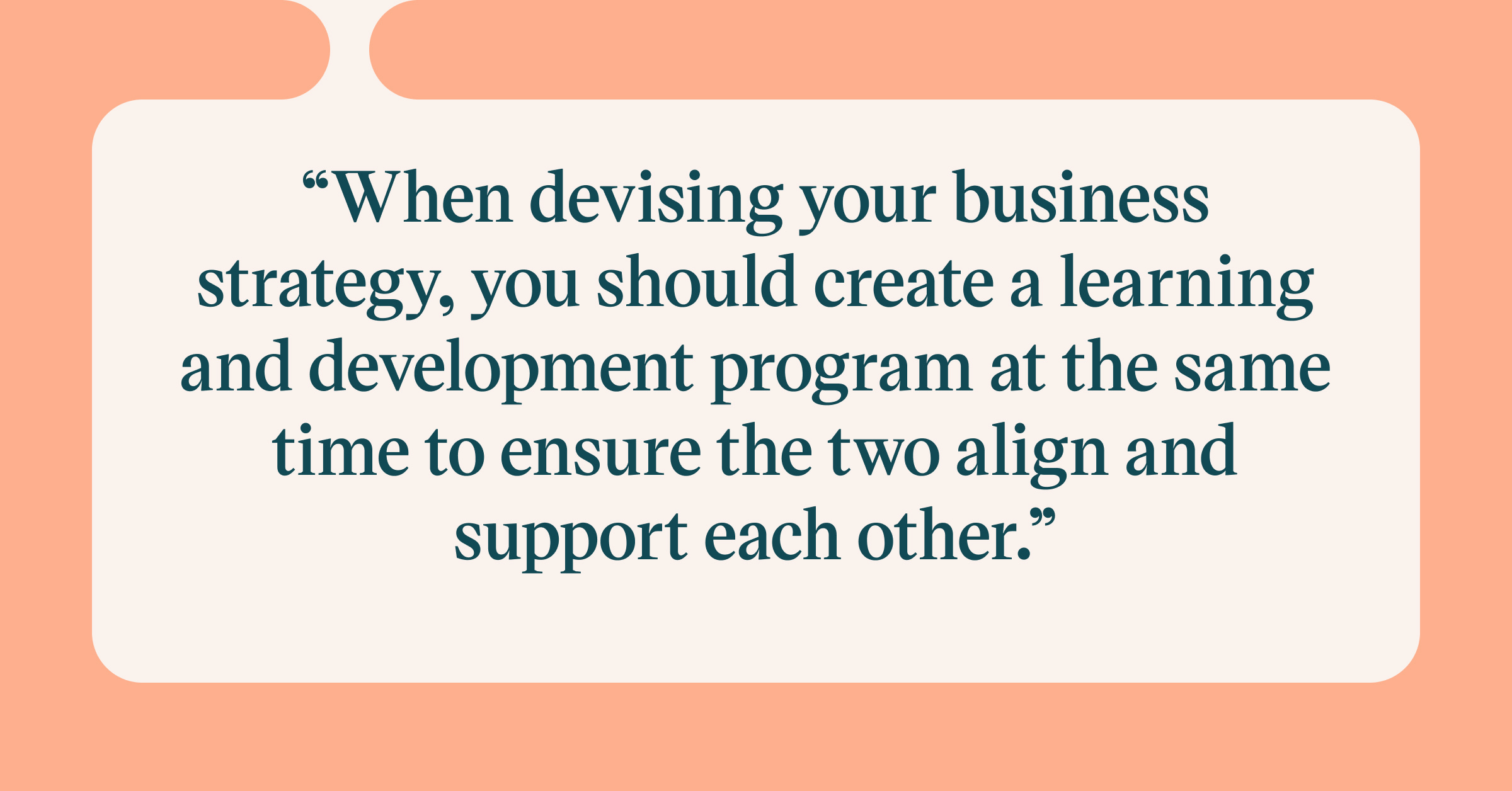 Identify the core competencies required
What skills do your employees need to achieve your business goals? Are they hard skills or soft skills? Are they critical to the overall success of your business?
Identify skill gaps
Use data-driven employee reviews to identify skills gaps. This will give you an idea of the scale of training needed and whether this aligns with your goals.
Speak to the right people
Speak to stakeholders throughout the organization to thoroughly understand what is needed from a training program so it can be as effective and inclusive as possible.
Senior leaders can provide insights into business objectives, including short-term and long-term priorities.
Department heads can share how their teams contribute to these goals and how upskilling in certain areas can align.
Managers can offer feedback on capacity and how training will impact their teams.
Business development can share information on target markets, strategies, and customer demands and behaviors. 
Even customers and clients can provide valuable input, telling you what they need from your business.
Develop realistic learning goals
What learning opportunities can your employees take advantage of that align with your business goals? While creating your business strategy, it's imperative to clearly understand what resources you need to deliver the appropriate training. By understanding budgets and timeframes, you can put yourself in the best position to align with your strategy.
For example, if you determine that it'll take your sales team 12 months to upskill in negotiation tactics, resilience, confidence, and active listening, don't set a goal to increase conversion rates and average customer value by 5% within eight months.
Establish KPIs 
Establish what KPIs and metrics you'll use to measure the success of your program, focusing on how they will contribute to your business goals.
Communicate to employees the role they play in the company's future
Open and honest communication with employees about their role in your organization's future plays a massive part in the success of a learning program. When employees know their personal growth is a significant contributor to the company's growth, it can increase engagement and motivation.
Track progress and be flexible
Use data from your LMS to track employee engagement and encourage managers and team leaders to offer support or guidance where necessary. 
Leverage technology at every step
Technology will play a vital role in how your learning program supports your organization's business strategy. For example, your LMS can collate data that contributes to key decisions, tracks engagement, and measures KPIs. Online training platforms such as Go1 also integrate with LMS' to provide instant access to thousands of courses that can upskill your workforce in soft and hard skills. With the right integrations, you can automate much of the process, meaning it doesn't require additional time or resources. Automation makes personalized learning at scale achievable, affordable, and a key contributor to your business' success.
Implement continuous improvements
Regardless of your experience or expertise, your business won't get everything right 100% of the time. So, be prepared to make changes to your learning program (as well as your business strategy) to get as close to 100% as possible.
The business world is fast-moving, so even if you get it right initially, you might be wrong again in a few months. So, keep up with trends, evolve when necessary, and make positive changes to keep your business at the forefront.
Learn how to overcome these hurdles and achieve success from your learning programs in our eBook, 5 new thinking habits for a smarter, stronger L&D. 
The importance of leadership support
Without support from your senior leadership team, you will never maximize the value or ROI of your learning program. Senior leaders must be on board with this approach, as their input is required to interweave employee development with your business strategy.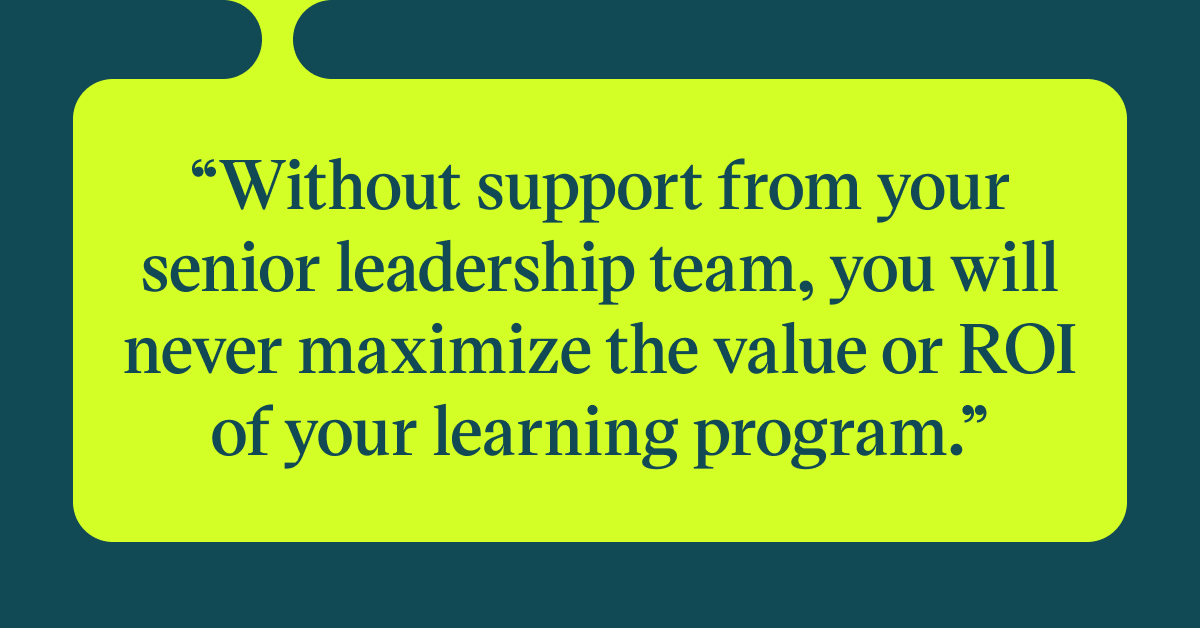 During challenging times, one of the first things to get cut is the L&D budget. Yet, cutting this budget will stunt growth when it is needed the most. Focusing on your organization's learning culture will ensure employee development remains a priority at all times because, without your people, your business simply cannot flourish.