Learning and development is crucial for any organization. Without it, your employees can't upskill and stay up-to-date with industry changes. As a result, your organization will stagnate, and you'll quickly fall behind your competitors.
As such, it's vital to address barriers to learning as soon as possible. Concerningly, research shows that 66% of employees face at least one barrier to learning at work. These barriers prevent your business from cultivating a culture of learning, meaning you won't meet your goals as quickly — and risk not meeting them at all.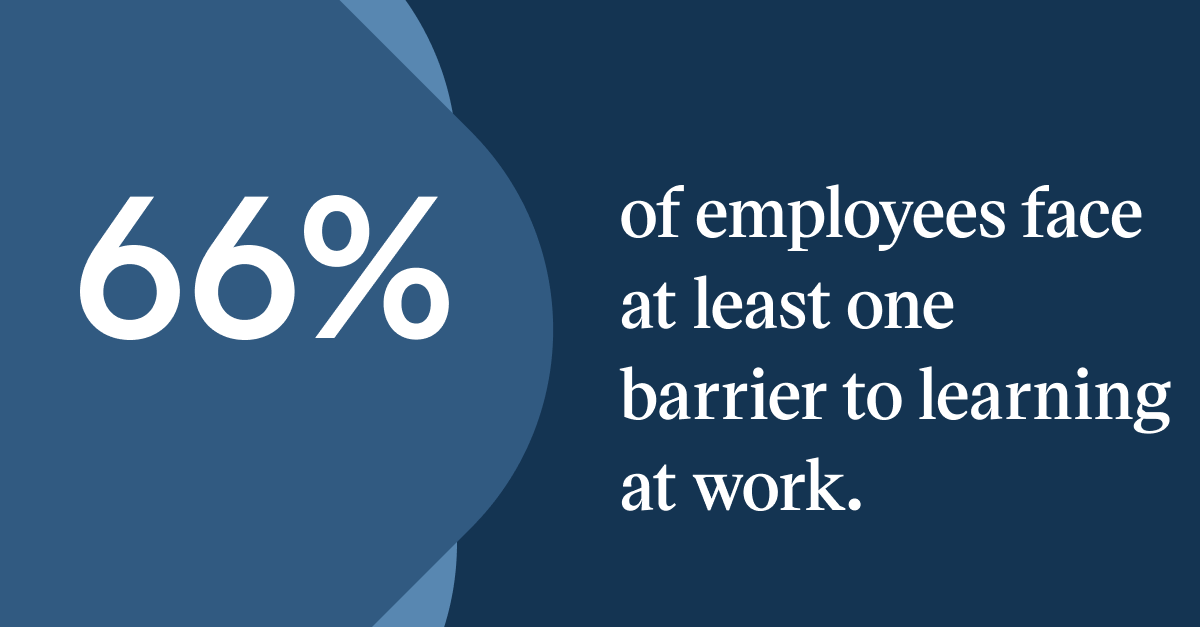 So, we'll explore how you can address learning barriers to foster a happier, more skilled, and more productive workforce. For more information on overcoming learning barriers, download our e-book, The ultimate guide to choosing the right learning platform for your business.
Understanding common barriers to learning
Barriers to learning can come in many forms — including your employees themselves. Occasionally, external learning barriers arise, but most of the time, learning barriers are internal. The good news is your organization can alleviate internal learning barriers, which we'll cover in detail below.
But, what exactly are these learning barriers, and how do they affect your employees' ability to learn and develop? Common examples of learning barriers include:
Internal learning barriers
Lack of time - When employees are at capacity, learning takes a back seat to meet work-related deadlines.
Lack of resources - Workplace learning is nearly impossible when employees don't have the relevant materials or tools.
Unclear objectives - When employees don't have clear goals, timelines, or objectives, learning can grind to a halt.
No incentives - If there are no incentives or rewards, employees can struggle to engage with learning.
Technology - Old or outdated tech can be a significant blocker.
Language - If employees don't speak fluent English, a lack of training resources in their native language will prevent learning.
Self-doubt - Employees can delay learning if they have self-doubt and are worried about the challenge. They may also have a fear of failure.
Fear of change - Some employees won't be open to change.
Lack of learning culture - If your organization doesn't foster a learning culture, it will become a major barrier.
Lack of stakeholder and management support - Senior staff — especially the leadership team — must champion learning to ensure employees recognize its value.
Organizational silos - Employees with a specific and defined role may not be encouraged to broaden their skills.
External learning barriers 
Difficulty sourcing resources - It may be difficult to source training resources, courses, and materials.
Cost - Certain training courses can be expensive, particularly in-person and tutor-led training. The economy and market trends can also influence costs.
Personal commitments - Employees may have personal commitments that affect their ability to learn.
Geographical limitations - It can be a challenge to attend in-person training. For online seminars, time differences can make attending tricky.
Lack of flexibility - Some mandatory learning, such as compliance training, can be inflexible. 
Legal barriers - Legal issues, such as those related to intellectual property, can prevent learning.
How can you overcome learning barriers at your organization?
You may face difficulties overcoming every learning barrier. For example, most external barriers, such as legal challenges, employees' personal commitments, and geographical limitations are out of your control.
However, you can overcome most external barriers, such as difficulty sourcing resources and cost. Online learning content providers like Go1 have extensive libraries of online courses covering thousands of topics, from compliance and workplace safety to developing soft or hard skills. The great thing about online learning is that it's also cost-effective, allowing you to develop your entire workforce on a budget.
On the other hand, internal learning barriers are within your control, and, therefore, preventable. As we've highlighted, you must address learning barriers so your employees can meet their potential.
For example, 61% of employees say time is the biggest barrier to their learning and development. The obvious solution to this is to give employees more time to learn. Giving employees more time to learn is easier said than done, but it's something you can support your employees with. Even 15 minutes of learning a day means your employees can complete a one-hour training course in less than a week.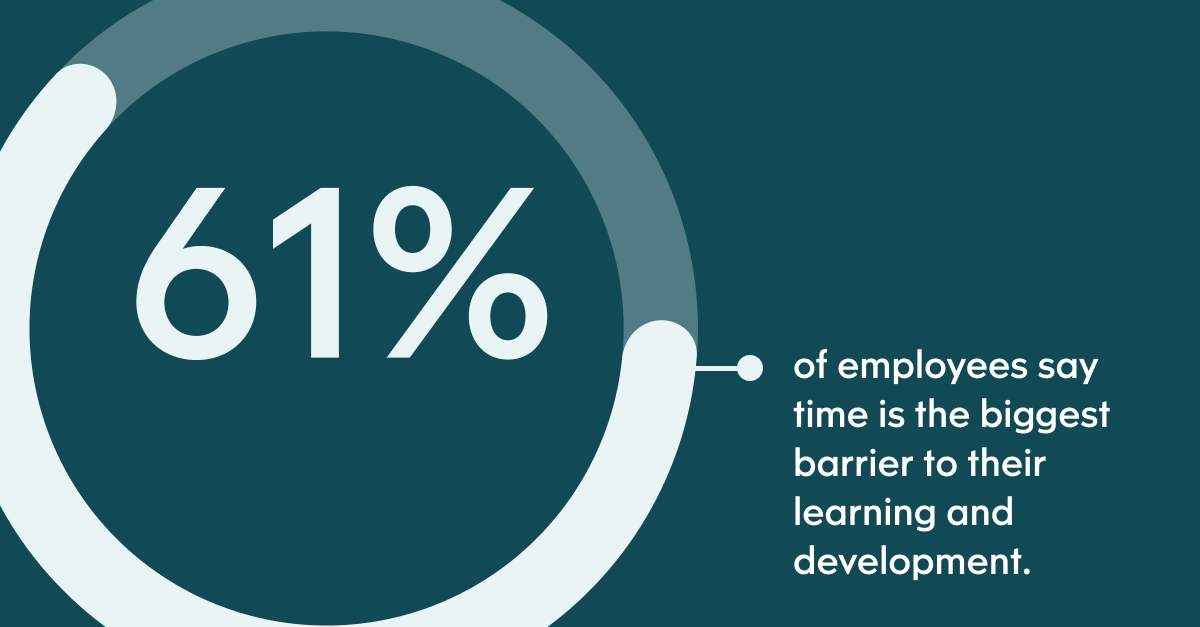 Other ways you can remove learning barriers include:
Resources - Ensure your employees can access the materials, tools, and courses they need to learn and develop.
Set clear objectives - Provide employees with clear, achievable objectives. You can set clear objectives through a PDP or as part of reviews and 121s.
Incentivise learning - Gamification is a great way to increase engagement with learning by incentivizing employees with badges, certificates, and rewards. Another incentive is promoting employees who embrace continuous learning.
Provide the right tech - Ensure you have up-to-date tech so employees can learn whenever and wherever, including hybrid and remote staff. A learning management system (LMS) is the perfect tool for providing training across your organization.
Cater for all languages - Ensure there are opportunities for all employees to learn, no matter what language they speak. 
Foster a learning culture - When your organization creates a culture of learning, it encourages employees to embrace training. To foster a culture of learning, you should encourage employees to make mistakes so they don't fear stepping out of their comfort zone.
Encourage senior leaders to champion learning - A learning culture is built from the top down. When your workforce sees your leaders engaging with learning, it encourages other employees to follow suit.
Prevent organizational silos - Rather than isolate and pigeonhole employees, encourage collaboration and upskilling that aligns with your company's goals. 
Of course, you can only overcome some of these barriers by investing time, money, and resources into your learning and development program. However, the benefits far outweigh the costs. Remember, L&D has gone from a nice to have to a need to have. So, by addressing learning barriers, you'll have an engaged, efficient, and productive workforce working towards the same goal.
Access Go1's industry-leading content library and overcome learning barriers
At Go1, we work with a diverse range of learning providers to give your employees access to the breadth and depth of content they need to upskill and develop.
To learn more, speak to our experts today to find out how we can support your organization's learning and development strategy.