To support its network of brokers, Vero developed a "learning campus" that would help brokers and their teams build their capability and aid in their continuous professional development.
Developing something new is always challenging, which meant that Go1's genuinely collaborative approach to the development and implementation of the campus was vital.
Go1 and Vero have continued to partner closely, with their shared focus on continual improvement, assisting Vero in winning a Gold Award for Broker Training and Development. 
How often do you hear businesses talking about "partnership"? If you've ever looked for an external supplier or vendor for your organisation, you've probably heard it over and over and over again. But, while a partnership is great in theory – we'd go so far as to say it's exactly what you want – it often falls down in the execution. 
At least, that's been the experience of Vero. "Lots of organisations say they're willing to work with you; there's a lot of talk about partnerships," says Beverley Bradley, Intermediaries Engagement Manager at Vero. But finding a business that acts as a partner is less common.
So when Vero wanted to develop an industry-leading broker academy, they knew that a truly collaborative working relationship with their learning platform provider would be critical.
A commitment to learning and development
As a trusted financial services organisation offering insurance, banking and wealth products, Suncorp Group works closely with a network of brokers throughout Australia. While the brokers aren't their employees, they play a vital role in recommending and selling their products – so, to build brand awareness, and to support the brokers' businesses and build their capability and performance, Suncorp Group committed to investing in their learning and development.
In 2017, broker learning and development activities were almost entirely in-person. "We were already running face-to-face training and speaking at conferences – and had been doing so for years," says Beverley. While this personal approach worked, they saw an opportunity to leverage an online platform to build scale, allowing them to reach the brokers teams in their offices, all who play a critical role in the selling process and customer experience.
And so, the idea for the Vero Learning Campus (VLC) was born. Focusing on developing the career skills of the brokers selling Suncorp Group's Vero insurance products, the VLC would be a first for the insurance industry in Australia. 
"No other insurer has what Vero have," says Beverley Bradley, Vero's Intermediaries Engagement Manager. "They may have online learning offerings, but they're only available to their top-tier brokers, or only focused on technical training. We wanted to create something that is available to ALL our broker partners. No matter role, location, title, Vero make learning available to everyone. It's really cost effective and is a way of supporting brokers, truly partnering with them and supporting their business.'"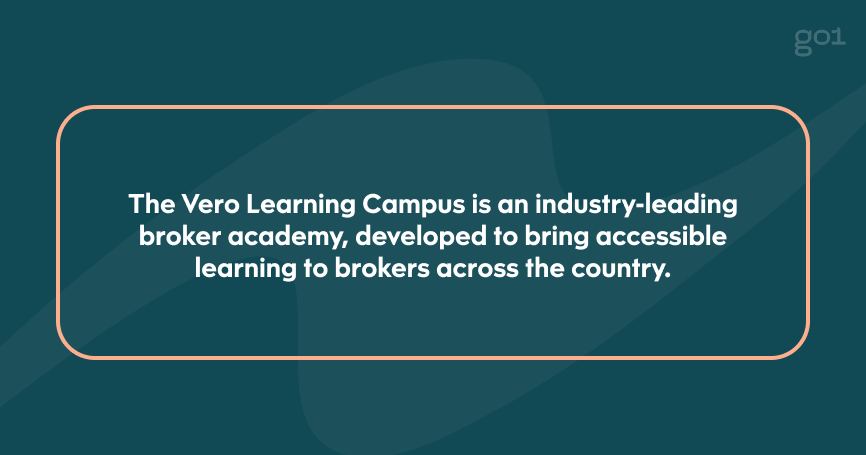 The excitement and challenge of creating something new
Go1's cost-effectiveness and scalability made it a highly appealing option as a learning platform. But it was when Vero needed to deal with the challenges that arose during the development and implementation of the VLC that Go1's commitment to partnership really came to the fore. 
"We were figuring out how to have professional skill–based training available across all brokers. We had to make sure it was all continuing professional development (CPD)–accredited. We are in a governed industry and maintaining professional development is critical. We didn't want to have tens of thousands of courses, so we curated the content, ensuring it was relevant to the broker's world," remembers Beverley.
Go1 was right in the trenches alongside Vero, working to create a solution that met their goals and requirements. "We worked it out together. Our account manager was always helpful and willing to hash out possible solutions."
A focus on continuous improvement
While the VLC was "up and running fairly quickly – it didn't take long at all", says Beverley, it wasn't the end of the partnership. Changes to Suncorp Group's structure and businesses, new requests from brokers and a desire to get the best results from the platform have meant that Go1 and Suncorp Group have continued to collaborate to adapt and improve the VLC.
"That flexibility, that agility, is what has enabled our success," says Beverley. She highlights the range of ideas being implemented or considered, from a monthly "spotlight series" and targeted product training to formalized quarterly business reviews. "We've fleshed out so many ideas," says Beverley. "Let's push the VLC to where it needs to go."
It's an approach that has borne fruit, with the Vero Learning Campus being a part in Vero winning an Insurance Business Australia Gold Award for Broker Training and Development.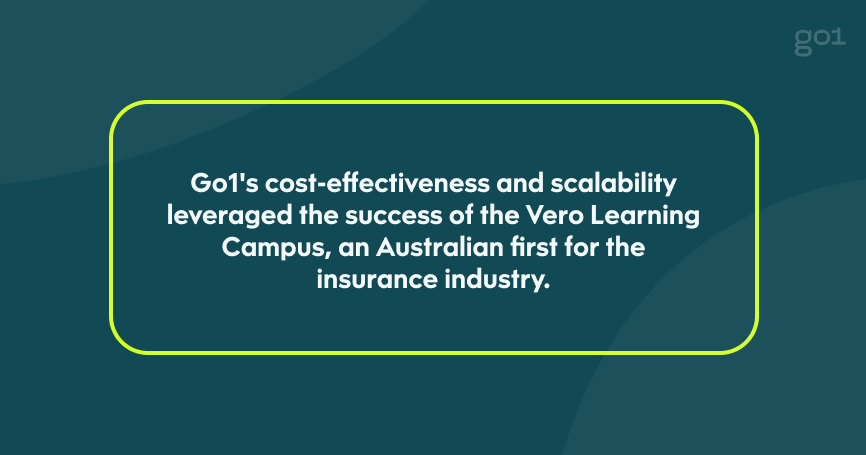 Keen to learn how Go1 can empower your organisation with a bespoke learning solution? Get in touch today and let's start the journey towards a game-changing solution.