If you're a younger worker, you may have heard whispers of what work was like 'back in the day.' As the story goes, you showed up one day with a resume and a firm handshake, worked at the same company for 40 years, and, if you were lucky, got a gold watch and a thank you when you retired. Training and development were an afterthought, something to do every few years if the need arose, or, preferably, off the clock.
For better or worse, these days are long gone. Research shows the average worker will now have 17 different jobs and five different careers. More to the point, in a highly competitive professional landscape, expectations around benefits, professional development, career advancement, and workplace learning have shifted vastly. 
These days, workplace training can no longer be seen as an optional extra. Rather, bespoke, ongoing training is essential. Don't just take our word for it, 68% of employees say training and development is a company's most important policy. Therefore, workplace training is a vital part of the employee benefits equation to attract and retain employees, give learners more of what they want, and stay two steps ahead in an ultra-competitive field.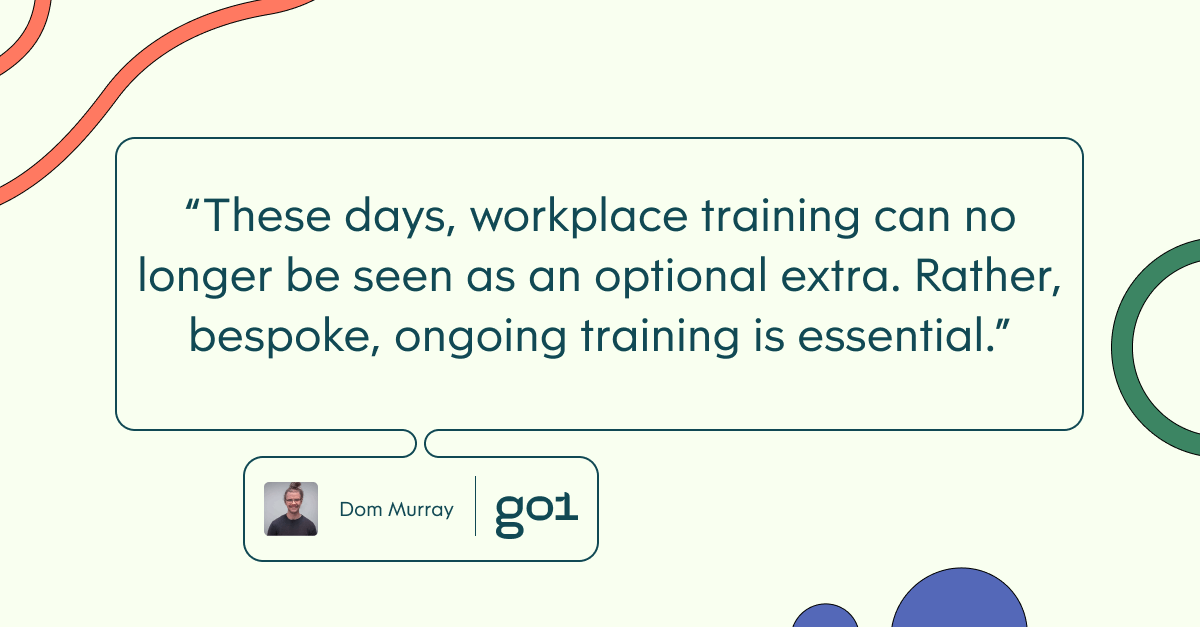 With this in mind, we'll dig deeper, asking why is training a vital part of the employee benefits equation? We'll start by explaining why a mindset shift is essential to think of workplace training as a must-have, before looking at three reasons training is an essential benefit for modern employees. 
Start thinking of training as a must-have, not an added bonus
Workplace training starts with mindset. As mentioned, training is a vital benefit if you want to attract and retain top talent. Notably, 68% of employees say training and development is a company's most important policy, while 76% say a company would be more appealing if they offered additional skills training. 
As these statistics show, most employees think regular training is essential. Despite this, many teams still encounter roadblocks that prevent them from embracing workplace training. These teams are stuck in a mindset that sees training as a 'nice to have' rather than a must-have.' 
MindTools' 2022 L&D Benchmark Report found that 91% of L&D teams are 'somewhat' or 'very' concerned about managers being reluctant to make time for learning. Similarly, 83% are 'somewhat' or 'very' concerned about leaders having traditional expectations of L&D that are difficult to challenge. 
To put it bluntly, these old-school, outdated mindsets hold organisations back. Overcoming these traditional expectations requires a fundamental mindset shift, viewing training not as an added bonus, but as an essential benefit, as crucial as pay, workplace culture, or sick leave.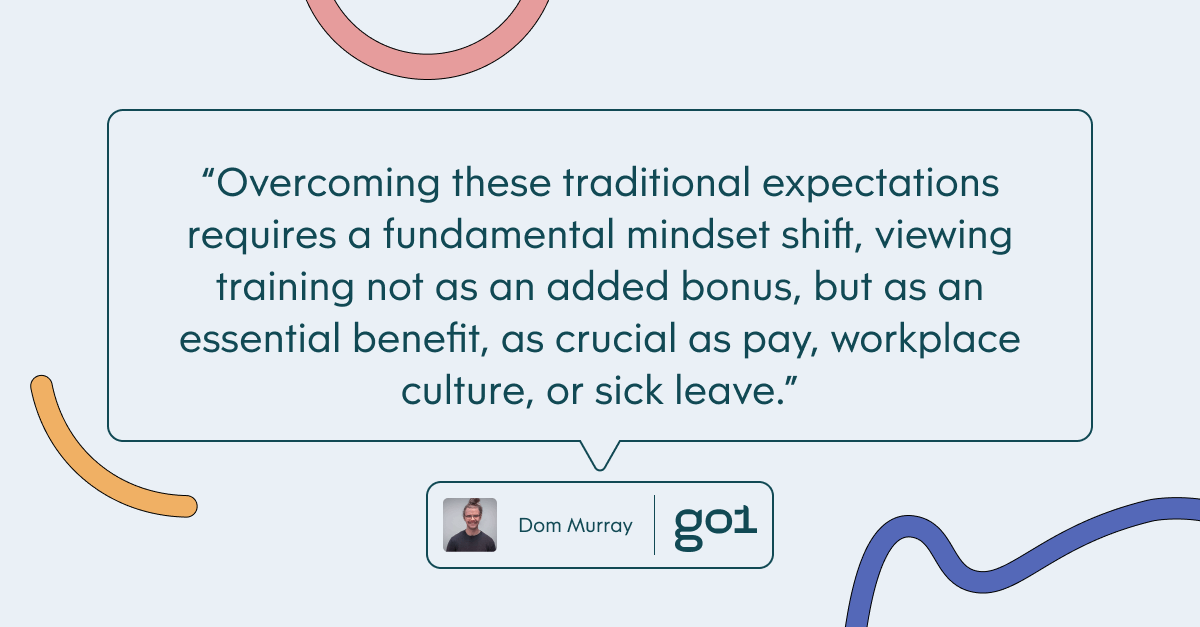 As Indeed puts it, "providing training programs for your employees demonstrates the organisation's willingness to invest in their success and growth. When employees feel that the company invests in their growth and development, it improves morale, productivity, and employee retention. In addition, as you provide ongoing training opportunities, employees learn new skills, develop existing ones, and take on greater responsibilities, providing a win-win situation for the organisation." 
For practical tips on changing your mindset and overcoming ingrained thinking patterns, see our article on fixed mindset vs growth mindset for L&D. 
How top-performing teams prioritise training
The good news? When organisations change their mindset and see training as a non-negotiable part of the employee benefits equation, the results are rapid and appreciable.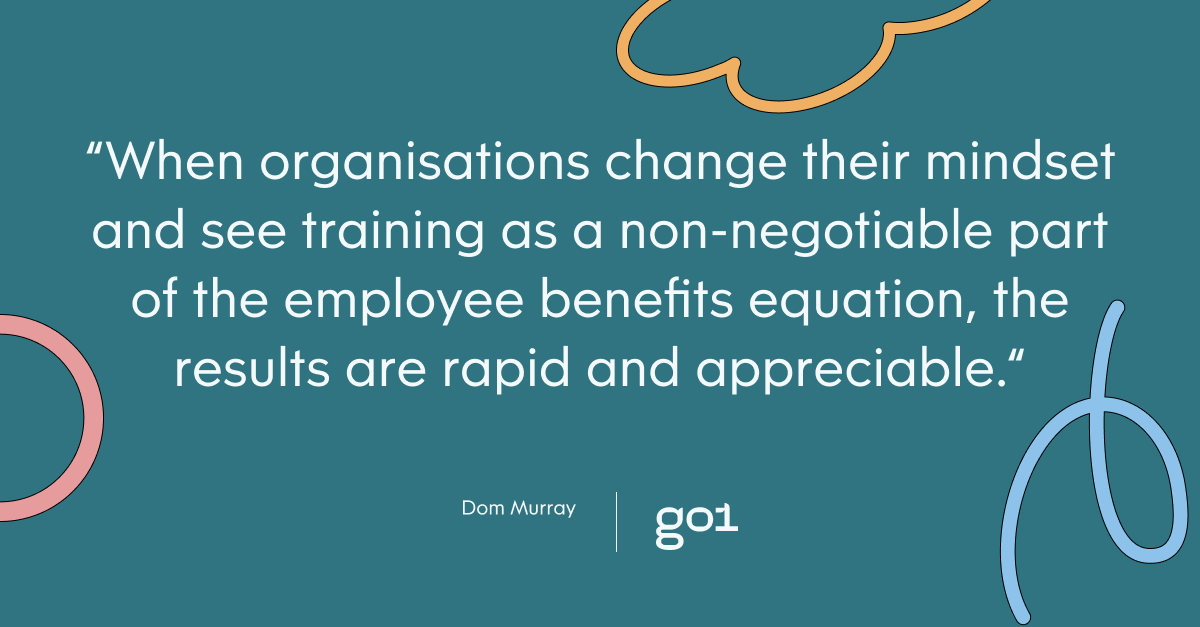 MindTools' 2022 L&D Benchmark Report found several clear patterns that distinguish high-impact L&D cultures (defined as the top 10% of teams) from low-performers. 
For starters, 79% of high-impact learning cultures (HILCs) support employee career development through digital learning. In contrast, just 9% of low-performing teams do the same. 
Next, 90% of HILCs integrate learning into their onboarding process, compared to just 26% of low-performers. These teams make training an integral part of their organisational culture from the get-go. Thus, it's no surprise that when an onboarding process involves digital learning, employee retention rates increase by 60%.
Additionally, a massive 90% of HILCs say their learning strategy encourages collaboration, compared to just 4% of low-performers.
Finally, 45% of HILCs say managers allow enough time for employees to learn. While this figure still has room for improvement, it is night and day compared to just 3% of low-performing teams who do the same. 
As such, there is a meaningful link between businesses that take training seriously as a vital employee benefit and highly successful businesses. The message is clear: embrace employee training as a top-priority benefit — not a 'nice to have' bonus — and reap the rewards.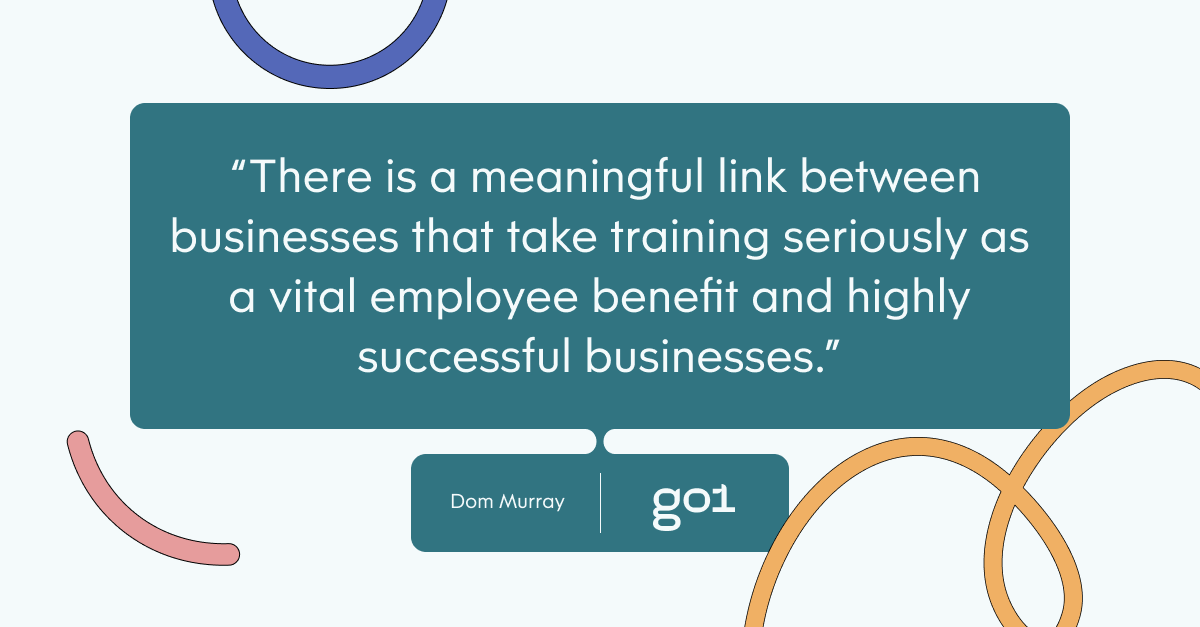 And that's only the tip of the iceberg. Below, we'll analyse three more reasons training is an essential benefit for modern employees. 
3 reasons training is an essential benefit for modern employees
1. Employees crave learning opportunities 
Put simply, employees crave training opportunities at work and will go out of their way to seek a workplace that offers these opportunities. 
As we recently discussed in our article on how employees like to learn, 78% of employees want to learn new skills whenever they can during the work day. 59% are willing to learn outside work hours to improve their performance. 
What's more, LinkedIn finds that 94% of employees would stay at a company longer if they invested in their professional development.
Finally, 64% of Millennials chose their current job due to personal and professional development opportunities. 
The message here is simple: employees crave learning and development opportunities at work, viewing these as a vital benefit to aid their professional, personal, and skills development. 
2. Attract and retain top talent 
Another reason training is a vital part of the employee benefits equation is that it allows companies to attract and retain top talent. 
For example, 56% of employees say career growth and opportunity are more important than salary, making it one of the most important benefits you can offer. Similarly, a recent survey by Logitech found that 42% of Australians would prefer to work from home than receive a pay rise. 
Moreover, 79% of employees wouldn't accept a better-paying position at a company with questionable ethics (i.e. not acting against sexual harassment, creating environmental problems, and paying female employees less), according to a survey by The Manifest. 
These statistics show that salary is no longer the be-all and end-all of employee benefits. These days, factors such as training, professional development, diversity and inclusion, and work-life balance are equally — if not more — important. 
Accordingly, robust, comprehensive training opportunities are essential to attract and retain talent. Employee retention rates increase by 30-50% for companies with strong learning cultures. Likewise, companies that provide professional development opportunities have 34% higher retention rates.
On the other hand, when companies fail to offer training as an essential benefit, 22% of employees leave their jobs to seek better professional development opportunities elsewhere. In fact, employees are a whopping 12 times more likely to leave a company that doesn't offer learning, development, and career growth opportunities. 
That's right, employees are 12 times more likely to seek greener pastures when you don't offer learning and development opportunities! Remember that the next time you're weighing up whether a new professional development course is really worth it (hint: it usually is). 
3. Improve growth and profitability 
While offering training is an excellent idea to keep employees happy, increase engagement, and attract top talent, it is also a savvy business move to increase your company's bottom line. Companies that invest in employee learning and development have 24% higher profit margins than companies that spend less on training, according to ATD. 
This statistic alone should be enough to convince any executive that training is a vital part of the employee benefits equation, showing a clear correlation between spending more on training and increased ROI. In other words, the more you put into employee training, the more you get out —  it's a win-win! 
If that wasn't enough to convince you, additional research finds that 42% of companies enjoy increased profitability after investing in digital learning. IBM puts this into perspective, finding that every dollar invested into online training results in $30 worth of productivity.
With this in mind, it makes sense that 72% of organisations think their business gains a competitive advantage by investing in L&D.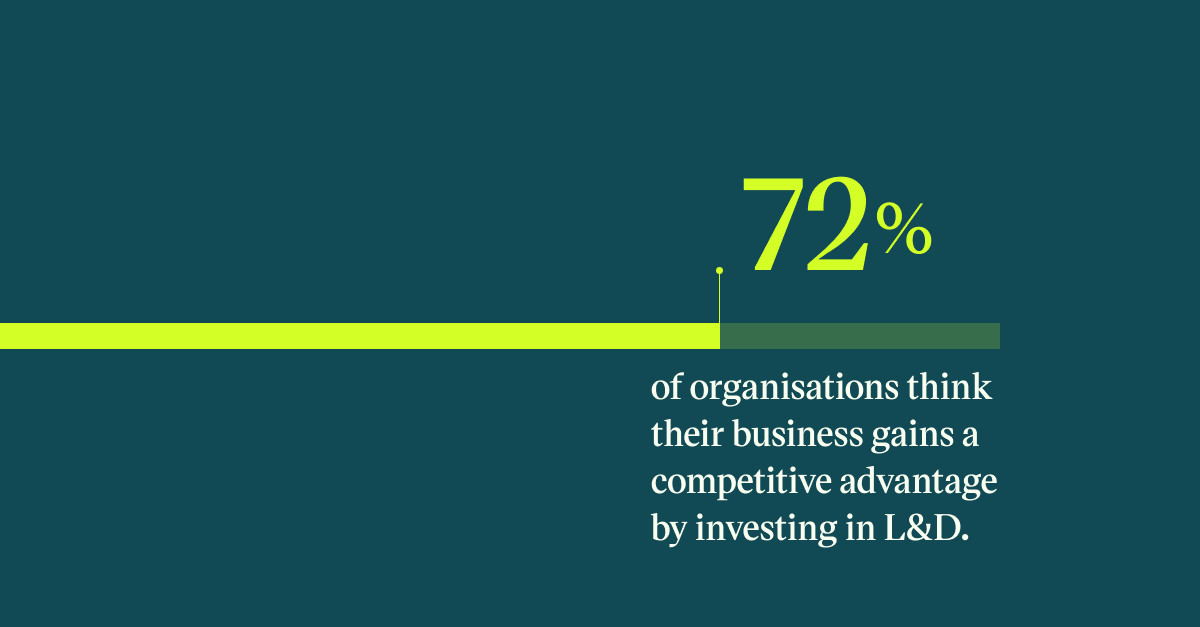 So, if you don't want to risk falling behind, losing top talent, or having disengaged employees, it's time for a mindset shift. Training isn't an optional extra or a once in a blue moon activity, it's an indispensable part of the employee benefits equation. 
For more insights, subscribe to the Go1 newsletter to stay on top of all the latest L&D trends. Or, you can book a demo today to find out how Go1 can help with your team's learning needs.