At Go1, we're learning content experts. We know the market and we advise HR and L&D teams every day on how to take a library of digital learning and curate it down to be relevant to learners' needs.
In our conversations, we hear the same concerns again and again. For example, effective content mapping requires a breadth of content, team capacity, executive sponsorship, and additional skills that L&D teams often don't have, such as project management and performance consulting.
As such, we find that most companies face the same common challenges when mapping learning content to their organisation's skills. These challenges include breadth of content, time to deliver high-quality learning opportunities for every employee, and team capacity. If you're reading this, you're probably all too familiar with many of these challenges. 
Let's delve deeper into some of these challenges to understand why they manifest, and, more importantly, how we can overcome them. 
Deeply understanding your learner's needs (organisational awareness)
It's easier to assume your learners' needs and what they want to achieve than to undertake a comprehensive performance consulting process. However, these assumptions create a gap between the learning that's happening and the business-impact it's having. Eventually, the project is seen as low-impact because the L&D team failed to understand their audience to the required level.
Team resourcing/prioritisation
There are often many training needs to juggle across different departments within an organisation. 
Time to assess, implement, and evaluate
Often a reactive business unit, L&D don't have the time to do an in-depth analysis. Evaluation of the effectiveness of learning programs in-line with business objectives is challenging if analysis hasn't been comprehensive. 
Lack of content breadth to meet the identified learning needs
Having access to a static collection of content means skill gaps that can't be met by your existing vendors requires ongoing procurement and its associated costs. 
Available content is less relevant over time (constant procurement)
Even when managing multiple vendors, new skills and knowledge is required across your workforce. Developing in-house content to meet these needs takes more time than buying content off the shelf, starting from 49 hours per 1 hour of eLearning content developed. As such, many organizations turn to vendors that supply multiple libraries to meet shifting content requirements at a fraction of the cost.
As mentioned, we hear these same challenges again and again when talking to customers and partners, which is why many use a solution such as Go1 to address their challenges. 
Luckily, where there's a challenge, there's a solution, so we've put together an 8-step guide to deliver a digital learning project: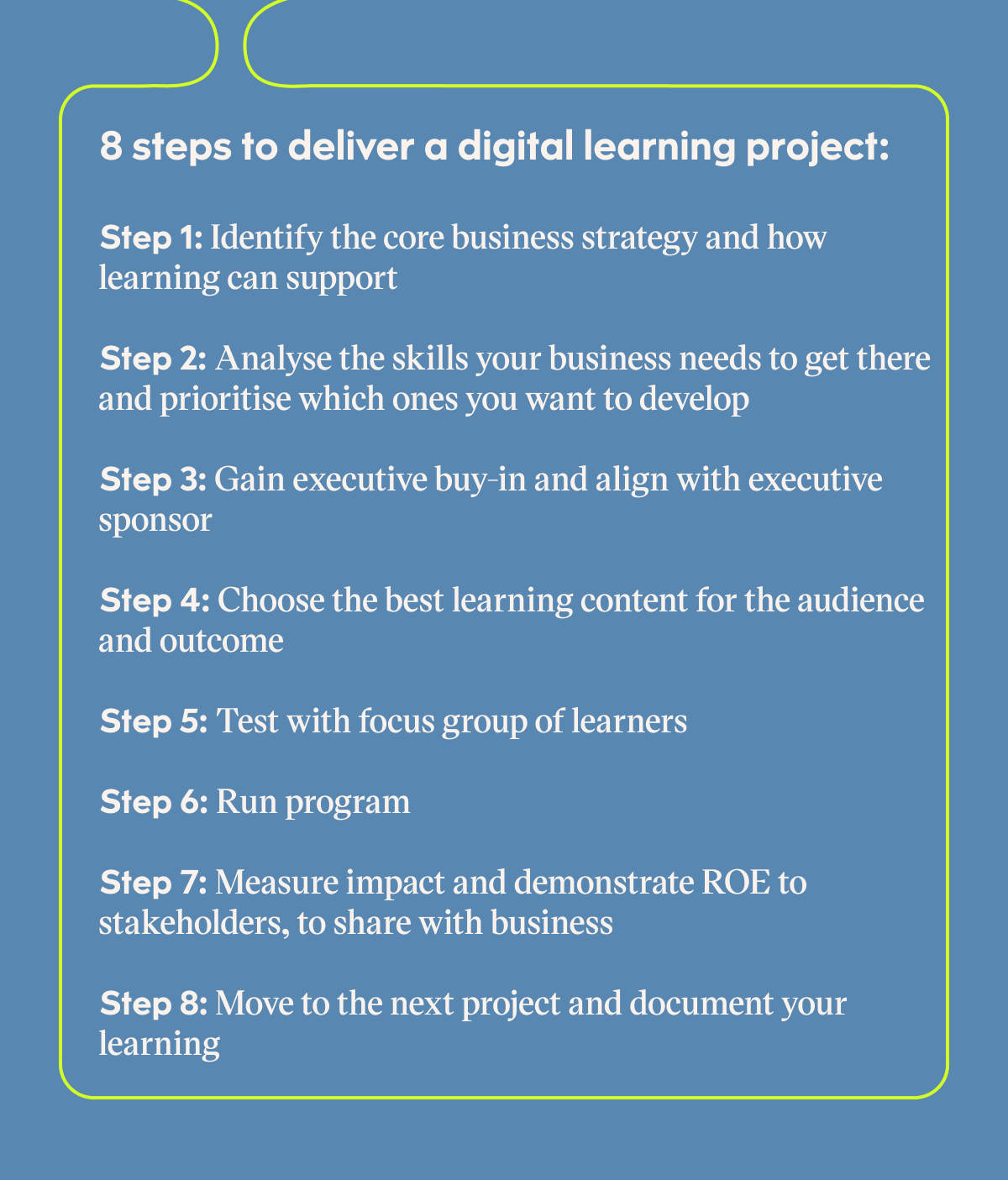 Still, the volume of high-quality 'off-the-shelf' content to include in blended learning makes for a daunting content selection process. At Go1, we want to make it easier to go through the mapping process and eliminate worries about content breadth. That's why our customers cover the majority of learning outcomes with off-the-shelf courses from the Go1 Content Hub, to complement the nuanced, contextual content built in-house.
Having the Go1 Content Hub can also mean never having to procure content again. For popular topics, we work with a wide range of well-regarded partners to ensure coverage, leaving more time to assess, implement, and evaluate learning strategies. 
You won't have to worry about content decreasing in relevance over time either, as we continuously add globally recognised new content providers at no additional cost. 
Additionally, simple filtering allows users to see the range of content available under each topic to cater to different learning styles, while also taking the stress out of team resourcing and prioritisation. Similarly, course descriptions and learning outcomes are available to help decide which courses are the best fit. 
Getting the right learning technology in place won't solve all your learning problems, but it will enable you to have an impact on a larger scale across the organisation, while also reducing the headcount and time you need to deliver your projects. 
For more insights, be sure to subscribe to the Go1 newsletter to stay on top of all the latest L&D trends. Or, you can book a demo today to find out how Go1 can help with your team's learning needs.