Most industries have jargon that would leave outsiders scratching their heads, and L&D is no different. We love a good acronym — starting with the name 'L&D' itself. At times, there can be so many acronyms that you feel like you need to keep a glossary nearby to remember them all. 
Two acronyms that anyone working in L&D needs to be aware of in 2021 are LMS and LXP. Whether you're whispering to yourself 'what do those stand for?', scrolling through your glossary to jog your memory, or just need a quick refresher, we're here to help. 
We'll look at the key aspects of a Learning Management System (LMS) and a Learning Experience Platform (LXP), defining both terms before asking the big question: what is the difference between an LMS and an LXP? 
What is an LMS? 
LMS stands for Learning Management System. In comparison to LXP, LMS is an older and more widely-known L&D term. It's probably what you picture when you think of a digital learning platform. 
In fact, LMS' are so ubiquitous that Share Knowledge finds 83% of organisations currently use an LMS, with 73% saying their LMS usage has increased in the past three years. What's more, recent research indicates that by the end of 2025, the global LMS market will be worth a whopping $28 billion. Further, 72% of organisations say they use an LMS to gain a competitive advantage.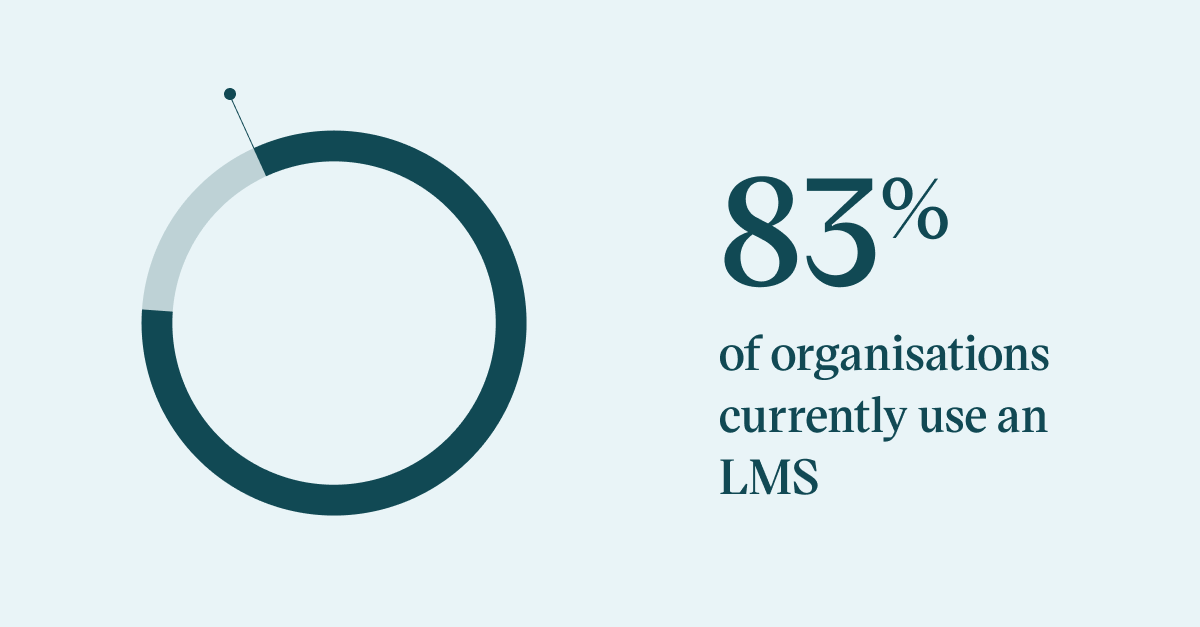 Definitions of LMS
Accordingly, it's important for L&D professionals to have a firm grasp of what an LMS is. According to Training Industry, an LMS is a "system designed for the administration, delivery, tracking and reporting of learning and development initiatives."  
Similarly, Share Knowledge defines an LMS as a software application that "provides the framework that handles all aspects of the learning process – it's where you house, deliver, and track your training content." 
Totara Learning adds to this, noting, "an LMS focuses on the management of learning and users. Traditionally, learning management systems have focused more on formal learning such as compliance-based training."
Basically, an LMS is the traditional industry standard. As the name suggests, a Learning Management System is typically used to house, administer, and manage users' learning, focussing primarily on formalised learning processes such as certifications and compliance training. 
What is an LXP?
LXP stands for Learner Experience Platform. As the name indicates, an LXP places far more control in the learner's hands, emphasising social, collaborative, and experiential learning. Compared to an LMS, an LXP places less focus on formalised training and more emphasis on the overall learning experience. 
While not yet as big as the LMS market, which is projected to reach $28 billion by 2025, LXPs are rapidly gaining traction. Currently, the LXP market is valued at $500 million, with a projected annual growth rate of 50%. As such, some industry experts believe that the LXP market will surpass the LMS market in the coming years.
Definitions of LXP
According to Totara Learning, "LXPs usually focus more on social, informal and collaborative learning. This might include allowing learners to create their own content that can be shared across the platform." This social, collborative nature is one of the key advantages of an LXP over an LMS. According to Valamis, research shows that learners only spend time in an LMS when learning is specifically prescribed to them. LXPs circumvent this problem by encouraging users to access learning in far more varied and engaging ways.
In contrast to LMS, Learning Experience Platform (LXP) is a far newer term. Filtered Learning estimates that it entered the zeitgeist as recently as 2018. Even so, LXPs are rapidly gaining popularity, particularly as a tool to facilitate learning in the flow of work.
Training Industry explains that an LXP centralises learning by consolidating "capabilities into a single portal, enabling a variety of methods to engage learners, such as personalised learning pathways and social learning."
Put simply, LXPs are all about the learner. The learner's experience is placed front and centre with a far higher emphasis on personalised, engaging, and collaborative learning.
It is also worth noting that since LXP is a far newer term, it is not as well-defined as an LMS. As such, the exact definition of an LXP is more fluid, so it can mean different things to different organisations.  
What's the difference between an LMS and an LXP? 
With this in mind, it's worth asking the big question: what's the difference between an LMS and an LXP? 
One of the key differences between an LMS and an LXP is push vs pull learning. An LMS relies primarily on push learning, where training content is delivered directly to the learner, or, in other words, 'pushed' onto them. In contrast, an LXP focuses on pull learning, where learners are pulled in and enticed to engage via collaborative, personalised content. Many strong learning cultures use both push and pull learning to fulfil different functions, enabling them to live side-by-side.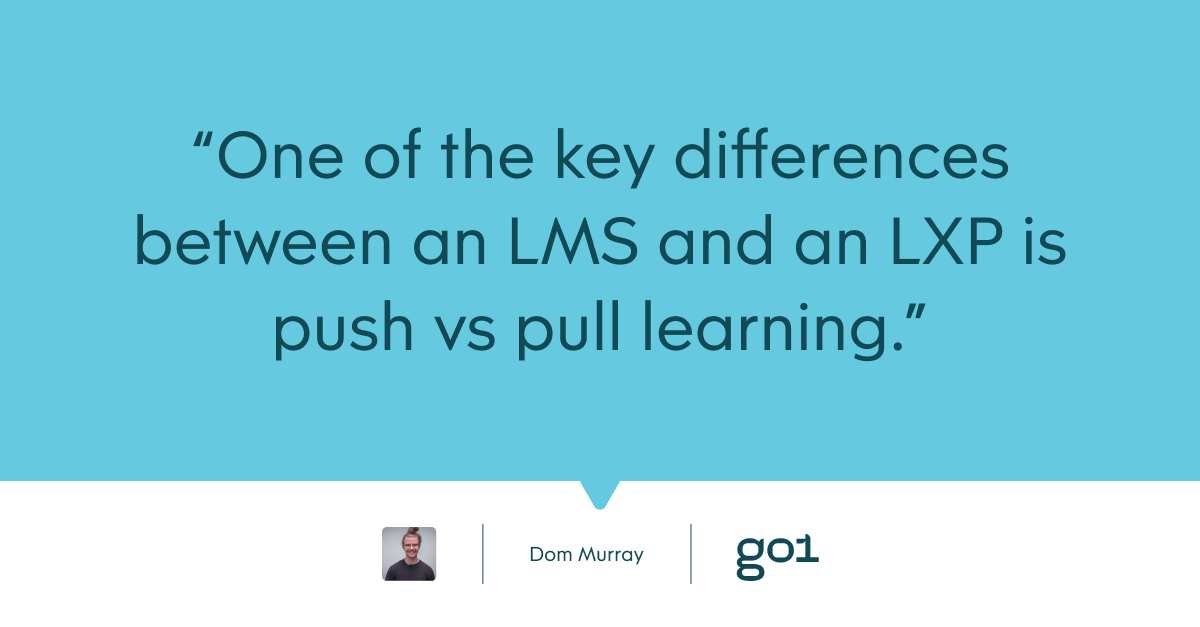 Filtered Learning provides an excellent analogy to articulate this difference, explaining that an LMS is like going to a cinema where the content is delivered directly to you, while an LXP is more like browsing YouTube, where you can scroll through various videos and find the content that best suits your needs. They elaborate, adding, "an LMS is a system through which admins can assign and track highly structured training content. Conversely, an LXP is a consumer-focussed platform in which the user chooses their own learning from a diverse array of personalised content."
Moreover, Training Industry explains that while an LMS is a useful tool for compliance and certification purposes, LXPs encourage learners to engage with training on a deeper, more personalised level. Accordingly, one of the major differences between the two systems is that an LMS is mainly administrator-driven, whereas an LXP is mainly employee-driven. With an LMS, an administrator pushes the learning content directly to you. In contrast, with an LXP, learners have more free reign to select which content they want to engage with.
Summarising LMS vs LXP
Ultimately, both models have their value. While engaging, experiential learning offered via an LMX is definitely an enticing prospect, things such as compliance training and other formalised learning aren't disappearing any time soon, meaning an LMS is still essential for many organisations.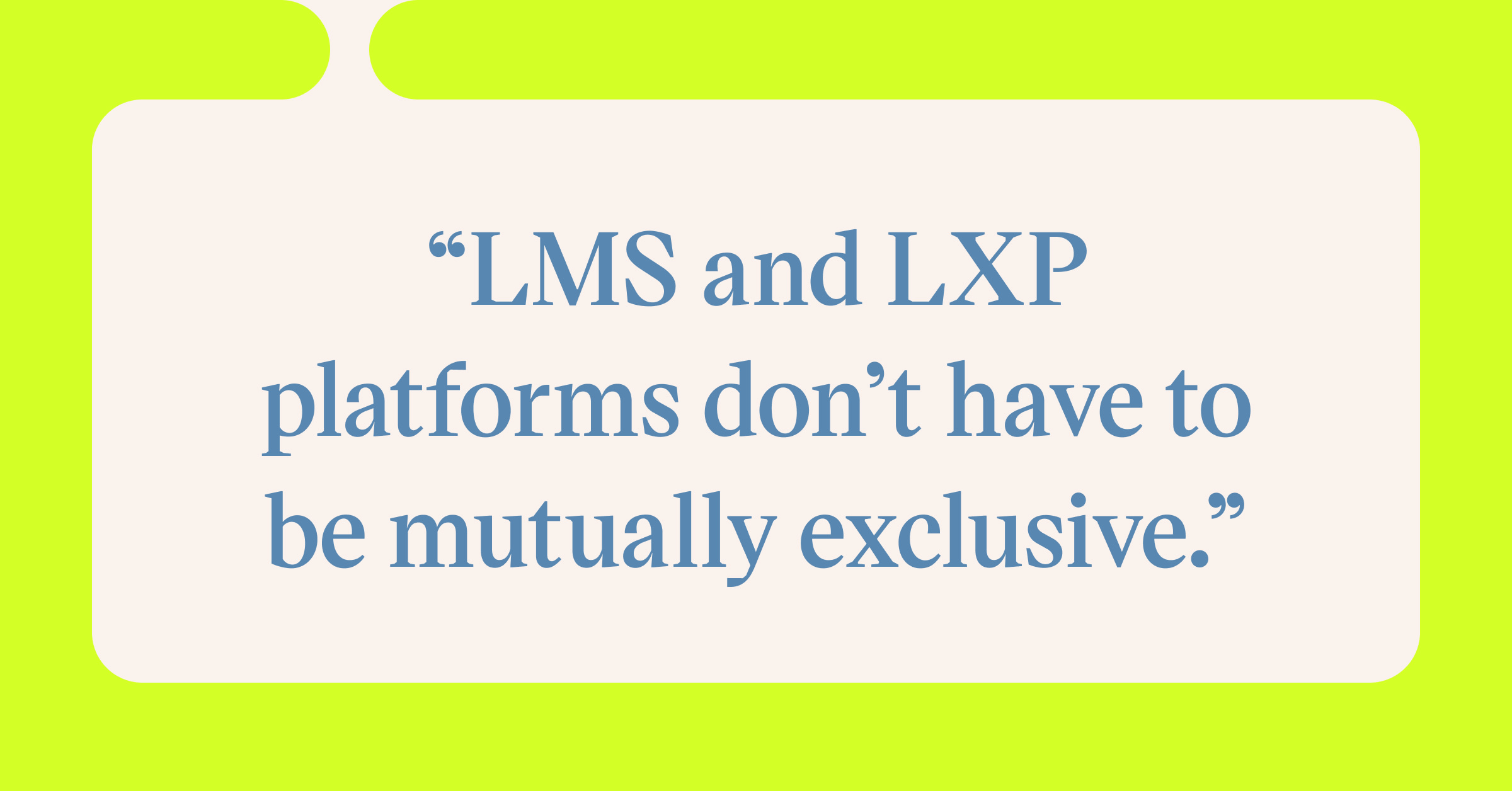 Further, LMS and LXP platforms don't have to be mutually exclusive. It is worth thoroughly researching your options, organisational goals, and learning requirements to determine which option is most suitable for your L&D team, or even if a combination of both an LMS and LXP might be a viable option for your learning needs. 
What does the future hold for LMS and LXPs? 
Finally, it is worth looking to the future. While the L&D world is currently focussing on LMS vs LXPs, learning technologies are quickly evolving to defy these easy categorisations. 
Introducing, Microsoft Viva
We have already mentioned that LXP is a somewhat ambiguous term that can mean different things to different organisations. The soon-to-be-launched Microsoft Viva is the perfect encapsulation of this growing trend, stretching the definition of what an LXP is and what learning technologies can be.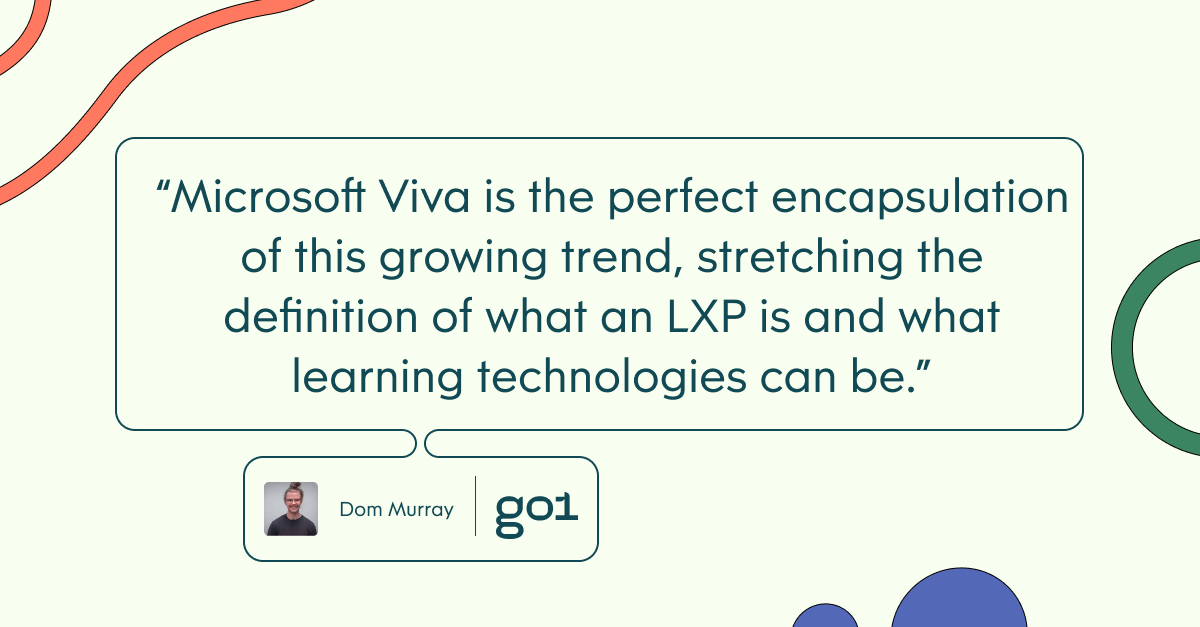 At its core, Viva Learning, which is one of 4 modules within Microsoft Viva, can be seen as a simple LXP. Although, it may stretch the term LXP further - it's more of a a 'lightweight' LXP that's fully embedded within systems people use daily, such as Microsoft Teams. 
However, it is not that straightforward. Viva Learning can also work alongside an LMS or without one, plug into a content library (like Go1), plug into individual content vendors (like Skillsoft), or plug into your authored content. It's an interesting development in the L&D industry that's shifting how we think of the definitions of LMS and LXP that we've outlined above.
As Josh Bersin explains in a recent article, "You may know that the Learning Experience Platform (LXP) market is on fire... the Microsoft Viva Learning app is not only an LXP in disguise, it also lets companies publish and share all their internal videos, podcasts, and other user-developed content." 
Filtered Learning adds to this point, demonstrating how Viva Learning blurs the boundaries between an LMS and an LXP. They explain that Viva Learning will blend "LXP functionality (aggregation, curation, recommendation and search) alongside limited LMS functionality (managers assigning training to groups and individuals), all within Microsoft Teams."
In other words, Microsoft Viva doesn't fit neatly into pre-defined boxes like LMS or LXP. While this doesn't make LMS or LXP platforms irrelevant — far from it — it stands out as an exciting trend that pushes the boundaries of how we think about digital learning categorisation. 
To find out more about Go1's exciting new integration with Microsoft Viva, be sure to read our announcement blog. 
For more insights, be sure to subscribe to the Go1 newsletter to stay on top of all the latest L&D trends. Or, you can book a demo today to find out how Go1 can help with your team's learning needs.