Providing opportunities for professional development can have a significant impact on a workplace. Through learning, employees can refresh skills or identify those they need to work on. They can choose to develop role-specific expertise, or they can develop soft skills, which are becoming increasingly sought after in the digital age.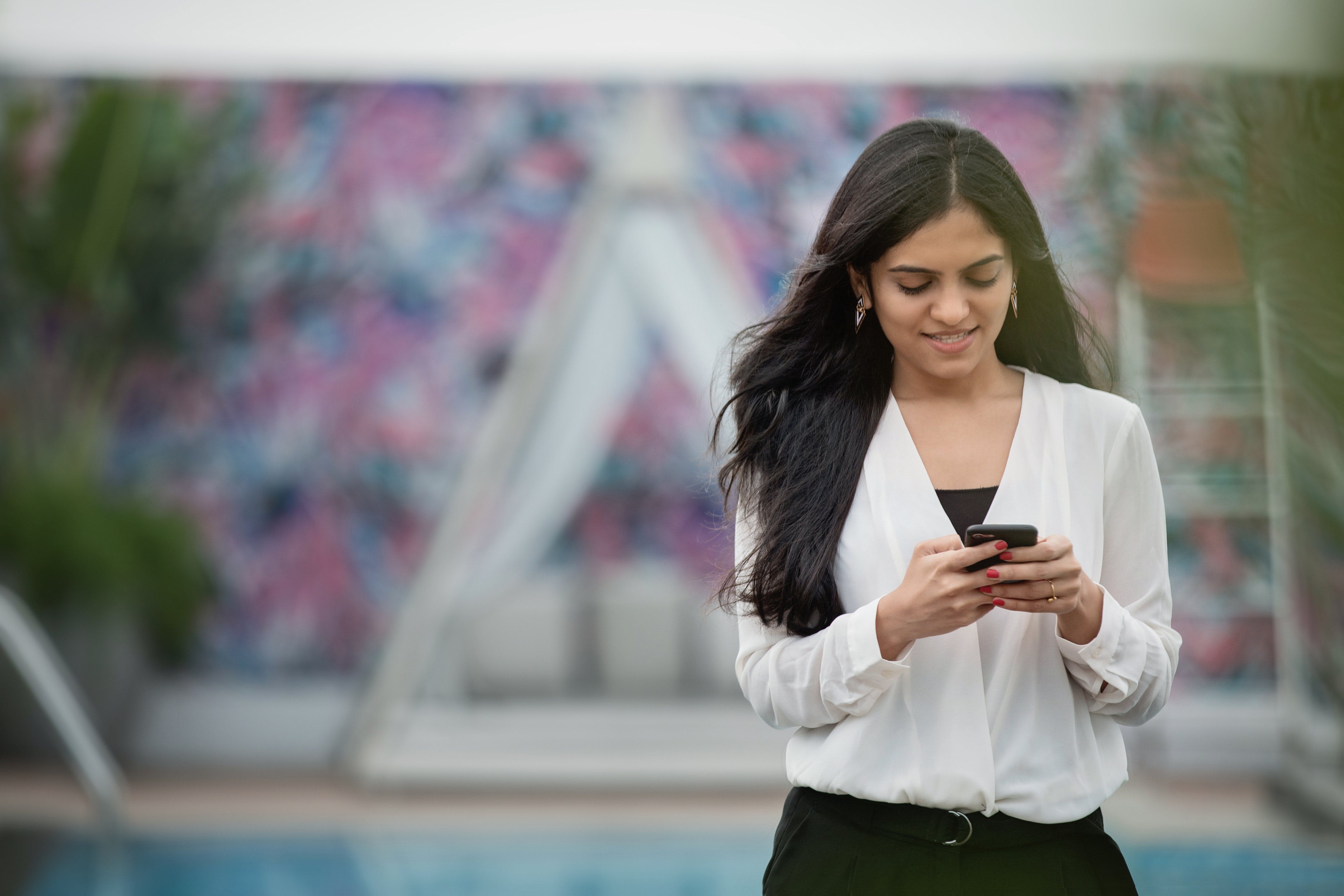 The chance to learn and grow is important to employees, and will ultimately make them feel invested in their organisation. At a certain point, every employee needs a new challenge and the chance to push themselves beyond what they are already capable of. Gaining knowledge will help them to remain engaged and interested in the work they do. 
Research also shows that through learning and development, employees can become more agile and responsive to change, giving them an improved ability to cope with the rapidly shifting modern workplace. 
While the benefits for employees make a strong case for learning and development, a focus on strategy in this area can have a wide-ranging impact on organisations as a whole.    
In this article, we are going to explore the ways in which learning and development can influence other areas of business, some of which may not be immediately obvious.
The broader impact of learning and development
To assess the role of learning and development in organisations, the report, Elevating Learning and Development: Insights and Practical Guidance from the Field offers a useful summary.
The following diagram outlines the five ways in which learning and development can impact upon an organisation. The wide reach learning can have might be unexpected: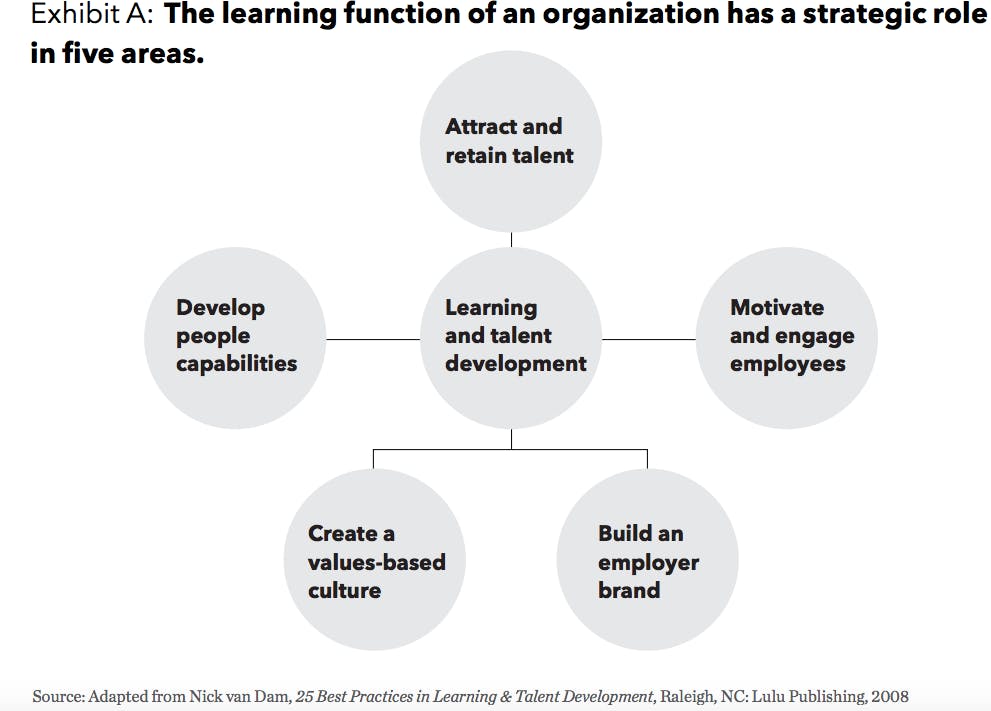 Using the information outlined in the report, let's look at each of these areas in more detail to understand how and why they are useful to organisations. 
Attracting and retaining talent
Traditionally, learning was focused on improving productivity at both an employee and organisational level. While this is still important today, learning now has a wider impact and also contributes to employability. In today's work landscape, employees are highly unlikely to remain with the same organisation over a long period of time. They will only stay in a role as long as they are valuable to the company, and the role is of value to them and their career development. 
In this environment, both attracting and retaining talent can be difficult. People list opportunities to learn as one of the main reasons for joining an organisation.  Interestingly, a lack of these opportunities is a key reason people give for moving on to a new workplace. 
Develop people and capabilities
In the digital world, knowledge can become quickly outdated. This means that the strengths and personality attributes employees bring to their work can become irrelevant. Through learning and development opportunities, employees can be kept up to date, and be prepared for change as it happens. 
Research also indicates that when organisations invest in the next generation of leaders through learning, they see an impressive return. These organisations are found to be 2.4 times more likely to hit their performance targets. 
Creating a values-based culture
Learning and development can also be helpful to communicate the values your organisation wants to prioritise. When many companies are becoming increasingly virtual, it can also help to build a sense of community and connection between employees. Millennials are particularly interested in working for organisations they share values with, and those that make a contribution to society. 
Building an employer brand
Linked to the idea of attracting millennial employees through values is your organisation's brand. When carefully crafted, a brand can communicate how successful your organisation is, and the position your organisation holds in the industry.
Learning and development can improve your organisation's reputation and help to attract new talent. A strong brand communicates a clear message to prospective employees. 
Motivating and engaging employees
Research shows that opportunities for lifelong learning are connected to overall happiness. When employees are content, they will produce better, more creative work, and have the energy to innovate.
Measuring the impact of learning and development 
It is clear that organisations can reap great rewards when they invest in learning and development. However, for leaders to feel confident in their learning strategy, they need to understand how to measure the impact of interventions on their employees.
While measuring impact is both helpful and important, it can be difficult to achieve. Many organisations rely on traditional methods to look at the success of a program, such as employee satisfaction and completion rates. 
Organisations who perform best focus on a broader range of outcomes-based metrics, such as the impact on individual employees, their engagement in learning and the impact learning has on teams and business processes. 
To help with this process, the McKinsey report suggests reviewing the impact of learning in an organisation using the following framework: 
Strategic alignment: How effectively does the learning strategy support the organization's priorities?

Capabilities: How well does the learning and development function help colleagues build the mind-sets, skills, and expertise they need most? This impact can be measured by assessing people's capability gaps against a comprehensive competency framework.

Organizational health: To what extent does learning strengthen the overall health and DNA of the organization? Relevant dimensions of the McKinsey Organizational Health Index can provide a baseline.

Individual peak performance: Beyond raw capabilities, how well does the learning and development function help colleagues achieve maximum impact in their role while maintaining a healthy work-life balance? 
Leaders can also use data to review the impact of interventions. This evidence-based approach can help them to develop a rigorous learning and development strategy.
Go1 is your employee's gateway to professional development growth. With courses that cover numerous business functions, we help your staff grow into their role by unlocking their potential. Content is at all levels of difficulty and is suitable for any employee, in any department, in any region.