Asking why learning is important or impactful is like asking why it's important that we breathe fresh air or drink clean water. Learning is an essential, lifelong pursuit. Providing professional development opportunities can significantly improve workplaces by boosting employees' confidence, knowledge, and productivity. Via learning, employees can refresh their skills or identify new skills that they need to improve. They can develop role-specific expertise, work on their soft skills (which are becoming increasingly sought after in the digital age) or even upskill and pivot to a new role.
Chances to learn and grow are vital for employees and will ultimately make them feel more engaged and invested in their work. At a certain point, everyone needs a new challenge to push themselves beyond what they are currently capable of, and workplace learning and development provides exactly that.
Additionally, research shows that, via learning and development, employees can become more agile and responsive to change, giving them the skills to cope with the rapidly shifting modern workplace.
While these benefits alone make a compelling case for the positive impact of workplace learning and development, they are only the tip of the iceberg. Learning and development is vital for individual employees, yet, on a broader level, its business value is also significant. Unfortunately, L&D's business value is often overlooked. Too often, people acknowledge L&D's micro benefits, while neglecting its macro benefits. However, prioritising L&D can have a wide-ranging impact on several critical business metrics, thereby boosting your bottom line (more on that later).
With this in mind, we explore the positive impact of learning and development on organisations, covering topics such as retention, engagement, skills development, workplace culture, measuring impact, and, most importantly, overall happiness. After all, what's more important than a love of learning? Let's get started.
The positive impacts of learning and development
While learning for the pure love of learning should be sufficient, sadly, that is not the world we live in. To justify your L&D budget, teams must continually demonstrate L&D's impact on both individual employees and broader business goals. Thankfully, the positive impacts of learning and development are innumerable, meaning L&D should be easy to advocate for — as long as you know where to look.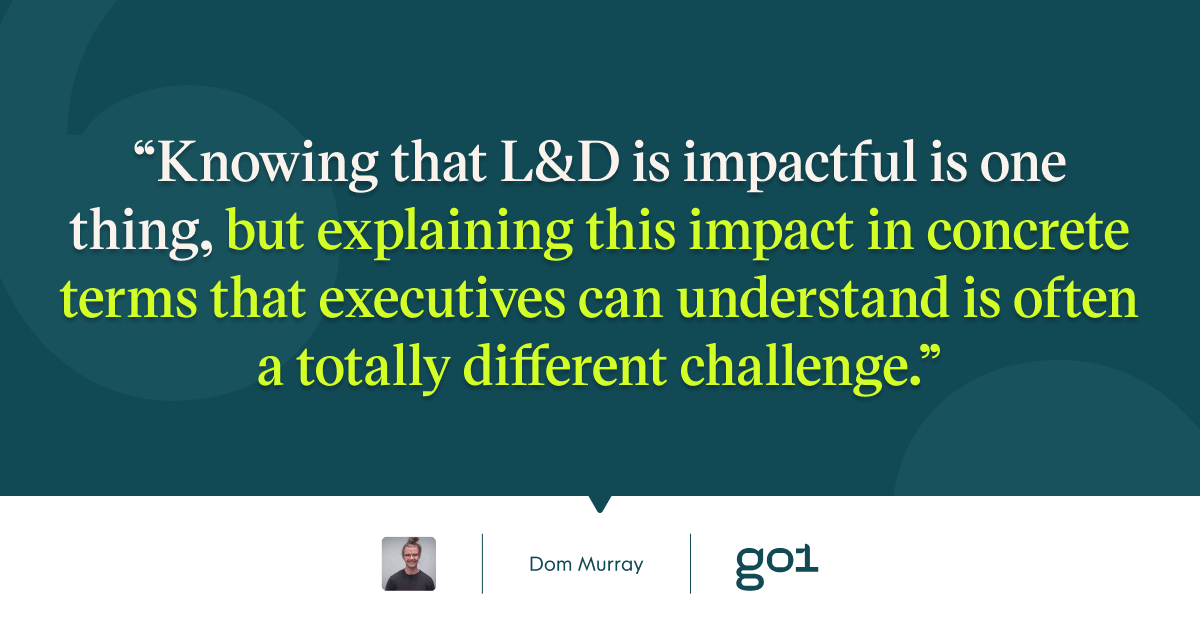 Unfortunately, knowing that L&D is impactful is one thing, but explaining this impact in concrete terms that executives can understand is often a totally different challenge. It's an age-old L&D struggle that you're probably all too familiar with.
Below, we'll outline just that: everything you need to know to advocate for the positive impacts L&D has on your organisation. But first, a bonus statistic: 72% of organisations gain a competitive advantage by investing in digital learning. If that's not already enough to understand the positive impacts of L&D, there's plenty more where that came from.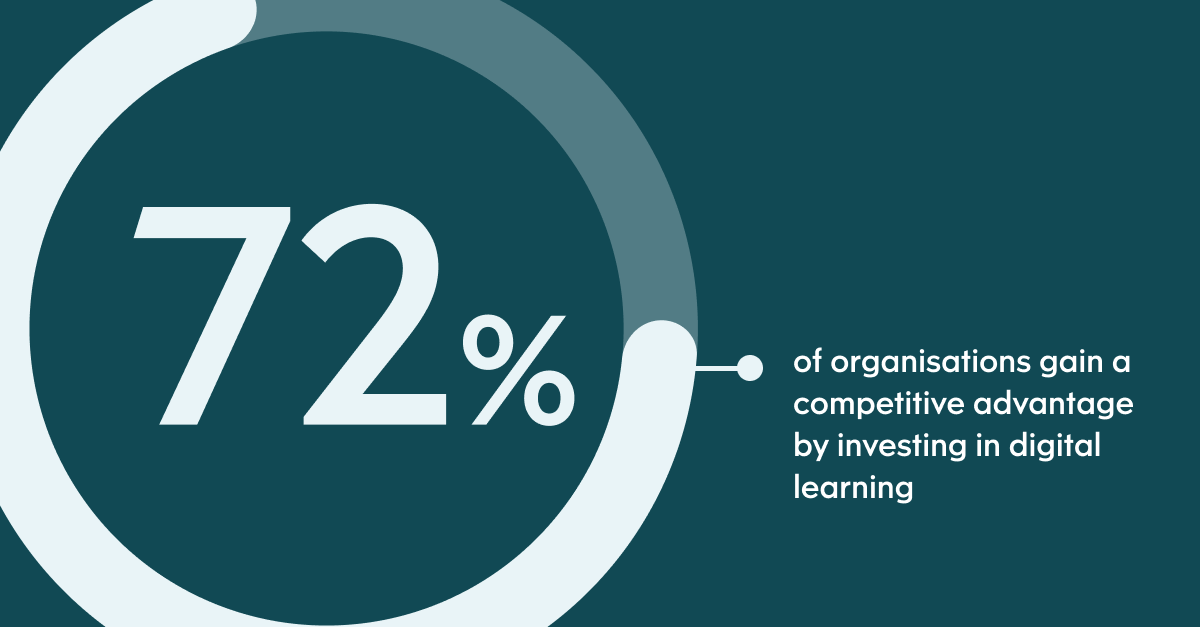 To help us assess learning and development's business impact, McKinsey's report Elevating Learning and Development: Insights and Practical Guidance from the Field offers a handy summary. The following diagram outlines five ways that learning and development can impact an organisation: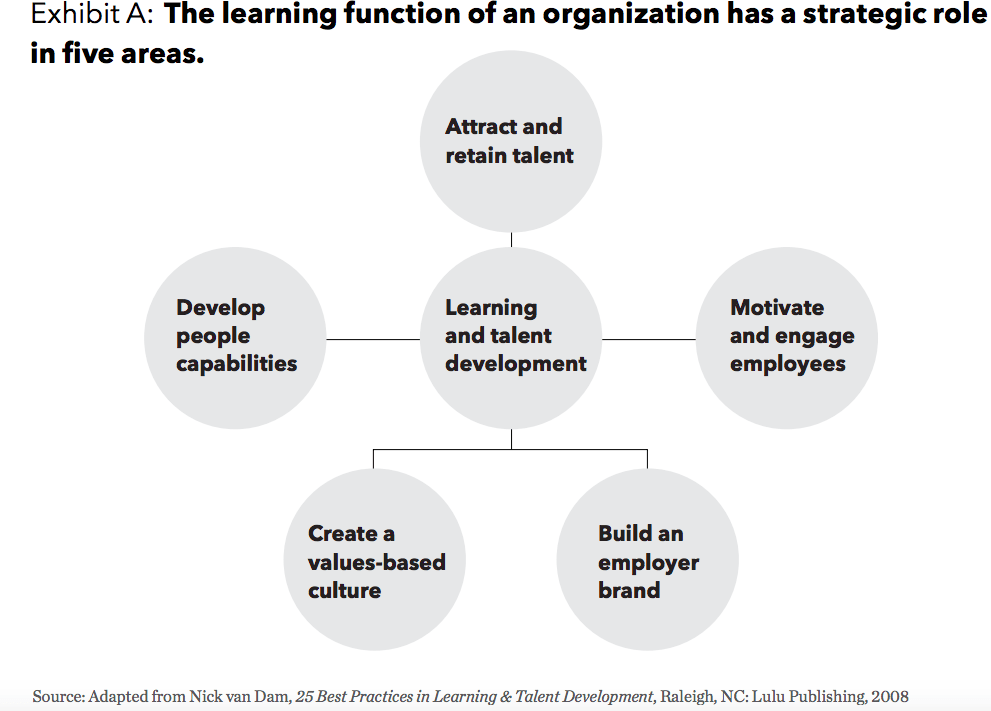 We'll analyse each of these areas in detail to understand why learning and development is so impactful on an organisational level.
Attracting and retaining talent
In the past, learning and development focused primarily on improving productivity at both an employee and organisational level. While improving productivity remains important, learning now has a broader role by contributing to employability, among many other things.
In today's work landscape, employees are highly unlikely to remain with the same company for a long time. Gone are the days when you would stay in the same job for 40 years and retire with a gold watch, as the Bureau of Labor Statistics finds the median time that both wage and salary workers stay at their jobs is 4.1 years.
In this environment, attracting and retaining talent can be difficult. Many prospective employees list 'opportunities to learn' as one of the main reasons for accepting a job. On the other hand, a lack of career development opportunities is a common reason people give for moving to a new workplace. In other words, employees will only stay in a role as long as it is valuable to their personal and professional development, so you must continually offer this value to attract and retain the best talent. How? L&D.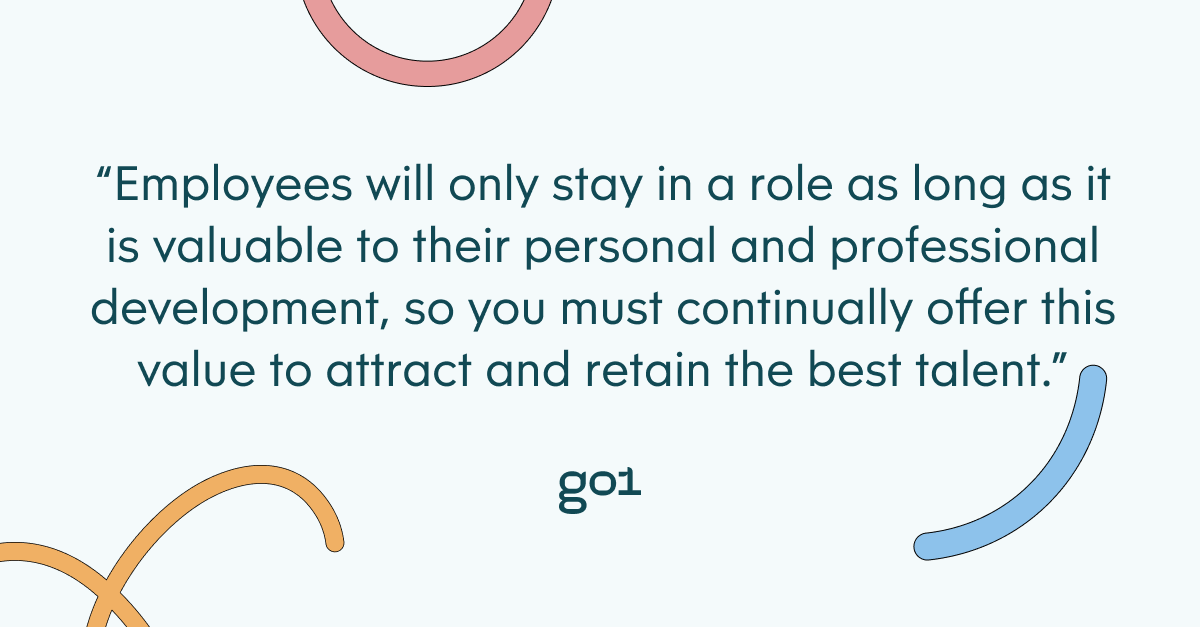 94% of employees say they would stay at a company longer if it invested in their professional development. Likewise, 86% of millennials would remain at their job if it offered better training and development courses, while companies that offer professional development opportunities have 34% higher retention rates.
And that's only the beginning, as 22% of employees leave their jobs to seek better professional development opportunities elsewhere. Perhaps most significantly, ​employee retention rates increase by 30-50% on average for companies with strong learning cultures. 
For more insights, see our blog on five tips for long-term employee retention.
Develop people and capabilities
In an increasingly digital world, knowledge can quickly become outdated. As such, an employee's unique strengths, skills, and insights become irrelevant faster than ever before. To combat this, employees must continuously upskill to remain abreast of current skills and workplace trends.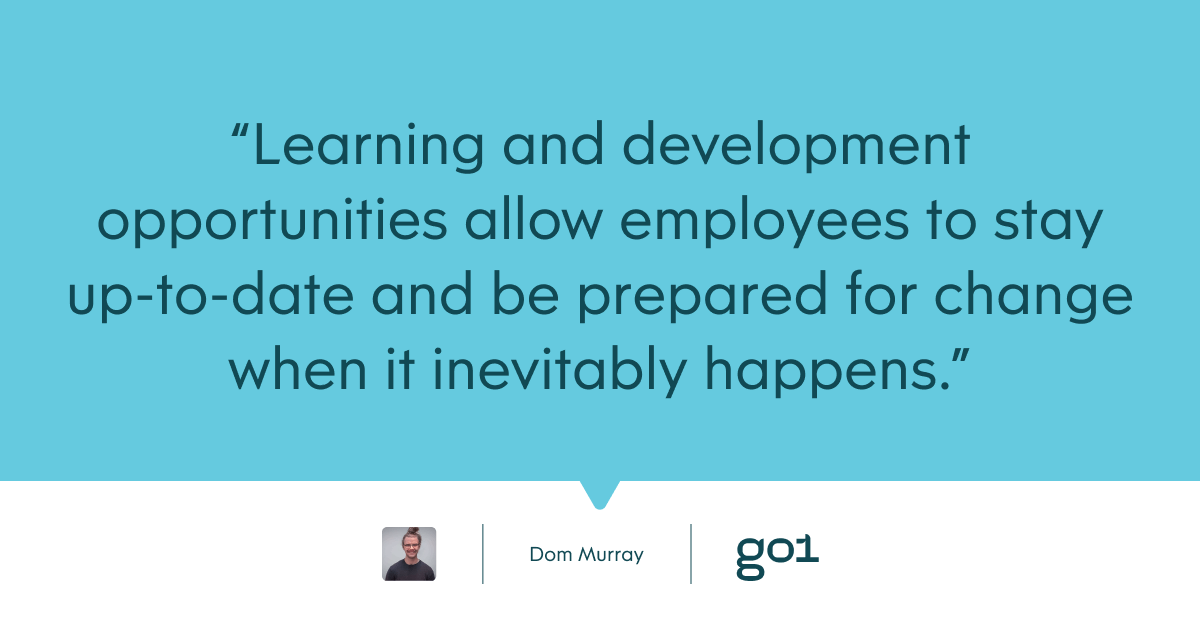 What's more, studies show that the average shelf life of skills is becoming shorter and shorter, making continuous upskilling essential. According to IBM, "skills generally have a 'half-life' of about five years, with more technical skills at just two and a half years. The short shelf-life of technical skills requires a continuous re-skilling effort to stay relevant." Therefore, offering a robust upskilling program is essential to ensure your employees have the most up-to-date skills and can perform at their peak.
Research also indicates that when organisations invest in the next generation of leaders through learning, they see an impressive return. These organisations are 2.4 times more likely to meet their performance targets. 
Creating a values-based culture
Learning and development can also communicate the values your company wants to prioritise, while simultaneously building a sense of community and connection between employees. For example, do you want to build a culture based on collaboration? Start offering digital learning courses about teamwork, patience, listening, and collaboration. Want to improve your team's adaptability? There's a course for that too. Whatever values you want to impress on your team, L&D is here to help.
Millennials are particularly interested in working for organisations with which they share values, as well as those that focus on social impact. To illustrate this, FastCompany found that 74% of employees believe companies should be as concerned with their social impact as they are with their bottom line, while 38% would quit their job "if an employer acted in a way that didn't align with their values."
To take this a step further, 73% of people wouldn't even consider applying to a company unless its values align with their values, while 36% of people have left a job because they disagreed with a company's ethical standards.
Despite this, the 2021 Global Business Ethics Survey finds that just 14% of employees believe they work for an organisation with a strong ethical culture, meaning there is significant room for improvement. As always, investing in L&D is a great place to start.
Building an employer brand
When carefully crafted, a brand can communicate how successful your organisation is, as well as the position your organisation holds in the industry. Learning and development can improve your organisation's reputation and help to attract new talent. As mentioned, L&D is essential to attract and retain top talent.
A strong brand communicates a clear message to prospective employees. Similarly, building a strong culture is an essential aspect of developing your brand. To underscore this point, Glassdoor found that 56% of employees believe company culture is more important than salary, rising to 66% among Millennials. Moreover, 71% agree that if their company's culture deteriorated, they'd look for a new job. 
For tips on building your employer brand, see our article on becoming an employer of choice.
Motivating and engaging employees
Research shows that opportunities for lifelong learning correlate with overall happiness. More specifically, a recent survey by TrainingMag concluded that "L&D professionals are managing to create a different trajectory based upon helping people institute positive habits, cultivate positive moments, and lean into social connection."
Unsurprisingly, when employees are happy, they produce better, more creative work and have the energy to innovate. Who doesn't want happy, motivated, and engaged employees?
To learn more, see our article on rediscovering lost joy at work.
Measuring the impact of learning and development 
Clearly, organisations can reap great rewards when they invest in learning and development. More specifically, companies that provide comprehensive training programs have a 218% higher income per employee, while companies that invest in L&D have a 24% higher profit margin than those that spend less on training. Additionally, 42% of companies experience an increase in profits after investing in eLearning.
However, for leaders to feel confident in their learning strategy, they need to understand how to measure the impact of training on their employees and broader business goals. While measuring impact is incredibly beneficial, getting an accurate and insightful measure of your learning impact is often challenging.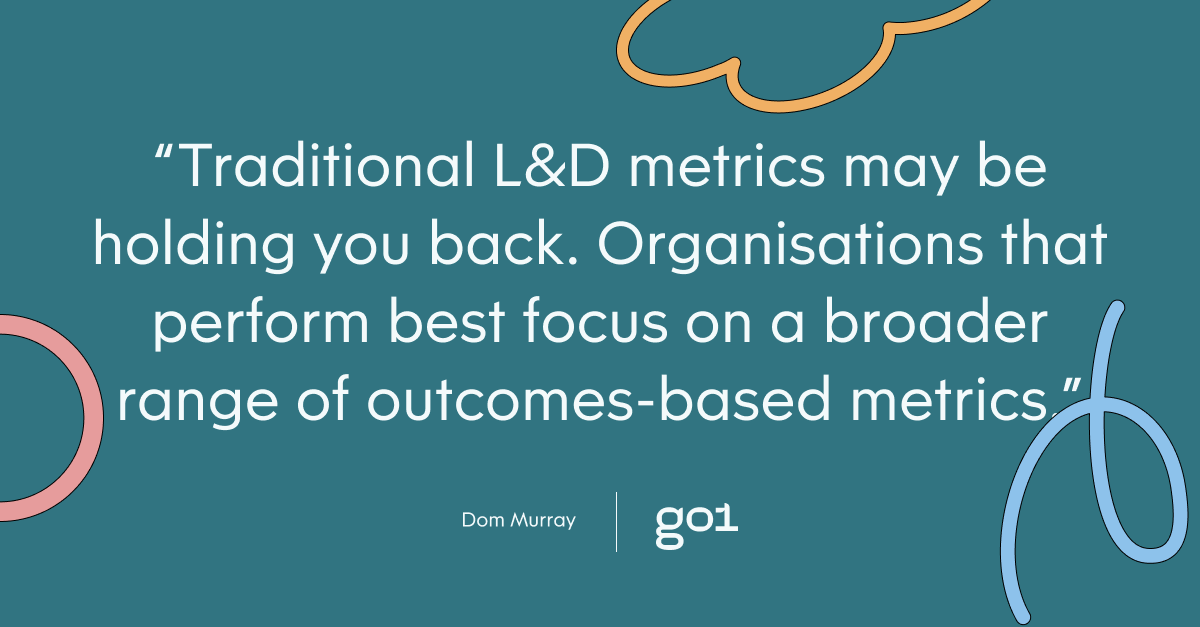 Many organisations rely on traditional methods to measure the success of an L&D program, such as employee satisfaction and completion rates. However, these traditional L&D metrics may be holding you back.
Organisations that perform best focus on a broader range of outcomes-based metrics, such as the impact of L&D on individual employees, engagement in learning, and the impact learning has on teams and business processes. Thankfully, Go1 has made it easy to improve L&D impact with the Improving Impact Tool, which you can download here.
Further, McKinsey suggests reviewing the impact of learning in an organisation using the following framework: 
Strategic alignment: How effectively does the learning strategy support the organisation's priorities?

Capabilities: How well does the learning and development function help colleagues build the mindsets, skills, and expertise they need most? L&D impact can be measured by assessing people's capability gaps against a comprehensive competency framework.

Organisational health: To what extent does learning strengthen the overall health and DNA of the organisation? Relevant dimensions of the McKinsey Organizational Health Index can provide a baseline.

Individual peak performance: Beyond raw capabilities, how well does the learning and development function help colleagues achieve maximum impact in their role while maintaining a healthy work-life balance? 
Finally, leaders can also use data to review the impact of learning interventions. This evidence-based approach can help teams develop a rigorous learning and development strategy. Despite this, 26% of L&D teams lack the analytical skills to use learning data effectively, while just 10% say they use performance data to measure the impact of learning programs. To get started on using data to measure L&D impact, see our blogs on improving ROI metrics and accessing insights to improve your L&D content.
For more insights, subscribe to the Go1 newsletter to stay on top of all the latest L&D trends. Or, you can book a demo today to find out how Go1 can help with your team's learning needs.