If you were born this century, digital literacy might be a skill you take for granted. You're a digital native, after all. However, digital literacy isn't something that comes naturally to everyone. As such, it is important to be aware of the varying digital literacy levels within your organisation and continually strive to improve your team's digital literacy.  
Even younger generations can always upskill their digital literacy. Remember, nobody's perfect. There's always something new to learn, and, in many ways, digital literacy is no different to traditional conceptions of literacy. It is a skill that can be continually honed throughout your career, playing a significant role in your ongoing professional development. 
Unfortunately, many organisations overlook digital literacy when crafting their learning and development strategies, meaning it is a skill that can stagnate quickly. 
With this in mind, we've decided to look at the digital literacy skills that your team will need to succeed in the future world of work. We'll start by asking what digital literacy is and why it's important, before offering tips on how to improve your team's digital literacy. 
This is the fourth and final article in our future skills series, stemming from our recent deep dive into the foundational skills you'll need in 2022. If you haven't already, check out the first three blogs in this series on interpersonal skills, self-leadership, and cognitive skills.
What is digital literacy? 
Digital literacy is similar to traditional forms of literacy. The medium may change, but the basic skills remain the same. Where we traditionally think of literacy as the ability to read, write, interpret, and critically evaluate the written word, digital literacy asks us to apply similar skills to digital mediums. 
According to Common Sense Media, "digital literacy is part of media literacy. They're both included in the idea of 'information literacy', which is the ability to effectively find, identify, evaluate, and use information. Digital literacy specifically applies to media from the internet, smartphones, video games, and other nontraditional sources."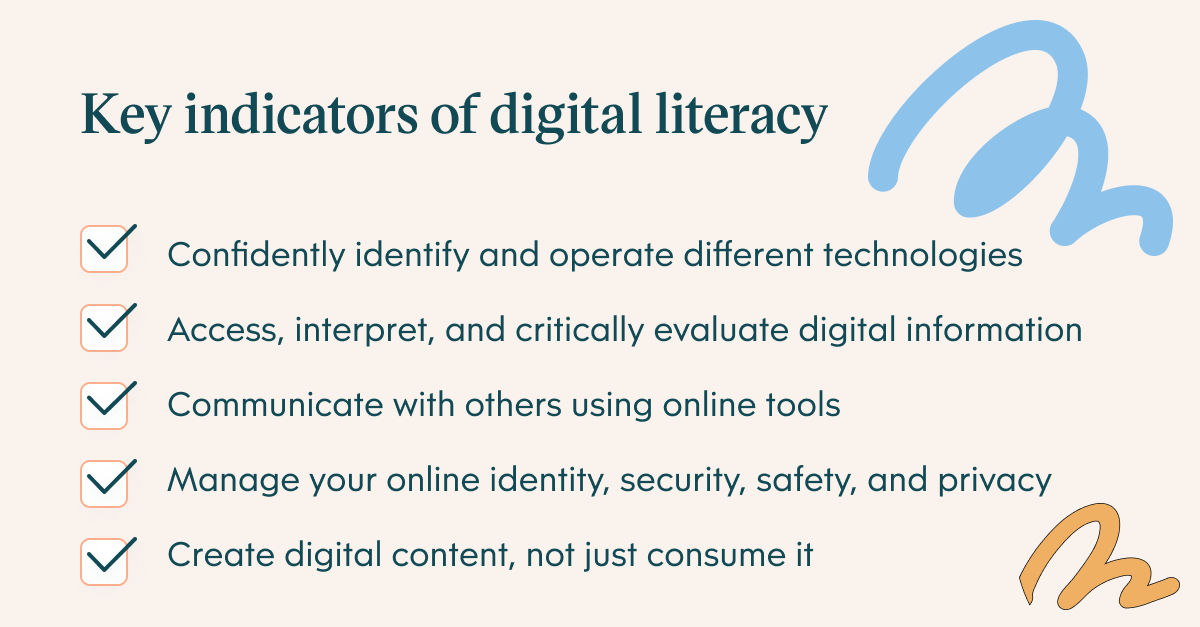 Developing Employability expands on this definition, adding that digital literacy is the ability to "identify and use technology confidently, creatively and critically to meet the demands and challenges of life, learning and work in a digital society." 
Finally, McKinsey defines digital literacy as "the ability to handle digital data, use popular software, access digital services, and interact with AI."
As such, a few key indicators of digital literacy include being able to:
Confidently identify and operate different technologies
Access, interpret, and critically evaluate information in digital spheres
Communicate with others using online tools
Manage your online identity while being conscious of security, safety, and privacy
Create digital content, not just consume it
Why is digital literacy important? 
Digital literacy is important for many reasons. For starters, digital literacy is important because we live in an increasingly digital society. From social media to Zoom meetings to online payments and more, much of our society is now filtered through a digital lens.  Further, the widespread move to remote work has demanded an increase in digital skills for many employees.
According to the Digital Skills Organisation, 87% of jobs in Australia now require some level of digital literacy. What's more, they find that 61% of Australia's training needs include the digital upskilling of the general population.
Similarly, a recent report by McKinsey identified digital literacy skills as one of four 'distinct elements of talent' (DELTAs) that will be vital to the future of work. Forward-thinking workers would be wise to recognise this and focus on developing their digital skills.
McKinsey also found that proficiency in their digital literacy DELTA had the highest correlation to education (32%). Plus, they noted that "a respondent with higher digital proficiency across all digital DELTAs was 41 percent more likely to earn a top-quintile income."
Despite this, digital literacy expert Elizabeth Marsh recently found that 88% of organisations have not taken any action to tackle their employees' lack of digital skills. On the other hand, 44% of workplaces have some form of digital program in place. Additionally, teams now use 16 SaaS applications on average, up from 8 in 2015. While this may come naturally to some, jumping from application to application can be a lot to get your head around if you're not as digitally literate. Clearly, there is a disconnect here. Many organisations expect their employees to switch fluently between digital platforms. However, they take no action to upskill employees' digital literacy.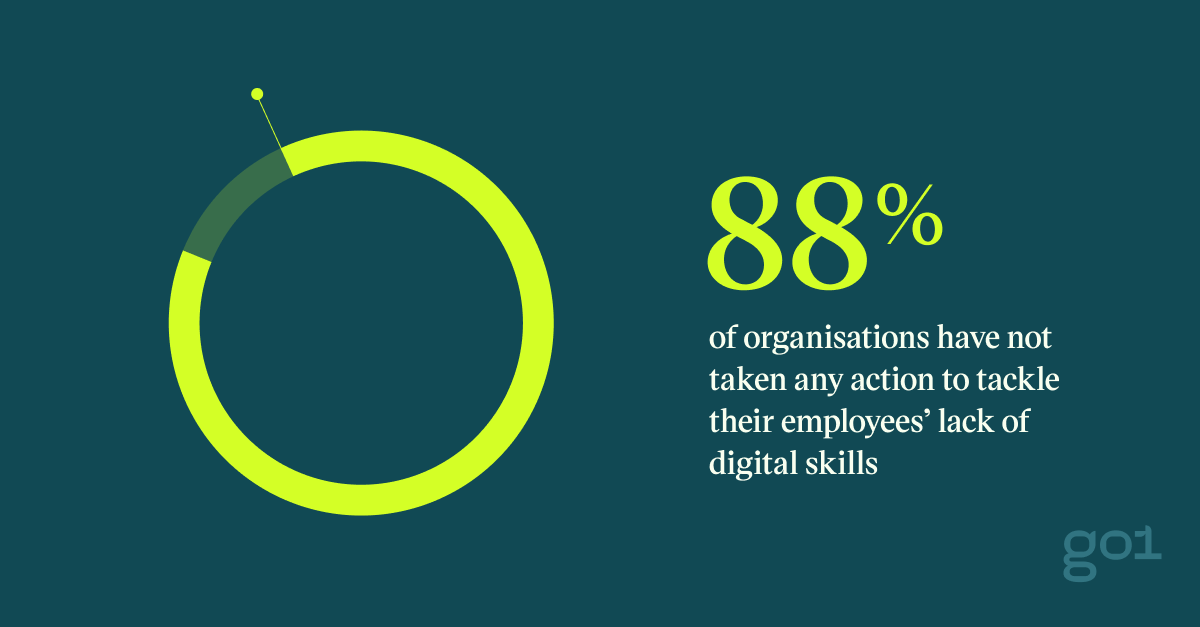 To reiterate this disconnect, Adecco finds that 80% of leaders believe their company has a clear strategy to train employees in the new digital literacy skills they will need in future. However, just 46% of non-managers think the same.
What's more, Ms Marsh finds that "the digital skills deficiency in the workforce is impacting on performance, with lost productivity and decreased customers the main negative impacts." These deficiencies should be highly concerning and could serve as a wake-up call for organisations to provide better digital literacy training.
Along these lines, Emerald Works finds that 29% of L&D teams are concerned about the pace of technological change, with 39% adding that they are overwhelmed and under-equipped. 
To put this into perspective, The Australian Digital Inclusion Index tracks and measures the rate of digital literacy in Australia. In 2020, the report saw a slight increase in Australia's ADII score, from 61.9 in 2019 to 63 in 2020. While it is encouraging that this score is trending in the right direction, this was a lower increase than in previous years. 
To underscore the importance of digital literacy and inclusion, the ADII explains some of the factors that contribute to digital literacy, commenting, "across the nation, digital inclusion follows some clear economic and social contours. In general, Australians with lower levels  of income, employment, and education are significantly less digitally included. There is consequently a substantial digital divide between richer and poorer Australians."
In addition, older people, Indigenous Australians, people with disabilities, and people who live in rural areas are all more likely to be digitally excluded. 
Given these findings, digital literacy is essential on three distinct levels. Firstly, a foundational degree of digital literacy is necessary to participate in an increasingly digital society. Without this, people may struggle to access employment and other basic needs. 
Secondly, from a business perspective, a team that lacks the necessary digital literacy skills is likely to be less productive. It is incumbent upon L&D teams to ensure employees have access to robust digital skills programs, which will lead to both a high-functioning business and more productive, engaged employees.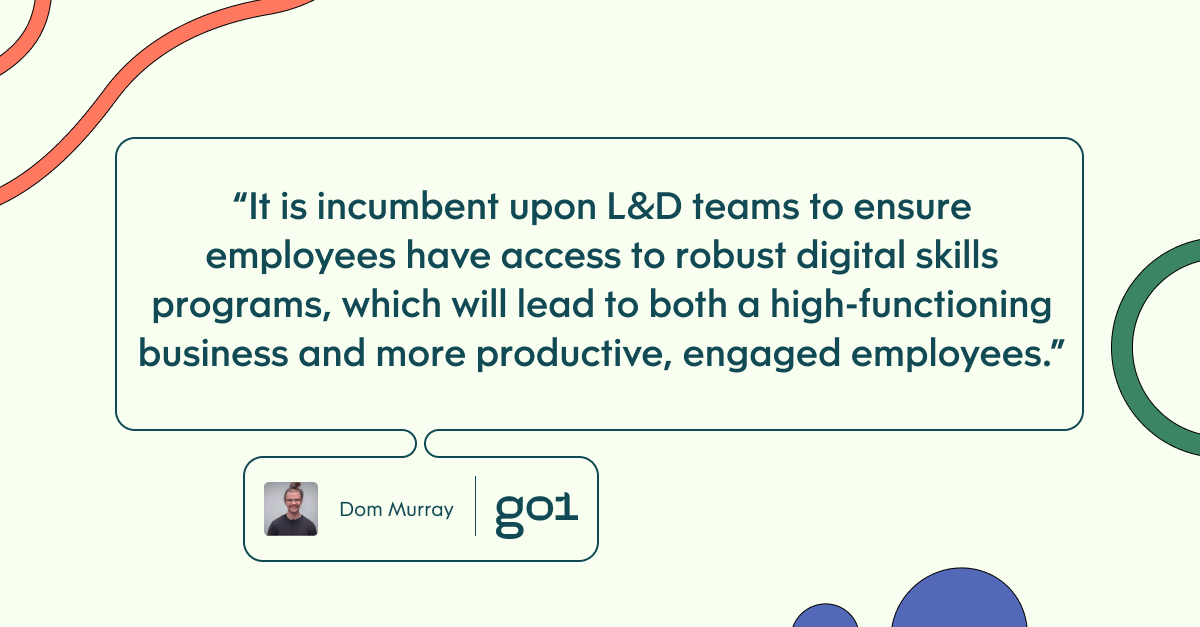 Finally, and perhaps most importantly, improving digital literacy is vital from a diversity and inclusion standpoint. As the latest ADII report reveals, Indigenous Australians, people with disabilities, and Australians from poorer socioeconomic backgrounds are disproportionately affected by a lack of digital literacy Therefore, improving access to digital literacy for these traditionally marginalised groups should be a priority to help bridge the digital divide. 
For more insights on digital literacy, see our articles on identifying your skill gaps and digital transformation.
Tips to improve your team's digital literacy 
With these factors in mind, the question becomes, what can I do to improve my team's digital literacy? 
The good news is that many L&D teams have recognised that digital literacy is a growing priority and have taken steps to address this issue. According to LinkedIn's 2022 Workplace Learning Report, 26% of L&D teams see digital upskilling as one of their primary focus areas in 2022, making this the second-highest priority for L&D teams behind leadership and management training. Likewise, 30% of L&D teams plan to launch digital fluency or transformations programs in 2022.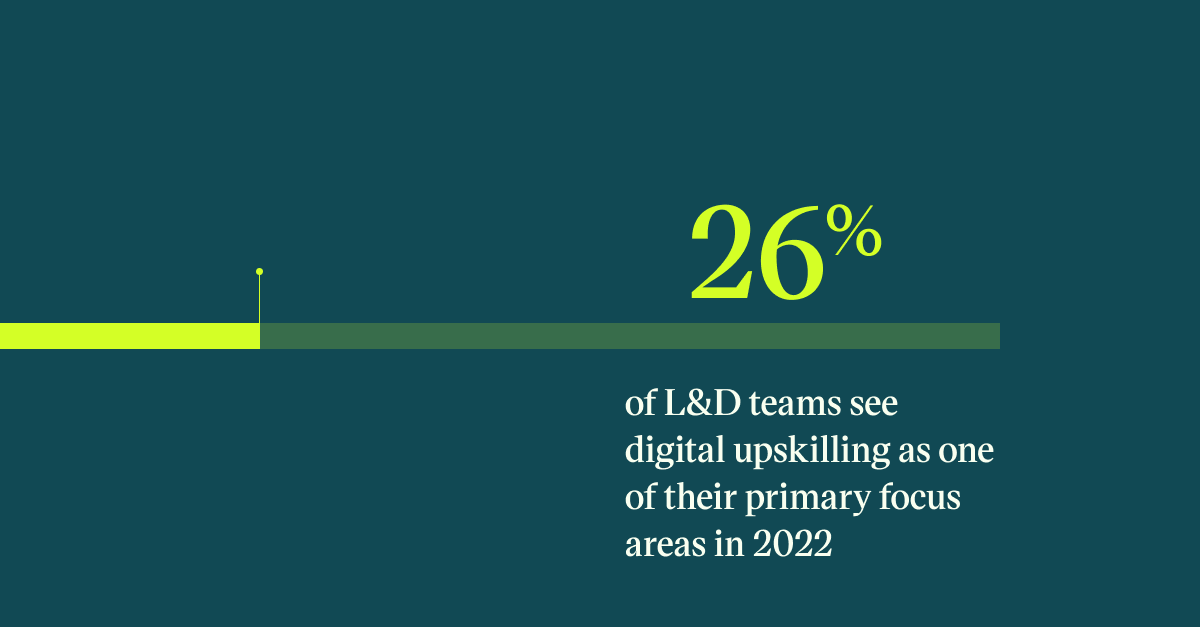 So, how can teams digitally upskill? To start with, McKinsey offers insights into the specific digital skills that employees will need in the future world of work. According to their research, the following digital literacy skills will be essential for high-performing employees:
Digital collaboration
Digital learning
Digital ethics
Programming literacy
Data analysis and statistics
Data literacy
Cybersecurity literacy
Computational and algorithmic thinking
To put these skills into action, an excellent place to start is by clearly communicating the value of digital literacy to employees. In other words: what's in it for me? For example, you might explain that digital literacy can improve productivity, expand knowledge, offer new skills, and help people remain employable. You can also explain that digital literacy is vital to any successful professional development plan. For a closer look at that topic, check out our article on the benefits of professional development.
Once everyone understands the value of digital literacy, it's time to assess your team's current digital literacy levels. By doing this, you will be able to identify the specific areas that require improvement. The details of this process will vary from team to team. However, surveys that ask employees to assess their current level of digital knowledge, or even simple online tests, can be good ways to check your team's digital literacy.
Next, it is essential to set clear, measurable objectives to ensure you achieve the desired outcomes. These objectives will help you decide which digital literacy skills to prioritise. Collaborate with employees to design these objectives to ensure everyone's goals and perspectives are reflected.
WeLearn provides an example of setting digital literacy objectives, explaining, "if you're looking to build your digital skill set, you need to know what you are using technology for and if there are ways to use it more efficiently. Not everyone needs to know how to code to succeed at their job, but perhaps that's an important element of your position. Whether it's learning how to create a podcast or make an Instagram account, defining your objectives will put you on the right track to reaching your digital literacy goals."
Finally, it is time to implement a training strategy to improve your team's digital literacy. eLearning Industry recommends that hosting live events, encouraging learner-generated content, creating an online resource guide, and including digital literacy simulations can all be helpful steps in this process. 
It is important to note that creating training content to improve your team's digital literacy will not be a one-size-fits-all process. Rather, this process will vary from business to business depending on your organisation, goals, existing learning infrastructure, and your learners' specific needs. 
Need some help developing your team's digital literacy skills? Go1 has you covered. Check out our playlist on Digital Skills: Are You Ready for the Future? to access world-class courses on digital transformation, virtual communication, data analysis, digital etiquette and more.
Or, you can book a demo today to find out how Go1 can support your team's learning needs.