Many of you have probably come across the term "sales readiness." If you follow investment news, the sales readiness space has taken sales enablement by storm over the last few years. With that in mind, it's worth asking, why are so many global, high-growth enterprises increasingly turning to sales readiness and migrating away from an LMS or traditional sales enablement solutions?
The answer lies in the evolution of learning at these companies, which have come to see the clear ROI of sales readiness solutions and the immediate, positive long-term impact they've had on customer-facing teams. Many sales enablement and L&D leaders realise that an ongoing learning and professional skill development framework offered by a sales readiness solution can achieve what LMS and many enablement solutions are simply unable to do: unearth gaps in knowledge and skills, enable reps to retain knowledge, practice proficiencies, and incrementally hone their selling skills.
Everboarding
The secret sauce behind sales readiness is "everboarding." What is it? Rather than a single course or sequence of one-off learning modules to help sales (and customer-facing) teams essentially memorise the products and services they sell, sales readiness provides a deeper understanding and ability to learn and effectively apply skills.
As Amesite puts it, "Everboarding is an advanced onboarding model backed by learning science and designed with the understanding that one-time exposure to information is not sufficient for long-term knowledge retention. Studies on learning and retention show that it is challenging to retain content after a single exposure. Repeated exposure, over time, in different contexts is the answer to storing new information in long-term memory."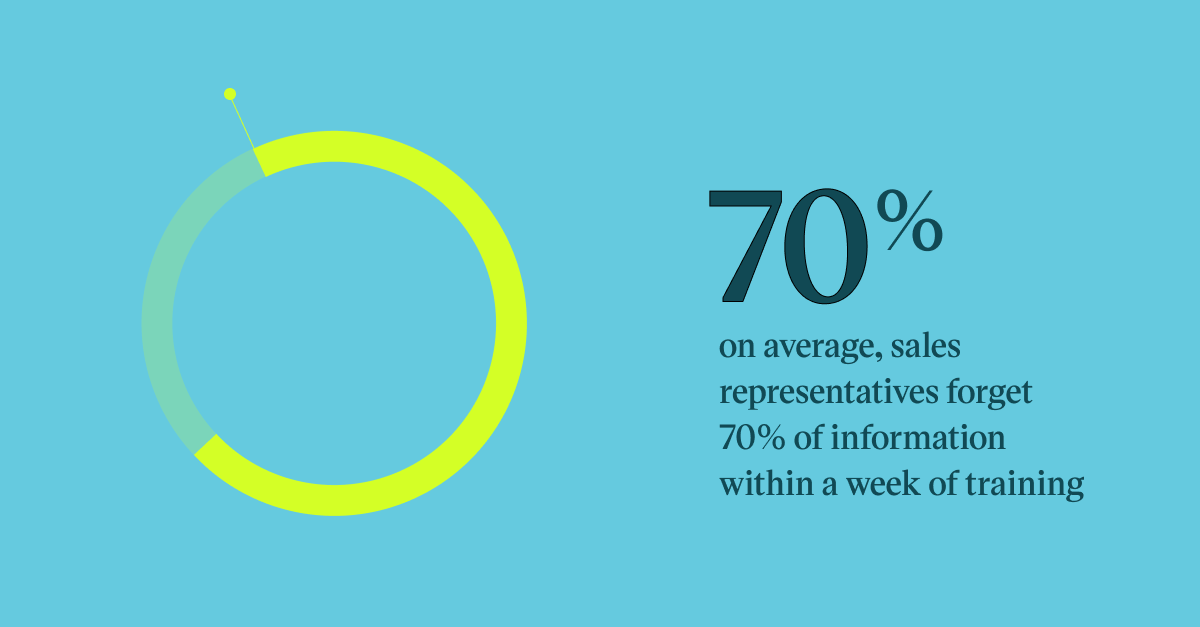 Everboarding is important for several reasons. For starters, Gartner finds that sales representatives forget 70% of information within a week of training and 87% of information within a month of training, on average. What's more, nearly a quarter of organisations say onboarding new hires is one of their top three sales challenges. In contrast, Mindtickle finds that everboarding services that meet or exceed sales reps' expectations can improve quota attainment by 16.2%.

In other words, onboarding is one-off training, while everboarding is continuous, ongoing training. With everboarding, sellers are ready and prepared to have impactful, productive interactions with prospects and customers. By further enabling sales reps to observe, learn, practice, and apply the knowledge and skills accrued through readiness programs, they can successfully bridge capability and enablement gaps.
Here are five key components to enable your team to be sales-ready:
1. Take one step at a time: incremental, customised skills training and knowledge retention
You're probably familiar with onboarding and ramping up sales reps and other employees, whether through HR or L&D or enablement programs. The key differences with a readiness solution are that it is asynchronous, personalised, and ongoing. Yes, the core onboarding process includes everything you think it would: HR compliance and tech skills training, an overview of the company, as well as its products and messaging. But how long will it be before reps forget much of what they've learned?
As mentioned above, research shows that people won't retain much of what they've learned after just a week thanks to the "forgetting curve." On an intuitive level, this just makes sense. Of course people are going to retain more skills and knowledge when they are learning continuously, rather than completing one-off onboarding courses. 
That's why readiness solutions are essential for high-performing sales teams — they provide ongoing learning via spaced-out micro-content, as well as regular updates and assessments to continually unearth knowledge gaps and ensure reps retain knowledge in the long term. What's more, readiness platforms provide innovative ways for reps to apply what they've learned all from the convenience of their mobile devices.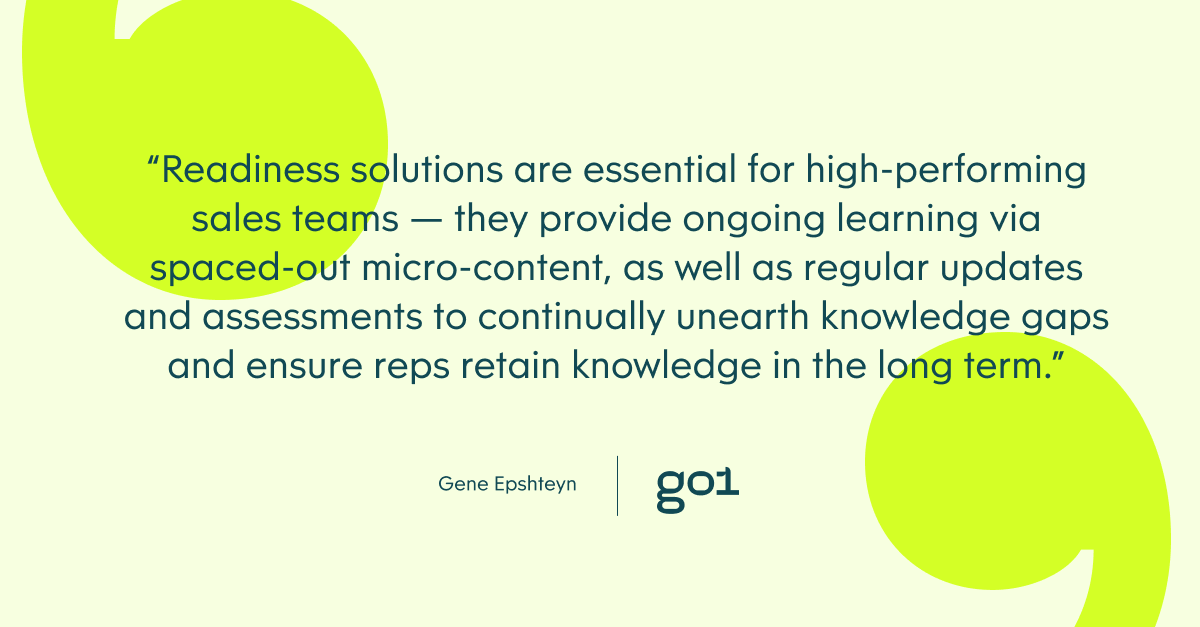 2. Practice practice practice: applied skills training  
A pro in any field will tell you the key to success is practice, practice, practice. That's exactly why readiness solutions have become so popular with enablement and L&D teams. Leading sales-readiness platforms like MindTickle allow reps to practice skills and apply knowledge with the help of virtual role-plays. 
Role-plays fill in the gaps between knowledge and delivery by simulating real-world scenarios, including pitches, demos, cold calls, emails, objection handling, and more.  Managers can give feedback to reps to improve pitches, focus on key terms and messaging, and learn from their peers.  
Practice makes perfect, so there's no better time to start practising sales readiness. 
3. Become remote-first and always ready: virtual events, peer collaboration and live interactions 
Sales kick-off meetings are important events that prepare sales teams for success. They boost engagement, align sales teams with the organisational strategy, offer key information to succeed in the field, celebrate wins, and help sellers learn from losses from the previous year.
The importance of SKOs and quarterly business reviews have only grown since last year's pandemic-induced lockdown, requiring companies to look for virtual options to run engaging, productive sales meetings.
Virtual sales events are integral to sales enablement and have naturally found a home on readiness platforms like MindTickle, the platform of choice for numerous organisations to make their sales events effective and engaging.
4. Deliver the right content in the right context: curated content 
"Content is king." Remember the phrase that defined online interactivity over the last few decades? Well, it's still relevant today, especially for sales reps who need to navigate increasingly complex sales cycles and interact with increasingly savvy buyers. One key challenge for L&D and sales enablement leaders is finding the right content for their programs and the best solution to make content available just when reps need it. If done manually, it's time-consuming.
Luckily, there are not only content providers such as Go1, which offer excellent, relevant, and curated content, but also readiness platforms that can integrate curated content as part of a content management system. With an integrated solution in place, reps can consume content when they need it most, be assessed or certified on this content, and practice what they've learned from content in different real-life scenarios.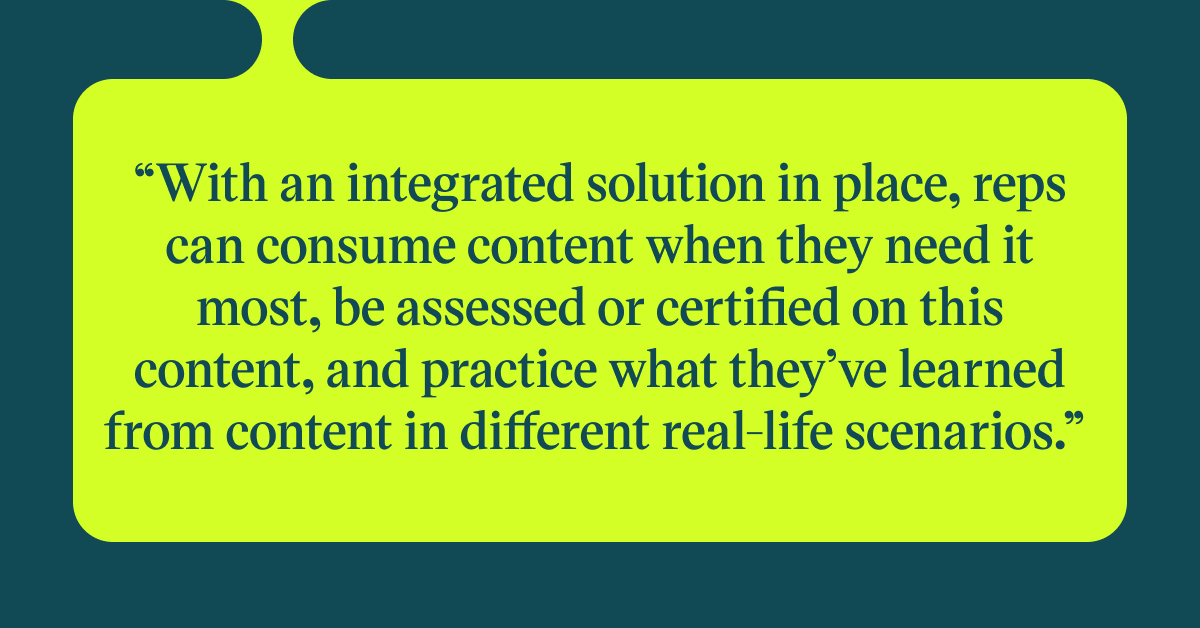 5. Learn from the pros: Empower structured, 1-on-1 coaching sessions
Coaching can improve revenue by as much as 28%. More and more, revenue and enablement leaders have added coaching to their everboarding processes. 
Initial onboarding and everboarding are critical aspects of enablement, but coaching is arguably the most important – and frequently most difficult – to implement because it's based on reinforcing and building on a foundation through continual, structured, individualised sessions. Coaching requires structure as well as follow-ups that improve not just incremental knowledge, but specific skills and behaviours.
It's because coaching can be more complex that many organisations have avoided it — to their detriment — until comprehensive solutions like MindTickle came along with out-of-the-box, AI-guided coaching sessions built into its platform, easily integrating coaching with enablement and complementing existing LMS solutions.
A solution to make your team sales-ready
A sales readiness solution is the best approach your organisation has in readying your sales team and maximising their potential to improve deal win rates and sizes by making them more capable and effective at selling. With a comprehensive sales readiness solution, you'll be able to bring together all of the five ket components listed above, and have the added benefit of gathering the metrics you need to improve training, content and coaching to continuously and incrementally improve team performance.
Our partnership with MindTickle provides teams with a comprehensive, data-driven solution for sales readiness and enablement that fuels revenue growth and brand value.
Want to learn more about how you can leverage Go1 content on the MindTickle platform? Request a demo here.
For more insights, be sure to subscribe to the Go1 newsletter to stay on top of all the latest L&D trends. Or, you can book a demo today to find out how Go1 can help with your team's learning needs.