A well-thought-out online learning strategy can benefit everyone. At first glance, that might seem like hyperbole. However, in reality, online learning is just that effective. While you might assume that online learning serves the learner primarily, the benefits of online learning are far more wide-reaching. 
Digital learning can improve the performance of individuals, businesses, and society by promoting vital, future-ready skills, such as communication, collaboration, technology, and education. 
Making online learning accessible for everyone from preschool students to post-graduate learners is in all of our best interests. Not only is digital learning creating a smarter, more productive civilization, but also one that is well-informed about new technologies and able to stay on top of emerging trends.
Online learning in the corporate world also has a substantial impact on society. Why? Because today's employees will be the innovators and trainers of our future workforce. By understanding the positive impacts of digital learning, companies can cater to the next wave of employees, offering them flexible and relevant learning experiences.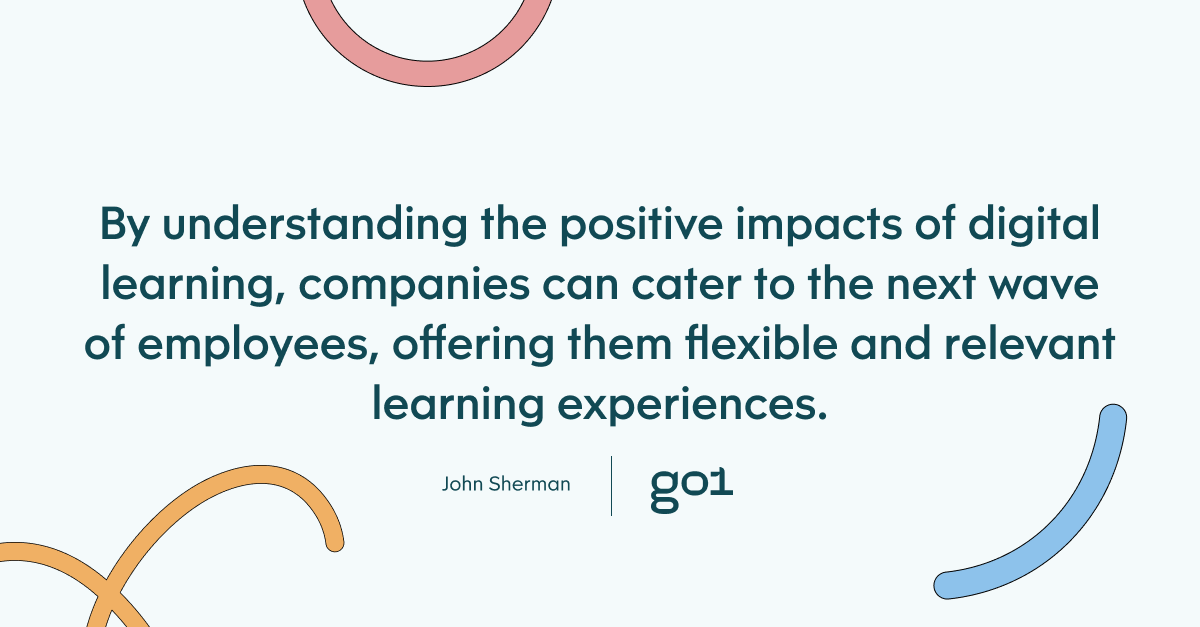 From motivation to collaboration, here are five ways that online learning has a positive impact on society.
Online learning keeps you abreast of technology
In a world consumed by technology, there has never been a better time to embrace online learning. Not only are you equipping yourself with the core skills relevant to your field, but you're developing your broader digital skillset too. 
Using computer software, navigating the internet, and learning via different forms of digital media are all great ways for online learners to improve their technological skills. As more people get access to modern technologies, society will become more tech-savvy overall. This increased digital literacy will allow us to stay up to date with the latest trends, develop future-ready skills,  think laterally, and critically evaluate important information.
Online learning is an innovative collaboration tool
Online learning uses podcasts, file sharing, discussion boards, social media, and more to prompt discussions about coursework and other relevant ideas. These innovative ways of sharing information herald the future of communication. As such, those participating in online learning can one day influence how society connects and collaborates.
Online learning helps make use of downtime and improves motivation
Online learning modules can teach students how to make better use of their downtime. Utilizing downtime is a vital skill that will be with them for the rest of their lives. Fostering a society of productive citizens who excel at time management may lead to significant improvements in organizational skills and a thirst for knowledge.
For further insights on how to make the most of your downtime, check out our article on why our brains need breaks to maintain productivity.
Online learning helps us build a smarter workforce
A recent study by Harvard found that participants in an online learning experiment could retain more information when it was broken into segments, rather than forcing the entire lecture on them in one sitting. Other estimates find that digital learning increases information retention by up to 60%. 
These findings are highly insightful, showing that microlearning may play a key role in the future of online learning. With students retaining more information than ever thanks to digital learning, we're ensuring a more intelligent and motivated workforce in the future.
Online learning gives children a headstart
Having access to digital learning modules in the classroom is a game-changer, allowing young students to access more information than ever before. With virtual simulations and models, teachers can communicate subjects that may have previously been out of reach. Similarly, video conferencing and social platforms allow students to communicate with others from different countries and share information like never before. 
Statistics: the positive impact of online learning on society
From a young age, students now benefit significantly from online learning strategies. Research by Mashable found a dramatic improvement in understanding when utilizing a mobile app for preschool kids. What's more, college students are improving their grades with statistics applications that are incorporated into the coursework.
Likewise, many students have testified to their increased level of interest when engaged in online learning. Given this, online learning will play a central role in improving society and fostering our children's love of learning.
Statistics also show that 77% of US companies have some form of online learning available to their staff, indicating a remarkable growth in this area. Additionally, the digital learning industry reached a value of $250 billion in 2020$250 billion in 2020 and is expected to continue to grow to around $1 trillion by 2027. In other words, online learning is big business. 
These statistics are only the tip of the iceberg. 42% of workplaces where employees are engaged with L&D also say their employees are highly engaged overall. Similarly, 94% of employees would stay at a company longer if it invested in their learning and development.
Moreover, companies with comprehensive training programs have 218% higher revenue per employee and 24% higher profit margins. Further, 42% of US organizations that have implemented online learning programs have seen increased profits. 
On an individual level, employees with access to online learning are 18% more engaged on average. These employees also save time and consume information more efficiently. On average, employees with online learning programs spend 40-60% less time learning while still achieving the same outcomes. 
As a bonus, online learning reduces energy consumption by 90% and produces 85% fewer CO2 emissions per student than face-to-face training, according to a study by Britain's Open University.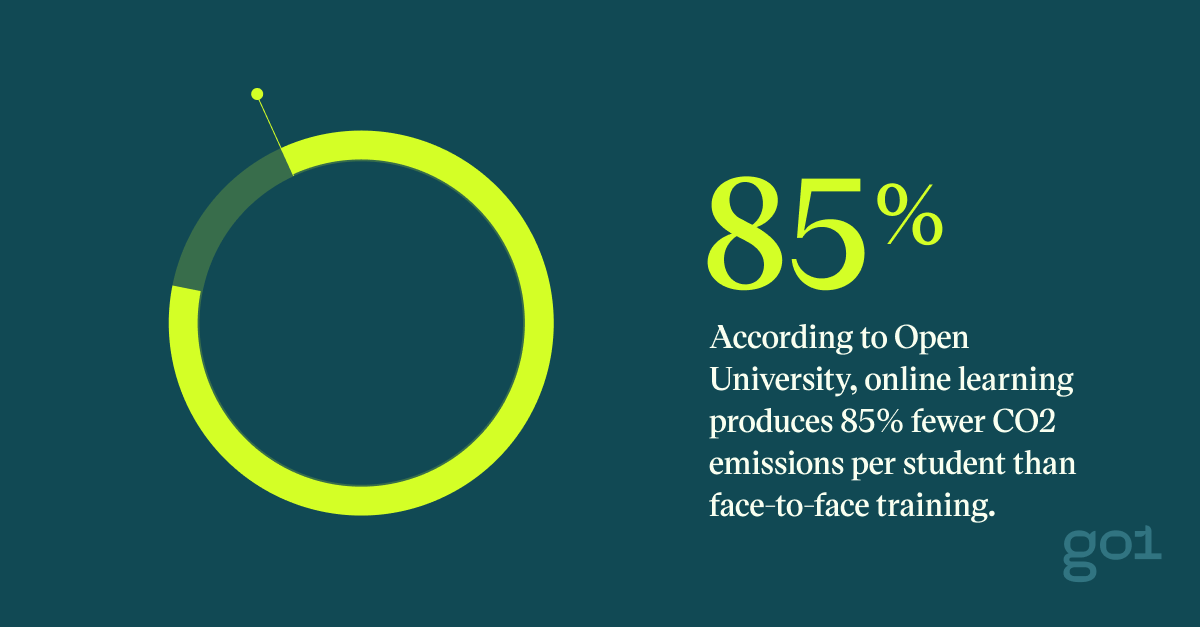 Evidently, the positive impacts of online learning are far-reaching. From increased engagement and information retention to improved collaboration and even fewer CO2 emissions, online learning has a comprehensive positive impact on society. Therefore, a robust, well-funded online learning strategy is now non-negotiable for any high-functioning business.
By uplifting skill levels, communication techniques, and technological prowess, online learning is improving society rapidly. Whether this training is administered on an organizational or individual level, everyone can benefit from online learning initiatives.
For more insights, be sure to subscribe to the Go1 newsletter to stay on top of all the latest L&D trends. Or, you can book a demo today to find out how Go1 can help with your team's learning needs.