Are you wanting to learn how to use Xero but don't know where to start?
Xero is the leader in Cloud Accounting, and has simplified bookkeeping for thousands of small businesses.  If you want to gain an understanding of Xero, so you can quickly streamline the implementation and management of the software in your business  - enroll in the Xero Certificate Course today!
 The Xero Certificate Course, available in Go1 Premium, is the course of the week!
Great for: Accountants, especially junior
Audience: Global Premium Subscribers
Duration: Up to 15 hours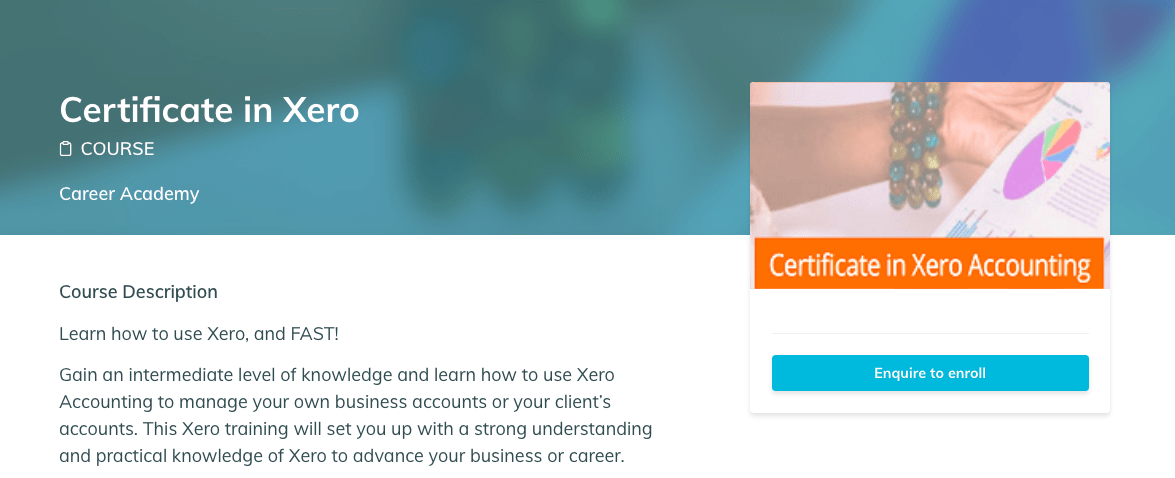 Designed for new users of Xero, learn how to use the various functions of Xero. You will learn how to manage your contacts, as well as how to create and customise invoices, enter bills, complete bank reconciliations, undertake reporting o help evaluate how your business is doing and so much more. The course has a special feature on Xero-adds, Xero integrates with many business tools and products to make your use of the system more efficient. The detailed Xero course, is structured in a practical way, with the modules built with clear learning outcomes in mind, with quizzes at the end to check comprehension of the content.
The Xero Certificate Course is only available to our Global Premium customers. Get Go1 Premium today, and access over 5000+ Premium courses authored by leading content providers.
Who provides the course?
The Career Academy specialise in training for Accounting Software, such as Xero and Myob, and their Certificate in Xero is available in Go1 Premium. The Career Academy are one of the most reputable Xero training providers in the market, consistently updating their training to reflect changes to software, new features and best practice.
More Xero content?
On the Go1 Marketplace customer, you will also find paid courses that cover Xero training, these courses are authored by providers including: Udemy and 360 Training.