Gamification is a fantastic way to increase engagement in your learning and development program. To do this, many learning management systems (LMSs) have the option to incorporate gamification, introducing a new, exciting, and competitive way for employees to learn.
The good news is LMS gamification is simple to implement and has many benefits, including increasing engagement rates.
Accordingly, we'll explore how you can use LMS gamification to improve workforce development, including how to implement gamification to increase engagement.
What is gamification?
Gamification means introducing game-like elements to bring a more interactive, fun, and competitive element to online learning. As a result, gamification encourages users to engage more with learning materials, thereby increasing retention and building a culture of learning.
There are various ways gamification adds value and interactivity to learning, including through:
Achievements and badges, similar to video game achievements
Points and league tables, to introduce an element of competitiveness
Progression and levels
Weekly or monthly challenges, to encourage learning in specific areas and topics at certain times
Storytelling techniques, to engage employees in new ways
Social activity, such as leaving comments or participating in discussions
Rewards and currency, that employees can use to redeem gifts, whether virtual or physical
While gamification does increase engagement, it must complement learning and development, rather than overshadowing it. Gamification should be a seamless integration, not a forced or superficial add-on. As such, there should be a balance between gamification and learning to ensure it's effective.
What are the benefits of using gamification in an LMS?
One of the biggest advantages of gamification in LMSs is increased engagement. For example, a study found that 90% of employees are more productive due to gamification. What's more, 72% of people say gamification inspires them to work harder.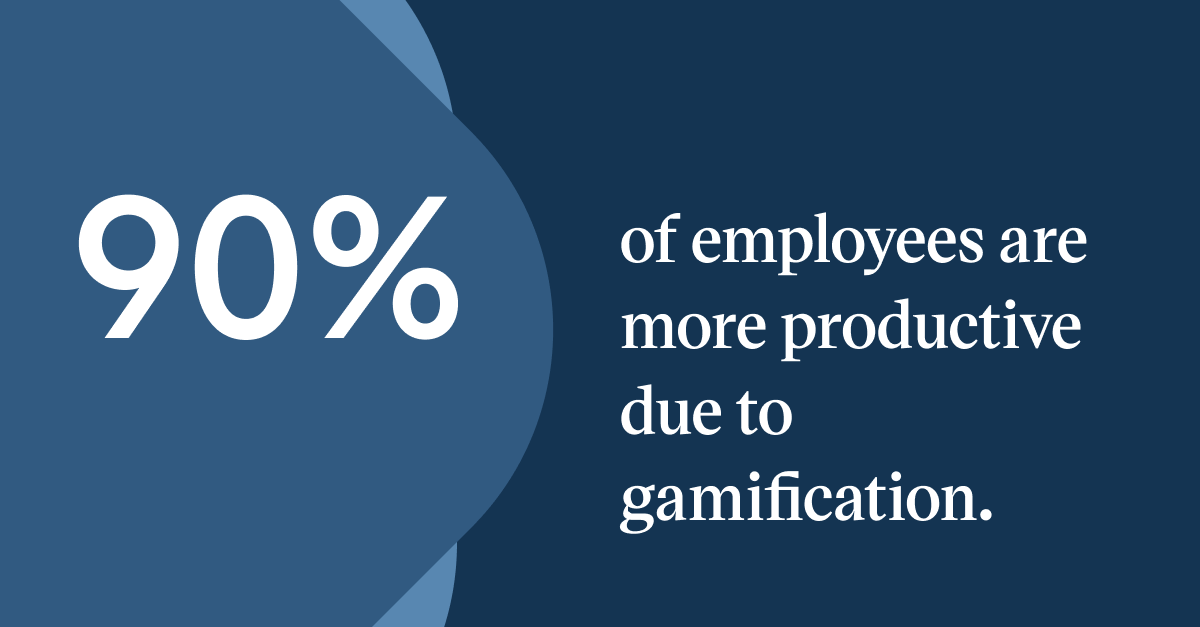 On top of this, there are many other reasons why your organization should use LMS gamification:
Improves the overall learning experience by making it entertaining and rewarding
Increases motivation and helps employees set achievable goals.
Provides employees with immediate feedback via quizzes and assessments
Introduces a personalized approach to learning
Inspires a change in mindset toward learning and development
Provides your organization with data on how employees engage to monitor performance and provide additional feedback and support when needed
Increases training completion rates and boosts retention
Grows a culture of continuous learning in your organization
These benefits create a positive and rewarding learning experience,  meaning employees will be in the best position to develop.
For more information, see our post on the benefits of gamification for workplace learning.
How to implement gamification in your LMS
Implementing gamification in your LMS requires thought and consideration so it doesn't become the main focus of your business' learning and development strategy.
Before introducing gamification, consider the following steps to ensure it complements your L&D program:
Understand your goals and objectives, so you know exactly what you want employees to learn and how their knowledge and new skills will be utilized going forward.
Decide which gamification elements you want to introduce, such as league tables, challenges, badges, levels, and rewards.
Map gamification elements to content in your LMS, such as quizzes and assessments.
Tie learning elements together through storytelling to create immersive learning. 
Communicate the rules and mechanisms of gamification to make the competitive angle fun and fair. Further, encourage employees to engage with social features such as discussion boards, comments, and forums.
Test the implementation by inviting some employees to participate in a partial rollout.
Following a successful test, roll it out among all users and monitor engagement.
Request feedback on gamification elements and make changes to improve features.
Offer incentives and rewards for employees who come first in league tables, achieve high scores, or reach certain milestones. Celebrate successes across the organization to build on your culture of learning.
Use your LMS to collate and analyze data about how employees engage. Then, compare this data to data from before your introduced gamification. 
To encourage collaboration, consider creating teams of colleagues from different departments and seniority levels. This will add another dynamic and encourage employees who don't usually interact to work together.
To learn more, read our post on tips to get started with gamification.
Types of games to incorporate into your LMS
Gamification can take many forms. Below are some examples of gamification you can utilize at your business.
Add badges or achievements to mandatory quizzes, such as health and safety or compliance training. Badges boost engagement with less popular courses by giving users a small reward. It's also a great way to introduce employees to gamification.
Simulations are a fun way to learn by providing a realistic scenario that employees can use to apply their skills and knowledge. It encourages employees to think quickly, use their initiative, and learn from mistakes. 
Puzzle games, like matching pairing cards or crosswords, are great for getting employees to think about what they're learning in new and surprising ways.
Adventure games utilize storytelling techniques to introduce challenges and problem-solving activities.
Escape room and point-and-click style games encourage employees to take their time with learning, which improves their engagement and retention.
Measuring the success of gamification
To assess the impact of gamification, measure the impact made following its rollout. Consider using metrics related to the following three areas:
Adoption - How many users logged into the LMS to access training? Has this number grown compared to online training adoption before gamification?
Engagement - Engagement is the best way to measure the success of gamification. Rewarding employees for using your online learning platform is a fantastic way to increase engagement, so pay close attention to engagement data, as well as course completion rates, assessment scores, collaboration, interactions, and more.
Productivity - The overall goal of increasing engagement in learning and development is to improve employee productivity and performance. Using metrics to measure performance related to your overall business goals is also a great way to determine the effectiveness of gamification.
Go1 has a range of online courses to upskill your workforce
At Go1, we have a huge range of online courses, which you can use alongside gamification to upskill and develop your employees.
For more information, download our in-depth L&D Playbook, or speak to one of our experts to find out how we can help you with your training strategy.