Implementing a new learning management system (LMS) in your organization can have its fair share of challenges. Without thorough preparation and planning, these challenges can spiral into issues that can slow down the implementation process, costing you time and money and stagnating your employees' growth.
However, with a well-thought-out approach, you can ensure a smooth onboarding process. So, we'll analyze the steps your organization can take to reduce friction when onboarding a new LMS to ensure there's no disruption to your learning and development program.
What potential challenges are there when implementing a new LMS?
There are several challenges your business can face when implementing a new LMS. These challenges can occur at various stages of the process. Consider the below examples:
Planning
Stakeholders disagree on what they need from an LMS. 
The LMS doesn't align with the organization's changing needs. For example, it doesn't have the right level of flexibility or scalability.
The LMS isn't compatible with existing programs and can't be integrated with the organization's existing systems.
Technical
The LMS doesn't meet the business' customization needs, such as branding and permissions.
Data cannot be migrated from the existing LMS to the new one.
User adoption
Users don't have the necessary resources and training to feel confident using the LMS.
The LMS isn't user-friendly or intuitive.
The LMS isn't accessible on mobile devices or by remote staff.
Leaders haven't communicated the benefits of the new LMS across the organization.
Ongoing support
The organization doesn't ask users for feedback to improve their experience.
Time isn't allocated for continuous improvement.
Future updates to the LMS aren't considered, leading to downtime. 
How to prevent issues from arising when implementing an LMS
The above are just some of the issues that can arise when implementing a new LMS. However, there are steps you can take to ensure a smooth onboarding process.
Create a thorough plan
Before implementation, ensure that your chosen LMS meets your organization's needs. This may sound straightforward, but many businesses stumble at this initial hurdle. Ensure key stakeholders have input early on and that their input aligns with your goals, requirements, and expectations.
Once you have chosen your LMS, create a plan that outlines every stage of the implementation process. For more detailed information on how to do this, read our guide on creating an LMS implementation project plan.
Keep communication open, regular, and honest
Throughout the implementation process, you must keep communication open, regular, and honest. Doing so encourages the implementation team to share their thoughts and concerns and identify potential problems before they arise. What may spiral into a significant issue later could be prevented if addressed early.
To learn more, check out our blog post on what to include in your communications plan when launching your new LMS.
Streamline the migration process
Data migration can be a major stumbling block when implementing a new LMS. Streamlining this part of the process will prevent issues that could stall the entire implementation. To do this, consider the following steps:
Assess your existing data and content to identify what needs to be migrated and what can be deleted.
Ensure data is formatted correctly so it's compatible with your new LMS.
Create a plan outlining the steps of the migration – including timelines. Divide your plan into small steps with realistic goals, especially when migrating large amounts of data.
Data mapping will ensure data is transferred correctly. Check each LMS before the migration to ensure any differences are accounted for so you can make the necessary adjustments.
Test the migration beforehand with sample data to identify potential issues.
Migrate in batches, starting with your most important data. This will help with monitoring, allowing you to identify issues quickly.
Continuously verify that data has migrated correctly and undertake regular testing. For instance, testing any integrations with programs and systems.
Consider a partial integration
A partial integration can provide a smooth transition from one LMS to another, allowing for less intensive data migration, greater flexibility, and more customization. It can also also ensure you can test thoroughly to identify possible challenges.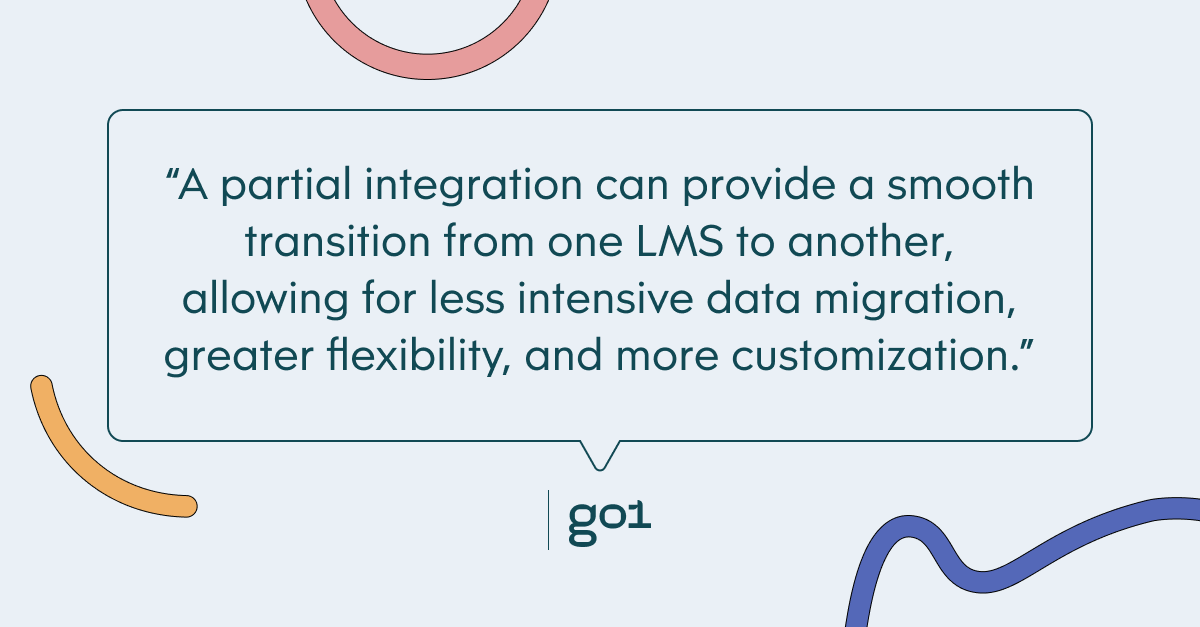 Further, a partial integration can minimize disruptions and introduce the new LMS to users in stages without overwhelming them.
Provide training
Another common pain point when implementing a new LMS is user adoption and resistance. Providing thorough training ensures your workforce will use your LMS, allowing you to build a culture of learning. Communicating the benefits of an LMS will help employees see why this change was necessary to improve their knowledge and skills, so both employees and the business can thrive.
Ask for feedback
Despite thorough planning and following the above suggestions, challenges will inevitably arise when implementing a new LMS. You won't be able to anticipate some of these challenges without asking for user feedback. Asking for user feedback allows you to fix blockers so more employees can utilize your new LMS.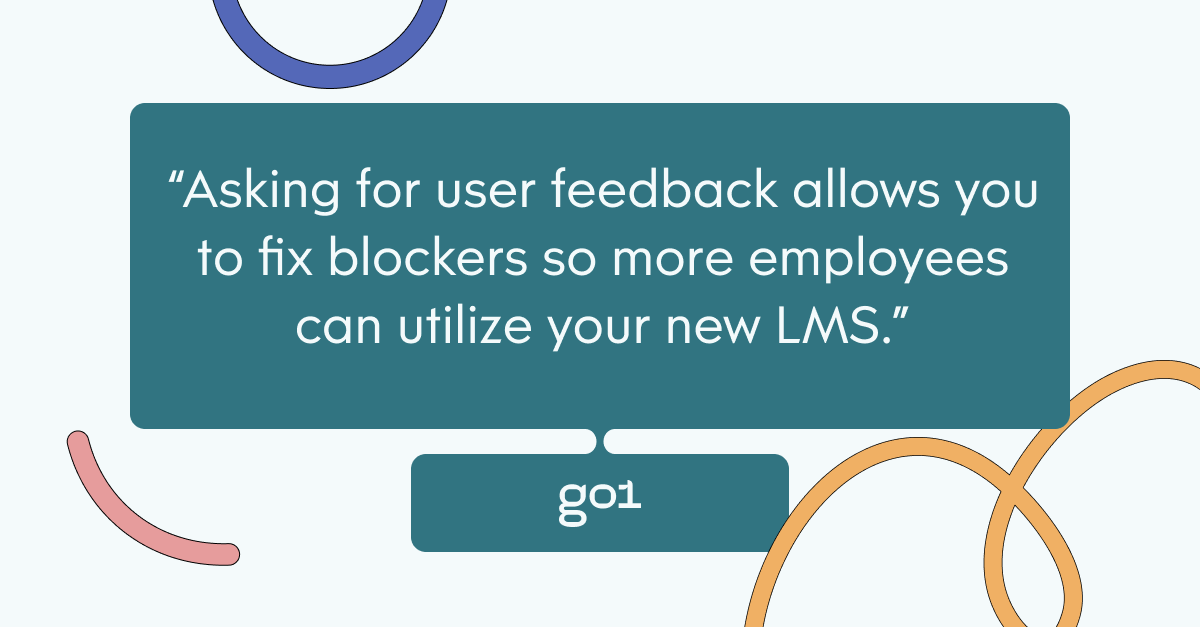 How Go1 helps
At Go1, we have a database of eLearning courses that can support your organization's learning and development strategy. Go1 integrates with hundreds of LMS' so you can provide effective training to your entire workforce.
Speak to one of our experts today to see how we can help, and download our 5 new thinking habits for a smarter, stronger L&D. Or, book a demo to find out how Go1 can help with your team's learning needs.