From news to music, sport to entertainment, aggregators have become a big deal in recent years. There is a good chance that you use a few already. Some are so ubiquitous that you might not even think of them as aggregators. Digital learning has not been exempt from this trend, with the rise of learning content aggregators coming as a blessing for many L&D teams. 
At Go1, we consider ourselves experts in digital learning aggregation. However, not everyone is so in-tune with the pros and cons of learning content aggregation. 
That's why we've set out to clear up some confusion by answering two simple questions: what is learning content aggregation and, more importantly, which L&D teams can benefit the most from learning content aggregation? 
What is learning content aggregation? 
In a digital learning context, content aggregation is a highly valuable tool. Put simply, content aggregation refers to the process of collecting a variety of different digital learning providers and making them available in one convenient, centralised location. 
For Go1, this means that the Go1 Content Hub offers a wide range of topics by a versatile collection of global, regional, and specialised providers. As the world's largest curated digital library, the Go1 Content Hub provides over 100,000 resources from more than 150 world-class content partners, meaning you can access a vast range of topics that cover both general and industry-specific learning.
An aggregation model contrasts with popular single-provider platforms that you may be familiar with, such as LinkedIn Learning. Unlike Go1, LinkedIn Learning only has courses from a single provider, Lynda. Both approaches have their benefits and drawbacks, so we recommend researching which model best suits your organisation before committing to a digital learning platform.
Ultimately, a content aggregation model such as Go1's means all of your learning needs are catered for in a single subscription, so you don't have to compromise on the quality or quantity of your learning content. 
To learn more about the benefits of learning content aggregation, be sure to check out our articles on what differentiates Go1 from other learning providers and the pros and cons of off the shelf learning. 
Which L&D teams benefit the most from learning content aggregation?
If you value breadth and diversity of content, then there is a good chance your L&D team would benefit from a learning content aggregation platform.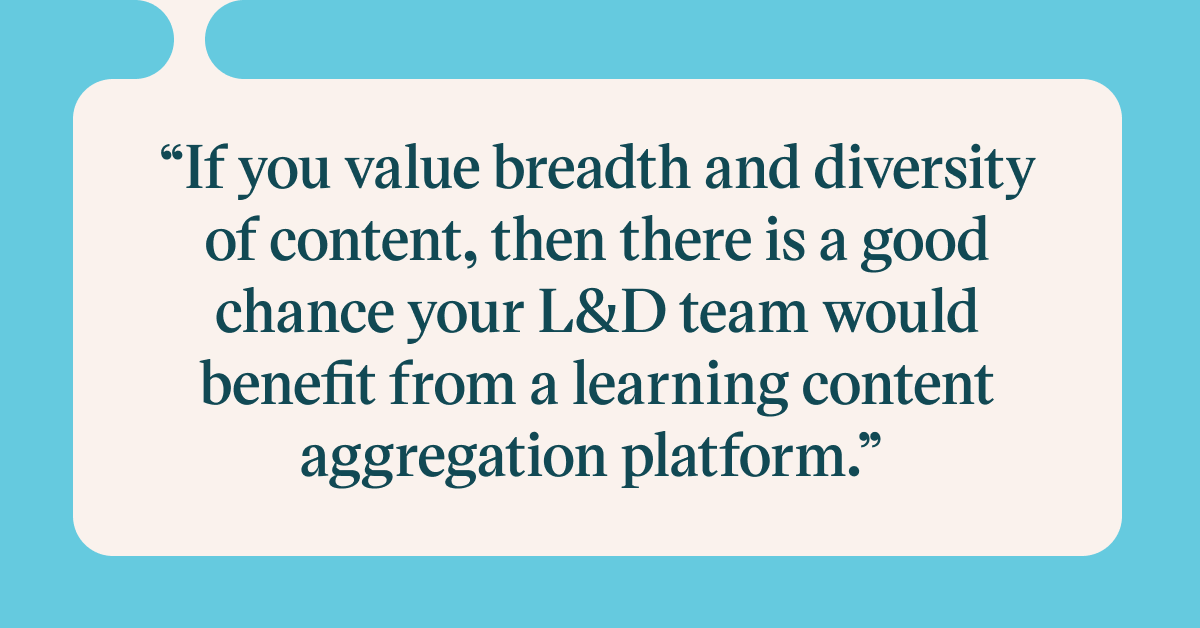 Finding the right digital learning content for your team can be difficult at the best of times. When you're trying to find content that suits divergent learning styles, it can be almost impossible. The bigger your team, the more challenging this becomes, especially when budgets are tight and it feels like you're being pulled in a million different directions.
What's more, knowledge and skills have a shorter shelf-life than ever before, and one-size-fits-all training is no longer adequate to meet the unique needs of different employees.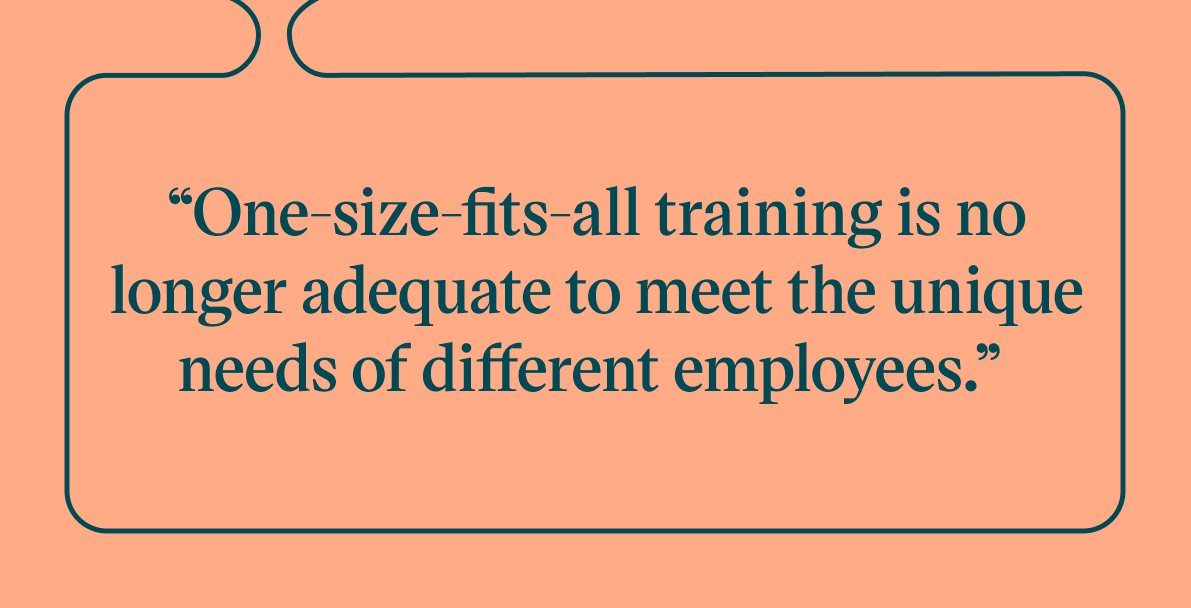 From discussions with clients and partners, we know that this is an all-too-common pain point. Our teams often hear something along the lines of, "my employees have such a wide range of learning styles and preferences, it feels impossible to give everyone the type of training they would best respond to." Usually, in this situation, something has to give. You have to make a decision to prioritise one learner's preferences over another's, leaving someone unsatisfied and most likely disengaged. 
A learning content aggregator can solve this problem by delivering the breadth, diversity, and quality of content to suit any learning priorities, preferences, and styles. In other words, by accessing all of your content from one central source, you'll never have to compromise on what to deliver again.
For example, Go1's wide array of content partners means we have courses to suit a plethora of different learning preferences. This diversity of content also means we can cater to specialised subject matter. Additionally, Go1 regularly adds new content providers at no additional cost, many of whom are either award-winning or leaders in their field. For popular topics, Go1 works with a range of well-regarded partners to ensure coverage. By proactively approaching partners to address any gaps in our library, Go1 offers the breadth and diversity of content to suit different audiences. 
Finally, it is worth noting that the decision between a content aggregator and a single provider doesn't have to be mutually exclusive. Many Go1 clients use both models as complementary tools to satisfy the full spectrum of their learning needs. It is worth performing an analysis of the pros and cons of both models to see which is appropriate for your team, or even if using both might be a suitable solution.
For more insights, be sure to subscribe to the Go1 newsletter to stay on top of all the latest L&D trends. Or, you can book a demo today to find out how Go1 can help with your team's learning needs.