As 2018 draws to a close, we thought we'd look back at some of the highlights of the past year – it's been a very busy and exciting time for the Go1 team!
Here's a little of what we've been up to throughout 2018.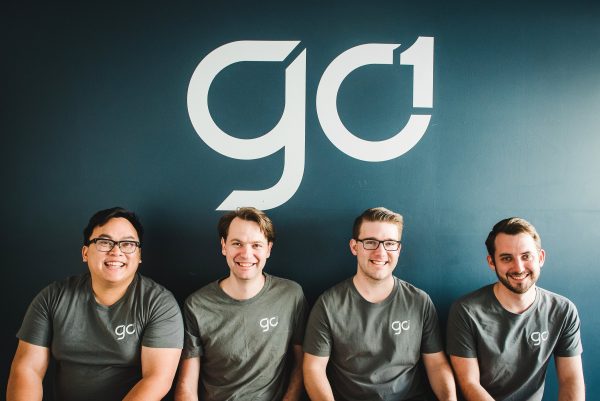 Go1 Recognised in Top Startup and Business Lists
This year we were very excited to see Go1 named as one of the top 20 outstanding Australian "Businesses of Tomorrow", from 200 businesses selected by Westpac for 2018.
The companies were recognised for their vision and drive to help shape the nation's economic future, with this year's applicants demonstrating the scale of movement of the Australian economy into a digital world.
"We are thrilled and honoured to be named in Westpac's Top 20 Businesses of Tomorrow," Go1 co-founder and CEO, Andrew Barnes, said.
2018 also saw Go1 ranked 12th on LinkedIn's annual Top 25 Startups list.
This list honours the most sought-after startups where professionals want to work and stay in Australia and is derived from a blended score looking at factors including interest in the company, engagement with employees, job interest and retention.
"We're excited to be included in this list alongside all of these great companies. The list really shows the strength of the Australian startup ecosystem," said GO co-founder and CGO, Dr. Vu Tran.
Helping Companies Improve their Learning Culture
Throughout the year, we partnered with many businesses to help them improve the way they deliver and manage their employee training.
We teamed up with Claim Central, to help them deliver effective employee training with a cloud-based learning platform that all staff can access, regardless of geographical location.
We also helped Mid-Cape Home Centers to fulfill all of their training and development needs with Go1 Premium, with pre-built content a very important feature for the company.
And we provided Discover Goodwill with the perfect solution for the company's learning needs, allowing them the freedom to create their own content and deliver it to staff easily and effectively.
Working with ALARA, we were able to provide staff with an onsite, one-day first aid training course through our newly launched Training Assist – the easier way to source, book and deliver training.
We look forward to sharing more case studies with you in the new year, so you can see first-hand how Go1 is helping companies to deliver improved learning to their teams.
Go1 Learning & Technology Meetups
At Go1 we believe in bringing the learning community together so that we can all share our knowledge and help everyone to improve the way that they learn and train their team.
In July, we held the first of our Brisbane Learning & Technology Meetups, with some of Brisbane's best learning content creators speaking about how they go about creating effective learning content.
We followed this up with our inaugural Melbourne meetup, which focused on 'Content Curation vs Content Creation' and which is the better option.
Our meetups are for learning and development professionals who want to discuss best practices, strategies, and innovation in learning design, delivery and instructional technology.
We'll be hosting more meetups in Brisbane, Sydney and Melbourne every quarter in the new year and invite you to get involved in the conversation. You'll be sure to walk away with some fresh solutions that you can start applying in your workplace straight away!
Exciting Updates to the Go1 Platform
At Go1, we're continually making improvements and updates to the Go1 platform, to make life easier for you – and your learners.
Throughout the year, we launched a stack of new tools to help you save time and streamline the way that you deliver learning material.
As we're wrapping up 2018 and entering 2019, we will be making more exciting changes to the Go1 platform including:
New monthly Admin emails to support your need for data on user activity.
Changes to how Go1 will be able to support you.
Training Assist: showing you how you can pair your Go1 online learning with face-to-face training.
Remember to keep an eye out for regular updates to the platform and enrol in the Go1 webinars where we walk you through our latest features.
Thank you for reading and sharing our highlights from the year – it's been a big one and we're looking forward to an even bigger 2019.
We'd like to take this opportunity to thank all our customers, partners, readers and followers for your ongoing support throughout the year.
From the Go1 team – happy holidays!