Generalizations abound in any discussions about the work styles of each generation. Older workers are seen as more experienced, though they sometimes struggle at each technological turn.  In contrast, younger workers thrive in the technical world, albeit while lacking experience and longevity. 
Today's workforce is made up primarily of four generations: 
Baby Boomers: 1946 – 1964  
Gen X: 1965 – 1980  
Millennials: 1981 – 1996  
Gen Z: 1997 – 2012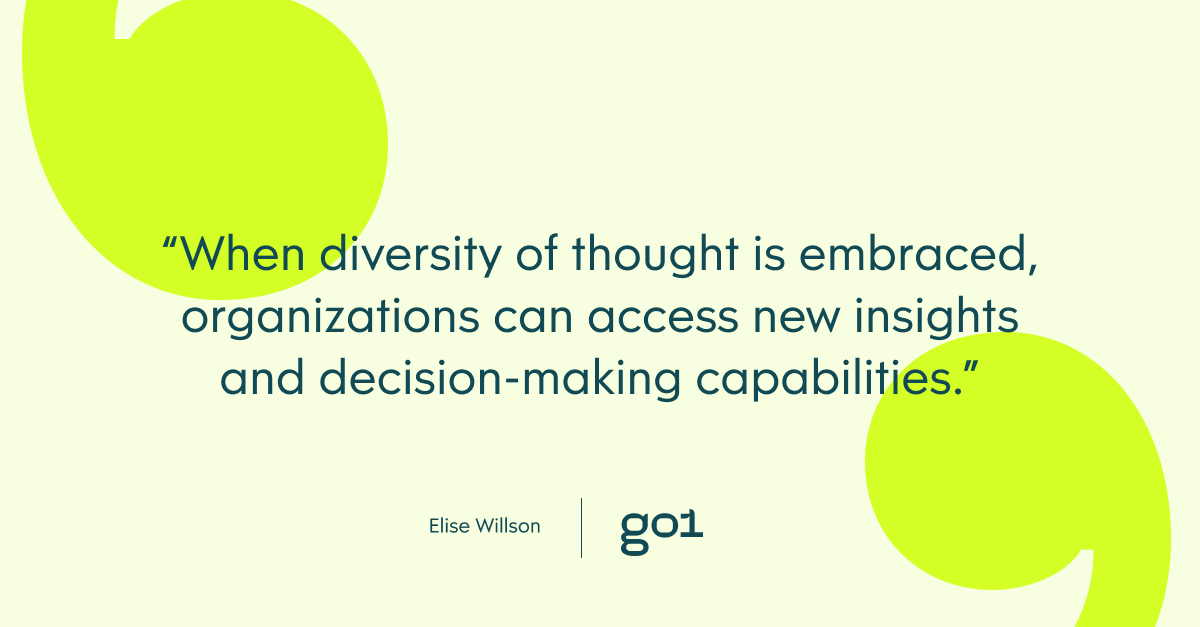 Insights indicate that older generations tend to be keener on jobs in government, military, or public schooling and stay with employers for an average of 5-8 years. On the other hand, younger workers are highly interested in owning their own business and will stay with a single employer for an average of 2-3 years (Note: Gen Z are new to the workforce, so their longevity data is limited).  
There is no limit to headlines about each generation's shortcomings, usually authored by a frustrated or misunderstood voice. These assumptions only further limit understanding and cement bias across the workforce.  
Sweeping statements aside, seeking a deeper understanding of what influences and empowers each generation will allow greater collaboration and engagement. When diversity of thought is embraced, organizations can access new insights and decision-making capabilities.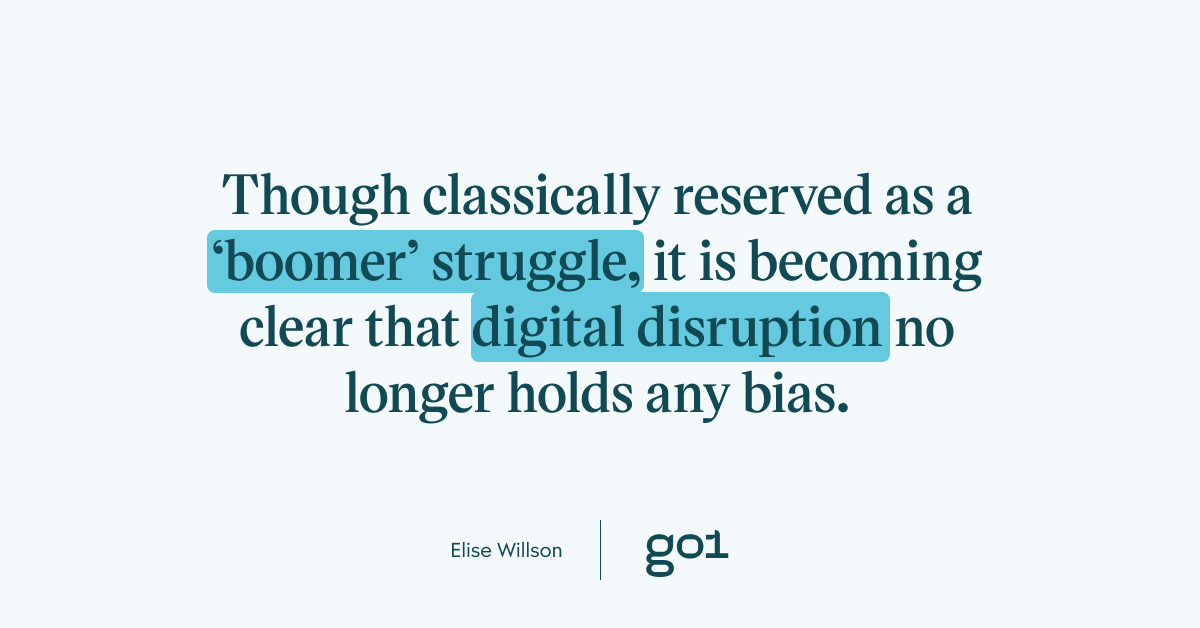 Digital disruption 
Though classically reserved as a 'boomer' struggle, it is becoming clear that digital disruption no longer holds any bias. 
Even millennials, who drove innovation and grew up alongside the digital era, are already being 'aged' out of it, increasingly struggling to stay up to date. Technological advancements and changes are happening rapidly, thereby heightening the need to learn emerging skills for the first time. All four generations find themselves in the same boat; stay up to date or be left behind.  
We can rest easy in the knowledge, however, that regardless of age, 78% of employees want to learn at work.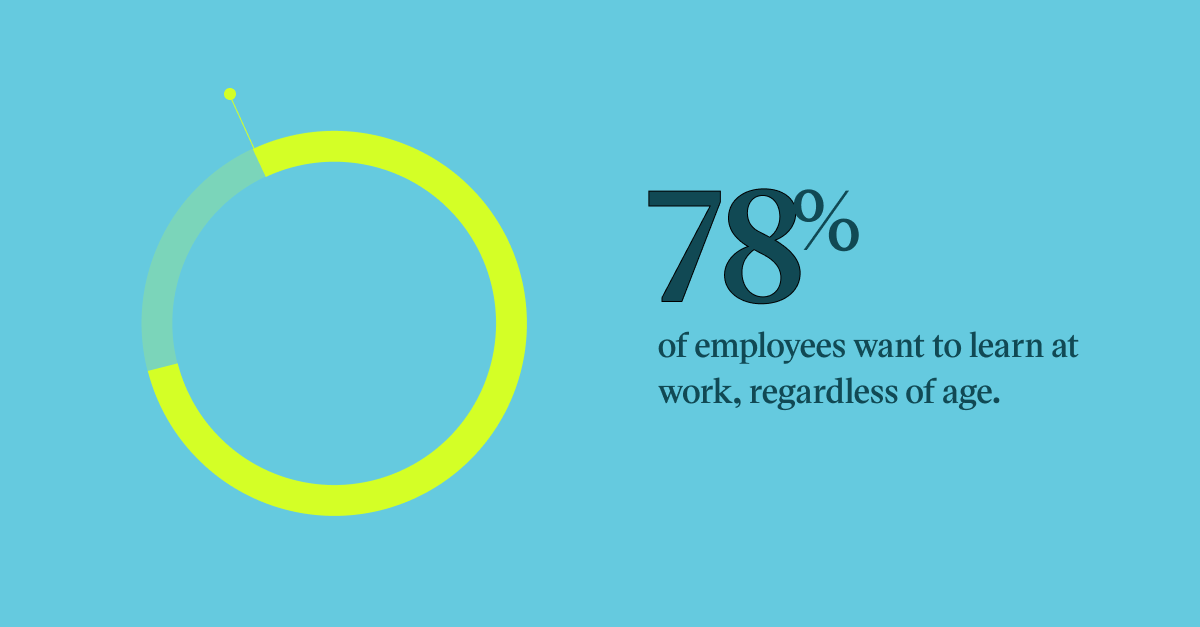 Learning challenges and opportunities 
In the context of a digitally demanding and adaptive working world, employees require space to learn and relearn current in-demand skills.  
It is crucial that employers appreciate the varying approaches, learning styles, and differences their employees bring to the table. Understanding each generation's learning challenges and opportunities is one step toward this.  
Age and generational experiences will impact an individual's way of working, as will their ethnicity, gender, sexual identity, religion, class, educational background, and more. 
Thus, for each person to feel they hold space and value in every working environment -not only learning ones - it is critical to foster psychological safety.  
Professor Megan Gerhardt, author of Gentelligence, spoke with Harvard Business Review about developing a psychologically safe workplace where every person of each generation feels comfortable asking for help, sharing their ideas, and taking risks. She said: 
"People come to these conversations with different experiences and varying levels of willingness to engage. The role of the manager is to provide ongoing opportunities to have these discussions." 
Younger generations may be driving workplace discussions around diversity, mental health, and gender roles, though you might find Boomers and Gen X are a force behind aligning strategic change with organizational goals. Just imagine the impact of combining the strengths of each generation!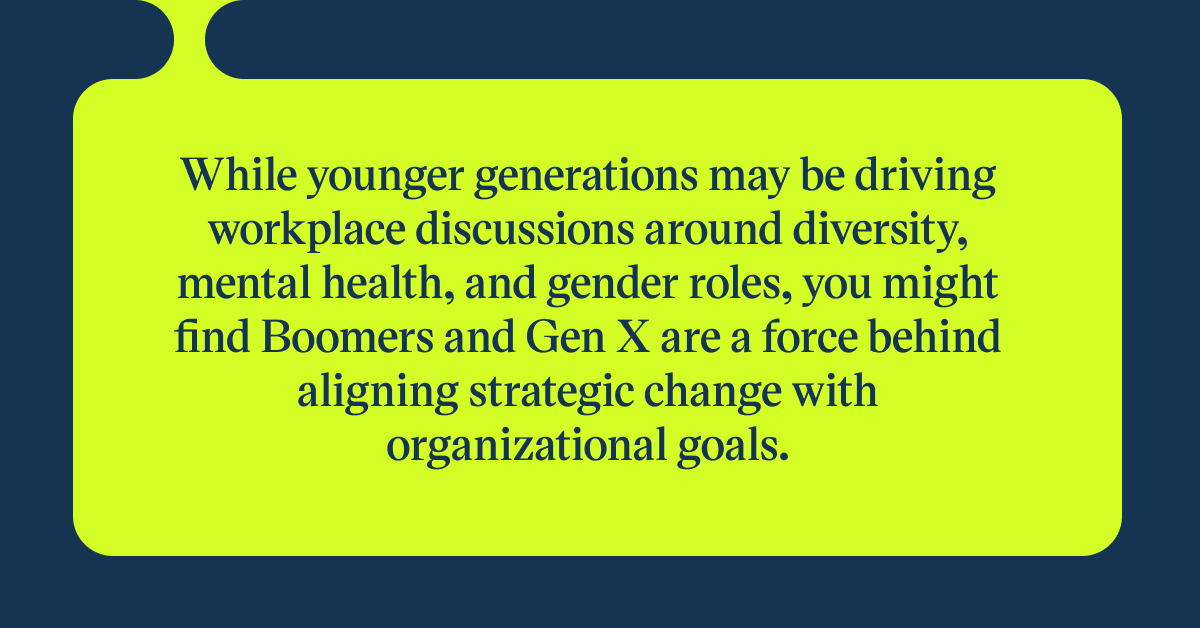 Rather than separating and managing each group individually, try to find shared areas of interest, overlaps in working styles, and foster cross-generational collaboration and growth. Encourage opportunities for younger and older generations to meaningfully connect and share learning, such as mentoring programs.  
The opportunities that each generation's expertise and working styles bring to a collaborative workplace are undeniable. When we step away from cliched notions of a generationally siloed workforce, we enable pathways toward more diverse learning and organizational success.  
For more insights on overcoming the generational divide, check out our articles on Bridging the generational divide to create sustainable L&D roles and Bridging the skills gap for Gen Z learnersBridging the skills gap for Gen Z learners.  
Or, you can sign up for a free trial today to access world-class Go1 courses, such as The Generation Gap at Work.