Everything starts with strategy. It's your guiding light. 
Those without a clearly defined strategy spend time trying to make an impact everywhere, while usually experiencing success nowhere. On the other hand, defining a strategy gives you the guardrails to focus, learn, and make the impact that you want and your company needs.
Your strategy will define everything from your budget to the level of executive sponsorship you need, the skills you need to prioritise, and how you measure the impact those skills will have on organisational performance.
Complicating matters, different departments have varying projects, ideas, and stakeholder needs. Clashing priorities mean it's easy to get pulled in different directions and lose sight of broader organisational goals. 
Unfortunately, when it comes to strategy, L&D teams encounter several common problems: 
Problem 1: L&D isn't operating like a business within the organisation. 
Problem 2: L&D are perceived as order-takers.
Problem 3: The L&D team doesn't have an executive sponsor to fight for them. 
To overcome these barriers and create an L&D strategy that aligns with your organisation's strategy, you need to answer several questions...
Is there evidence of need within the business?
It should go without saying, but if a stakeholder's request doesn't align with a business need, it's okay to decline that request.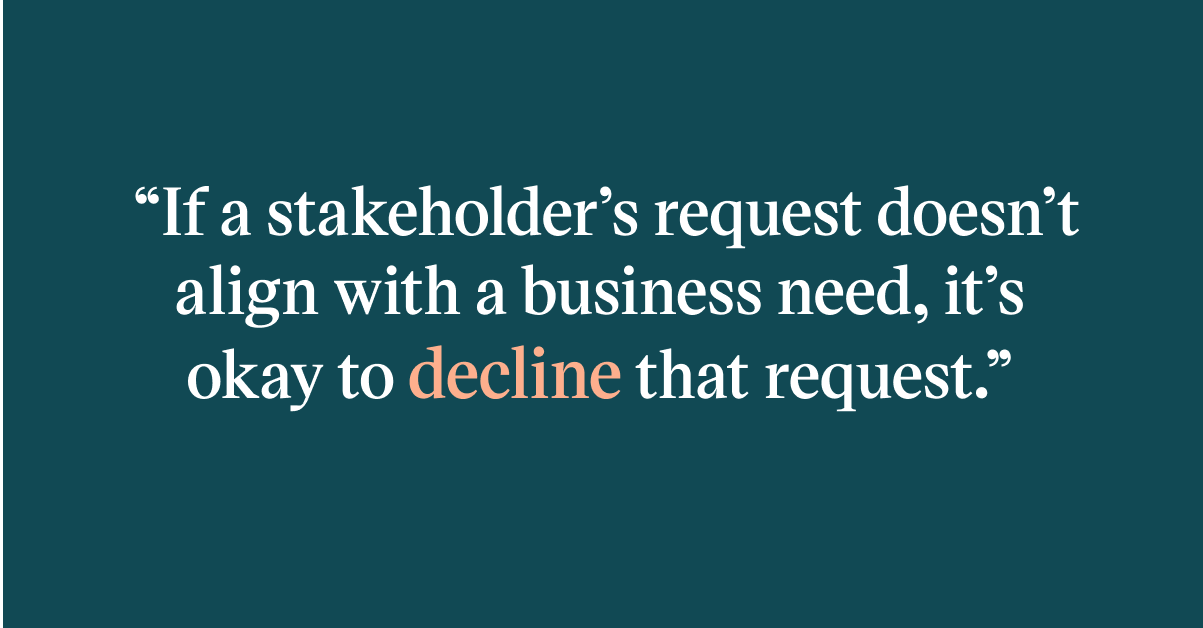 Next time you receive an L&D request, pause for a second. Resist the reflex to jump in and immediately fulfil the request. Instead, ask one simple question: "What is the evidence of need?"
By keeping this question in mind, you will ensure any requests you fulfil are aligned with a broader organisational need. 
The positive news for L&D teams is that this simple step can lead to huge improvements. According to Emerald Works' 2020 Back to the Future report, 94% of high-impact learning cultures (defined as the top 10% of companies) say their L&D activity is fully aligned with the strategic goals of the organisation. 
By comparison, only 49% of other L&D teams say their L&D activity is fully aligned with the strategic goals of the organisation.
As such, high-performing teams reap the rewards of aligning learning and organisational goals. 
For further insights on aligning L&D to your organisation's strategy, be sure to read our articles on learning value vs business value and crafting a digital learning strategy that creates value.
How to identify business needs? 
If your stakeholder doesn't have an answer to the question "What is the evidence of need?", then other departments in your organisation can be excellent resources to identify business needs. 
It's a good idea to speak to teams like IT, internal communications, and marketing since they already track employee behaviour and offer rich seams of data that can give you the evidence you need. For example, they may have insights into the 'help' subjects that people are searching for on the company intranet, details of performance goals, or results from employee engagement surveys.
Only when the data shows clear evidence of a need, your next step should be to drill down to discover the strategic value of this intervention to the business.
What is your stakeholder trying to achieve?
Once you've identified a clear business need, it's time to find out what your stakeholder is truly trying to achieve.
Ask yourself, are they trying to:
Reduce risk
Save money
Improve performance
Lower attrition rates
Remember, the request MUST be tied to a business goal.
If you need help locating your organisation's business goals, you can always access resources such as recent company reports. Failing this, it can be helpful to ask the Project Management Office to see what areas of the business they're investing in, or even speak to HR and people looking at strategic workforce planning to see what skill gaps they're facing.
Above all, don't be afraid to ask. L&D must use all the information available to align itself with the desired business outcomes.
Who is your representative on the executive board?
Identifying a business need and clearly defining your stakeholders' goals is essential. However, without representation at the executive level, you will likely spend most of your time running into internal blocks and getting nowhere fast.
Gaining executive buy-in is still a challenge for many L&D teams. The 2020 Go1 State of Learning Report identified executive buy-in as the "final hurdle", with 42% of executives either neutral or actively not supporting their L&D teams. 
Still, getting a seat at the executive table is essential to your L&D strategy, and it all starts with aligning learning value and business value. 
To start this journey to executive buy-in, we've identified five ways you can work more effectively with stakeholders.
5 ways you can work more effectively with stakeholders
Get closer to what the business does.
Become more consultative.
Move from a transactional to a transformational relationship with stakeholders.
Understand the stakeholder's motivations and stressors.
Spend time shadowing (or interviewing if remote) people from different departments in the organisation. Understand their working schedules and the types of learning that may fit around them.
For more insights, be sure to subscribe to the Go1 newsletter to stay on top of all the latest L&D trends. Or, you can book a demo today to find out how Go1 can help with your team's learning needs.