Selecting digital learning content is a vital step for any L&D team. However, it shouldn't be a painful one. 
All too often, the digital content procurement process throws up more questions than answers. Just a few that might influence your decision include: 
Is this content appropriate for each audience in the business?
What are the most appropriate styles for your business?
What lengths of content are suitable?
Which content formats will suit your learners?
What are the pros and cons of different brands?
What content may be coming in the future?
Will this content address our identified skills gaps?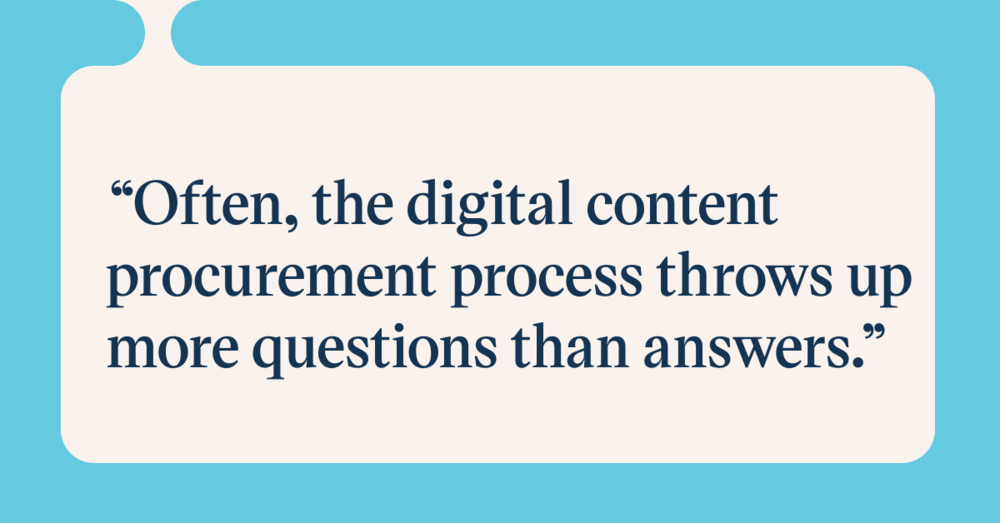 Adding to this, the learning technology landscape is vast and complex, meaning procuring and curating content can be time-consuming. Further, providers that offer a single delivery style are unable to engage learners in different ways, making content diversity a key consideration. 
It's our goal to simplify this process, so we've compiled everything you need to know about selecting digital learning content for your next project. 
The challenges of selecting digital learning content
While selecting digital learning content is essential, it remains an area where many L&D teams struggle. 
According to Emerald Works' 2020 Back to the Future Report, 26% of L&D teams cite "lack of attractive, high-quality digital content that supports our business goals" as a primary concern. Worryingly, this feeling is on the rise, increasing from 21% in 2019. 
Additionally, 95% of L&D teams say "digital content development" is a priority, yet, only 29% say they have the competency to deliver on this goal. Again, this percentage is trending in the wrong direction, down from 34% in 2018.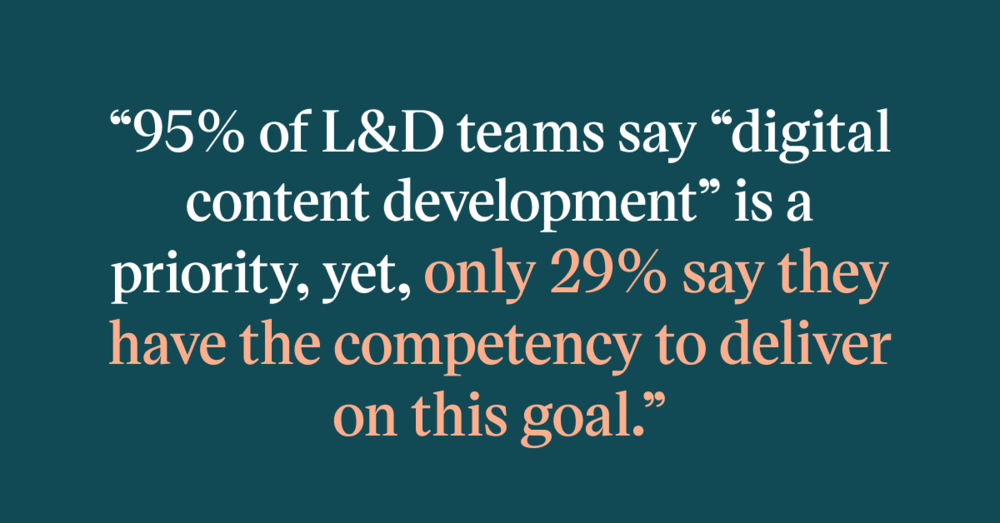 The good news is that among high-impact learning cultures (defined as the top 10% of surveyed L&D teams), only 6% are concerned about a "lack of attractive, high-quality digital content that supports our business goals." In other words, nailing your digital content procurement process can have many positive ramifications, allowing your team to go from strength to strength. 
Selecting the right digital learning content for my team
In such a vast digital learning landscape, there are several traps that you can fall into when selecting digital learning content. 
For starters, it is essential to get your content vetting process right. Often, teams fail to vet content thoroughly. Instead, they base their decision on a recommendation. To ensure the right decision is made, teams should consult subject matter experts to thoroughly and objectively vet any potential content.  
It is also important to factor in your existing learning culture and the pace of your organisation when selecting digital learning content. For example, it is no good selecting dense, long-form content if your learners have little time to dedicate to learning. 
As such, you must understand your learner's needs — how much time they have for learning, where they need to upskill, their prior relationship to learning, their preferred learning style, and more. To achieve this, a training needs analysis can be a useful tool. For more information on how to conduct a training needs analysis, see our article on how to assess employee training needs. 
Finally, it is crucial to consider the learning format when selecting digital learning content. As mentioned in our previous article on driving higher learner engagement, learning content can often be laborious and predictable in its delivery style.
According to LinkedIn's 2021 Workplace Learning Report, blended learning is here to stay, with 73% of L&D pros expecting to spend less on instructor-led training and 79% expecting to spend more on blended online learning. With this in mind, it is important to diversify your digital learning content to combat any potential monotony. 
To achieve this, you should offer a wide range of learning content to cater to learners with different learning capacities and preferences.
For further insights on selecting digital learning content, be sure to read our articles on what the modern learner needs and mapping learning content to skills. 
Using Go1 to procure digital learning content for your next project 
Go1 can be your one-stop shop to overcome the challenges of selecting digital learning content.
You don't have to compromise quality or quantity with the world's largest eLearning Library. The Go1 Content Hub includes specialist and generalist top-tier providers all in one place, so your learning initiatives always hit the mark. 
For popular topics, we work with a range of well-regarded partners to ensure coverage. We proactively, tactically approach partners to find content to meet gaps in our library. Accordingly, the Go1 Content Hub has the diversity and quality of content required to combat digital content monotony and meet a wide range of learning needs. 
For more insights, be sure to subscribe to the Go1 newsletter to stay on top of all the latest L&D trends. Or, you can book a demo today to find out how Go1 can help with your team's learning needs.