As a global leader in licensed sports merchandise, Fanatics aims to be number one – not just for their customers but also for their employees. However, Dawn Stopha, Director of Global Programs, was faced with numerous requests for employee development opportunities. She knew that to be number one, her team had to make some changes to Fanatics' learning and development offering. Enter, Go1.  
Fanatics' workforce is comprised of 10,000 employees across the globe, from salaried corporate workers to hourly distribution center workers. With such a vast and varied employee base, the company needed to find diverse learning content that could meet a plethora of unique needs. 
Providing employees with learning content wasn't a new endeavor for Fanatics, but they knew their content offerings needed significant improvement. Before they started their vendor search, Fanatics primarily used off-the-shelf content and push training. "We would develop things quickly using PowerPoint and just push out content, not really getting to know who our audience was," Dawn reflected. "Nothing was translated; nothing was done from a high-level safety or compliance standpoint." 
To ensure they got exactly what they needed from their new content provider, Dawn and her team created a checklist of priorities they used to evaluate different vendors. While the list featured many diverse needs, their main priorities were top-notch compliance training, learning content in a variety of languages, and an easy-to-use content library. 
Thirteen vendor interviews later, Dawn and her team had settled on their top two contenders. When they presented these options to the entire learning and development team, Go1 stood out as the crowd favorite. Next, they presented their options to the chief people officer – and her response solidified their decision. "When we reviewed it with her, we [presented] Go1 first," Dawn recounted. "She pretty much said, 'I don't need to see anything else.'" 
So, why did Dawn's team ultimately decide to partner with Go1? Dawn says many distinct factors made Go1 the obvious choice. 
First, it was important to Dawn that her team would be able to establish a strong relationship with whichever vendor they selected. "You can enter into a contract with any vendor, and if the relationship with them is not there, then it just doesn't work," Dawn said. "You're in it for the long haul over the life of the contract, and you really need to have great relationships with everyone that you're going to be talking to." 
Dawn was pleased to find that Go1 exceeded her expectations for the relationship between the two companies. "There's not been any situation where Go1 has not helped us find something," she said. "It has been the easiest vendor relationship that we've had."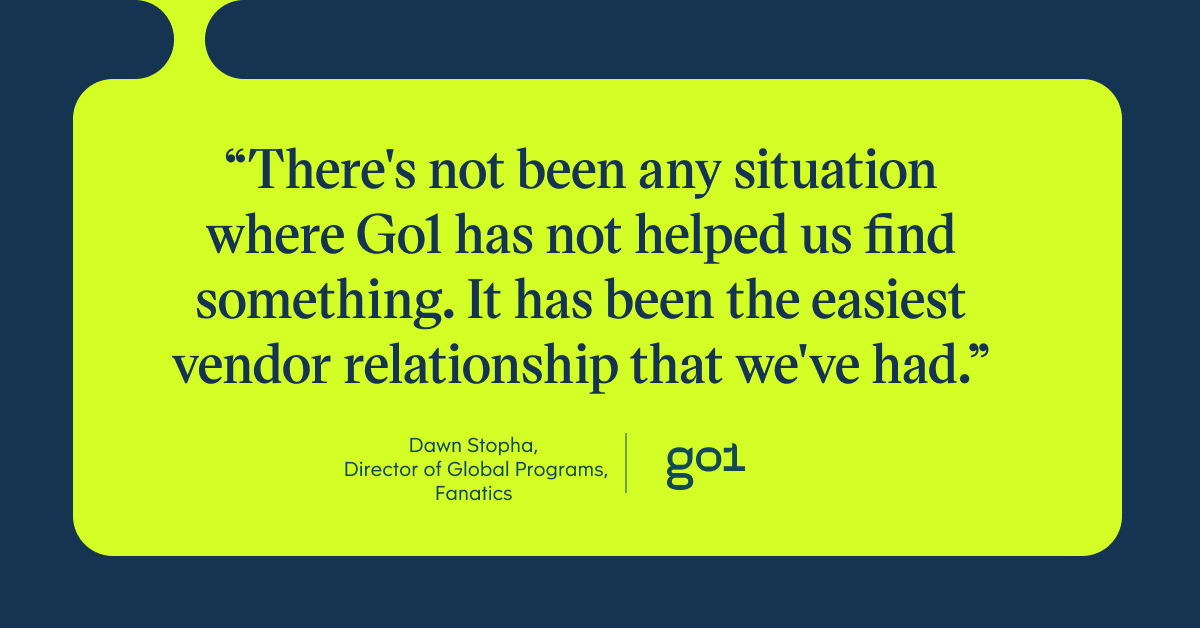 Go1 also fulfilled Fanatics' need for high-quality compliance content. When choosing compliance training, Dawn had to consider many different state laws and regulations. "I think about states like California, New York, Connecticut, Illinois, where their laws for employees are so strict. We needed to be able to say, let's take this training, we're going to review it, and then we're going to be able to provide it to our employees so that they're covered," Dawn said. "We found a couple different [Go1] courses. Anytime we went back to our legal team, all of them were top-notch." 
In recent years, Fanatics has undergone a generational change and, consequently, a shift in their company culture. Fanatics employees currently span six generations, with 82% of the workforce made up of millennials and Gen Z. Dawn loves that Go1's wide range of content means there's something for all learning styles, including the younger generations. 
"What we had to do was really shift to meet the changing culture of the employees that were coming into Fanatics," Dawn said. "The Go1 content is everything from podcasts to short, quick microbursts of learning, to now, they're moving into virtual reality. It really, really entertains the generations that we have now in our culture." 
What's more, Go1's content has allowed Fanatics to provide learning in various languages, catering to the company's global workforce. "Two months ago, we had gotten a call from someone in our Japanese office that said that they were looking for content," Dawn said. "So, we worked with our contact at Go1, and we were able to provide them with 435 courses in Japanese. That was like a slam dunk home run because we've never provided learning to the countries that we support." 
In addition to self-serve learning, Fanatics has incorporated Go1 content into other areas, like new hire training. Their new hire orientation supports employees through their first 90 days at the company, providing them with learning content on topics like business etiquette and business writing. 
Go1 has also enabled Fanatics to launch its first leadership development program. "We have 38 global leaders that are going through this program. All of the content is from Go1," Dawn said. "We started the pilot two weeks ago and we've gotten rave reviews. The impact that this is having and will have down the line is going to be exponential." 
Dawn and her team have seen incredible outcomes since partnering with Go1. Over the past year, employee engagement has risen significantly. "We increased employee engagement by 7%," Dawn said. "And we can attribute it to the Go1 content because of the fact that we could see it in the comments. There were probably close to 9,000 comments that said, 'Thank you,' 'You heard us,' or 'Our career growth and development has increased and here's why."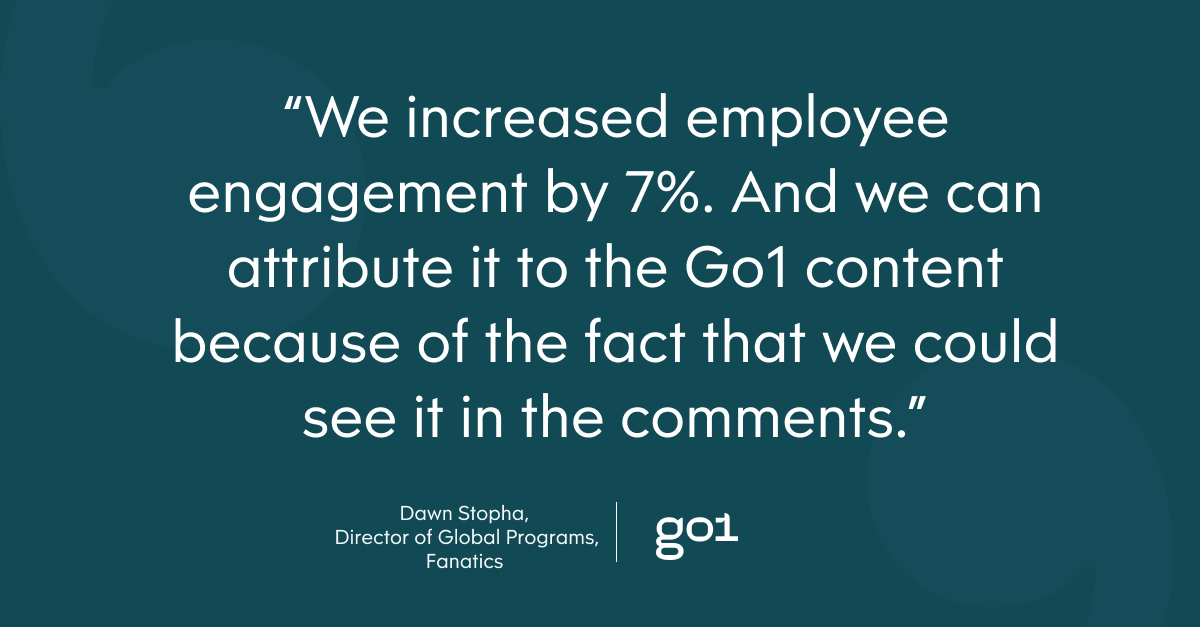 Dawn says the biggest impact Go1 has had on Fanatics is providing their workforce with diverse content. "What I would tell someone considering using Go1 is that I've been so pleasantly surprised with not only the foundation course topic information that's available but also the diversity," she said. "The content is engaging. It's not boring. It's content that will keep you energized." 
For more insights, subscribe to the Go1 newsletter to stay on top of all the latest L&D trends. Or, you can book a demo today to find out how Go1 can help with your team's learning needs.