Custom content or off-the-shelf learning? It's an ongoing L&D dilemma. 
As an L&D professional, you've probably found yourself deliberating over the pros and cons of off-the-shelf learning compared to custom content.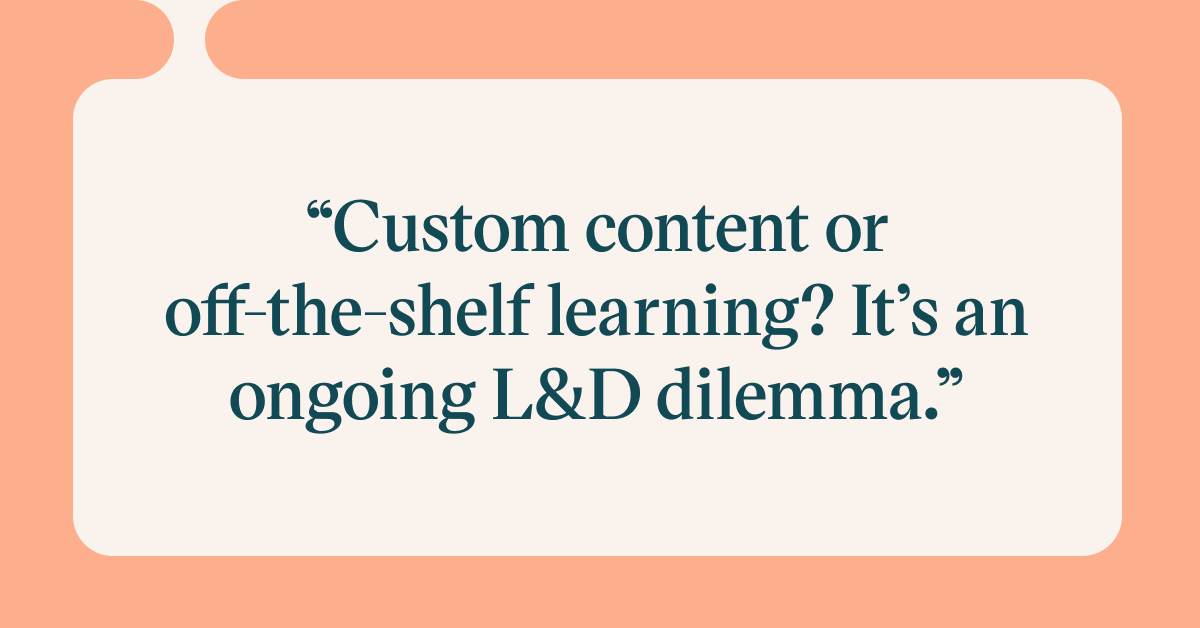 Both buying content and building your own have their advantages and disadvantages, while a combination of both off-the-shelf learning and custom content is also a popular choice. As such, it's best to know the benefits of both types of learning content before making a decision. 
Here's everything you need to know about the pros and cons of off-the-shelf learning. We'll start with a snapshot of the pros and cons, before exploring each of these points in greater detail. 
Snapshot: pros and cons of off-the-shelf learning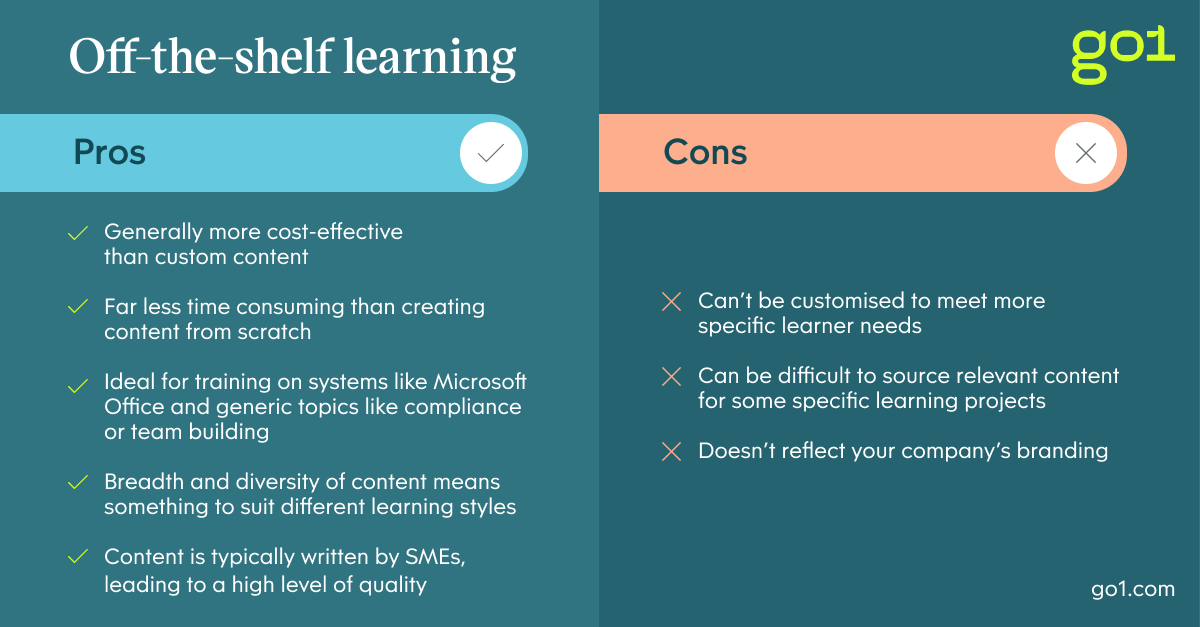 The state of L&D content
According to LinkedIn's 2019 Workplace Learning Report, 73% of talent developers say they use off-the-shelf learning content to train employees, while 85% of talent developers say they use internally created, custom content to train employees. 
These figures show two things. Firstly, both off-the-shelf learning and custom content can be beneficial in certain learning scenarios. Secondly, combining both off-the-shelf learning and custom content is a common and popular choice for many L&D teams.
Despite this, many L&D teams struggle with their content procurement process. While both forms of content are popular, often, teams find it difficult to know when one type of content is more suitable than the other, leading to an amalgamation that doesn't fully address the original issue. 
For example, Emerald Works' 2020 Back to the Future Report finds that 39% of L&D teams say they are overwhelmed and under-equipped, while 26% cite a lack of attractive, high-quality digital content as a major concern. Additionally, 95% of L&D teams say "digital content development" is a priority, yet, only 29% say they have the competency to deliver on this goal. 
A recent Deloitte survey also found that only 5% of companies believe they have mastered the content and technology capabilities needed to make digital learning an accessible and compelling experience.
In other words, there is a lot of room to improve the content procurement process. Many L&D teams are still uncertain about which content is the most suitable for a learning project. 
When is off-the-shelf learning your best option, and when does custom content come out on top? Let's find out. 
Pros of off-the-shelf learning
One of the biggest pros of ready-made off-the-shelf training courses is the ability to reduce your spending. This type of content allows you to deliver informative and engaging learning for your employees at a lower price than most customised training programs. By using off-the-shelf learning, you also do not need to hire consultants, designers, or experts to create a course — you simply download the program and add it to your LMS.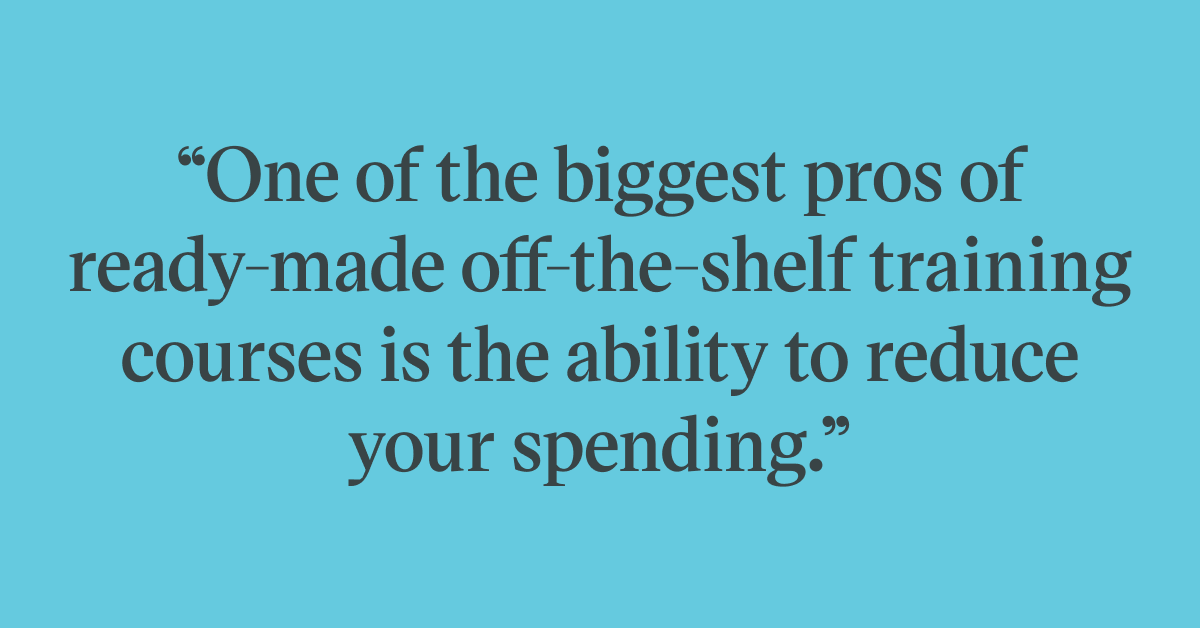 Off-the-shelf learning is also perfect for providing training on particular systems and programs, such as Microsoft Office, Adobe Creative Suite, and so forth. It is also great for courses that cover generic topics like team building, compliance training, change management, negotiation skills, and customer service. These generalised, skill-based courses contain content that can be successfully applied across various organisations.
Another benefit of off-the-shelf learning is the ability to save time and have training exactly when you need it. As the content is available immediately after purchasing, all you have to do is download it and add it to your LMS, meaning a quick turnaround time for your learners. 
Breadth and diversity of content is another pro of off-the-shelf learning. Instead of designing course after course from scratch, a wealth of content is already available, waiting for you. 
Finally, off-the-shelf content is typically written by subject matter experts who are trusted content creators in that area or field. As such, you are generally assured of a high level of quality and expertise. 
Cons: when is custom content my best option? 
There are some situations where off-the-shelf learning just isn't suitable. Instead, you'll benefit from using custom content to provide your staff with tailored learning materials specific to your organisation.
In an article for eLearning Industry, Dr Ayesha Habeeb Omer explains why custom content is often the best choice for certain product training and software systems training.
"ERP end-user training, for example, is something off-the-shelf eLearning courses are not suitable for: it is completely tied to an organisation's internal processes and working," she says.
It may sound obvious, but the biggest benefit of custom content is that it can be customised to meet any criteria. Therefore, learning content can be tailored to your company's exact requirements and highly targeted to your learners. 
Every company or organisation has unique training needs that relate directly to its culture, processes, systems, and goals. There may be times when you can't source relevant content from external sources for these unique requirements.
You may also want your eLearning courses to reflect your company's brand, using your brand, corporate colours, or logo throughout the course. With custom content, you can include these branding elements in your training materials.
For more insights, be sure to subscribe to the Go1 newsletter to stay on top of all the latest L&D trends. Or, you can book a demo today to find out how Go1 can help with your team's learning needs.