Domestic and family violence is preventable
Domestic and family violence is a complex and worldwide issue. It affects 1 in 3 women, including 10 million women every year in the USA and 49.5% of women in Australia throughout their lifetime. Despite this, L&D professionals often feel like they can't make a significant impact on this issue and that they must leave it to HR departments to be able to make a difference.
At Go1, we've seen the impact that training and effective education programs can have, largely thanks to our partnership with Australia's CEO Challenge (ACEOC). Together we've trained more than 250,000 people in domestic and family violence prevention, brought cutting edge eLearning to life, and supported programs that give back to more than 45 local charities and women's shelters. ACEOC have given us hope and educated us on the difference we can make.
We asked Jacque Lachmund, CEO of ACEOC, to talk us through the role that L&D can play in domestic and family violence prevention and strategies for making the workplace safer.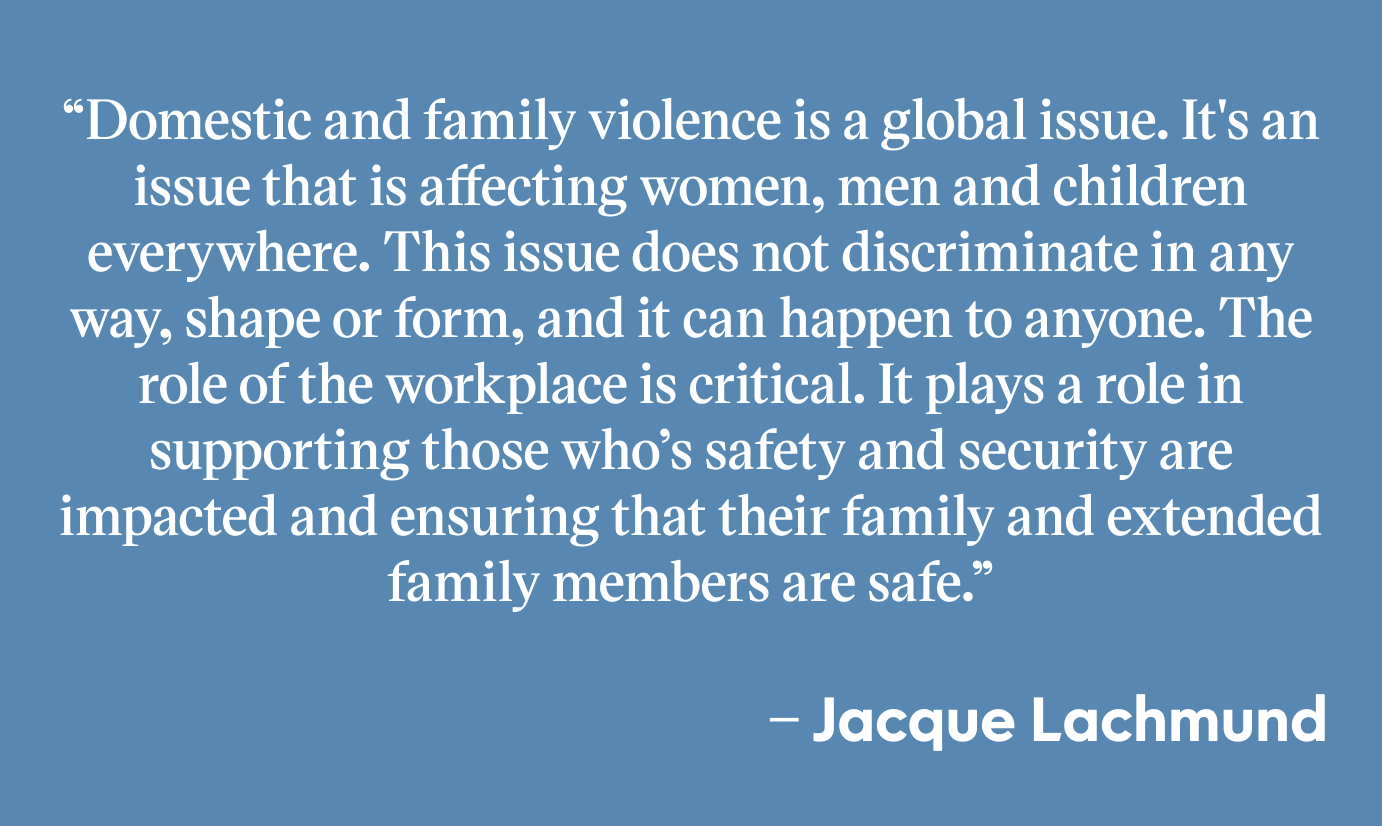 An important message, before we start
If you're currently experiencing domestic and family violence or supporting someone who is, please know that there is support available to reach out to. A few services that might be relevant to you:
Is domestic and family violence a workplace issue?
Jacque, a survivor of domestic violence herself, told us that the most common misconceptions about domestic and family violence are that it is only physical and that it is not a workplace issue. With it affecting so many people at work, Jacque highlighted that we have the opportunity to turn workplaces into a place of safety and support. She is inspired by the wave of change she is currently seeing, with so many workplaces now taking action on this issue.
Jacque highlights that the major points of impact that workplaces can have are:
training people to recognise signs, respond, and refer people to support
providing a safe space for people to be in if they are experiencing violence or abuse outside of work
supporting people to return to work
making people feel welcome and able to thrive, irrespective of gender and sexuality, and
allowing people to perform better by bringing their true selves to work.
In particular, she sees a number of positive outcomes from effective L&D programs, especially when paired with workplace policy and procedural improvements, and improved support from HR teams for those affected by domestic and family violence. Jacque recommends that all L&D programs go hand-in-hand with holistic workplace programs. To that end, ACEOC have developed a comprehensive suite of eLearning, face-to-face training, policy and procedural support options for the workplaces they work with.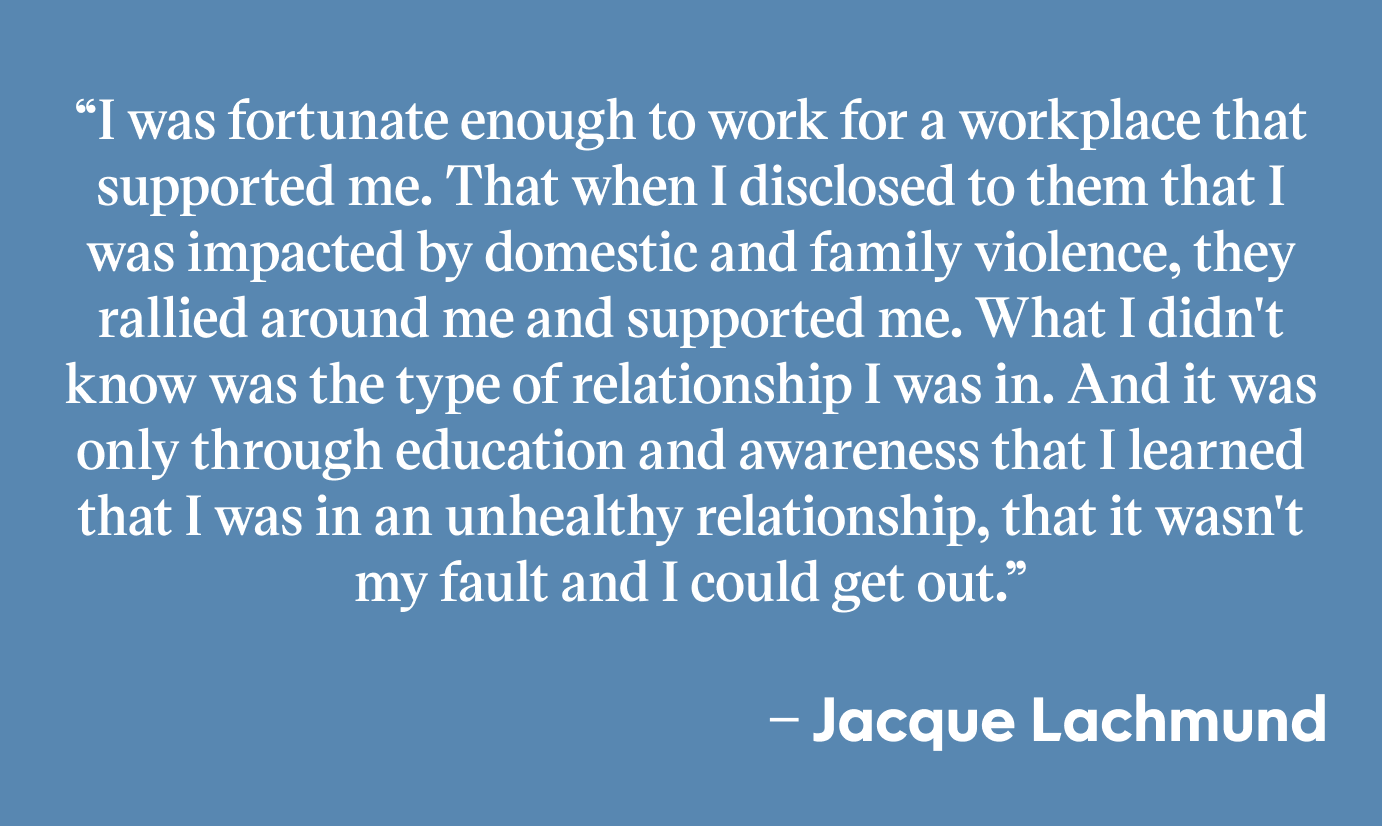 What role can L&D play in preventing domestic and family violence?
Despite L&D professionals often feeling like this serious issue is beyond their sphere of influence, we've found that learning is the tool that makes the most impact on this issue. Learning is the key lever in long-term change and the driving force behind systemic cultural shifts that make workplaces able to be truly effective. 
We asked Jacque and her team for her shortlist of the key areas that L&D can make direct change happen.
They recommend:
rolling out learning to every employee about what domestic and family violence is and how to recognise signs, respond and refer people to help
supporting employees with key policies and procedures
providing leaders and managers with their own training so that they are ready to refer people to help at work and support staff who need it
developing broader learning programs made up of short, effective eLearning on topics like gender, leadership and unconscious bias so that deeper cultural change can occur.
The takeaway message…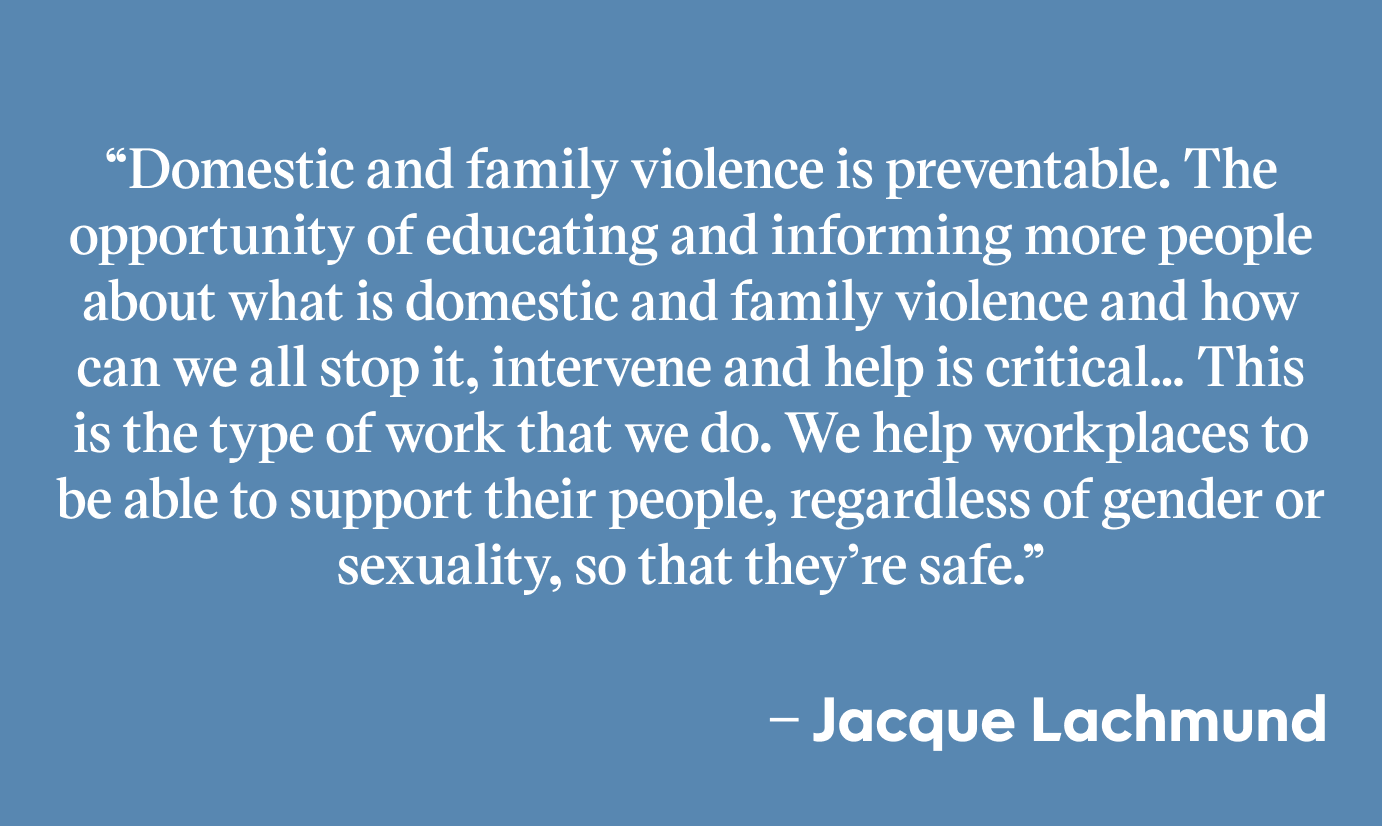 What are the barriers for L&D in this area?
Through Go1's partnership with ACEOC, we've faced all kinds of social, cultural and technical barriers in making change happen on a large scale. We've delivered eLearning across 47 different LMS and LXP systems, dealt with countless security settings and certification requirements, and coordinated this with a face-to-face training program for key leaders and change makers. While this is sometimes challenging, we've built systems to deal with this and can quickly and easily roll out our programs together.
However, it's the cultural barriers that we've found the most confronting. Many L&D professionals feel unsure of where to start, especially when their workplace or industry is male dominated, such as construction or mining. L&D professionals can feel hesitant to engage with a topic like this, for fear of confronting a large portion of their workplace. They also often feel overwhelmed trying to keep up with compliance requirements, instead of feeling like they can also include an issue like domestic violence in their focus.  
What do great L&D programs look like?
At their core, successful learning campaigns are quite simple. They focus on two things: 
Educating people so that they can recognise signs, respond, and refer people to support when they are experiencing domestic and family violence.
Training people to combat the contributing factors to domestic and family violence - factors that also make the workplace better, such as gender equality, inclusion, unconscious bias, and effective leadership.
Successful L&D programs are then always paired with effective policy and procedural change at work. And Australia's CEO Challenge is an expert organisation in supporting businesses on both fronts.
To do this, ACEOC have built a simple system with Go1 for making change happen:
To begin, ACEOC will assess where a workplace is at on their domestic and family violence prevention journey. This happens within a week or two of someone requesting it through them, or through one of our learning experts at Go1
Go1 will then develop a learning plan with your organisation, while ACEOC work with your HR and workplace executives on any policy and procedural recommendations that need to happen
Then we roll out a curated, blended learning solution with your L&D and HR teams
- training every employee on the basics of how to recognise, respond, and refer
- developing a broader, curated journey with you for tackling broader issues like gender or bias, and 
- supporting eLearning with face-to-face or virtual workshops for champions and management staff, to ensure a core group of competent respondents available in every workplace.
Want to take action on domestic and family violence?