Addressing skills gaps is a priority on many business leaders' agendas. However, to upskill the workforce and improve performance, businesses must adopt a learning culture. HR and L&D leaders are tasked with providing tools to not only engage employees but also track and measure ROI.

Investing in a learning platform is the obvious choice to meet these requirements – but how do you begin the buying process, and how will you make your final decision? To answer this question and more, we've assembled an expert panel, featuring George Ellison-Bunce, Enterprise Customer Success Manager at Go1, Kelly Jenkins, Director of Alliances at Go1, Ally Monaco, Senior L&D Partner at Oliver Agency, and Sebastian Tindall, Strategic Enablement Director at Vitality.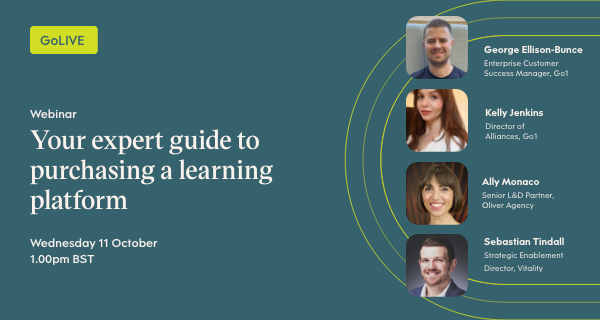 This panel discussion will walk you through the steps you'll need to take to choose the right learning platform for your business, looking at learning platform nuances for individuals, organisations, and industries.

Join our webinar on 11 October at 1.00 pm BST to learn:
How to address learning needs within your organisation
How to create a learning culture
How to measure workplace learning ROI
Key stages throughout the decision-making process
Tips, tricks, and advice from real-life buyer experiences
Don't miss out, secure your spot today.