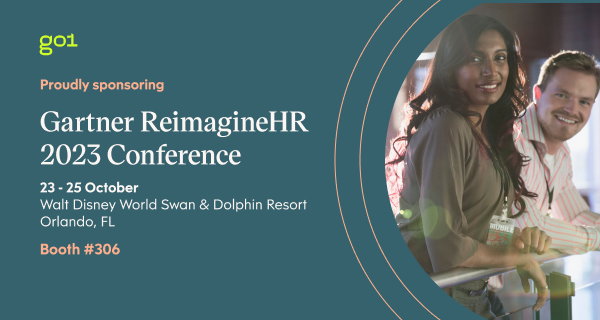 Join us at the Gartner ReimagineHR Conference  
This year's Gartner ReimagineHR Conference takes place from October 23–25 in Orlando, Florida and we can't wait to see you there! 
We'll be there at booth #306, so be sure to schedule some time to meet with us at the event and discuss how Go1 can connect your organization with skill building for every business need. 
About the Gartner ReimagineHR Conference
Through the extreme disruption of the past three years, organizations showed remarkable innovation and experimentation. HR led the way in transforming work models, boosting accountability for employee well-being and equity, and expanding the boundaries of what leaders previously thought their people, systems, and technologies could achieve.
The Gartner ReimagineHR Conference 2023 will explore emerging ideas and actionable insights on how HR leaders can harness and direct this creative momentum to unlock new dimensions of human performance.