Does your organisation struggle to deliver effective leadership development? You are not alone.  
According to the latest Go1 State of Learning Report, leadership development is the most challenging topic facing organizational learning.  
L&D and HR professionals face no shortage of challenges when it comes to delivering learning. From engaging learners to quantifying the effectiveness of training, these pros have their work cut out for them in most areas, but why is leadership development particularly challenging?  
In this webinar, we invited Peter Hörwing, CEO of Chart Learning Solutions, to join us in a conversation around leadership development difficulties and what organizations you can do to improve their approach and outcomes. Catch up on the discussion in the recording below:
About the speakers

Peter Hörwing, CEO of Chart Learning Solutions, has over 30 years of experience in the software and services industries. For the past 25 years, he has served on executive management teams in companies listed on the Nasdaq/OMX stock exchange. His extensive international experience includes positions as Chairman of the Board of Directors on 4 continents–North America, Europe, Africa, and Australia, covering more than 20 countries. His expertise in leadership, sales, and support underscores his understanding of the importance in driving positive behaviors to achieve outstanding results.  

Carolynn Morris is a HR Consultant at Go1, a Keynote Speaker, Communication Consultant, Workshop Guru, Life Coach, and Travel Connoisseur. She studied communications at Utah State University and received her Master's of Strategic Communication at Westminster. She is passionate about authentic connection and believes that all relationships, whether professional or personal, are created, maintained, or destroyed by communication. 
About Chart Learning Solutions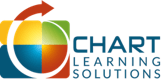 Chart Learning is a world leader in leadership training content and award-winning soft-skills development available through the Go1 Content Hub. They develop people in leadership, sales, customer service and team performance. The company has researched critical competencies and developed an education/training methodology which gives sustainable learning results. All soft skills courses are internationally award-winning, with awards from Brandon Hall. As an addition to their content they provide training for customers to become Certified Chart Coaches to reach outstanding learning results.