Australian company Amicus are known for their ability to create inspirational workspaces that invigorate and energise.
Amicus recently partnered with GO1 to redefine and re-energise their employee training program, with the aim of improving the way learning and development was being delivered across the organisation.
We are thrilled to hear that Amicus has recently won a 'Best Training Project' award from LearnX for their employee onboarding program.
We talked to Louise Nott, member of the Employee Experience team at Amicus, about how they created their award-winning onboarding program and the company's experience implementing and using GO1.
The Company
Amicus creates workspaces for organisations that want to translate their business, brand and cultural objectives into their office environment.
Since 1997, they have been helping clients rethink how their workspace can inspire employees and customers.
The company's mission is to positively inspire as many workers globally as possible. They believe that when people feel inspired by their work environment and the experiences they have there, they'll want to inspire others.
At GO1, we love working with companies who are all about positive impact – so we are very happy to be supporting Amicus with their training and development needs.
The Challenge
We asked Louise about the company's previous approach to onboarding, before partnering with GO1.
"Before GO1, a lot of our learning content was stored in document form," Louise said.
"Previously, our onboarding program was a 20-page document that required excessive follow-ups on an individual basis, it was really hard to track, and had low completion rates."
"When our team started growing, we identified that we needed an online solution that met our specific needs for onboarding and eLearning, to increase both efficiency and consistency."
The Solution
Amicus found that solution in GO1.
The company was looking for an eLearning platform that would provide them with a single source of truth for all their learning content, with the ability to easily track and record employee progress, particularly throughout the onboarding process.
They wanted their onboarding program to have two key components: face-to-face training and online learning. GO1 provided the perfect solution for the company's online learning needs.
The Results
After making the decision to go ahead with GO1, Louise found the implementation process very easy and straightforward.
"Setting up GO1 was really exciting. We had a lot of content in lots of different places, so it was really amazing to see it all come together, all in one place, to allow a great user experience."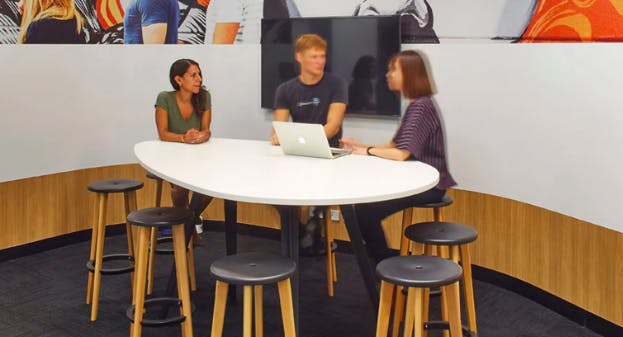 "Like any new system, it takes time to set up in the way that you like it. And it takes time to adjust to the new ways. The GO1 team were an absolute pleasure to deal with and they collaborated with our other partners to ensure the systems integrated together."
Louise believes the biggest impact since switching to GO1 has been the improvement to user experience throughout the onboarding process.
"GO1 enables us to take new team members on a sophisticated e-onboarding journey through modules on the business, our leaders. The new starter can really immerse themselves into the Amicus culture from day one," she said.
"Previously, it might have taken a few weeks to get someone onboarded here, now we can get new team members on board and ready to go on day one."
The Future
Over 100 Amicus employees are now using the GO1 platform, for onboarding and other training needs.
"We have about 100 users on the GO1 platform. We use it as part of our onboarding program, for all our new employees, and also for ongoing learning, including internal programs and external courses," Louise explained.
"For us, it's an ongoing journey where we continue to improve and build on our onboarding and learning program and GO1 allows us to do that."
"What we know is that everyone learns differently. Different people need different things at different times. Some might want to take a deep dive into a subject and with GO1 we really are able to achieve this with the resources we provide in an easy and time-effective way."
We congratulate Amicus on their exciting LearnX award and look forward to hearing more positive results from the team as their learning program continues to grow with GO1!
Find out more about how we can support your company's training needs with GO1 Premium.
Join our community!
Get top insights and news from our experts sent straight to your inbox. Never skip a beat!