What is Tipalti? 
Tipalti is a payment processing platform that delivers end to end payables solutions, with a focus on efficiency, to reduce manual accounts payable tasks.
How does it work?
At Go1, we internally raise a PO for each monthly revenue share value for our partners. Presently, human checking is required for every invoice, to confirm it matches a recorded PO, before being passed for payment.
Tipalti will automatically approve invoices (that perfectly 1:1 match the PO(s) for the supplier) for payment - significantly reducing the time to approval.
What do I need to do?
Your company should have already received an email like the below, to register your details with Tipalti.
If you haven't already, please complete your registration.
If you haven't received this, please reach out to finance@go1.com to update your contact information with our finance team.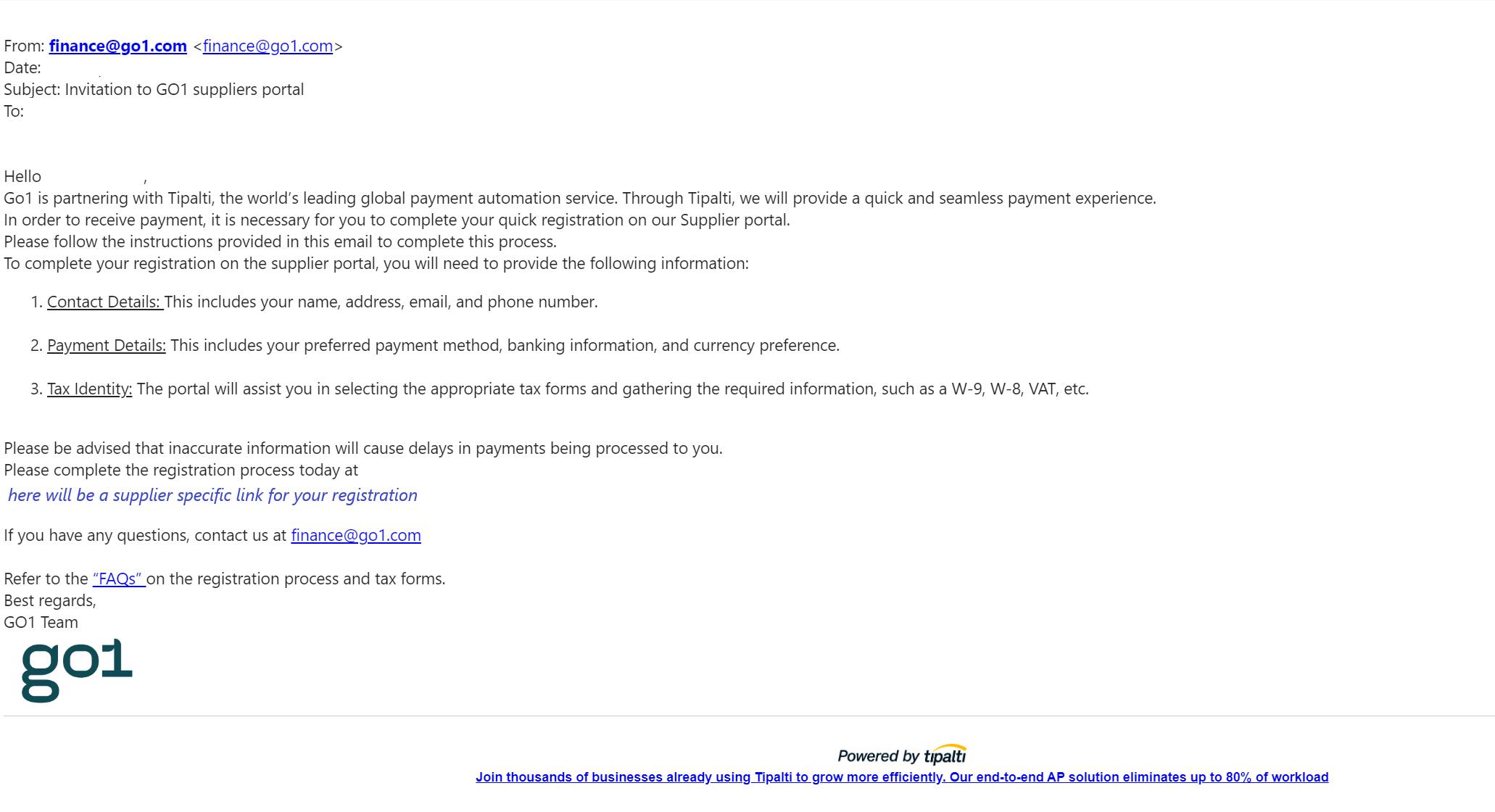 How does this change how I invoice?
This should change your current processes very little, but we'll be able to confirm once setup and registrations are completed.
We will be able to offer two ways to submit your invoices. Once registered, you will have the option of uploading the invoice directly to the Tipalti portal; or, to continue emailing your invoices to us, please update the email to submit your invoices to invoices@go1.com.
Going forward, we are transitioning the finance@go1.com email address to a general enquiries email address, and will use the invoices@go1.com address for all invoice receivables.
What if my invoices cover multiple revenue share periods?
Tipalti can handle this too, simply ensure that the revenue share value is broken down by month on your invoice (rather than just a condensed total) so the system can match 1:1 to the POs at a line item level.
When is this launching?
Go1 plans to complete implementation and launch with Tipalti early next year, and we'll send a follow up communication closer to that time.
What if I have questions?
Any questions, please do not hesitate to reach out to our finance team, via finance@go1.com