If you're running a business in the automotive industry, it's your responsibility to provide your employees with a safe workplace, free from any hazards or health risks.
As an employer, you also need to make sure you're compliant with relevant safety laws and regulations for the industry. That means providing appropriate safety training for all staff.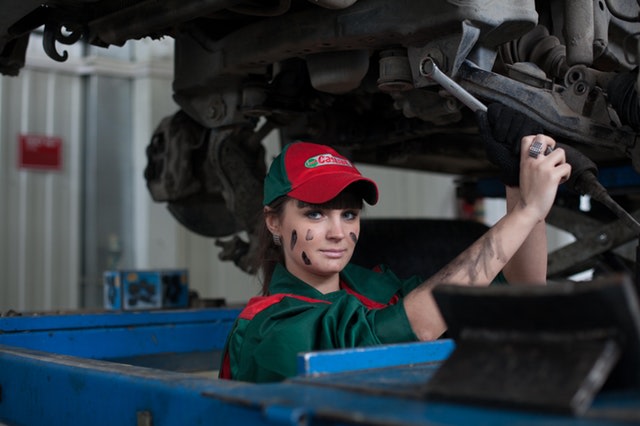 The fact is, many workplace accidents and injuries could have been prevented with proper compliance methods and an appropriate investment in workplace safety training. In the automotive industry, whether staff are working in manufacturing, mechanics, logistics, or sales, safety is absolutely paramount.
How are you delivering workplace safety training to your employees? And proactively improving their awareness of compliance and WHS?
Here, we look at how you can use online courses for employee safety training, reinforcing important workplace safety and emergency procedures, while ensuring a safer work and more compliant environment for all staff.
Workplace safety risks for automotive employees
Working in the automotive industry, like many technical fields, is not without its risks.
Employees in the manufacturing, mechanical and logistics sectors are exposed to many hazards in their daily roles, such as:
chemicals
burns
heavy and/or rotating machinery
sharp objects
slippery surfaces
asbestos
loud noises
vapours and fumes.
These hazards can result in serious injuries or even death.
Workers are also at risk of developing sprains, strains, and injuries due to heavy lifting or maintaining awkward postures for long periods of time.
Providing safety training in the automotive industry
Are you currently providing safety training for your automotive staff? Are you doing enough to prevent work-related accidents? How committed are you to creating a safe work environment for all employees?
These are the kinds of questions you need to be asking yourself, to ensure you're being compliant with workplace regulations, while doing the right thing by your employees.
With the right safety training, you can increase staff awareness of potential hazards in the work environment, as well as educating individuals on correct reporting procedures and policies. Through the use of workshops, online courses and eLearning training modules, you can make sure staff are properly engaged in workplace health and safety, while reducing the risk of accidents, injuries and hazards for your organisation.
And when you think about the potential loss in productivity, legal expenses, fines and insurance arising from workplace incidents, a good safety training program is well worth the investment.
Improve employee engagement with safety training
When companies deliver workplace safety training to staff, it's often presented in one solid block of training, such as an all-day orientation session or two-hour workshop.
You might want to consider using online courses instead, to deliver staff training. Online training courses are available for all areas of workplace safety and compliance.
With online training, you'll also be providing staff with a far more engaging user experience. It's common knowledge that individuals retain more information when training materials are made more engaging.
These days, it's no longer best practice to have employees sit through lengthy lectures, or wade through endless workbooks. With online courses, you can provide staff with access to targeted online training activities and modules based on their specific job description. This means the course content will be more relevant and interesting to them, and they'll be more motivated to learn and actively participate in training on these subjects.
Delivering training in a way that ensures staff are properly engaged will greatly help reduce the risk of accidents, injuries and hazards for your organization.
Online safety training for your staff with Go1
At Go1, we provide high quality online training courses specifically designed for employees working in the automotive industry.
Online courses provide everything you need to help you deliver effective staff safety training, while making training easier and more convenient for your staff. With online training, employees can log in and complete short modules at a time and place that's convenient for them. There's no need for your company to book out expensive conference rooms, or hire instructors and facilitators – with online learning, you can save your company money and cause less disruption to employee productivity.
With the help of some training to educate your team, you can dramatically reduce the risk of workplace incidents across your organisation. By committing to employee health and safety you'll also be lowering the chance of financial implications for your business.