In their second interactive live streamed session at the CIPD's Festival of Work London, James Frappell, customer service director at Go1 invites Andy Stopps from Lohnmann & Rauscher and Laura Overton from Emerging Stronger to discuss how managers can facilitate learning within their team.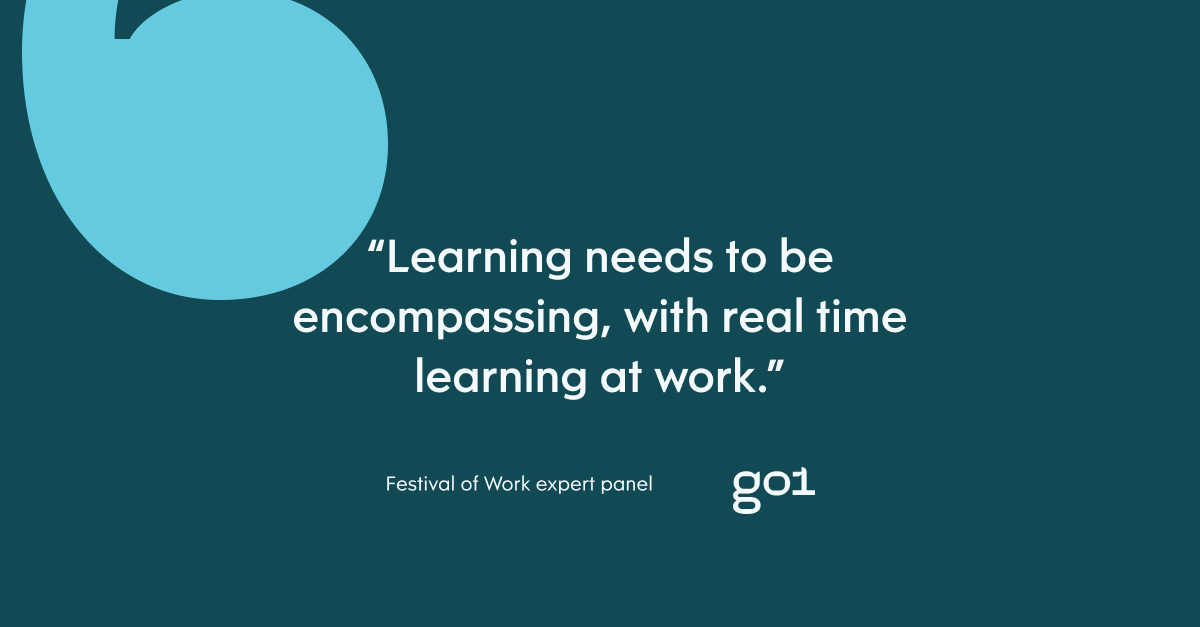 You can stay up to date with upcoming Go1 events here
The panel opens with each participant listing out a single word that, to them, describes successful learning. With prompts from the audience featured on screen Andy chooses the word 'collaboration' while James picks out 'connected' with leadership as well as teams in mind. Laura selects 'permission' in a broader sense, alluding to permission to ask questions, contribute to something, fail, be supported etc. She describes it as the most dynamic way of working and learning.  
Learning environments
The panelists delve into what might be the most suited environment to ensure managers are successful in their tasks and of greater value to their team and business. They speak of the different, more limited learning cultures that have dominated businesses over the years. To the panel, it is clear that learning needs to be encompassing, with real time learning at work. Quoting Peter Senge, author of the Fifth Discipline, they stress the importance of learning in the flow of work. They describe the ideal environment for managers to be dynamic and constantly evolving where the 'rate of learning must be greater than the rate of change' as said by Charles Middleton.
Crucial components of a manager's role
The team explores each component of a manager's role, and, though there would be too many to list out, they call out certain attributes that if removed, would unbalance the whole ecosystem. They look at the Lippitt-Knoster Model for managing change and encourage the audience to familiarise themselves with it too. 
Next the group looks at what kind of challenges businesses can face when trying to engage managers. Andy calls out instances when managers might not be interested in the learning process, time constraints and budget limitations as key factors. Laura adds that managers often think they don't have time to support learning at all and that it is up to the business to help them feel supported, in order to support in return. 
Catch up on the full session