During a recent webinar powered by Go1 in partnership with Fosway, the panel explored how to create a compelling business case for learning, digging into topics such as stakeholder engagement, agility, innovation, and establishing clear goals. The webinar was hosted by Naomi Hepworth, Sales Manager at Go1, who was joined by expert guests James Frappell, Customer Success Director at Go1, and Myles Runham, Senior Analyst at Fosway Group. We'll recap the highlights of this insightful discussion, but if you want more, you can also catch up on the full webinar replay below. 
To kick things off, the panel shared their tips for building a strong business case for learning, with James explaining that teams must get three things right to be successful. 
"The first thing is to make sure that your business case is completely aligned with your business priorities. So, you should have a good understanding of what your organisational high-level goals are and ensure the case you're putting forward aligns well with one of those goals. If it's not aligned to a business priority, then that can almost stop the conversation dead," he said.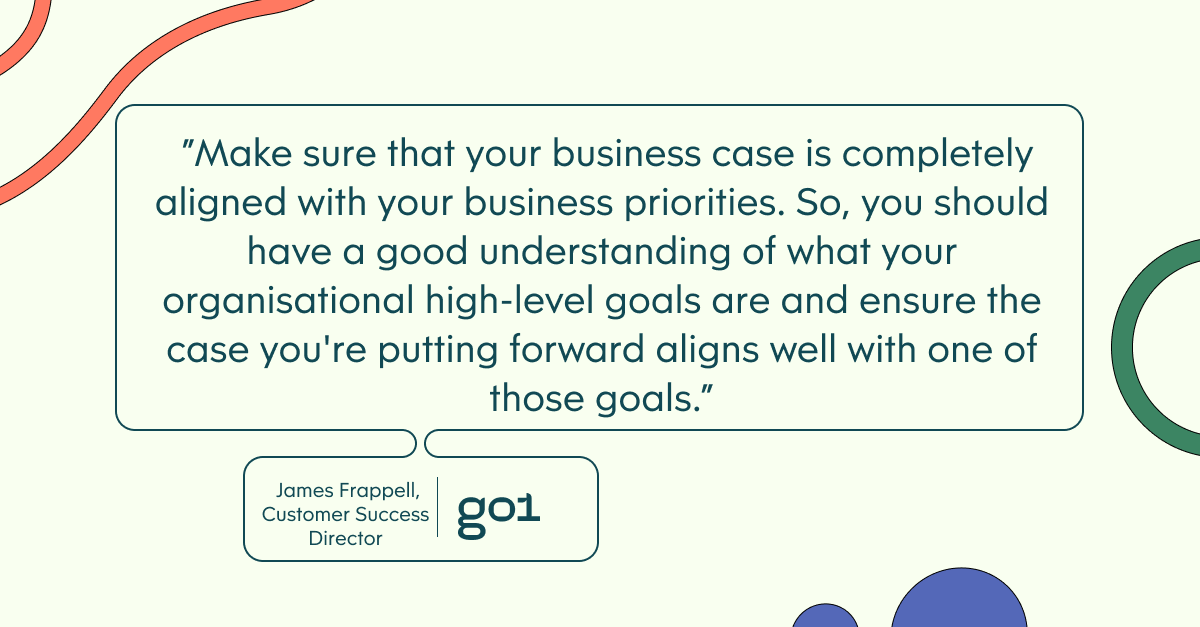 "The second thing is thinking about, well, if we do this, what is the impact going to be? So, what is the impact that we can make against that business priority to help us reach our outcomes as an organisation? So taking the priority and remapping the impact. 
"And then the third piece is about the 'so what?'. So if we do this, what does that actually mean for our organisation? And typically the thing that holds the most traction in these conversations is an ROI metric."
To build on these tips, Myles discussed the importance of benchmarking and establishing clear goals. 
"I think one of the things that's really important in setting out your goals is demonstrating that you understand the situation as it is," he said. 
"One of the ways of doing that is a good benchmarking activity. So, you say, here's what the situation looks like. Now, here's the extent of the problem, or here's the current picture, or here's the current rate of growth, whatever it might be, so that you can demonstrate that you know where you're at now, and also demonstrate that you understand what the business thinks about that. So, understanding the context is really important." 
Following this, the discussion moved on to engaging stakeholders, with Myles noting that it's vital to engage a variety of stakeholders across the business from different positions and backgrounds. 
"If people don't have formal authority, that doesn't necessarily mean they aren't influential," he said. 
"In most important decisions in any organisation, there are influences who might not have the job title, but they're listened to. They might have a length of tenure. They might have just joined from an important customer organisation or a competitor. They may be recognised subject experts. 
"It's really, really important to build relationships with them and understand their influence as well."
Adding to this, James then talked about the value of agility, using the example of Go1 customer Metro Bank. 
"When it comes to launching these programs, having an agile approach is really, really important," he said.
"And a good example of this is a customer of ours, Metro Bank. They signed for 1,000 users, but we took an agile approach to launching, so we decided to launch with a pilot group of 300.
"The real benefit of that approach is twofold. One, you get to use the products that you've purchased quicker. So, you get tons of value really, really quickly, when it comes to building out the business case. 
"The second is it means that when you do launch, you can be really confident in what you have launched because you've had input from your audience members to create the things that are most relevant for them. 
"Whatever it is that you're rolling out to your audience, members will very quickly tell you how aligned it is to their role and how helpful it is. To do that in a pilot setting first before a full rollout is certainly the approach that we would advocate."
Finally, the panel came to the ever-relevant theme of innovation, with everyone agreeing that it is critical to be forward-thinking in today's business landscape.
"Innovation is happening all the time, and it and it is gathering pace, and sometimes it's hard to keep up with," James said. 
"But what I will say when it comes to creating a good business case when you're working with third-party vendors, something to really consider is not what their product is today, but what is their product going to be in the future? Because organisations that work on recurring revenue and renewing contracts are always going to be very incentivized to make sure that their products are continuing to evolve and develop to meet the future needs of their businesses.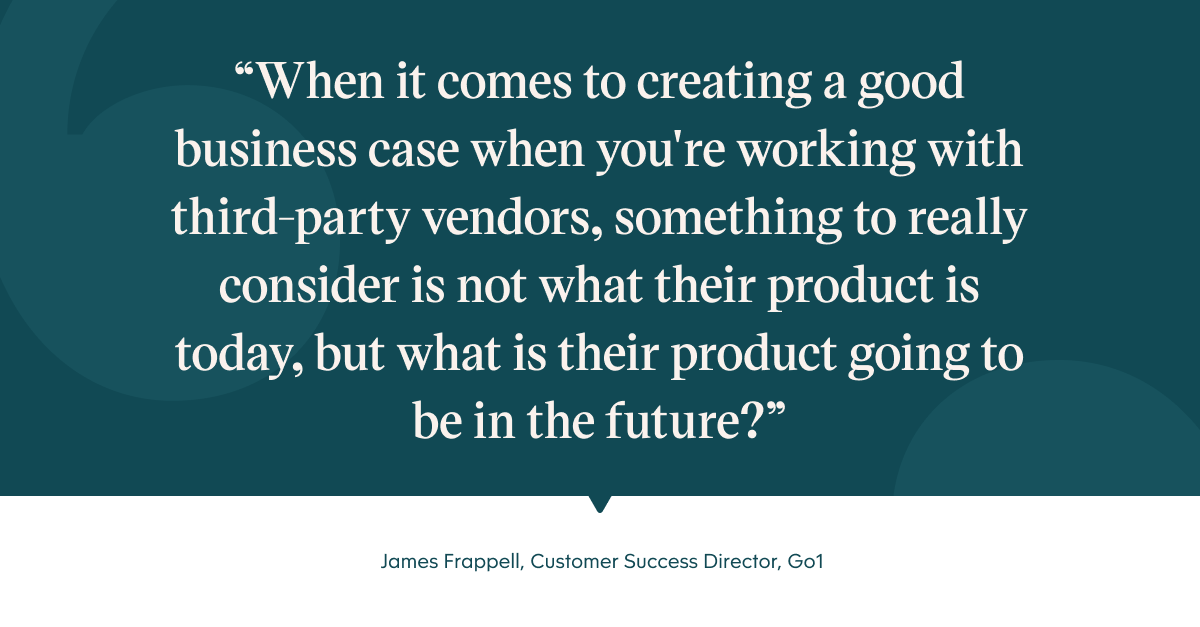 "If you're able to understand the trajectory of these companies, if you understand that sort of strategic vision and their product roadmap then that can be really powerful for building a business case."
Ultimately, Naomi signed off with a simple message: building a strong business case for learning is so much more important now than ever. 
Want more? Catch up on the full webinar replay below: