The term 'Tin Can file' may seem like a completely foreign language to those unfamiliar with programming applications. And no, it doesn't have anything to do with canned baked beans. Rather, Tin Can is proving to be a game-changer that supports employee development in businesses of all sizes and allows L&D teams far more flexibility, accessibility, and tracking potential.
As the next evolution of SCORM, the Tin Can API is threatening to revolutionise L&D as we know it. So, we'll take you through everything you need to know about Tin Can files to keep your business one step ahead.
What is a Tin Can file?
Tin Can is an open-source Application Programming Interface (API). It is sometimes referred to as Experience API and xAPI. Currently, Software Advice finds that 15% of businesses use Tin Can for training courses in their LMS.
If you need a quick refresher xAPIs, check out our blog on What is xAPI and how do we use them?
Otherwise, to help get you up to speed,xAPI is a revolutionary open-source application programming interface (API), which records employee activities from a variety of programs and software.
Unlike SCORM, this software specification tracks all kinds of activities from inside and outside the LMS. It adds a beneficial communicative layer to your system, connecting the employee and the organisation.
This means trackable learning is no longer confined to what happens on the LMS. xAPI lets you track employee development online and offline, as well as from other mobile devices.
As Uncanny Owl explains, Tin Can is a "specification in learning technology that makes it possible to collect data about a wide range of learning activities. Similar to SCORM and AICC, the Tin Can API describes learning data in a consistent format so it is cross-platform compatible."
In other words, Tin Can offers an advanced way for programs and software to speak to each other and track all learning experiences, thereby providing L&D leaders with more tracking capabilities and learners with more flexibility and accessibility.
How Tin Can works
Tin Can uses statements to track user learning. These statements are then stored in the Learning Record Store (LRS) and are completed in the form of a noun, verb and object. As the name suggests, an LRS is where all learning records are stored. As SCORM.com puts it, "the LRS is the heart of any Experience API (xAPI) ecosystem; receiving, storing and returning data about learning experiences, achievements and job performance. You'll need an LRS in order to do anything with xAPI. Every other tool which sends or retrieves learning activity data will interact with the LRS as the central store."
For example, 'Sarah completed Complaint Handling'. This statement and learning experience is delivered and stored within the LRS, which allows her employer to see that she has completed her training.
This is a welcomed feature that allows organisations to enjoy advanced capabilities when it comes to tracking all online and offline eLearning, which is not supported by SCORM.
Tracking capabilities
From tracking simulations to attending a seminar, xAPI allows employers to track all employee learning from any device.
In addition, this tracking capability allows organisations to improve training and arrange future goals in all aspects of learning, not just online content available in the Learning Management System (LMS).
These tracking capabilities make Tin Can highly beneficial for organisations and businesses of all sizes that support employee development.
It is important to remember that Tin Can can't change how course content is designed; it is an API that revolutionises the way learning experience data is tracked and stored.
However, Tin Can has changed the face of eLearning for many employers and offers numerous advantages over its predecessor, SCORM.
SCORM Successor
Tin Can as we know it today evolved as an API to succeed SCORM.
As a quick refresher, SCORM stands for Shareable Content Object Reference Model, which is a programming interface that follows a linear construction, where learners work from one assessment to another in a particular sequence.
SCORM had existed since 1999. Since its creation, it had enjoyed being the dominant API used for LMS, especially by large organisations; even the US Department of Defense. For further insights, see our article on What you need to know about SCORM for eLearning.
The accessibility and reusability of SCORM meant that its advantages outweighed its limitations, to begin with. Yet, as technology progressed, there were several limitations that restricted modern training content and eLearning.
In particular, SCORM's ability to only track online interactions with the LMS, such as quizzes and assessments, proved unrepresentative of an employee's complete learning experience in real life.
Any activities outside of the LMS, such as attending a webinar, reading an eBook, or watching a YouTube video would not be captured and tracked, despite their potential impact on employee development.
Project Tin Can
Aiming to be a successor to SCORM, 'Project Tin Can' began with the belief that 'learning happens everywhere'. The name Tin Can was coined in reference to Tin Can telephones, as the founders wanted to create a two-way conversation with the eLearning industry.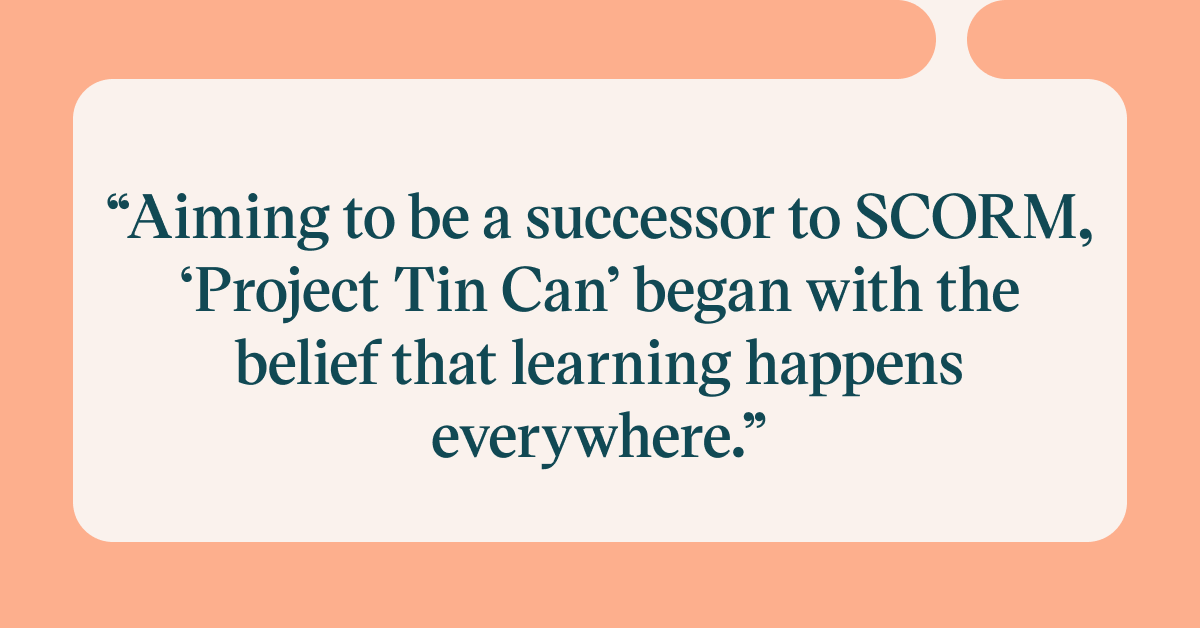 This project focussed on how SCORM could be modified and advanced for the next generation of online content. Soon enough, Experience API was born, boasting many advantages over SCORM.
For example, eLearning Industry explains that "Tin Can is a better option if you want to future proof your eLearning content. While Tin Can will continue to grow and change, SCORM is stagnant in comparison. Choosing Tin Can will allow you to benefit from the ongoing development of a new technology that will continue to improve as it's embraced by the industry"
Additionally, they outline four areas in which Tin Can outperforms SCORM: reliability, better tracking, richer data, and faster growth potential. In other words, think of Tin Can as the modern, cutting-edge evolution of SCORM, maintaining all of the advantages of SCORM with fewer limitations.
Tin can advantages
Track all learning experiences
Experience API transforms employee learning, capturing all study materials and activities and tracking them into one place; the LRS.
xAPI can recognise all the materials that make up the learning process, including those activities completed outside of an LMS.
Whether an employee has attended a webinar or read online content from their browser, xAPI will track and record all of their experiences.
Accordingly, Software Advice finds that 32% of businesses use Tin Can because it offers better tracking and reporting. Other common reasons for switching to xAPI include course flexibility (27%) and technical stability (18%).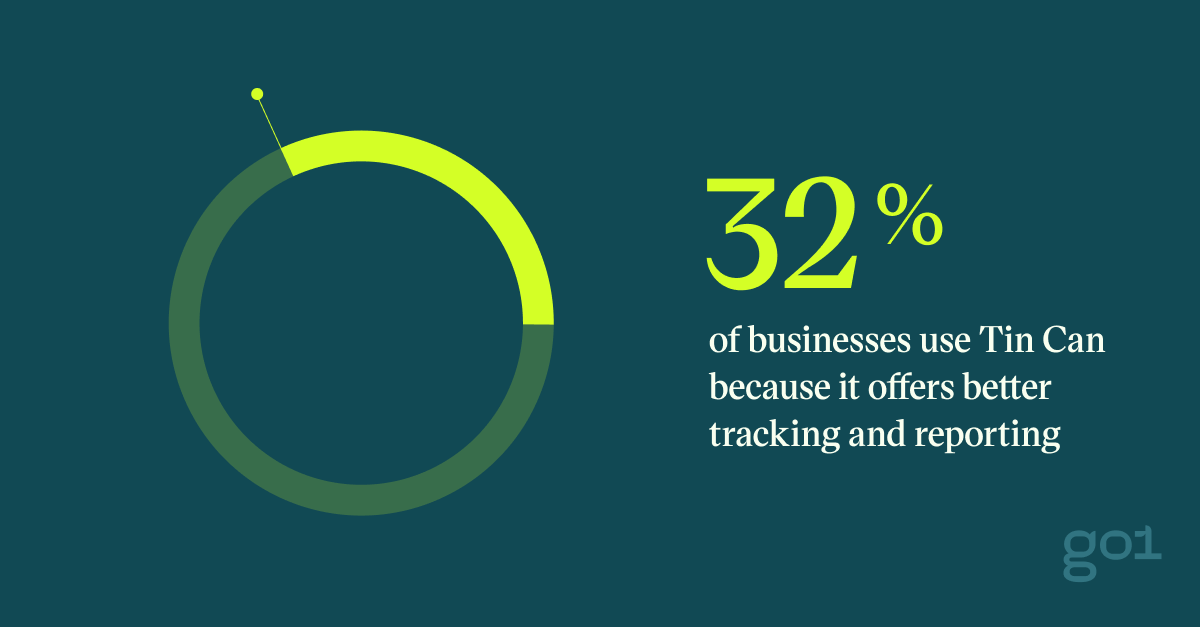 As an employer, the ability to track all kinds of learning experiences will give you a better and more accurate picture of your learners' progress.
You will be able to analyse their completed activities and see how this connects with their results and performance.
Capturing all learning activities will enable you to make training more effective for employees and future trainees starting in the organisation. After all, there is no better way to track employee performance than real-life data.
Accessible mobile learning
Since Experience APIs can capture all learning activities, this includes utilising training material on all browsers and devices.
As we know, the modern learner accesses learning at the point of need. According to Elucidat, this means 48% of learners access content on evenings and weekends, 30% access content during their lunch breaks, and 28% access content on the way to the office. Previously, this learning would not have been captured.
With Tin Can, employees can comfortably access content on the go and know that xAPI will track and report back on their activities, even when they aren't in the office.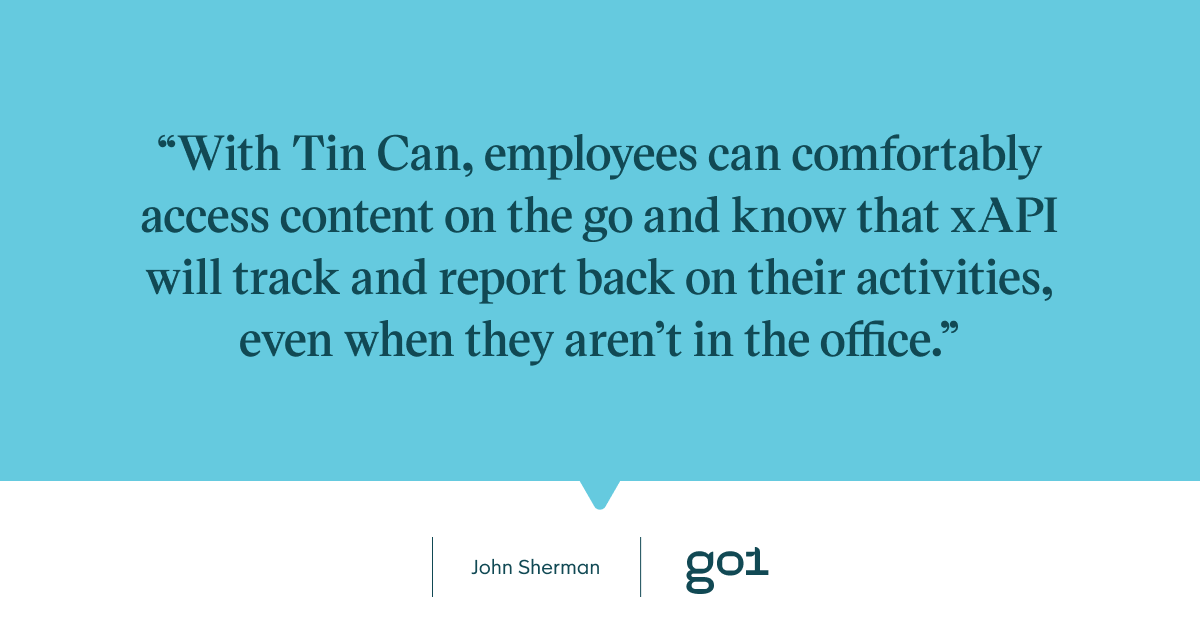 In addition, xAPI ensures a smooth transition from a mobile device to a desktop computer. Now, you can start learning activities on your mobile or tablet and go back and complete them on your computer.
This means that employers can stay updated on an employee's progress at all times.
Offline synchronisation
Not only can you use eLearning on the go and from several devices, but with Experience API, you can also continue your learning offline.
This means that an employee can learn more about Managing Stress or Customer Service Success at their leisure, even when they don't have access to the internet.
Once learning activities are started or completed, their progress will be automatically synchronised and stored in the LRS when a connection is established.
This allows employees to learn anywhere and enables employers to stay up-to-date with employee progress.
It is important to bear in mind that not every LMS is Tin Can compatible and that it may only support SCORM or AICC. To benefit from the advantages that Experience API has to offer, it is essential to choose an LMS that will work with xAPI.
For more insights, be sure to subscribe to the Go1 newsletter to stay on top of all the latest L&D trends. Or, you can book a demo today to find out how Go1 can help with your team's learning needs.