Since the widespread move to remote working in 2020, hybrid learning has been one of the hottest topics in L&D. While at first, this change might have come as a shock to the system for many of us in L&D, several silver linings have since emerged. 
By meeting learners on their terms and offering a more targeted, experiential approach to learning, we've identified hybrid learning as one of the top L&D trends for 2021, and predict that it will go from strength to strength in the coming years. 
As such, now is the perfect time to take a closer look at the benefits of hybrid learning. We'll start by asking what hybrid learning is, before comparing hybrid and blended learning and finishing with 4 reasons your L&D team needs to focus on hybrid learning. 
What is hybrid learning? 
Before we can get into the benefits of hybrid learning, it is important to have a foundational understanding of what the term means. 
eThink defines hybrid learning as "a way of combining traditional classroom experiences, experiential learning objectives, and digital course delivery that emphasises using the best option for each learning objective." Given this, a hybrid learning model can vary drastically from situation to situation, depending on the subject matter and the specific needs of each learner. 
Similarly, ViewSonic explains that hybrid training "focuses more on bridging the physical classroom and virtual learning spaces closer together into a more complete education. Put another way, hybrid learning is a form of synchronous learning that happens both physically and remotely."
In a recent edition of the Learning with Go1 Podcast, Erica Farmer, one of the founders of Quantum Rise, emphasised that this style of learning is all about accessibility. 
"Hybrid is about accessibility. It's about inclusivity. It's about giving people opportunities to access live events, live learning and building, and having the mindset of a session where you've got your learner right at the center of your design methodology," she said. 
Additionally, Ms Farmer pointed out that, as a learning designer, it's important to put your preferences for in-person or virtual training to one side. Instead, she recommends creating a synchronous learning experience that caters to the needs of all participants, whether they are attending in person, via Zoom, or any other way. 
This synchronicity contrasts with previous methods, where someone may attend an event virtually, but they are not engaged in the same way as someone who attends in person or vice versa. 
Hybrid vs blended learning
In many L&D circles, the terms hybrid learning and blended learning are used interchangeably, leading to plenty of confusion. While they convey similar ideas, several nuances differentiate hybrid and blended learning, meaning the terms should not be confused. 
According to ViewSonic, "Blended learning encompasses all education that integrates digital technologies, especially web-based learning tools. Hybrid learning refers specifically to synchronous lessons that are taught live and remotely at the same time."
CloudShare puts this a different way, explaining that while blended learning "focuses on a set ratio and combination of offline and online instruction", hybrid learning "seeks to find a flexible balance of online and offline that promotes the best experience, even down to individual learners."
Further, OwlLabs emphasises that the main difference between hybrid and blended learning is that blended learning is asynchronous while hybrid learning is synchronous. In simple terms, this means that with blended learning, learners can work on online exercises in their own time. In contrast, in a hybrid environment, synchronous learning happens concurrently, meaning instructors teach in-person and online learners at the same time. 
Erica Farmer notes that both styles can coexist in the same learning program, while also highlighting differences between the two terms. 
"Typically you ask somebody, okay, what's blended learning? And they might come up with something such as, 'it's a mix of online and offline with some additional resources'."
"[For blended learning] you might have some stuff that wraps around a live event, something like that.
"[Hybrid learning] is something very different in regards to the actual accessing of the live event itself. So I guess you could be hybrid and blended in the same program, really, if you think about it," she said.
However, she added that design methodology is one of the key differentiating factors for hybrid classrooms.
"Your design methodology has to be inclusive. It has to be at the heart of everything you're doing," she said. 
The benefits of hybrid learning 
The sudden move to remote working last year accelerated the rise of hybrid learning. However, now that organisations have grasped the power of hybrid training, it's here to stay. Here why:
4 reasons your L&D team needs to focus on hybrid learning 
1. Give learners what they want
One of the main upsides of hybrid learning is that it's what learners want. According to LinkedIn, demand for hybrid training is on the rise, with 57% of L&D professionals saying they spend more time with online learning than they did three years ago, and 37% saying they spend less time with in-person training. They also find that 58% of respondents want to learn at their own pace. 
What's more, research by the Fosway Group finds that 71% of respondents have experienced an increased demand for digital learning from end-users along with a 5x increase in using virtual classrooms for high-value programs. 
Finally, a recent survey found that 41.2% of respondents prefer a "blended or hybrid" approach to learning, making this the most popular response. 
Put simply, learners are calling out for a more flexible, hybrid approach to learning. It's never a bad time to give your learners what they want. 
2. Foster inclusivity and accessibility
Another key benefit of hybrid learning is its inclusivity, flexibility, and accessibility.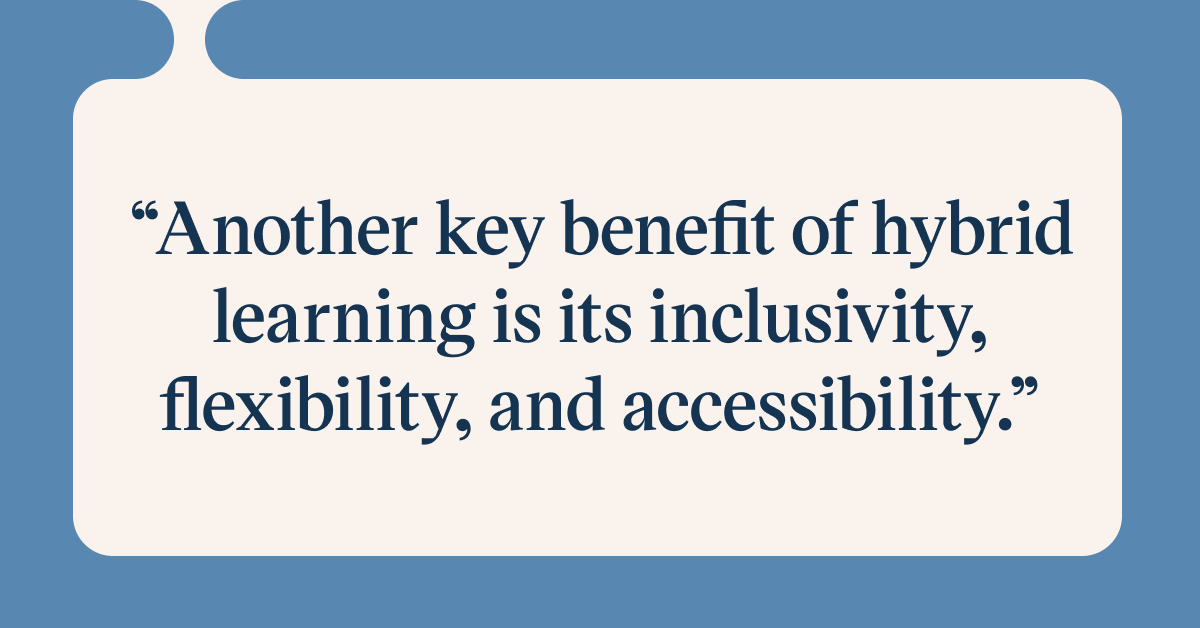 Erica Farmer explains that hybrid training can foster accessibility and inclusiveness, noting that it's important for instructors to challenge unconscious biases when designing sessions. 
"If you are on that little laptop being carried around the room, how is that going to feel for you and for your learners? If you are the only person in the room or the only person attending virtually, how's that going to feel? If everybody, including the facilitator, is in one location and you've got one learner in another location, how's that going to feel?," she said. 
Ms Farmer explains that by asking these questions, learning designers can ensure that they are "truly being inclusive and you've truly thought about what is going to be the impact on that person."
"So I think that, really challenge your own preferences, your own biases, and put yourself in the learners' shoes," she adds. 
Essentially, by facilitating immersive, synchronous learning from any location — rather than treating virtual attendees as an afterthought — you can open the door for all learners to participate equally, no matter their circumstances.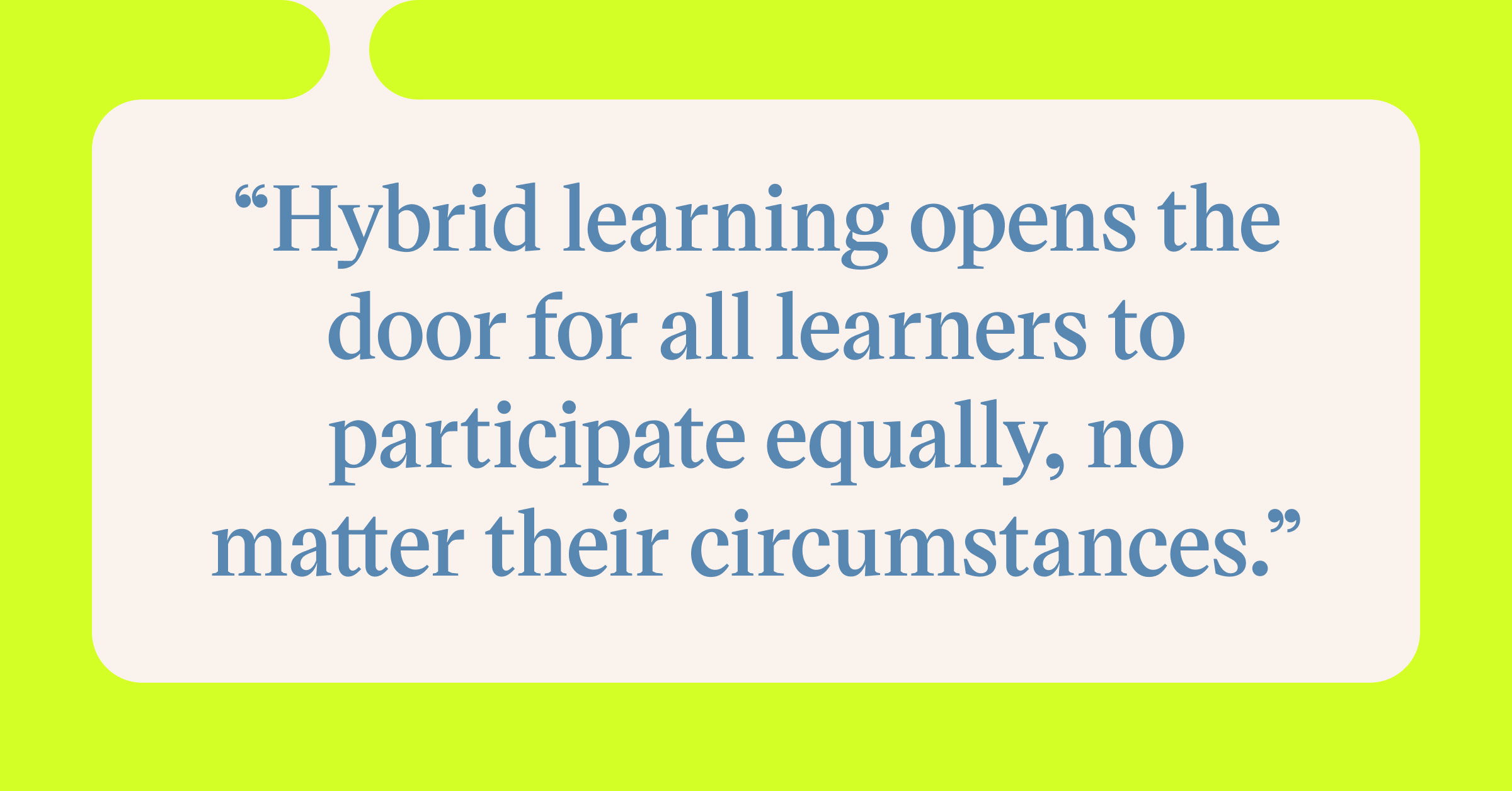 You can read more about hybrid learning's impact on L&D in our latest blog, featuring videos from our recent interview with Quantum Reach founders Hayley Bird and Erica Farmer. 
3. Reduce digital fatigue
Learning in a hybrid environment can also help reduce digital fatigue. According to a recent study in the UK, 41% of people are now suffering from "digital fatigue" as a result of remote working. The study posits that is because people are unable to chat with colleagues, collaborate on tasks, and participate in everyday activities. Without these "dynamic environments", we are exposed to fewer opportunities to create "learning connections in the brain". 
Hybrid learning can help reverse this trend. As Kineo states, "we must make digital learning more human, creating better learning experiences that are built on a deep empathy with the people that we're designing them for." 
By making learning more inclusive and empathetic, Kineo adds that "you can then align learner journeys to the digital environment your people have become used to in the last year and enhance that with valuable experiences and human touchpoints."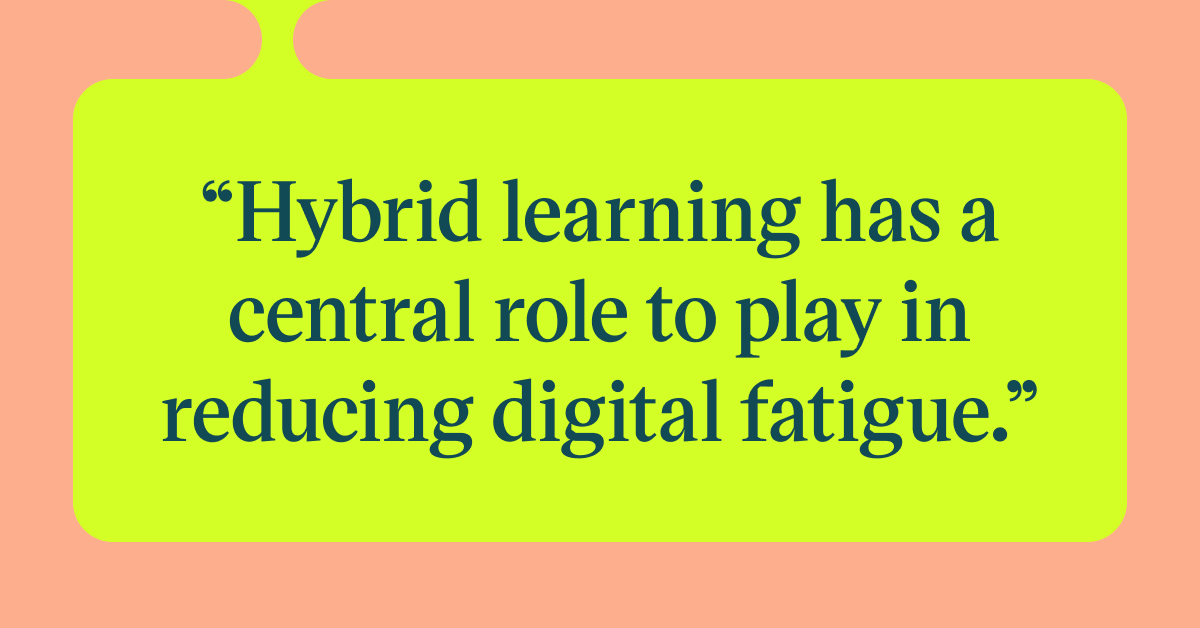 This kind of collaborative learning can reduce the impacts of digital fatigue, leading to happier and more engaged learners. As such, hybrid training has a central role to play in combating digital fatigue, by offering more inclusive, empathetic, and human learning opportunities. 
4. Improve communication and alignment
Finally, hybrid learning can be an important tool to improve communication and alignment across teams within your business. 
A recent study by Microsoft finds that since the increase in remote working, employees at home are more likely to contact current team members but less likely to get in touch with new ones. 
While this is a worrying trend, Erica Farmer explains that embracing a hybrid approach to learning can lead to more aligned and synchronised teams, particularly if some team members work remotely and others work in the office.
"Why don't you send out a little two minute video to say, hey, some of you guys are going to be online. Some of you guys are going to be in the room. This is gonna be a really interesting experience. And actually, we can get some different dynamics and different stuff going."
"It might be about preparing to buddy up with somebody who, if you're in person, who's on a platform and vice versa. 
"So you'll meet new people in a different way. So actually, we're going to challenge your thinking in regards to, how do you communicate within the learning setting to make that outcome happen? 
"There's an element of making people accountable for their own learning here as well," she said. 
For more insights, be sure to subscribe to the Go1 newsletter to stay on top of all the latest L&D trends. Or, you can book a demo today to find out how Go1 can help with your team's learning needs.