In today's fast-paced and competitive business environments, innovation is critical for success.
So if you want your organisation to stay ahead of the competition and achieve growth, you need to foster a workplace culture of innovation.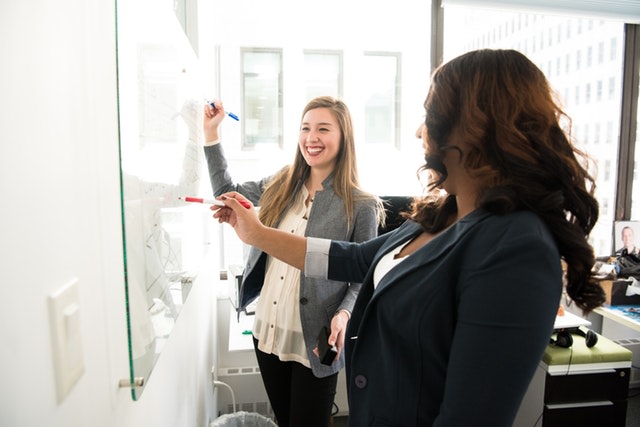 But how do you go about doing this? It's easy to say "let's be more innovative!" but what steps can employers take to make this happen?
In order to be truly innovative, employers need to create a working environment where staff are encouraged to generate and develop ideas.
Team members who are able to come up with new concepts, or streamline old processes and solve old problems, will always be an asset to any company. And the ideas generated by these employees are what's going to give your company a competitive edge.
Here's how to help encourage a culture of innovation, growth and new ideas in your workplace.
Give people space to innovate
More and more companies are setting up physical spaces to encourage greater creativity and innovation in the workplace.
Intel, for example, has built an innovation Open Lab to facilitate and enhance open research and innovation opportunities for the company.
Martin Curley, director of Intel Labs Europe, describes the kitchen in the innovation lab as having whiteboards from top to bottom, all over the room, "so people can improvise and create prototypes in real time."
"There is a certain ambience in the room which lets people know they have permission and license to innovate," he says.
Vodafone has also moved away from traditional office layouts and meeting rooms, focusing more on the creation of central areas where people can relax, have coffee and brainstorm.
According to Rachel Mooney, Vodafone Ireland HR director, "different areas of the business were working in silos [which] tended to hold back new ideas and creativity."
The new working environment led to greater communication and innovation, by creating opportunities for conversation between everyone – not only across different departments but most importantly at different levels.
Allow time for creativity and ideas
In addition to giving people the right working environment and space to flourish, it's also important to make sure employees have time to be innovative.
Many workers are flat out getting through the everyday tasks and functions of their job. Especially if they're running between back-to-back meetings. There often isn't much time to come up with new strategies and ideas – strategies and ideas that could have the potential to really grow the business.
In order to combat this, Google has created a "20%" program that gives its developers permission to spend 20% of their work hours on a creative project of their own.
More workplaces are thinking like this, taking steps to ensure staff are given the time they need to come up with the big ideas.
Don't just listen to new ideas – use them
So you've taken steps to help your employees become more innovative and creative.
But there's no point encouraging employees to brainstorm and generate new ideas if they're never going to be taken on board.
When someone comes up with a great idea, use it! Listen to the fresh ideas your team members come up with – then implement them.
Journalist Pamela Newenham, writing for The Irish Times, believes, "ideas have to be implemented or they're not worth anything. To truly innovate, companies need to ensure a culture that supports new ideas and new ways of doing business efforts, but also execute those ideas."
Let employees know failure is okay
This might sound a bit odd at first, but a huge part of innovation is about taking risks.
That's why it's important to let employees know that failure is okay. After all, not every new idea is going to be a big hit or huge success. But how will you know, if you don't try?
If employees are too scared to speak up about a new idea, or worried about losing their jobs if it fails, things will just stay the same. Without innovation, there is no growth.
As Laura DeCarlo, business success coach at Career Directors International, says:
"To learn to fly we have to test our wings… In the workplace, you either let them try to express their creativity or you will kill their drive and desire to contribute."
John McSweeney, head of innovation at EBS, has similar words on this topic:
"People shouldn't be afraid to challenge the status quo. In an atmosphere of fear you will never get innovation."
Within your company, let people feel safe to speak up about their ideas and concepts. Treat people's new ideas gently and with respect. Some of these ideas will be responsible for taking your business to the next level.