Watch this webinar to learn how you can create more effective and productive working relationships in your organization, using Vado's new eLearning toolkit. The toolkit will be going live into Go1 Premium on Friday the 16th of August.
Catch up on the recording here.

About the webinar: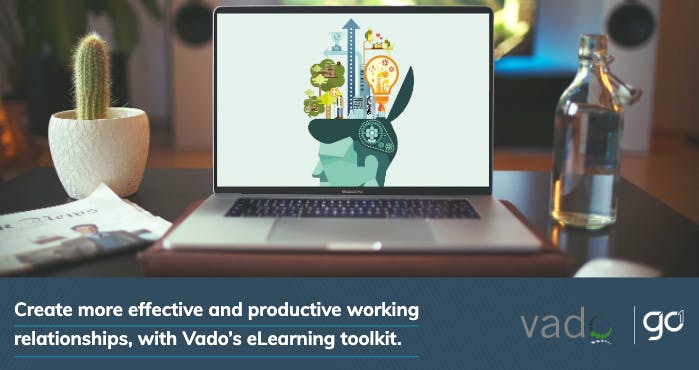 Is the DISC Assesment of Human Behavior the answer to your workplace communication challenges?
The DISC model is a great tool for building relationships, reducing conflict, and getting better results. Unfortunately, it does not work if you stop at taking an assessment. To get great results and value by making a connection with and building relationships with people, you have to know how to use the DISC model in practical, everyday situations. That's why Kevin Eikenberry and Guy Harris created the DISC toolkit.
In this webinar the Go1 team are joined by Guy Harris Coach in the DISC Model of Human Behaviors and Cindy Pascale Vado eLearning co-founder, to learn more about the new Vado DISC courses and talk about what's in store next for the longstanding partnership between Go1 and Vado.
Vado are a leading Go1 Premium content provider and very popular with our United States based customers, given the thorough Discrimination and Harassment content they have available via Go1 Premium. Go1 has been proudly partnered with Vado since 2017, and they are one of our many content providers helping Go1 customers improve the performance of their team.

Speaker profiles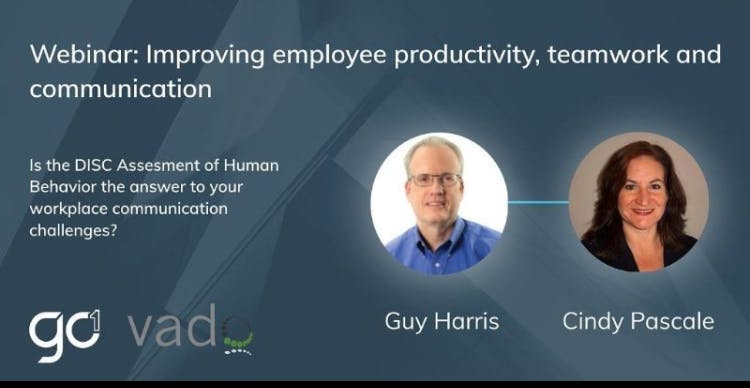 Guy Harris
Guy Harris is with The Kevin Eikenberry Group in Indianapolis, Indiana. The Kevin Eikenberry Group is a leadership and learning consulting company – a world leader in equipping leaders to reach their full potential and productivity.
Guy draws on more than 25 years of combined professional and military experience when he consults, coaches, or trains in the areas of workplace conflict resolution, team and interaction dynamics, communication strategies and tactics, and emotional intelligence.
Typical client concerns prior to working with Guy are: forging a team from a group of individuals, moving a team past the conflict stage of team development, developing other leaders, expanding personal influence within the organization, communicating more effectively, and developing buy-in for new programs and processes. In other words, he helps you understand – and work through – the reasons why your relationships are getting in the way of getting things done.
Guy is a Master Trainer and Coach in the DISC Model of Human Behaviors and a Workplace Conflict Resolution expert.
Cindy Pascale
Cindy, a Vado co-founder, has primary leadership responsibility for business development, account management and operations at Vado. She has 16+ years of HR, Training and Development, and OD leadership experience, with 12 years experience as a COO and CEO of various talent management consulting and assessment organizations.

Recorded: August 16th, 2019
Duration: 30mins approx