We are so excited to announce the latest improvements to Go1: offering learners a simpler, easier means of finding quality learning content, the ability for managers, administrators and content administrators to download historical course enrollment records, a streamlined process to access content through our 1-Player content player, and new API documentation for developers.
Find quality content, faster
You can now expect a dramatically improved experience when searching for a particular item of learning within the Explore page of a Go1 Portal.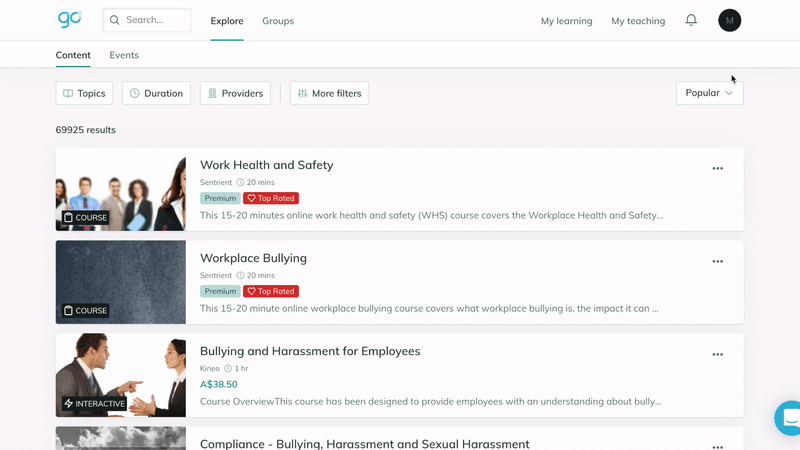 Learners can now search across multiple content types from the one display, reducing the need to skip between tabs. Search for content across all formats, or use the Content Types filter available through More filters to target one or more specific formats.
Our most popular filters, Topic and Provider, are now front and center: reducing the noise and allowing learners to quickly find the learning they need.
Learners can also now filter by Duration -the length of time required to complete that learning- allowing them to find the content appropriate to their situation and the time they have available, whether that be a short video, or a more in depth course.
Selecting options within a filter will now only update search results once you tap away from that filter, resulting in a search that feels faster and smoother.
For those looking for a specific topic or piece of content, our More filters popup provides additional options so that you can further refine your search: Content types, Tags, Price, and Language.
Once you have submitted a search, for learners on portals with Go1 Premium, finding popular, quality content is now easier than ever, with results prioritising top rated learning content.
Find out more about how to use our new search and filter functionality.
Learners searching for content can now also preview learning before enrolling. Within the search results on portals containing the majority of Go1 Premium within their Portal Content Selection, learners can click to preview the description for an item of content, without having to navigate away from search results. Learn more about how to preview learning.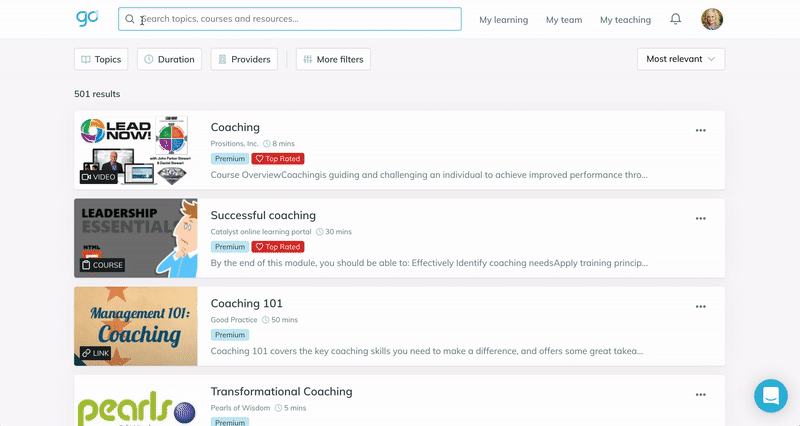 Historical course enrollment reporting
Organisations often have the need for staff to complete recurring training -whether to achieve compliance, or in alignment with organisational policies and procedures. To support the monitoring and reporting of this recurring training, administrators, content administrators and managers now have the ability to export all historical enrollment records for a specific course or user from the Enrollments report within Administer. Learn how to export historical course enrollments.
1-Player content player improvements
The learning experience available through Go1 continues to improve, with adjustments to our content player, 1-Player, simplifying the process so that they can focus on what's important to them: the learning.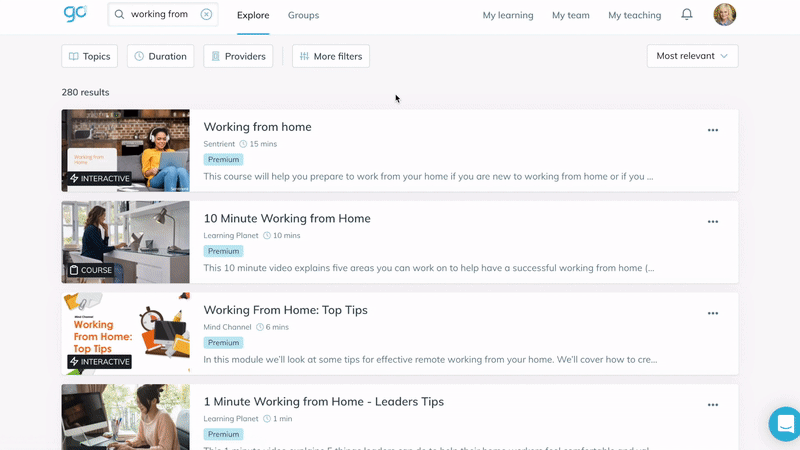 Based on feedback provided by our customers, you can expect no more unintentional enrollments or re-enrollments, fewer steps to access learning content, and less confusion for learners on what to do next within a course. Learn how to experience the 1-Player updates.
API documentation for developers
We are proud to launch new documentation for the consumption of technical members looking to integrate with Go1. Whether you are just getting started with your integration, or are interested in a specific concept, our documentation is here to help. View the documentation here.
Feedback?
If you have any questions regarding your experience with Go1 or the improvements that have been made available, please reach out to our friendly 24/7 support team for a chat.