Take your teams's training to the next level with Go1's Insights!

The new Insights Feature is your playbook for addressing key training gaps in your team.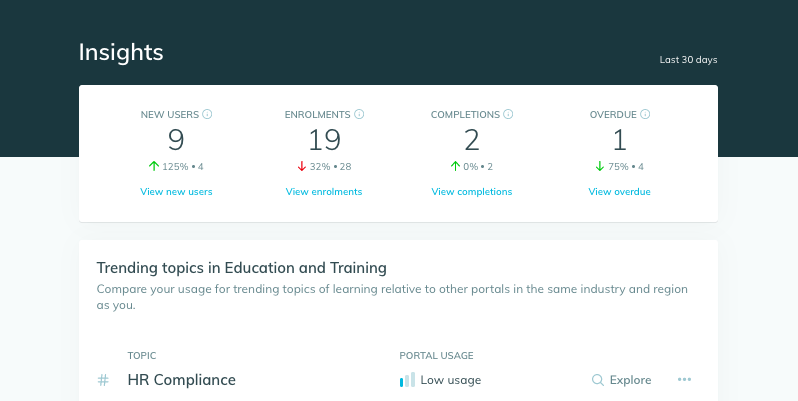 As the Go1 training library grows and your team expands, we want you to be able to easily understand more about how your team is learning. With this feature you can understand what your employees should be learning so they don't miss out on content most relevant to their training needs. 
The feature recommended the top courses for content areas that your team currently has low engagement with. Our content suggestions are based on what hundreds of thousands of Go1 users are doing, narrowed down to your industry specifically. We then make it quick and easy for you to add the content to a group or assign to individuals.

What can you do with the insights?
View a snapshot of key portal insights; this includes user management insights as well as insights on how your portal engaged with with key content topics in your industry.
View GO1's content suggestions - which grouped according to the topics that your portal has low engagement with.
Quickly assign suggested content to users or groups or quickly add content to your content portal selection.
Enable a monthly insights email for all Admins on your portal.

What do I need to know about this release?
Your portal will have a new item in the drop menu called Insights.
To enable a monthly isights email for all portal Admins head to Portal Settings > Notifications. 

How can I contribute to this release?
We want to hear your feedback on the Insights tab! Please submit feedback via our Public ProductBoard Portal.
How to use our feedback feature?

When will this release be live?
The team are still finalising some details - it will be live as soon as its ready!