There's nothing worse than being stuck in a dead end job with little chance of career progression. Most of us have probably experienced this feeling at one point in our careers. You while away the days until a better offer comes along because you know opportunities for career progression in this job are slim. Much like being stuck in an elevator, it's a claustrophobic and disheartening feeling. 
Not only that, but a lack of internal mobility is a no-win situation. For employees, a lack of internal mobility can reduce motivation, as they see no clear path to advancement. For employers, it leads to a less driven workforce, thereby reducing engagement and diminishing your ability to attract and retain talent in a competitive hiring market. 
Therefore, it should be no surprise that internal mobility is vital in today's ultra-competitive workforce. We'll take a closer look at why internal mobility has become a must-have in the modern workforce — particularly with the threat of The Great Resignation looming. We'll start by looking at the benefits of internal mobility, such as engagement, retention, and cost-effectiveness, before moving on to what businesses are getting wrong about internal mobility. 
The benefits of internal mobility
While internal mobility has always been an important consideration, it is now essential to engage and retain the best talent. In fact, 51% of L&D professionals say that internal mobility is more of a priority now than it was before COVID. While many factors have influenced this trend, it is likely that The Great Resignation has played a role, as employers scramble to offer more attractive roles or risk losing talented employees. 
With this in mind, it should come as no surprise that 62% of L&D professionals say they are prioritising internal mobility this year. Let's take a closer look at why internal mobility is such a hot topic. 
Engagement
Intuitively, it makes sense that a strong culture of internal mobility would boost engagement. Of course employees are more likely to be engaged when they see clear opportunities for career progression. And the statistics bear this out. 
According to data by LinkedIn, employees who move into new jobs internally are 3.5x more likely to be engaged. In their 2019 Global Human Capital Trends report, Deloitte found that 32% of companies believe internal mobility is necessary to increase employee engagement. 
Similarly, a case study by Deloitte found that when Ingersoll Rand developed a "robust internal career program to help employees reskill themselves for new positions within the organisation" the result was a 30% increase in employee engagement. 
In a similar vein, Research by PageUp finds that internal development opportunities such as lateral moves and stretch assignments can increase engagement by up to 30%. 
The message here is clear: a robust internal mobility program can lead to significantly more engaged employees. 
Retention
While increased engagement is fantastic, the biggest impact of a strong internal mobility program is on retention. According to LinkedIn, when organisations invest in internal mobility programs, employees stay almost two times longer on average. The median employee tenure for companies with low internal mobility is 2.9 years. For companies with high internal mobility, this skyrockets to 5.4 years. 
In comparison, external hires are 61% more likely to be fired within a year and 21% more likely to quit. Accordingly, it makes sense that 94% of HR professionals say that internal recruiting helps retain their most valuable talent, while 81% added that internal hiring improves retention overall.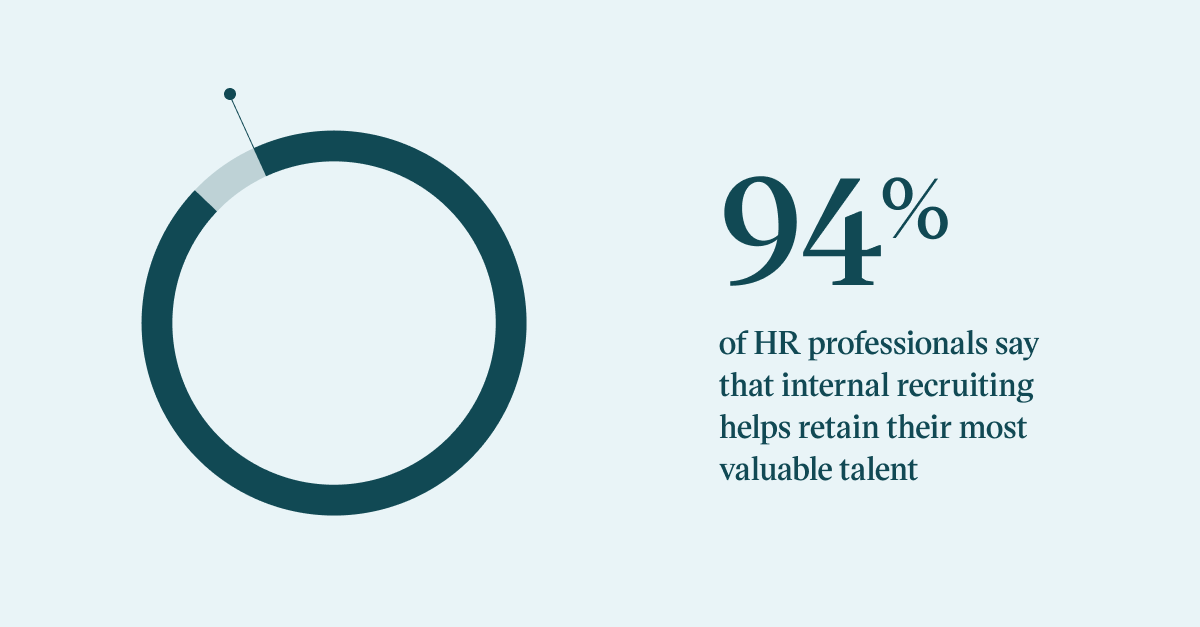 A study of more than 32 million active LinkedIn profiles demonstrates this phenomenon. During their research, SHRM found that, in general, the likelihood of someone staying with a company decreases over time. For example, one year after being hired, there's a 76% chance a worker will still be with the company. After five years, the estimated retention rate drops to 38%. However, employees who are promoted within three years have a 70% chance of staying on board, and those who make a lateral move have a 62% chance of staying. 
Many companies seem to be noticing these trends, as internal hires have increased dramatically since the start of 2020. Between April and August 2019, the percentage of job changes classified as internal movements was 16.5%. During this same period in 2020, internal hires rose sharply to 19.6%.
Cost-effective 
Since internal mobility promotes higher retention and engagement, it makes sense that it is also a more cost-effective strategy. 
As we know, hiring and onboarding new employees can be costly. According to SHRM, the average cost-per-hire for companies in 2021 was $4,129. Other figures find that replacing an employee can cost 50-60% of that employee's salary on average. As Toggl Hire explains, "an average company loses anywhere between 1% and 2.5% of their total revenue on the time it takes to bring a new hire up to speed." 
Given the average turnover rate for all companies is 19% per year, these costs add up quickly. On the other hand, companies with lower turnover rates bring in four times higher profits on average.
When it comes to internal hiring, companies currently spend just 6% of their recruitment budget on internal candidates. However, these candidates fill 15-20% of job openings. 
By focussing on internal mobility, you're not only saving on negligible advertising and onboarding costs, but you could also be saving massively in the long run. Consider this: analysis by Gartner recently found that employee turnover due poor internal mobility and future career opportunities costs an average-sized organisation a whopping $49 million per year.
Internal mobility is an excellent tool to recognise and reward high-performing employees, or shift employees into roles that better suit their skill-sets. However, from a purely business-focussed perspective, it can also be a huge cost-cutter. Win-win! 
What teams are getting wrong about internal mobility
Given the far-ranging benefits of a robust internal mobility program, the question becomes, why aren't more teams focussing on internal mobility? Currently, only 13% of L&D professionals say their internal mobility programs are centralised to one team or individual. Additionally, Deloitte finds that only 6% of businesses think they are doing an 'excellent' job at internal mobility, with a further 36% saying they are doing a 'good' job. Shockingly, only 65% of teams say they even advertise open positions internally. 
Given this, it's no surprise that most employees are willing to turn their backs and look elsewhere for a new job. According to a survey by Deloitte, 57% of employees believe it would be easier to find a new job in a different organisation, compared to just 43% who said it would be easier to find a new job in their current organisation. 
Many common roadblocks stand in the way of internal mobility. For example, 49% of businesses say they lack the processes to identify and move employees into new roles, while 45% of employees say they lack information on available roles. In fact, according to Deloitte, "many HR leaders tell us that employees find it easier to quit and be rehired than to change positions within the organisation, because of the lack of systems to enable and promote internal moves." 
In addition, 46% of managers were resistant to internal moves. This resistance can have a massive impact on retention, as companies that rate highly for "open and effective management," have a 48% chance of retaining an employee after three years. For teams with low management scores, this drops to just 32%.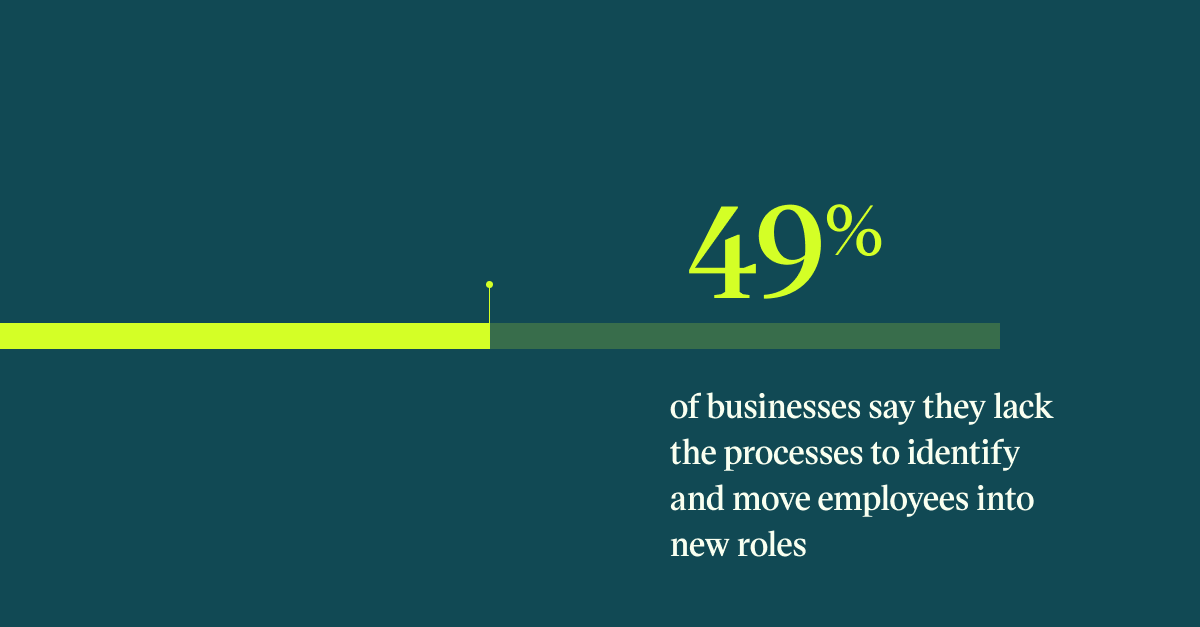 As usual, L&D teams will play a key role in overcoming these roadblocks. Already, LinkedIn finds that L&D plays a central role in internal mobility programs. 39% of L&D teams help identify skill gaps, 31% help identify skill adjacencies, and, most importantly, 33% of L&D teams are actively involved in building internal mobility tools. As more organisations recognise the vast potential of internal mobility, expect these numbers to continue to climb. 
For more insights, be sure to subscribe to the Go1 newsletter to stay on top of all the latest L&D trends. Or, you can book a demo today to find out how Go1 can help with your team's learning needs.