Behind every great system is an organised team. This is especially true in the healthcare industry, where a dedicated human resources team can effectively recruit employees, train staff, and implement safety measures in the workplace. The importance of human resources in the healthcare industry cannot be overstated, with benefits ranging from providing an orderly and effectively run facility to equipping staff with the most accurate and up-to-date training.
When equipped with a high-quality HR management program, hospital staff are more satisfied in their roles while also providing outstanding service to their patients.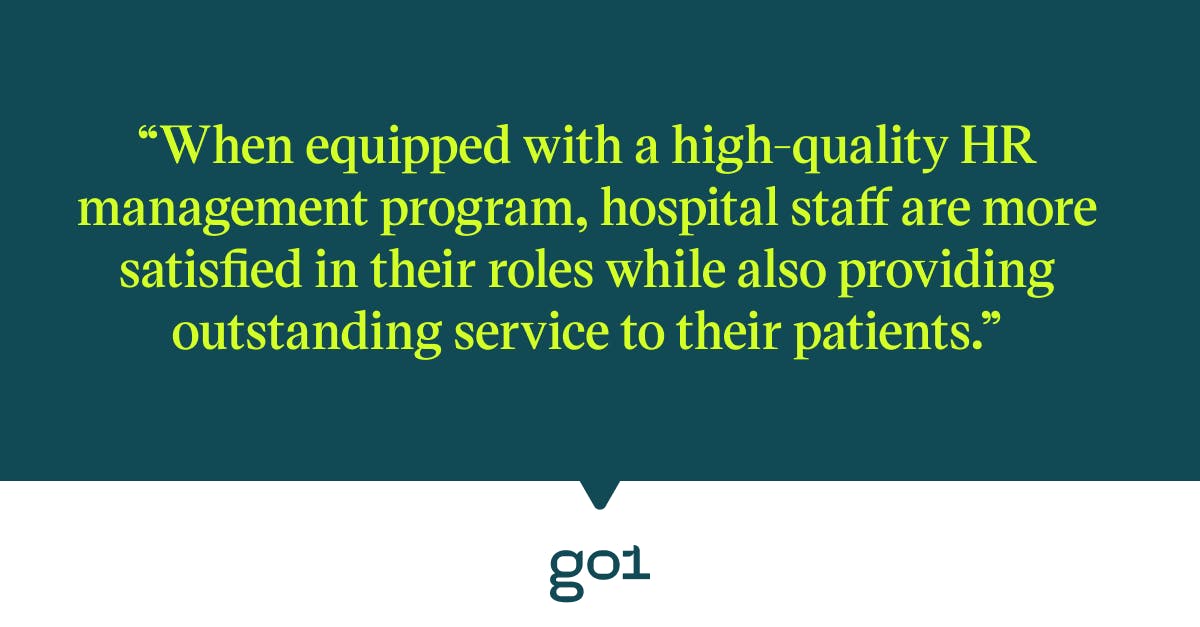 Here's the thing: staff training is one of the most crucial tasks human resources can provide for a healthcare facility. Yet, according to Southern Illinois University Carbondale, staff shortages are surging in hospitals as millennials are leaving this sector — primarily due to poor job satisfaction linked to, you guessed it, a lack of training. 
According to one report, only 27% of respondents say their organisation is prepared for a nursing shortage to a high or very high extent, while nearly 10% of respondents say their organisation is not at all prepared.
So, what can teams do to overcome these challenges and provide better training to healthcare staff? We'll take you step-by-step through the importance of training in the healthcare sector, offering concrete ideas to implement better, more effective training. 
Importance of training in the healthcare sector
Imagine starting a new job without knowing what your position entails. You're left in the dark, grasping at straws to figure out what to do next. In most new jobs, this would be challenging. In a hospital, it would be a nightmare. Unfortunately, this scenario occurs all the time, and it's both awkward and frustrating for employees.
Having accurate, up-to-date knowledge is vital for healthcare workers, as they often work in a faster-paced environment. If staff can't keep up with the workflow, the facility can't provide the most effective treatment. Plus, the knowledge and experience staff gain through their position can help prepare them for higher-level positions in the future.
As Health Management explains, "Because the healthcare industry is continuously evolving, technologies considered best practice today can change drastically in just the span of a decade. That's why care providers have to regularly keep up with new techniques and technologies and expand their knowledge and skills – which means continuous education is not a nice-to-have but an absolute necessity for any healthcare professional who wants to provide high-quality patient care." 
However, according to industry experts, millennials, more than any other age group (40% versus 20% of baby boomers), are less satisfied at their job unless they receive the proper training, feedback, and fulfilment from their work.
Despite this, ATD's 2019 State of Healthcare Training Report found that, on average, healthcare organisations only spend $602 per employee per year on training. By comparison, Statista finds that the average L&D spend per employee per year for all organisations is $1,308. 
Further, ATD's report found that healthcare employees use an average of 25.5 learning hours per year. Again, this does not compare favourably with the overall average of 34.1 learning hours per year for all industries.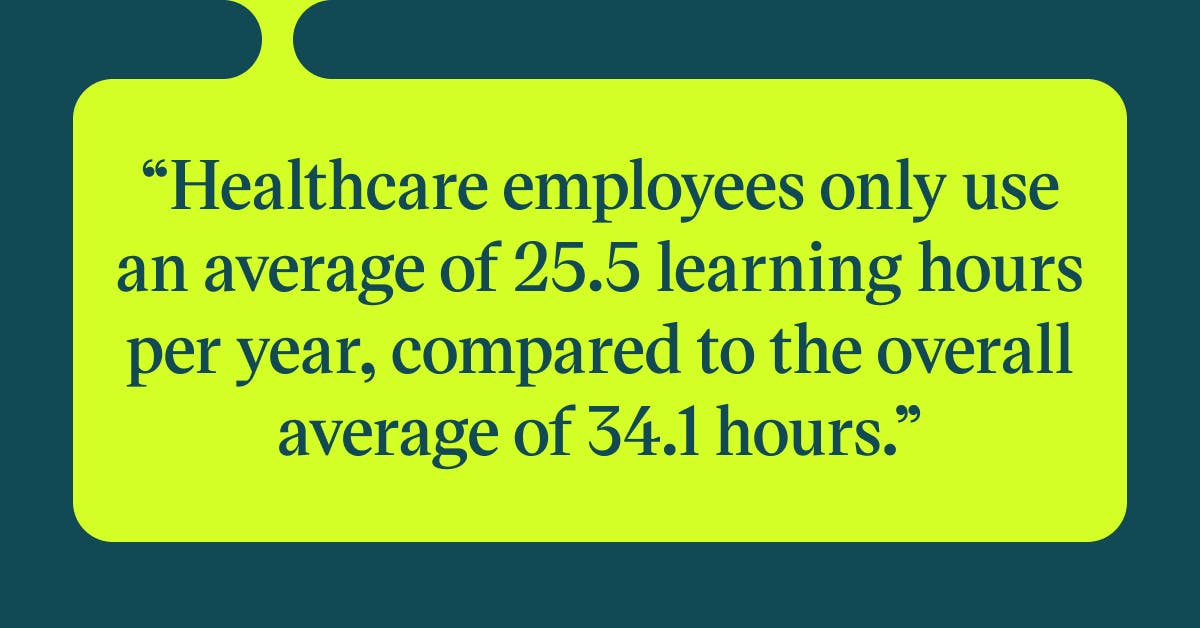 HR teams, healthcare employees, and management must work together to reverse these concerning trends and recognise the importance of ongoing training in the healthcare industry. 
Training healthcare teams online
One way to deliver effective training is to train your healthcare team online. Numerous online courses are available to train new and established staff on everything from general workplace subjects to more specific health and medicine topics.
If you need some support training your healthcare team online, Go1 can help. Go1 offers many healthcare-related courses from world-class partners, ranging from our Healthcare Compliance Bundle to Hazard Communication for Healthcare and even Hand and Wrist Anatomy for Healthcare Professionals.  To access these courses and more, start your free trial today.
Benefits of managing training online
Some HR staff may be sceptical when it comes to managing online training for healthcare workers. However, we know how busy healthcare staff are and how difficult it can be to organise traditional training sessions. With so many competing priorities, it's easy to see why many healthcare workers struggle to find free time for training.  After all, if you're faced with a decision between urgent patient care and optional training, it's obvious which task should take precedence.
Offering online training for healthcare staff can ease many of these blockers and frustrations by allowing healthcare workers to access training when, where, and how it suits them. Online training has numerous benefits, including:
Eliminating the skill shortage gap
In an industry where patients' health and lives are on the line, hospitals can't physically or ethically afford to hire staff without the adequate skills to perform a number of jobs. The convenient thing about online training is that there are endless options for the skills and information you can present to employees.
Once the hospital and human resources staff have sourced the most suitable online training courses, the HR team can focus on other important tasks, such as hiring new staff, providing new employee orientations, or handling claims.
An excellent form of continuing education
Online training is a fantastic way to ensure staff are up-to-date with the latest hospital safety and healthcare-related rules and regulations. In such a fast-moving industry, this is essential. A crucial component of any individual's career is continuously upskilling and seeking new knowledge, skills, and perspectives. Online learning can facilitate this.
Ease of communication
Effectively managing online training for hospital staff also results in a more effective flow of communication. Now, with a single click, you can send all necessary training materials to your employees.
Additionally, because you can find online healthcare courses created by world-class providers, you can be sure they contain professional, accurate, and easy-to-understand content for the employees you wish to train. All the information is already there, so all that's left is for each staff member to complete the course.
Better versatility for both HR and hospital staff
With online training, HR and hospital staff can take their learning materials anywhere. Also, since so many self-paced courses are now available, there's greater flexibility and options to ensure healthcare employees succeed with the courses they take. This point is crucial, as not everyone learns or absorbs information at the same pace. Some people need more time, while others require much less. Everyone has a custom solution that will meet their unique learning needs.
Online training can also assist employees with:
Personal and professional development
Improving patient care
Decision-making
Work-life balance
Workplace ethics
Overall, there are many benefits to providing quality, versatile online training for your hospital staff. When staff have their personal needs met, they are more likely to excel in their career and provide high-quality care to patients. By equipping staff with flexible online training options, they will be able to continually upskill, stay up-to-date with the latest trends, and, most importantly, provide a higher standard of care. 
For more insights, be sure to subscribe to the Go1 newsletter to stay on top of all the latest L&D trends. Or, you can book a demo today to find out how Go1 can help with your team's learning needs.